The North America refining catalysts market is estimated to have a value of USD 893.47 million in 2018 and is projected to reach USD 1048.4 million by 2023, at a CAGR of 3.25% during the forecast period (2018 - 2023). The market is majorly driven by the increasing demand from refineries.
Refining catalysts are those substances which accelerate the rate of a chemical reaction without undergoing any permanent chemical change themselves. They are primarily used by the petroleum refineries to improve the output quantity by enhancing the operational efficiency during the petroleum refining process. These catalysts play a vital role in sufficing the fuel standards, emission standards, and improving selectivity as well as conversion.
Increasing Demand from Refineries in the United States is driving the Market
The United States refining catalyst market is driven by the demand from petroleum refineries. The United States petroleum refinery capacity continues to increase, mainly because of the increasing number of petroleum refineries. According to EIA's annual refinery capacity report, the United States operable atmospheric crude distillation capacity has reached 18.6 million barrels per calendar day (b/cd) in January 2017, registering a growth of 1.6% increase when compared with the beginning of 2016. The increase in the number of the US refineries is mainly because of the increased exports to Europe and Asia.
Hydrocracking Catalysts to Grow Rapidly
Hydrocracking catalysts segment is expected to grow rapidly at a CAGR of 3.56% during the forecast period (2018 – 2023). Hydrocracker units play a key role in obtaining various distillate cuts. The heavy feed or residue from the units, such as atmospheric/ vacuum distillation units, decoking unit, visbreaker unit, and in some instances from the catalytic cracking unit, is fed as feed to the hydrocracking unit. Hydrocracker unit upgrades the feed injected by cracking the feed at high temperatures in the presence of hydrogen and catalyst to produce distillate cuts, such as jet fuel, diesel, and kerosene. Hydrocracking process also reduces the sulfur content of the feed while processing, thus, making the product viable to use in different countries. The increasing demand for jet fuel and diesel in the aerospace market and the automotive market is likely to boost the demand for hydrocracking catalysts during the forecast period.
The US is estimated to be the largest market for refining catalysts, in 2017 it accounted for about 84% in the North American market in terms of revenue. Catalytic hydrocracking and deasphalting units have experienced the largest capacity increase in 2016, rising by 4.5% and 6.1%, respectively. The FCC and hydrotreating catalysts, the two major catalyst types with a combined share of over 61% together, will dominate the market in coming years. Efficient fuel substitutes have led to the closure of the main processing units, like FCC and coking units, in several refineries. This has resulted in the low level of capacity utilization in the United States.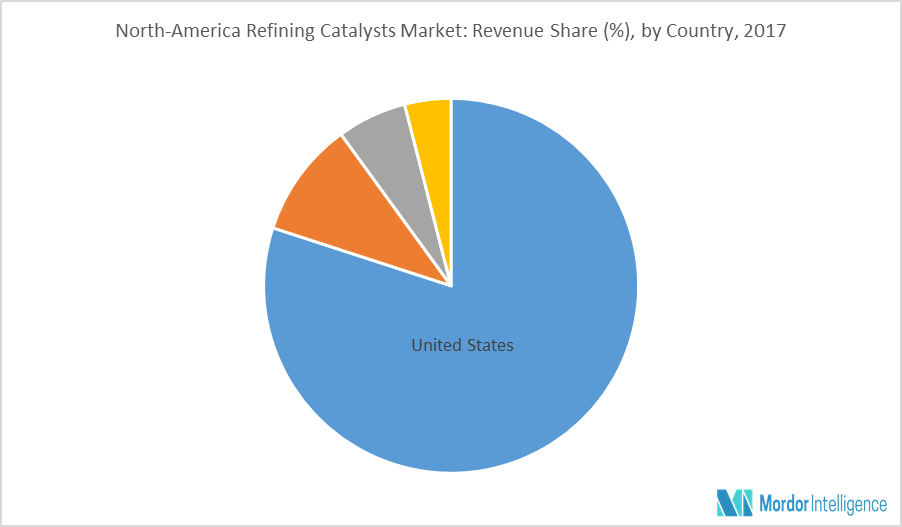 Notable Developments in the Market
October 2017: W. R. Grace & Co. will increase the price of its fluid catalytic cracking (FCC) catalysts by 3 - 9 %, depending on the product type and specific customer contract terms and commitments, effective from 1 January 2018.
Major Players: Albemarle, BASF SE, Honeywell, and Evonik Industries AG, among others.
Reason to Purchase this Report
Analyzing various perspectives of the market with the help of Porter's five forces analysis
To understand the dominating product type and end-user industry in the market
To identify the countries that are expected to witness the fastest growth during the forecast period
To identify the latest developments, market shares, and strategies employed by the major market players
3-months analyst support, along with the Market Estimate sheet (in Excel)
Customization of the Report
This report can be customized to meet your requirements. Please connect with our representative, who will ensure you get a report that suits your needs.
1. Introduction
1.1 Research Phases
1.2 Study Deliverables
1.3 Scope of the Report
2. Executive Summary
3. Market Insights
3.1 Industry Value Chain Analysis
3.2 Industry Attractiveness – Porter's Five Forces Analysis
3.2.1 Bargaining Power of Suppliers
3.2.2 Bargaining Power of Consumers
3.2.3 Threat of New Entrants
3.2.4 Threat of Substitute Products and Services
3.2.5 Degree of Competition
4. Market Dynamics
4.1 Drivers
4.1.1 Increasing Demand from Refineries in the US
4.2 Restraints
4.2.1 Volatility in Precious Metal Prices
4.3 Opportunities
4.3.1 Shifting Focus toward Nanocatalysts
5. Market Segmentation and Analysis (Market Size, Growth, and Forecast)
5.1 By Type
5.1.1 Fluid Catalytic Cracking Catalysts
5.1.2 Reforming Catalysts
5.1.3 Hydrotreating Catalysts
5.1.4 Hydrocracking Catalysts
5.1.5 Isomerization Catalysts
5.1.6 Alkylation Catalysts
5.2 By Ingredient
5.2.1 Zeolites
5.2.2 Metals
5.2.3 Chemical Compounds
6. Regional Market Analysis (Market size, Growth, and Forecast)
6.1 United States
6.2 Canada
6.3 Mexico
6.4 Rest of North America
7. Competitive Landscape
7.1 Mergers & Acquisitions, Joint Ventures, Collaborations & Agreements
7.2 Market Share Analysis**
7.3 Strategies Adopted by Leading Players
8. Company Profiles (Overview, Financials**, Products & Services, and Recent Developments )
8.1 Albemarle Corporation
8.2 Axens
8.3 BASF SE
8.4 Chevron Corporation
8.5 Clariant AG
8.6 CRI/Criterion Inc.
8.7 DowDuPont
8.8 Evonik Industries
8.9 ExxonMobil Chemical
8.10 Haldor Topsoe
8.11 Honeywell International Inc.
8.12 JGC C & C
8.13 Johnson Matthey
8.14 W.R. Grace & Co.
*List not exhaustive
9. Disclaimer
**Subject to availability on public domain