The MEK market is expected to register a CAGR of 4.25% during the forecast period, majorly due to the increasing demand for paints and coatings, owing to various constructional activities across the globe.
Growing Demand for Paints and Coatings
Investments in the transportation sector in China have increased over the past few years. China's transport ministry and National Development and Reform Commission (NDRC) had planned to invest USD 724 billion between 2016-2018 for constructing 303 key transportation projects, which include railways, highways, waterways, airports, and urban rail. The construction industry in Qatar is forecast to experience high growth, as the government spent USD 200 billion in 2017, as part of major infrastructure investment scheme, resulting in increased demand for paints and coatings. This high growth in infrastructure, automotive, and industrial activities is expected to drive the growth of the MEK market.
The Construction Sector is Expected to have The Highest Market Share
The global construction industry growth has stabilized in 2016, upended at 2.4%, though the market is expected to improve over the next few years at an average growth rate between 2.8 - 3%. The expected economic growth of the major economies is likely to reflect its positive trend on almost every essential industry. The US construction industry is likely to project relatively stable growth over the forecast period, braced by the upswing in the residential sector. Reflecting the extent of the downturn in the United States in real terms, the construction industry is expected to return to the pre-crisis level by 2021. The Eastern European construction industry is expected to be relatively weak over the forecast period, compared to other regions in the world. However, with growth in the construction sector, the demand for MEK is expected to increase accordingly.
Asia-Pacific is the Most Dominating Region
In 2017, Asia-Pacific was the leading consumer of market, followed by Europe and North America. The demand in Asia-Pacific primarily driven by demand of paints & coatings by construction and manufacturing sectors. Increasing construction spending by governments particularly in India and China to meet the rising infrastructure needs has been driving the construction industry growth which in turn is anticipated to drive demand for adhesives, printing inks, plastics, paints, and coatings demand.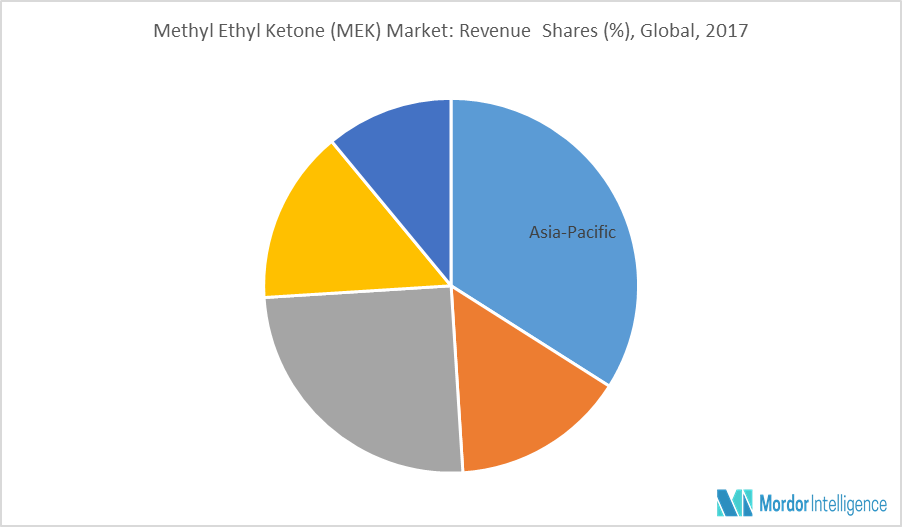 Key Developments in the Market
April 2017: ExxonMobil Chemical Company expanded the capacity of its global hydrocarbon fluid assets by more than 250,000 metric ton per year, at its world-scale petrochemical sites in Antwerp, Belgium; Baytown, Texas; and Jurong Island, Singapore.
August 2017: The price of MEK may spike in Asia due to limited supply and the likeliness of regional suppliers to divert cargoes to Europe
Major Players: Arkema S.A., ExxonMobil Chemical, Shell Chemicals, Maruzen Petrochemical Co. Ltd, and Sasol Solvents, amongst others.
Reason to Purchase the Report
Analyzing various perspectives of the market with the help of Porter's five forces analysis
To understand the dominating process type and filler used in the market
Countries expected to witness the fastest growth during the forecast period
Identify the latest developments, market shares, and strategies employed by the major market players
3-month analyst support, along with the Market Estimate sheet (in excel)
Customization of the Report
This report can be customized to meet your requirements. Please connect with our analyst, who will ensure you get a report that suits your needs
1. Introduction
1.1 Research Phases
1.2 Study Deliverables
1.3 Scope of the Report
2. Executive Summary
3. Market Insights
3.1 Industry Value-Chain Analysis
3.2 Industry Attractiveness – Porter's Five Forces Analysis
3.2.1 Bargaining Power of Suppliers
3.2.2 Bargaining Power of Consumers
3.2.3 Threat of New Entrants
3.2.4 Threat of Substitute Products and Services
3.2.5 Degree of Competition
3.3 Technological Snapshot
3.3.1 Production Process
3.3.1.1 Vapor Phase Dehydrogenation of 2-Butanol
3.3.1.2 Liquid Phase Oxidation of Butane
3.3.1.3 Direct Oxidation of n-Butanes, Hoechst-Wacker process
3.3.1.4 Direct Oxidation N-Butenes, Maruzen Process
3.3.2 Technology Licensing & Patent Analysis
3.4 Trade Analysis
3.5 Price Index
3.6 Regulatory Policy Analysis
4. Market Dynamics
4.1 Drivers
4.1.1 Growing Demand for Paints And Coatings
4.1.2 Increasing Demand for Powder Coatings in the Automobile Industry
4.1.3 Growing Demand for Resins as Solvents in the Pharmaceutical Industry
4.2 Restraints
4.2.1 Increasing Awareness about Toxic Effects of MEK
4.2.2 High Price of Feedstock
4.3 Opportunities
4.3.1 Development of Fresh Distillation Program SUPERHIDIC by Maruzen Petrochemicals
5. Market Segmentation and Analysis (Market Size, Share and Forecast)
5.1 By Application
5.1.1 Solvents
5.1.2 Resins
5.1.3 Printing Inks
5.1.4 Adhesives
5.1.5 Others
5.2 By End-user Industry
5.2.1 Paints & Coatings
5.2.2 Rubber
5.2.3 Construction
5.2.4 Packaging & Publishing
5.2.5 Others
6. Regional Market Analysis (Market Size, Share and Forecast)
6.1 Asia-Pacific
6.1.1 China
6.1.2 India
6.1.3 Japan
6.1.4 South Korea
6.1.5 Rest of Asia-Pacific
6.2 North America
6.2.1 United States
6.2.2 Canada
6.2.3 Mexico
6.2.4 Rest of North America
6.3 Europe
6.3.1 Germany
6.3.2 United Kingdom
6.3.3 Italy
6.3.4 France
6.3.5 Rest of Europe
6.4 South America
6.4.1 Brazil
6.4.2 Argentina
6.4.3 Rest of South America
6.5 Middle East & Africa
6.5.1 Saudi Arabia
6.5.2 South Africa
6.5.3 Rest of Middle East & Africa
7. Future of the Market
8. Competitive Landscape
8.1 Mergers & Acquisitions, Joint Ventures, Collaborations, and Agreements
8.2 Market Share Analysis**
8.3 Strategies Adopted by Leading Players
9. Company Profiles (Overview, Financials**, Products & Services, Recent Developments, and Analyst View)
9.1 Arkema S.A.
9.2 ExxonMobil Chemical
9.3 Shell Chemicals
9.4 Maruzen Petrochemical Co. Ltd
9.5 Sasol Solvents
9.6 PetroChina Lanzhou Petrochemicals
9.7 Zibo Qixiang Petrochemical Industry Group Co. Ltd
9.8 Idemitsu Kosan Co. Ltd
9.9 SK Energy Co. Ltd
9.10 Cetex Petrochemicals
9.11 Ineos Solvents
9.12 Tasco Chemicals
9.13 Tonen Chemicals
9.14 Fushun Petrochemical Company
9.15 AkzoNobel
*List not exhaustive
10. Disclaimer
**Subject to availability on public domain