The Latin America paints & coatings market is estimated to register a growth rate of 4.76% during the forecast period (2018-2023). Mexico is estimated to lead the market, due to the ongoing growth in the automotive and architectural sectors in the country. Water-based coatings are expected to be the fastest growing type, by technology.
Growing Automotive Sector in Mexico
Mexico is the largest automobile producer in Latin America. Despite new regulations after the Trump election, Mexico is still a major manufacturing hub for many automobile manufacturers. One of the major driving factors supporting the growth of the Mexican automotive industry is relatively-cheap labor, lower cost base, and better trade policies than other countries, such as the United States. The automotive sector contributes to almost 3% of the national GDP, and 18% of the manufacturing GDP in Mexico. Additionally, increasing foreign investments in the Mexican automotive sector is driving the automotive market in the country. The increasing OEM investments in the country is likely to add almost 1.7 million light vehicles to the country's automotive industry. This is primarily, owing to geographic advantages, cost-effective workforce, and access to major global markets. Paints and coatings also play a key role in the automotive aftermarket. The increasing demand for automotive refinishes is likely to boost the demand for paints & coatings in the Mexican automotive sector during the forecast period. These factors are expected to increase the production of automobiles, which, in turn, is likely to increase the usage of paints & coatings.
Water-borne Technology - The Fastest Growing Type by Technology
The VOCs released from solvent-borne coatings is the core reason for the switch of manufacturers to water-borne coatings. Also, other properties, like low odor, more durability, and more block resistance make water-borne coatings more preferable. There are many regulations from several governments, which support water-based coatings. These are usually used in several applications, which include transportation, building & construction, and industrial applications. In recent times, there has been a propensity to seek coatings with high usability, and water clean-up characteristics among the users. Water-borne coatings meet the requirements and facilitate low viscosity as well, without the addition of low-molecular weight monomers.
Mexico to Lead the Market in the Latin American Region
Mexico's housing sector is showing signs of more sustainable momentum, underpinned by moderate economic growth. Mexico's commercial sector continues to receive strong capital investment, both foreign and domestic sectors, thus, driving new construction, which, in turn, increases the consumption of architectural coatings. The demand for remodeling of houses increased by 3% in 2016. The Mexican automotive industry recorded a growth rate of 0.9% YoY, reaching a total of 3,597,462 units in 2016. These capacity expansions, coupled with establishments of new production sites, are expected to rapidly drive the production of vehicles in Mexico. The Mexican food processing sector is the third largest in the world. This, coupled with the rising can demand, is likely to have a positive impact on the packaging market. Increase in beer production in the recent years is expected to have a positive impact on the beverage-can coatings market as well. Mexico has free-trade agreement with 46 countries, which puts 90% of its trade through free agreement, which is very beneficial for almost all the sectors and economies in the country. All these factors are expected to rapidly drive the market for paints & coatings in Mexico during the forecast period.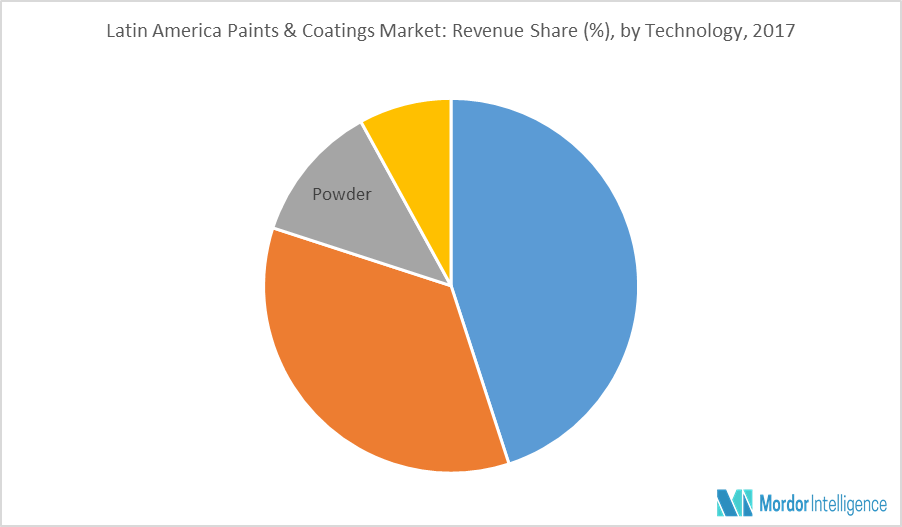 Notable Developments in the Market
September 2017: Axalta launched polyurethane coatings to expand Tufcote Industrial economy line.
June 2017: The Sherwin-Williams Company completed the acquisition of The Valspar Corporation and created a global leader in paints & coatings industry.
February 2016: AkzoNobel acquired BASF's Industrial Coatings business.
Major Players: AkzoNobel, RPM Internatinal, Hempel A/S, PPG, and The Sherwin Williams Company, among others.
Reasons to Purchase the Report
To understand the impact of end-user applications on the market
Analyzing various perspectives of the market with the help of Porter's five forces analysis
To understand the dominating technology in the market
Countries expected to witness the fastest growth during the forecast period
Identify the latest developments, market shares, and strategies employed by the major market players
3-month analyst support, along with the Market Estimate sheet (in excel)
Customization of the Report
This report can be customized to meet your requirements. Please connect with our representative, who will ensure you to get a report that suits your needs.
1. Introduction
1.1 Research Phases
1.2 Study Deliverables
1.3 Scope of the Report
2. Executive Summary
3. Market Insights
3.1 Industry Value Chain Analysis
3.2 Industry Attractiveness – Porter's Five Forces Analysis
3.2.1 Bargaining Power of Suppliers
3.2.2 Bargaining Power of Consumers
3.2.3 Threat of New Entrants
3.2.4 Threat of Substitute Products and Services
3.2.5 Degree of Competition
3.3 Raw Material Analysis
4. Market Dynamics
4.1 Drivers
4.1.1 Growing Automotive Sector in Mexico
4.1.2 Emergence of Infrastructure Projects
4.2 Restraints
4.2.1 Rising Environmental Concerns and Regulations
4.2.2 Rise in Prices of Raw Materials
4.3 Opportunities
4.3.1 Accelerating Demand for Eco-friendly Coatings
4.3.2 Introduction of Fluoropolymer Coatings
5. Market Segmentation and Analysis (Market Size, Share, and Forecast)
5.1 By End-user Industry
5.1.1 Architectural
5.1.2 Automotive
5.1.3 Wood
5.1.4 Protective Coating
5.1.5 General Industrial
5.1.6 Transportation
5.1.7 Packaging
5.2 By Technology
5.2.1 Water-borne
5.2.2 Solvent-borne
5.2.3 Powder
5.2.4 Radiation Cure
5.3 By Resin Type
5.3.1 Acrylic
5.3.2 Alkyd
5.3.3 Polyurethane
5.3.4 Epoxy
5.3.5 Polyesters
5.3.6 Others
6. Regional Market Analysis (Market Size, Share, and Forecast)
6.1 Mexico
6.2 Brazil
6.3 Argentina
6.4 Colombia
6.5 Chile
6.6 Rest of Latin America
7. Competitive Landscape
7.1 Mergers & Acquisitions, Joint Ventures, Collaborations, and Agreements
7.2 Market Share Analysis**
7.3 Strategies Adopted by Leading Players
8. Company Profiles (Overview, Financials**, Products & Services, and Recent Developments)
8.1 AkzoNobel N.V.
8.2 Axalta Coating Systems, LLC
8.3 BASF SE
8.4 Beckers Group
8.5 Hempel A/S
8.6 Jotun
8.7 Kansai Paint Co., Ltd
8.8 KCC PAINTS SDN BHD
8.9 Masco Corporation
8.10 NIPPON PAINT CO., Ltd
8.11 Pintuco SA
8.12 PPG Industries, Inc.
8.13 Rennar Herrmann S/A
8.14 RPM International Inc.
8.15 The Sherwin-Williams Company
*List Not Exhaustive
9. Disclaimer
**Subject to availability on public domain