The global human microbiome market is expected to account for nearly USD 273.40 million, registering a CAGR of about 22.6% during 2018-2025 (the forecast period). Moreover, the market is expected to reach USD 757.26 million by 2025.
Increasing Incidence of Lifestyle Diseases
The rising incidence of lifestyle diseases at the global level is a strong driver for the microbiome market, as therapeutics may provide an alternative route to tackle the significant healthcare challenges, such as obesity. The increasing occurrence of autoimmune disorders and antibiotic resistance are also important areas, where there is a need for fresh treatment approaches and, for which microbiome therapies may have a significant impact over the next few years. With advancements in precision medicine, personalized nutrition is also playing a crucial role. Almost half of the total chronic disease deaths are attributable to cardiovascular diseases, obesity, and diabetes, as they already affect a large proportion of the population. Hence, this exorbitant increase in the lifestyle diseases across the globe is driving the market for the human microbiome, which is expected to augment in the future. Other factors, such as growing geriatric population and increasing R&D investments, are driving the market growth.
Stringent Government Regulations
With the advancements in science and technology, scientists are getting increasingly excited about the potential and potency of fecal matter and the microbes in it. The FDA regulations on these procedures, however, keep them out of reach for most patients. Since 2013, FDA has banned doctors from doing fecal transplants on anything except Clostridium Difficile (C. diff). Stringent government regulations, pertaining to the approval of human microbiome-based therapies, are creating a major impediment for the market growth. The use of technology employing knowledge of the human microbiome is just getting started and not yet widely applied. Nevertheless, it is important to consider the ethical issues early, so as to avoid at least those pitfalls that can be identified at the initial stage rather than waiting for a disaster to happen and then trying to cobble together hasty responses. Fresh consideration of these issues by the biomedical research community, eschewing both exaggerations of the risks and ignoring real issues, will require, both, clear thinking and courage. So, the strict regulatory policies are hindering the market growth. Other factors, such as lack of comprehensive research, are also restraining the market growth.
The US has the Highest Market Share
In North America, the United States is dominating the human microbiome market accounting for the highest share, due to the growing geriatric population and rising prevalence of diseases. Owing to improvements in the research infrastructure, Asia-Pacific is expected to record a substantial growth rate during the forecast period.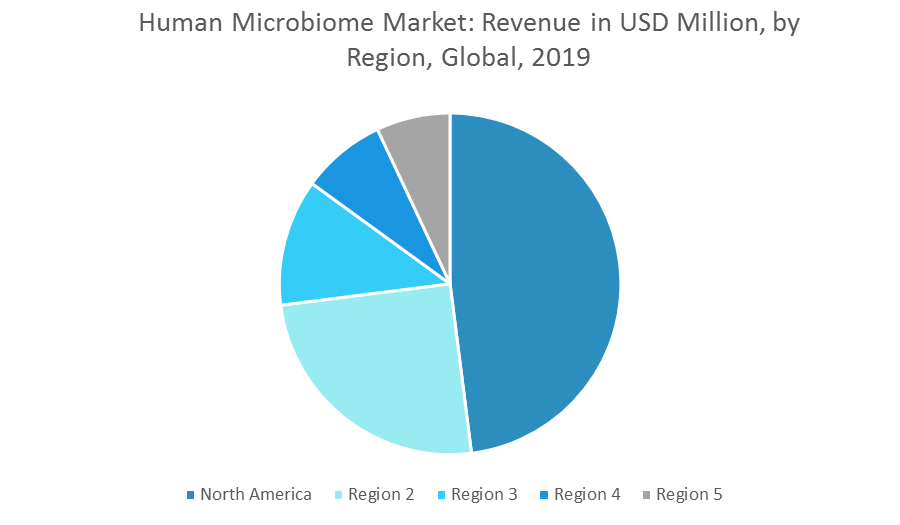 Key Developments in the Market
February 2018: Yakult Danone India, a 50:50 joint venture between Yakult Honsha and Danone, has released the latest variant on its signature probiotic drink, called as Yakult Light that contains vitamin D and E.
October 2017: Enterome launched the EB8018, a small molecule designed to block FimH, as a potential new orally-administered treatment for Crohn's disease.
Major Players: Enterome Bioscience, Yakult Honsha Co., Ltd, DuPont, Seres Therapeutics, Vithera Pharmaceuticals, Second Genome, Inc., Synthetic Biologics, Inc., Vedanta Biosciences, Inc., Osel Inc., and Synlogic, Inc., amongst others.
Reasons to Purchase this Report
Current and future human microbiome market outlook in the developed and emerging markets
Various perspectives of the market, with the help of Porter's five forces analysis
The segment expected to dominate the market
The region expected to witness the fastest growth rate during the forecast period
The latest developments, market shares, and strategies employed by the major market players
3-month analyst support, along with the Market Estimate sheet (in Excel)
Customization of the Report
This report can be customized to meet your requirements. Please connect with our representative, who will ensure you get a report that suits your needs.
1. Introduction
1.1 Market Definition
2. Research Methodology
3. Executive Summary
4. Key Inferences
5. Market Overview
5.1 Current Market Scenario
5.2 Porter's Five Forces Analysis
5.2.1 Bargaining Power of Suppliers
5.2.2 Bargaining Power of Consumers
5.2.3 Threats of New Entrants
5.2.4 Threat of Substitute Product & Services
5.2.5 Competitive Rivalry within the Industry
6. Drivers, Restraints, Opportunities, and Challenges Analysis (DROC)
6.1 Market Drivers
6.1.1 Rising Incidence of Lifestyle Diseases
6.1.2 Growing Geriatric Population
6.2 Market Restraints
6.2.1 Lack of Comprehensive Research
6.2.2 Stringent Government Regulations
6.3 Opportunities
6.4 Key Challenges
7. Market Segmentation
7.1 By Application
7.1.1 Therapeutics
7.1.2 Diagnostic
7.2 By Disease Indication
7.2.1 Obesity
7.2.2 Diabetes
7.2.3 AutoImmune Disorders
7.2.4 Cancer
7.2.5 Gastrointestinal Disorders
7.2.6 Central Nervous System Disorders
7.2.7 Others
7.3 By Product
7.3.1 Probiotics
7.3.2 Prebiotics
7.3.3 Synbiotics
7.3.4 Others
7.4 By Geography
7.4.1 North America
7.4.1.1 United States
7.4.1.2 Canada
7.4.1.3 Mexico
7.4.2 Europe
7.4.2.1 France
7.4.2.2 Germany
7.4.2.3 United Kingdom
7.4.2.4 Italy
7.4.2.5 Spain
7.4.2.6 Rest Of Europe
7.4.3 Asia-Pacific
7.4.3.1 China
7.4.3.2 Japan
7.4.3.3 India
7.4.3.4 Australia & New Zealand
7.4.3.5 South Korea
7.4.3.6 Rest of Asia-Pacific
7.4.4 Middle East & Africa
7.4.4.1 GCC
7.4.4.2 South Africa
7.4.4.3 Rest of the Middle East & Africa
7.4.5 South America
7.4.5.1 Brazil
7.4.5.2 Argentina
7.4.5.3 Rest of South America
8. Competitive Landscape
8.1 Mergers and Acquisition Analysis
8.2 Agreements, Collaborations, and Partnerships
8.3 New Products Launches
9. Key Players
9.1 Enterome Bioscience
9.2 Yakult Honsha Co., Ltd.
9.3 DuPont
9.4 Seres Therapeutics
9.5 Vithera Pharmaceuticals
9.6 Second Genome, Inc.
9.7 Synthetic Biologics, Inc.
9.8 Vedanta Biosciences, Inc.
9.9 Osel Inc.
9.10 Synlogic, Inc.
*List not Exhaustive
10. Future of the Market