The security testing market was valued at USD 2.95 billion in 2017 and is expected to register a CAGR of 27.2%, during the forecast period (2018 - 2023). The advances in information and communications technology have brought remarkable changes in the global business operations. Various government and public enterprises are dependent on information infrastructure services. However, this dependency has become a vulnerable factor for numerous business enterprises, owing to the rise in cyber security threats. Majority of the countries and companies understand that cyber threat is one of the most serious economic security challenges they face.
The scope of the study is segmented by Network Security, System Software Security, Client-side Application Security, and Server-side Application Security. The scope is also segmented by type of testing tool and End-user.
Increasing Security Threats is the Major Driver for the Market
The prevalence of wireless devices and networks has resulted in these becoming the backbone for various utility and commercial services. There is a growing trend in many of the business organizations to link their databases to massive data centers, which supports cloud services. A number of approaches are being explored to build advanced data exchange centers. For instance, in the past decade, cloud services were adopted by multitudes of banking and financial institutions, as a channel to process banking transactions remotely through internet services. Industries of all sizes became reliant on cloud computing, big data processing, and other IT services.
With the increase in cyber terrorism, security of sensitive data including, personal banking details, commercial banking details and confidential corporate information are at risk. Breaching a corporation's information has become an important aspect to the adversaries to gain the company's business insights. In 2016, JPMorgan was hit by the biggest bank breaches in history where hackers got access to the financial information of 3500 customer. This resulted in JPMorgan losing a huge customer base and their brand image.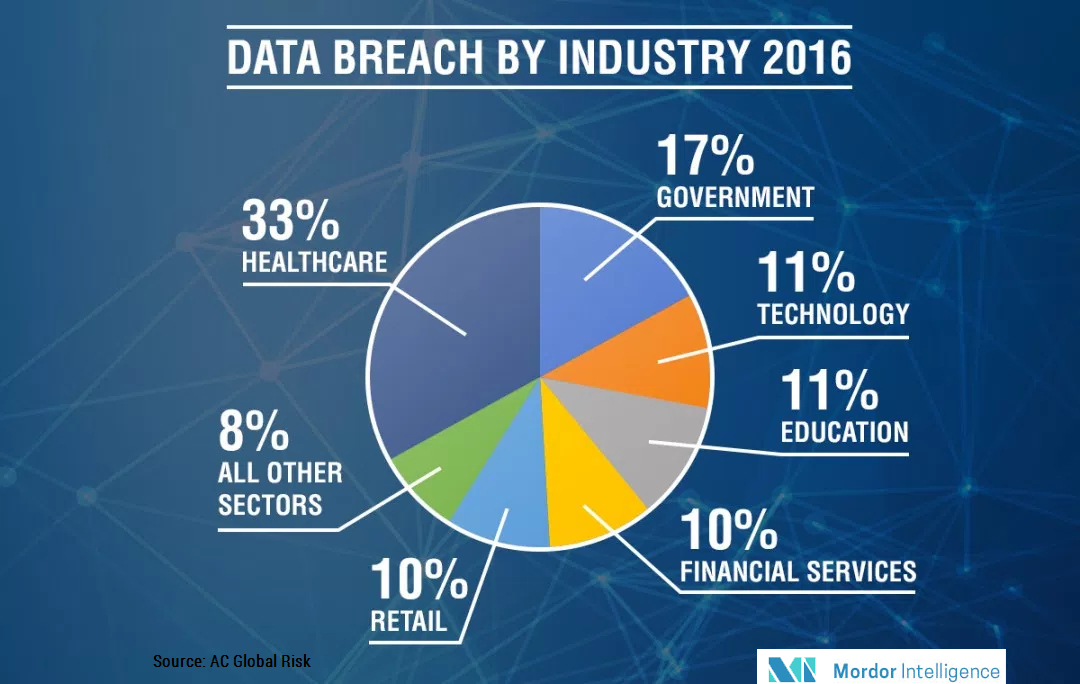 Network Security Holds a Significant Market Share
Typical network security testing happens at almost every step of the network. This is to prevent the vulnerabilities of the system that compromise the overall security, prevent data from being transmitted through unsecure channels and to prevent man-in-the-middle type of snooping of sensitive data. These checks are routinely performed and the systems are monitored for bugs and/or any voluntary breaches knowingly or unknowingly by any of the employees. For protecting the system, restrictions on third party software, USB encryption to prevent malware from being introduced into the network or mandated file transfer through SFT are recommended. With cloud computing becoming the trend, securing the network, preventing unrestricted access and providing necessary access as applicable to the users from anywhere, is a challenge that network security faces today. DDoS types of attacks are imminent as people from various locations can burden the server and in turn compromise the network, with flexibility at their disposal.
North America is expected to dominate the Market in forecast Period
North America is the hub for the world's tech giants. Majority of the cybercrime incidents are not reported as only few companies are coming forward with their loss information, considering their reputation. Federal organizations have made their rules very stringent regarding security testing services. It is made compulsory for industry verticals, such as financial organizations, manufacturing organization and retail chains to adhere with testing compliance.
The reaction from the media and the public regarding these security breaches is one of the compelling factors for organizations to review and assess the security systems. Major organizations in this region are now paying higher attention towards risk-mitigation by performing penetration testing to address the challenges from ethical hackers. North America leads other regions in this regard. Senior managements of the region's organizations acknowledge the security threats. They invest in niche security market players for specialized tests on various security aspects on critical application portfolios. Majority of them are third party security experts. Cloud solutions, mobile solutions and analytics are the major contributors for the region's security testing budgets.
Key Developments in the Market
March 2018 - DXC Technology announced DXC applications security on demand for automated applications security testing as a service. This new service is expected to be powered by Micro Focus software
Major Players: Core Security Technologies, iViZ Security, Offensive Security, Applause App Quality, Inc., Accenture, Cisco Systems, HP Company, International Business Machines Corporation (IBM), McAfee, Inc., Veracode, ControlCase LLC, Paladion Networks and Maveric Systems, among others.
Reasons to Purchase This Report
Current and future Security Testing Market outlook in the developed and emerging markets
Analysing various perspectives of the market with the help of Porter's five forces analysis
The segment that is expected to dominate the market
Regions that are expected to witness fastest growth during the forecast period
Identify the latest developments, market shares, and strategies employed by the major market players
3-month analyst support, along with the Market Estimate sheet in excel
Customization of the Report
This report can be customized to meet your requirements. Please connect with our representative, who will ensure you get a report that suits your needs
1. Introduction
1.1 Scope of the Study
1.2 Study Assumptions
1.3 Study Deliverables
2. Research Approach and Methodology
2.1 Research Phases
2.2 Analysis Methodology
3. Executive Summary
4. Market Dynamics
4.1 Market Overview
4.2 Introduction to Market Dynamics
4.3 Market Drivers
4.3.1 Increasing Security Threats
4.3.2 Government Regulations Driving Security Needs
4.4 Market Restraints
4.4.1 Lack of Awareness About Security Testing
4.5 Porter's Five Forces Analysis
4.5.1 Bargaining Power of Suppliers
4.5.2 Bargaining Power of Consumers
4.5.3 Threat of New Entrants
4.5.4 Threat of Substitute Products and Services
4.5.5 Competitive Rivalry in the Industry
5. Technology Snapshot
6. Segmentation - By Deployment Model
6.1 On-premise
6.2 Cloud
6.3 Hybrid
7. Segmentation - By Type
7.1 Network Security Testing
7.1.1 VPN Testing
7.1.2 Firewall Testing
7.1.3 Other Types of Network Security Testing
7.2 Application Security Testing
7.2.1 By Type of Application
7.2.1.1 Web
7.2.1.2 Enterprise
7.2.1.3 Mobile
7.2.1.4 Cloud
7.2.2 By Testing Type
7.2.2.1 SAST
7.2.2.2 DAST
7.2.2.3 IAST
7.2.2.4 RASP
8. Segmentation - By Testing Tool
8.1 Web Application Testing Tool
8.2 Code Review Tool
8.3 Penetration Testing
8.4 Software Testing Tool
8.5 Other Testing Tools
9. Segmentation - By End-user Industry
9.1 Government
9.2 Healthcare
9.3 BFSI
9.4 Manufacturing
9.5 Retail
9.6 IT & Telecommunication
9.7 Other End-user Industries
10. Segmentation - By Region
10.1 North America
10.2 Europe
10.3 Asia-Pacific
10.4 Latin America
10.5 Middle East & Africa
11. Competitive Intelligence - Company Profiles
11.1 Core Security Technologies Inc
11.2 iViZ Security Inc
11.3 Offensive Security LLC
11.4 Applause App Quality Inc
11.5 Accenture PLC
11.6 Cisco Systems Inc
11.7 Hewlett-Packard Company
11.8 IBM Corporation
11.9 McAfee LLC
11.10 Veracode Inc
11.11 ControlCase LLC
11.12 Paladion Networks Pvt Ltd
11.13 Maveric Systems Ltd
11.14 Checkmarx Ltd
*List Not Exhaustive
12. Investment Analysis
13. Future of the Market