Market Snapshot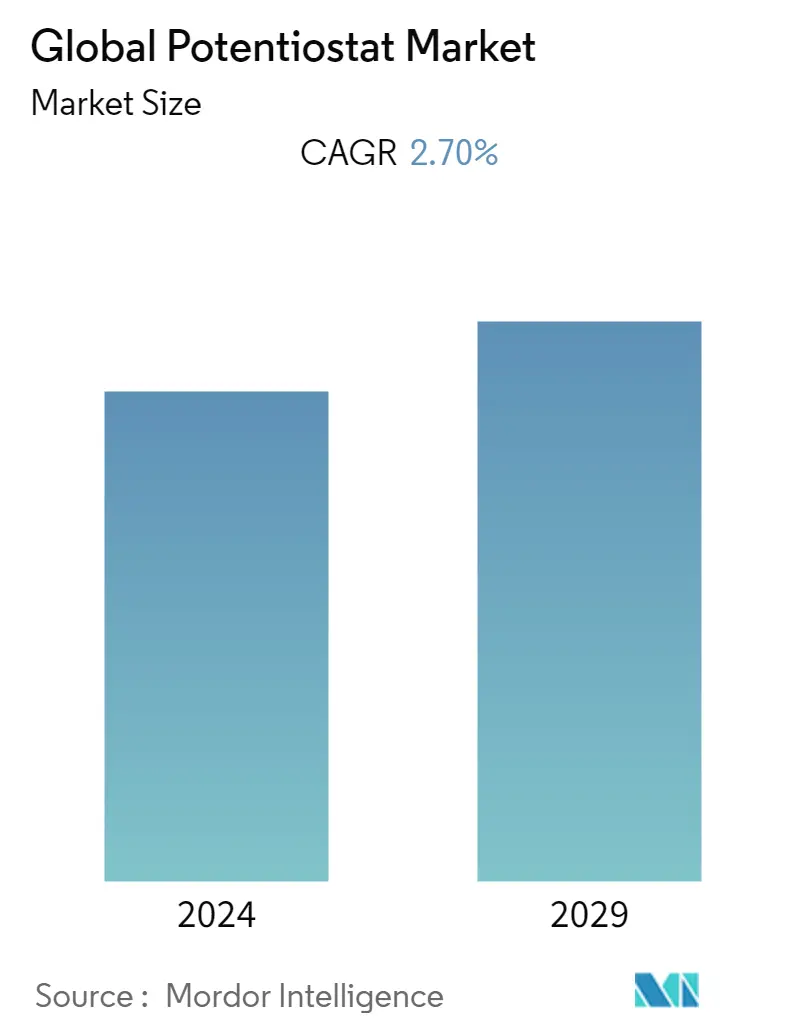 Study Period:
2020-2027
Base Year:
2021
Fastest Growing Market:
North America
Largest Market:
Europe
CAGR:
2.7 %
Need a report that reflects how COVID-19 has impacted this market and its growth?
Market Overview
The Global Potentiostat Market is expected to reach a CAGR of 2.7% during the forecast period (2022 - 2027). The use of tiny electrochemical devices has increased quickly in recent decades, with many applications in scientific and consumer products (e.g., batteries, Glucose sensors, and Breathalyzer ). Developing specialized electrochemical devices is, unfortunately, a time-consuming and costly procedure. Depicts a typical electrochemical experiment setup with measurement equipment like a potentiostat. A potentiostat is a device that regulates the voltage across two or more electrodes. It is necessary measurement equipment when employing electroanalytical approaches to examine electrochemical reaction processes. The potentiostat's primary function is to control the electrochemical reaction using either two electrodes (a working electrode and a counter electrode) or three electrodes (a working electrode and a counter electrode).
The desire to reduce lead time, sample usage, testing costs, and limitations associated with various technologies has resulted in technological innovation and the creation of potentiostat technologies. Because these technologies offer higher sensitivity, accuracy in results, reliability, multi-contaminant and non-targeted screening with low turnaround time, and other benefits, wide-scale adoption of these technologies provides an opportunity for medium- and small-scale laboratories to expand their service offerings and compete with large market players in the industry.
In February 2021, Biocon Biologics, an arm of biotechnology major Biocon, announced that it had signed a pact with the Clinton Health Access Initiative (CHAI) to expand access to life-saving cancer biosimilars in over 30 countries in Africa & Asia as a part of the Cancer Access Partnership. Collaborations like this will create an opportunity for the market to grow.
With the increase in the usage of potentiostat products lot of researchers are in the process of making it, and many researchers are making the product more useful to the customer. For instance, in June 2022, the research titled" Design of smartphone-controlled low-cost potentiostat for cyclic voltammetry analysis based on ESP32 microcontroller" states that electrochemical-based analysis has the advantages of simplicity, resilience, and low maintenance. A low-cost potentiostat, a basic piece of equipment for conducting electrochemistry experiments and analysis, is required to enable small-medium educational units to construct a multipurpose mini-laboratory, especially for educational purposes. Furthermore, developing portable and small devices may be required to attract many technology adopters. The ESP32 microcontroller was used to create eSTAT, a low-cost, smartphone-controlled potentiostat system. The accuracy and error tolerance of the system was assessed using Cyclic Voltammetry (CV) measurements, which were used to evaluate eSTAT's performance. Design of smartphone-controlled low-cost potentiostat for cyclic voltammetry analysis based on ESP32 microcontroller.
The COVID-19 pandemic has led to enormous disruptions in supply chains across industries globally, due to which many businesses worldwide halted or reduced operations to help combat the spread of the virus. The pandemic has impacted the passive electronic components business, resulting in lower operation levels across the supply chain, particularly at the component and raw material levels. This indicates a drop in sales across several regions and countries.
The prices of raw materials such as nickel, iron, molybdenum, etc., have recently seen significant changes. With the influence of the pandemic, the global precious metal market is further witnessing adverse effects of supply chain issues, which are further impacting the prices in the market. According to the World Bank, the nickel price stood at USD 18,584.38 in February 2021, which was USD 16,823.04 per metric ton in December 2020. The increase in the raw material cost will hamper production and increase the operational cost.
Scope of the Report
In a multiple electrode electrochemical cell, a potentiostat is an analytical instrument that regulates the working electrode's potential. Many internal circuits in the potentiostat allow it to work in this capacity. Potentials and currents are generated by the circuits, which are then measured.
The Global Potentiostat Market is segmented by End-User Application (Pharmaceutical, Environmental, Food Testing, and Water Testing) and Geography.
By End-User Application
Pharmaceutical
Environmental
Food testing
Water Testing
Others
By Geography
Americas (North America, Latin America)
Europe, Middle East and Africa (EMEA)
Asia Pacific
Key Market Trends
Applications in Pharmaceutical Industry is One of the Factor Driving the Market
Pharmaceutical analysis is a significant subject connected to active component identification and evaluation in raw materials, pharmaceutical formulations, and biological samples in the current context of rising drug use and misuse. Impurities, degradation products, and excipients are determined, as well as content uniformity, dissolution, and stability tests. Medication quality control, therapeutic drug monitoring, pharmacokinetics, and clinical investigations are a few of the many cited uses.
In March 2022, the research paper titled" A Wireless Implantable Potentiostat for Programmable Electrochemical Drug Delivery" States that Targeted, tailored, and on-demand therapies with minimal side effects are possible using implantable drug delivery devices. The researchers present an ultra-sonically powered implantable potentiostat with bidirectional communication for programmable electrochemically controlled drug delivery. A unique drug delivery module incorporating drug-loaded electro-responsive nanoparticles and piezoelectric transducers for wireless power and data, a 180 nm CMOS integrated circuit, and a 180 nm CMOS integrated circuit make up the system. A programmable wide-range potentiostat capable of producing potentials up to 1.5 V and measuring currents up to 100 A and a 125 kbps data transmitter is included in the chip. The medication delivery system is demonstrated using wirelessly powered and regulated fluorescein release.
The FDA's Center for Drug Evaluation and Research (CDER) approved 50 new drugs and biological products in 2021. Of the 50 approved new drugs and biological products, 33 were small molecule drugs, and 17 were monoclonal antibodies and other big molecule drugs. However, biologic approvals have been increasing steadily over the past few years. Such developments will positively impact the market.
Several firms are collaborating in developing new drugs, therapies, and many more, which will significantly create an opportunity for the market to grow. For Instance, in April 2022, Astellas Pharma and the University of Tokyo launched the second phase of their collaboration to discover novel therapeutics and medical solutions together. The Astellas Alliance Acceleration Program is the name of the collaboration (AAAP). AAAP established a foundation for the collaboration at the university's Institute for Life Science Research and Education and the University of Tokyo Center of Innovation during the initial phase, which lasted from September 2020 to March 2022.
Furthermore, In November 2021, The University of Oxford and the Brazilian Ministry of Health announced a joint initiative to set up global health and contract and clinical research unit in Brazil. It will develop new drugs and vaccines to drive ongoing human health research. It will also focus on training a new generation of contract and clinical researchers by offering Masters and Ph.D. studentships and courses in infectious diseases, clinical development, and vaccinology.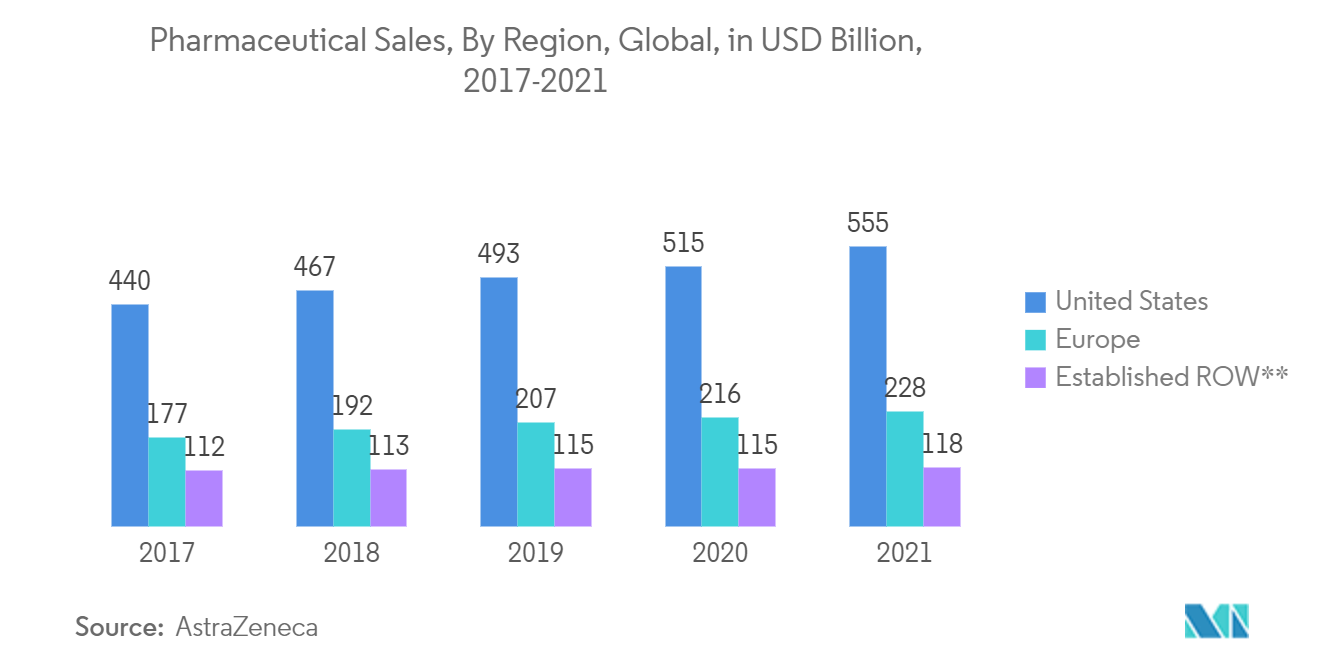 To understand key trends, Download Sample Report
Americas to Hold the Major Market Share
The US Food and Drug Administration (FDA) regulates the manufacturing of drugs in the United States. It ensures the quality of drug products by carefully monitoring drug manufacturers' compliance with its Current Good Manufacturing Practice (CGMP) regulations. The CGMP regulations for drugs have set the minimum requirements for the methods, facilities, and controls used in drug manufacturing, processing, and packaging. These regulations ensure that a product is safe for use and includes the ingredients according to the claims. These regulations lay down guidelines for processing, content, and evaluation of applications and regulating products' design, production, manufacturing, and testing. This will drive the market.
Portable potentiostats are compact, battery-powered instruments that can be carried around. They are often less powerful than desktop models and are more likely to be limited to a single purpose. Handheld potentiostats are ideal for testing in the field, especially where a quick quantitative result is more critical than a complete electrochemical study.
The regional companies are developing new products or incorporating new techniques into existing products to meet customers' demands. For example, Pine Research Instrumentation, Inc., a United States-based company, provides a WaveNow Wireless potentiostat/galvanostat, a versatile system that can be used in various applications. Even though it is just larger than a smartphone, it is highly strong, sturdy, and capable of performing all traditional electrochemical processes. WaveNow has a current resolution of 100 nA to 100 mA and a voltage range of +/- 4 V. WaveNow is used in a teaching environment, research, and industrial laboratories by customers.
In February 2021, scientists developed a stamp-sized chip that makes COVID-19 testing easier and provides findings in less than 55 minutes on a smartphone. Researchers from Rice University in the United States created a microfluidic chip that analyses the concentration of SARS-CoV-2 nucleocapsid (N) protein, a biomarker for COVID-19, in blood serum from a routine finger prick. By diluting the serum fivefold, the microchip could identify N protein at even lower quantities, at ten picograms per milliliter, in 25 minutes. It produced a positive diagnosis with a concentration as low as 230 picograms for the entire serum when paired with a Google Pixel 2 phone and a plug-in potentiostat. This device adjusts voltage and detects the resulting current.
Due to the working electrode being grounded, it is noise-insensitive - the recorder outputs of both potential and current refer to ground, extreme small currents can be measured, and different basic potentiostat designs can be employed. Benefits like these will create an opportunity for the local players to expand their business in different testing applications.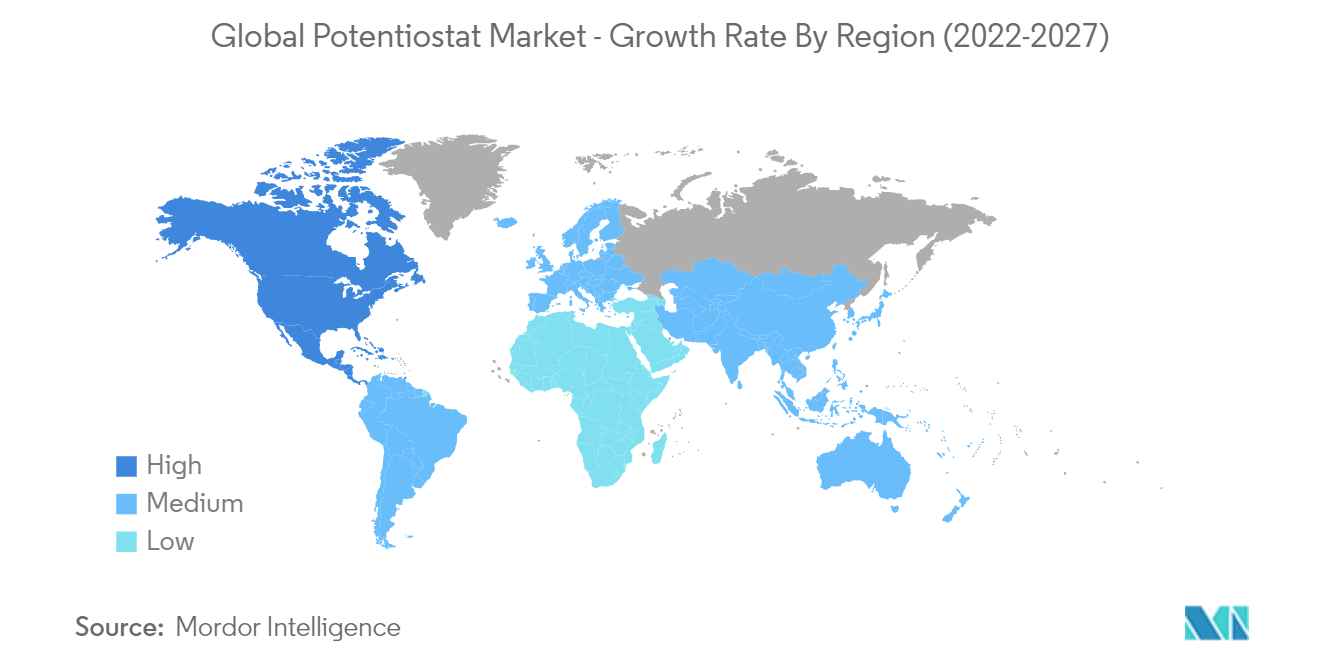 To understand geography trends, Download Sample Report
Competitive Landscape
The Global Potentiostat Market is fragmented. Players tend to invest in innovating their product offerings to cater to the insurance industry's changing demands. Moreover, players adopt strategic activities like partnerships, mergers, and acquisitions to expand their presence. Some of the recent developments in the market are:
June 2021 - Following the success of the VSP-3e and VMP-3e, the SP-50e and SP-150e are the latest additions to BioLogic's Essential line's "e" (improved) series of potentiostats. The SP-150e is an upgraded, updated version of the tried-and-true SP-150. It has several improvements over its predecessor. The ability to add a second channel to the potentiostat is a crucial feature of the SP-150e. Including a second channel to this tiny, multichannel bipotentiostat makes this electrochemical workstation particularly well suited to energy applications. The addition of a second channel expands the range of applications available to users, particularly in battery testing and general electrochemistry.
May 2021 - Admiral Instruments has announced a new cooperation with Quantum Design. Their purpose is to make the next generation of electrochemistry equipment accessible to everyone worldwide, and quantum design is excited to assist them in this endeavor in Italy. Traditional potentiostats are notoriously expensive and difficult to operate; however, in this collaboration, the company employs Squidstat potentiostats, which pack strong technology into a small footprint at a market-leading price. The app also provides a delightfully basic user interface. Admiral accomplishes all this while maintaining the research-grade quality required of precision instruments in this class.
Recent Developments
April 2022 - Metrohm DropSens has developed a novel multichannel bipotentiostat, galvanostat, and impedance analyzer (MultiplEIS technology) for multi-user and multidisciplinary electrochemical research, in addition to a potentiostat. The system is suitable for working not only with screen-printed electrodes but also with conventional set-ups.
March 2022 - ECSens has announced the ultra-compact potentiostat, the smallest and most affordable electrochemical sensing interface on the market, and it's designed to work with screen-printed electrodes or other sensors on the market. ECSens is a top-of-the-line entry-level potentiostat for electrochemical investigations, biosensor development, and various other uses. The most common electroanalytical techniques, voltammetry and amperometry are included in MicruX ECSens, enabling genuine on-site analysis. MicruX EC Manager Lite, a graphical user interface, allows complete control of the device from a PC. Furthermore, ECSens allows for multiplexing.
Table of Contents
1. INTRODUCTION

1.1 Study Assumptions and Market Definition

1.2 Scope of the Study

2. RESEARCH METHODOLOGY

3. EXECUTIVE SUMMARY

4. MARKET INSIGHTS

4.1 Market Overview

4.2 Industry Attractiveness - Porter's Five Forces Analysis

4.2.1 Threat of New Entrants

4.2.2 Bargaining Power of Buyers

4.2.3 Bargaining Power of Suppliers

4.2.4 Threat of Substitutes

4.2.5 Intensity of Competitive Rivalry

5. MARKET DYNAMICS

5.1 Market Drivers

5.2 Market Challenges

5.3 Industry Value Chain Analysis (Ecosystem, Distribution Channel, and Stakeholder Analysis)

5.4 Impact of COVID-19 on the Market

5.5 Technological Snapshot

6. MARKET SEGMENTATION

6.1 By End-User Application

6.1.1 Pharmaceutical

6.1.2 Environmental

6.1.3 Food testing

6.1.4 Water Testing

6.1.5 Others

6.2 By Geography

6.2.1 Americas (North America, Latin America)

6.2.2 Europe, Middle East and Africa (EMEA)

6.2.3 Asia Pacific

7. COMPETITIVE LANDSCAPE

7.1 Company Profiles

7.1.1 Metrohm AG

7.1.2 AMETEK Inc.

7.1.3 BioLogic Sciences Instruments SA

7.1.4 Danaher Corp.

7.1.5 Gamry Instruments

7.1.6 Harvard Bioscience Inc.

7.1.7 Ivium Technologies BV

7.1.8 Metrohm AG

*List Not Exhaustive

8. RESEARCH PAPER CITATION ON THE MINIATURIZED POTENTIOSTAT APPLICATION

9. MARKET FUTURE OUTLOOK
You can also purchase parts of this report. Do you want to check out a section wise price list?
Frequently Asked Questions
What is the study period of this market?
The Global Potentiostat Market market is studied from 2020 - 2027.
What is the growth rate of Global Potentiostat Market?
The Global Potentiostat Market is growing at a CAGR of 2.7% over the next 5 years.
Which region has highest growth rate in Global Potentiostat Market?
North America is growing at the highest CAGR over 2021- 2026.
Which region has largest share in Global Potentiostat Market?
Europe holds highest share in 2021.
Who are the key players in Global Potentiostat Market?
Metrohm AG, AMETEK Inc., BioLogic Sciences Instruments SA, Danaher Corp, Gamry Instruments are the major companies operating in Global Potentiostat Market.
80%

of our clients seek made-to-order reports. How do you want us to tailor yours?