The Europe water treatment chemicals market is estimated to register a CAGR of 4.55%, during the forecast period, 2018-2023. Germany is estimated to account for the largest share of the market in the region supported by the growing importance of environmental protection and human health in the country. Power generation industry is estimated to be the fastest growing sector and lead the market in terms of revenue contribution.
Rising Ground and Surface Water Pollution
Radionuclides (molecules that remain radioactive for a long period of time), are naturally and widely present in some groundwater, which can pose high health risks including cancer. The sources for these molecules are nuclear fuel production, phosphate fertilizers and wastewater from mines present in the region. The low levels of copper and lead are also found in the environment and can become toxic when concentrated due to local geology and human activities. The governments are taking measures to curb the content of these harmful pollutants, one of these measures is the water treatment process.
Power Generation to be the Largest End-user Segment
The electric power generation industry is one of the major sources of industrial wastewater. Their wastewater contains significant levels of toxic metal impurities, such as lead, mercury, arsenic, chromium, and cadmium, among others. These impurities can cause significant damage to environment, if not treated properly. Therefore, the electric power generation industry needs water treatment chemicals and is expected to show high demand for water treatment chemicals in the region during the forecast period.
Germany to Lead the Market in the Region
Germany is the region with the highest potential application areas for water treatment chemicals. Germany has more than sufficient water resources to meet its needs. The country uses about one fourths of its available water resources, of which close to 4% is used for human consumption. Environmental protection and human health are considered extremely important in Germany. This importance has led to efficient water and wastewater treatment methods, and nearly 100% wastewater in Germany is treated to meet the highest standards set by the European Union. Thus, the market is expected to grow significantly in the country during the forecast period.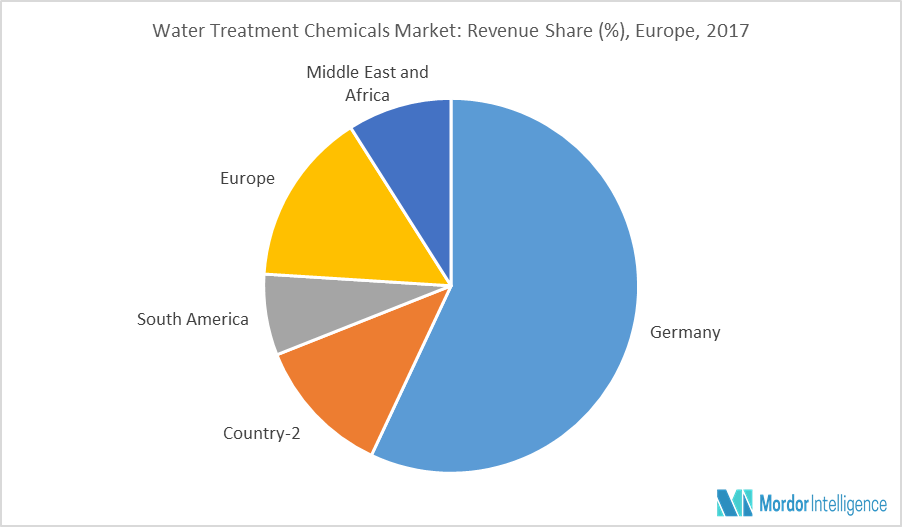 Notable Developments in the Market
January 2018: Ecolab acquired Cascade water services, a privately held company based in New York that provides water treatment programs and services
Major Players: BASF SE, Chemtreat Inc., Organo Corp., PQ Corp, Wex Technologies, among others.
Reasons to Purchase this Report
To understand the impact of increasing stringent regulations on the market
Analyzing various perspectives of the market with the help of Porter's five forces analysis
To understand the trend of end-user industries with application of water treatment chemicals.
Countries expected to witness the fastest growth during the forecast period
Identifying the latest developments, market shares, and strategies employed by the major market players
3-month analyst support, along with the Market Estimate sheet (in Excel)
Customization of the Report
This report can be customized to meet your requirements. Please connect with our representative, who will ensure you to get a report that suits your needs
1. Introduction
1.1 Research Phases
1.2 Study Deliverables
1.3 Scope of the Report
2. Executive Summary
3. Market Insights
3.1 Industry Value Chain Analysis
3.2 Industry Attractiveness – Porter's Five Force Analysis
3.2.1 Bargaining Power of Suppliers
3.2.2 Bargaining Power of Consumers
3.2.3 Threat of New Entrants
3.2.4 Threat of Substitute Products and Services
3.2.5 Degree of Competition
3.3 Regulatory Policies
4. Market Dynamics
4.1 Drivers
4.1.1 Growing need for innovative water treatment solutions
4.1.2 Stringent Regulations to Control Produced and Wastewater Disposal
4.1.3 Growing Demand from Power and Industrial Applications
4.2 Restraints
4.2.1 Hazardous Nature of Hydrazine
4.2.2 Dearth of Awareness Regarding Chemical Water Treatment Technologies
4.3 Opportunities
4.3.1 Shifting Focus Towards the Usage of Green Chemicals
4.3.2 Other Opportunities
5. Market Segmentation and Analysis (Market Size, Growth, and Forecast)
5.1 By Product Type
5.1.1 Flocculants
5.1.1.1 Natural
5.1.1.2 Artificial
5.1.2 Coagulants
5.1.3 Biocides & Disinfectants
5.1.4 Defoamers & Defoaming Agents
5.1.5 pH Adjusters & Softeners
5.1.6 Corrosion Inhibitors
5.1.7 Scale Inhibitors
5.1.8 Others
5.2 By End-User Industry
5.2.1 Electric Power Generation
5.2.2 Oil & Gas
5.2.3 Chemical Manufacturing
5.2.4 Mining & Mineral Processing
5.2.5 Municipal
5.2.6 Food & Beverages
5.2.7 Pulp & Paper
5.2.8 Others
6. Regional Market Analysis (Market Size, Growth, and Forecast)
6.1 Europe
6.1.1 Germany
6.1.2 France
6.1.3 Italy
6.1.4 Spain
6.1.5 United Kingdom
6.1.6 Russia
6.1.7 Rest of Europe
7. Future of the Market
8. Competitive Landscape
8.1 Mergers & Acquisitions, Joint Ventures, Collaborations, and Agreements
8.2 Market Share Analysis
8.3 Strategies Adopted by Leading Players
9. Company Profiles (Overview, Products & Services, Financials**, and Recent Developments)
9.1 Accepta
9.2 Akzo Nobel N.V.
9.3 Albemarle Corp.
9.4 Arch Chemicals Inc.
9.5 Ashland Water Technologies
9.6 BASF SE
9.7 Buckman Laboratories
9.8 BWA Water Additives
9.9 Chemtreat Inc.
9.10 Chemtura Corp
9.11 Dow Water & Process Solutions
9.12 Ecolab Inc.
9.13 General Chemical Performance Products LLC
9.14 GE Water & Process Technologies
9.15 Israel Chemicals
9.16 Kemira Oyj
9.17 Kurita Water Industries Ltd.
9.18 Nalco Co.
9.19 PQ Corp.
9.20 Solvay SA
9.21 Wex Technologies Pvt. Ltd.
*List not exhaustive
10. Disclaimer
**Subject to availability on public domain