Market Snapshot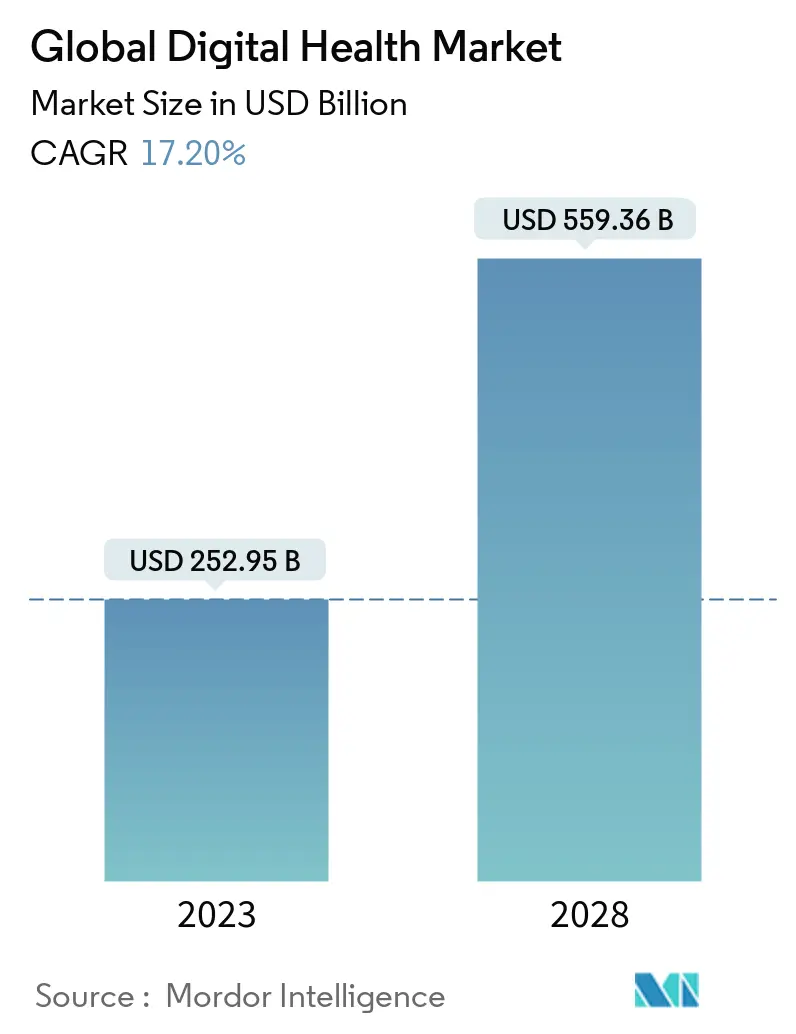 Study Period:
2019-2027
Base Year:
2021
Fastest Growing Market:
Asia-Pacific
Largest Market:
North America
CAGR:
18.4 %
Need a report that reflects how COVID-19 has impacted this market and its growth?
Market Overview
The Digital Health Market is projected to register a CAGR of 18.4% during the forecast period.
In the first and second quarters of 2020, the flare of the COVID-19 pandemic showed a strong impact on the market because the hospital and clinic operations were reduced significantly due to lockdown and social distancing measures taken by governments across the world which increased the demand for digital healthcare services. In the Covid-19 era, the digital delivery of healthcare has been more important than ever.
According to the Organization for Economic Co-operation and Development (OECD), digital health is being used to deliver healthcare in a wide range of specialties, for numerous conditions, and through varied means which can improve health outcomes across a range of therapeutic areas such as diabetes, asthma, cardiovascular disease, and ophthalmology. According to the article "The European digital health revolution in the wake of COVID-19," published in April 2021, the European Commission proposed the EU4Health program as part of a COVID-19 recovery response program. The initiative aims to raise EUR 5.1 billion for the digital transformation of the European health sector and ensure preparedness for future cross-border health threats. Thus, increasing investments by European governments toward the digital transformation of healthcare will drive market growth over the study period.
Additionally, the European Commission-funded project COVID-19 Telemedicine started in August 2020 and took up the solution to the next level of technological readiness. In addition to reducing staff exposure to contagions, the number of emergency department visits and hospitalizations, as well as the duration of hospital stays, were also reduced. The RPM solution provides comfort to anxious patients in home isolation and quarantine. The automated triage makes it a highly scalable and resource-efficient infectious disease management tool for COVID-19 and future pandemics. Such government-funded projects are expected to positively impact market growth.
Increasing funding for digital health is also likely to boost market growth. According to the Mercom Capital Group, Digital health companies raised a record USD 14.8 billion in venture capital (VC) funding during 2020. The funding was distributed across 40 different digital health categories. The top funded categories were telemedicine, data analytics, mobile health apps, and clinical decision support, which together secured 60% (USD 8.6 billion) of total (USD 14.8 billion) funding in 2020. These top-funded categories received over USD 1 billion each in investments. The same source stated that the Healthcare Data Analytics software companies raised USD 1.8 billion in 2020, a 13% increase in the funding activity. In large funding round, LeanTaaS, predictive analytics and machine learning company specializing in improving healthcare operations, raised USD 130 million in a Series D funding round, bringing the company's total raised to over USD 250 million. Other digital health categories that received significant funding during 2020 include Practice Management Solutions (USD 837 million), Wearable Sensors (USD 815 million), Digital Wellness (USD 792 million), and Healthcare Booking Services (USD 765 million). Since 2010, Digital Health companies have received USD 59 billion in VC funding in over 5,000 funding deals. This is likely to open up growth horizons for the market studied.
Similarly, increasing adoption of technology and product launches are key factors for the growth of the market. For instance, in June 2021, MicroPort CRM announced the European launch of AlizeaTM and BoreaTM pacemakers which are equipped with Bluetooth technology for streamlined remote monitoring when paired with the SmartView Connect home monitor. These pacemakers will allow cardiologists to monitor the devices remotely, saving patients the need to travel to the hospital for a simple routine examination and thus reducing the burden on the healthcare system.
Moreover, in December 2020, Entremo, a start-up within the European Institute of Information and Technology (EIT) Digital Innovation Factory, deployed their product, a wristband to remotely monitor the vital signs of patients in hospitals and nursing homes in Hungary. Hence, due to the abovementioned factors, the studied market is expected to grow significantly during the forecast period.
Additionally, in March 2021, Spanish mobile network Yoigo also launched a telemedicine service named Doctor Go. The Doctor Go telemedicine service offers video consultations with family doctors and specialists, as well as telepharmacy services for electronic prescriptions and the delivery of medicines.
Furthermore, the support from the government by providing grants is also driving the growth of the market over time. For instance, in May 2021, the United Kingdom health tech company, my mhealth, and collaborators were awarded EUR 2.5 million Eurostars Grants for the development of their project named CUOREMA. The CUOREMA project will focus on developing a new, patient-centered cardiac rehabilitation support system. Thus, owing to the abovementioned factors, the market segment is expected to project growth over the forecast period. However, security concerns regarding patient data will hinder the market growth in the upcoming future.
Scope of the Report
As per the scope of this report, digital health, which includes digital care programs, is the convergence of digital technologies with health, healthcare, living, and society to enhance the efficiency of healthcare delivery and make medicine more personalized and precise. The Digital Health Market is segmented by Component (Hardware, Software, and Services), Technology (Telehealth, mHealth, Health Analytics, and Digital Health Systems), and Geography (North America, Europe, Asia-Pacific, Middle-East and Africa, and South America). The market report also covers the estimated market sizes and trends for 17 different countries across major regions globally. The report offers the value (in USD million) for the above segments.
By Component
Hardware
Software
Services
By Technology
Telehealth
mHealth
Health Analytics
Digital Health Systems
Geography

North America
United States
Canada
Mexico

Europe
Germany
United Kingdom
France
Italy
Spain
Rest of Europe

Asia-Pacific
China
Japan
India
Australia
South Korea
Rest of Asia-Pacific

Middle-East and Africa
GCC
South Africa
Rest of Middle-East and Africa

South America
Brazil
Argentina
Rest of South America
Key Market Trends
mHealth Segment is Expected to Hold a Significant Market Share Over the Forecast Period
mHealth or Mobile Health is the use of mobile and wireless technologies to support the achievement of health objectives. The most common application of mHealth is the use of mobile devices to educate consumers about preventive healthcare services. However, mHealth is also used for disease surveillance, treatment support, epidemic outbreak tracking, and chronic disease management.
Factors such growing burden of chronic diseases, advancements in technology, rising awareness about the health of the population, and initiatives taken by the government are driving the growth of the market segment over the forecast period.
According to the Mercom Capital Group, mHealth Apps focused on fitness, wellness, and care & communication raised USD 1.4 billion in 2020, a 17% increase in funding, compared to USD 1.2 billion in 2019. The largest deal: ClassPass, a provider of app-based fitness and wellness classes across multiple gyms and studios, raised USD 285 million in a Series E funding round.
An increasing number of research are another factor in the growth of the market. For instance, in October 2020, a research study was published titled "Can mHealth and eHealth improve management of diabetes and hypertension in a hard-to-reach population? —lessons learned from a process evaluation of digital health to support a peer educator model in Cambodia using the RE-AIM framework" stated that the burden of non-communicable diseases (NCDs) is increasing in low- and middle-income countries (LMICs) where NCDs cause 4:5 deaths, disproportionately affect poorer populations and carry a large economic burden. Digital interventions can improve NCD management for these hard-to-reach populations with inadequate health systems and high cell phone coverage.
Product launches are also likely to favor the growth of the market. For instance, in May 2021, GoMeyra, an innovative cloud software company that helps medical laboratories process samples faster and more accurately, launched a free mobile app for sharing COVID-19 vaccination verification or PCR and Rapid Antigen test results called GoMeyra Pass. GoMeyra Pass integrates with GoMeyra LIMS – the fastest lab information management system on the market that allows its nationwide network of accredited laboratories to provide COVID-19 test results within 24 hours.
Additionally, European Union is promoting a program titled 'Promoting a trusted mHealth label in Europe: uptake of Technical specifications for "Quality and Reliability of Health and Wellness Apps' with the aim to prioritize digital tools for citizen empowerment and for person-centered care whose submission date was in September 2021. Such initiatives would increase the awareness and accessibility of mHealth in the upcoming future and will increase the market growth.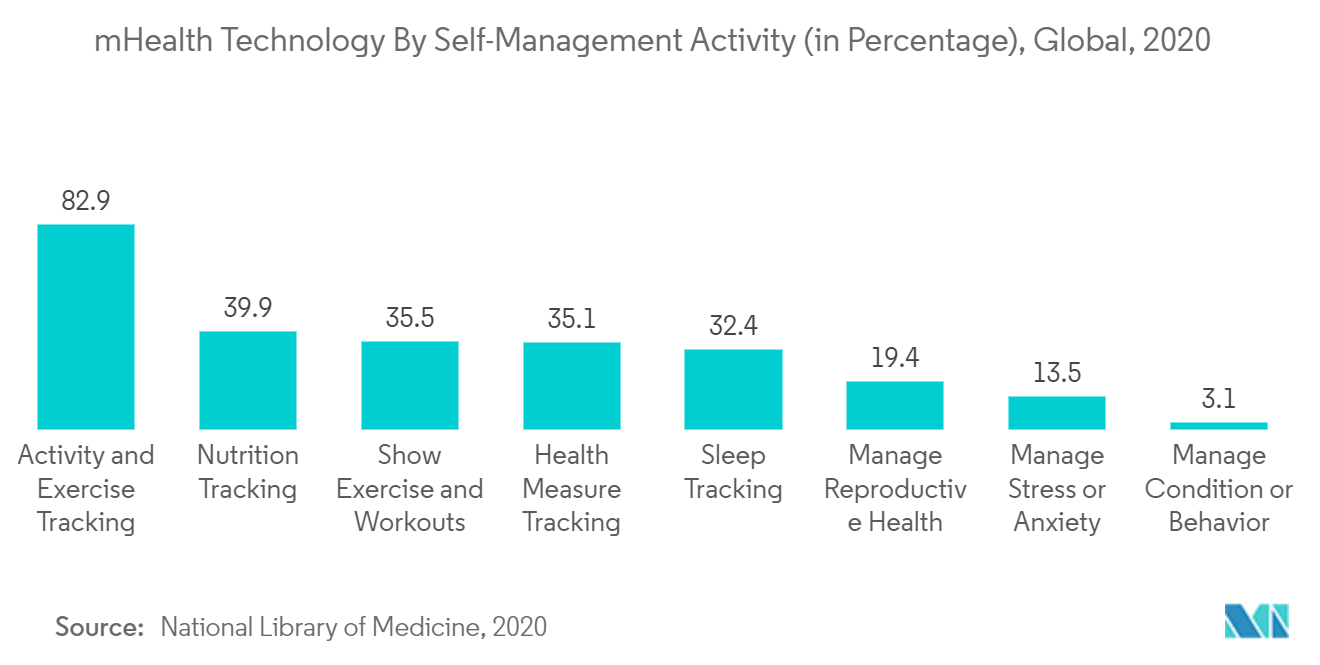 To understand key trends, Download Sample Report
North America is Expected to Dominate the Market Over the Forecast Period
Digital health is a rapidly growing component of healthcare in North America due to the growing burden of chronic diseases and the high adoption of advanced healthcare technologies. The adoption of telemedicine has improved care management, patients' quality of life, and reduced healthcare spending.
The rising demand for mobile technologies, rising adoption of home care by patients, and reduction in hospital visits are expected to propel the market's growth over the forecast period. Healthcare in North America is experiencing positive trends with the emergence of telemedicine applications that help the population be active in personal health management, especially during the current COVID-19 pandemic. Smartphones and the presence of mobile technology make it possible to use both clinical and lifestyle applications to help educate and adopt healthy behaviors.
Also, the initiatives by the government and public organizations are expected to drive the market. For instance, the Centers for Medicare & Medicaid Services (CMS) has widened access to Medicare telehealth services due to which beneficiaries can get a broader range of services from healthcare professionals without having to travel to healthcare settings. Additionally, Medicare will also pay for hospital, office, and other visits furnished via telehealth across the country, which is included in patients' places of residence, starting from March 6, 2020. This is likely to have a positive impact on the market studied.
In Mexico, in March 2021, Adventists launched online health marathon series. The initiative seeks to promote a healthy lifestyle among its thousands of church members and their friends. Coined as the I Want to Live Healthy Marathon, the event delved into a variety of healthy practices for all ages and was carried through the church's official social media platforms. Healthcare providers in Canada are testing out a unique mHealth app designed to reduce overdose deaths among active drug users.
In April 2021, NorWest Community Health Centres in northwestern Ontario will be the first provider in Canada's most populous province to pilot the Lifeguard app. Developed by Lifeguard Digital Health, the app is activated by the user before he or she uses a drug and includes an alarm that grows louder from one to five minutes after activation. If the user fails to cut off the alarm, a text-to-voice call is sent to emergency medical dispatchers advising them of a potential overdose. The connected health service takes aim at an issue that killed more than 2,000 people in Ontario in 2020, an increase of almost 60 percent over the previous year. The Ontario roll-out, coordinated by the District of Thunder Bay Social Services Administration Board, is funded in part by a one-time grant from Ontario's Ministry of Health through the Ministry of Municipal Affairs and Housing.
Additionally, vendors are engaged in partnerships, collaborations, acquisitions, mergers, and product launches to sustain in the market. For instance, in November 2020, Morneau Shepell introduced its first unified telemedicine solution in the US. Under this service, regional employees and their families will get access to digital health care support for all their crucial and immediate well-being needs.
Also, in August 2020, AMD Global Telemedicine Inc. collaborated with iTelemed, an Ontario-based company providing virtual healthcare solutions, to cater to the unmet healthcare needs of the marginalized populations within Canada during the COVID-19 pandemic. Thus, given the aforementioned factors, the studied market is expected to grow significantly in North America over the forecast period.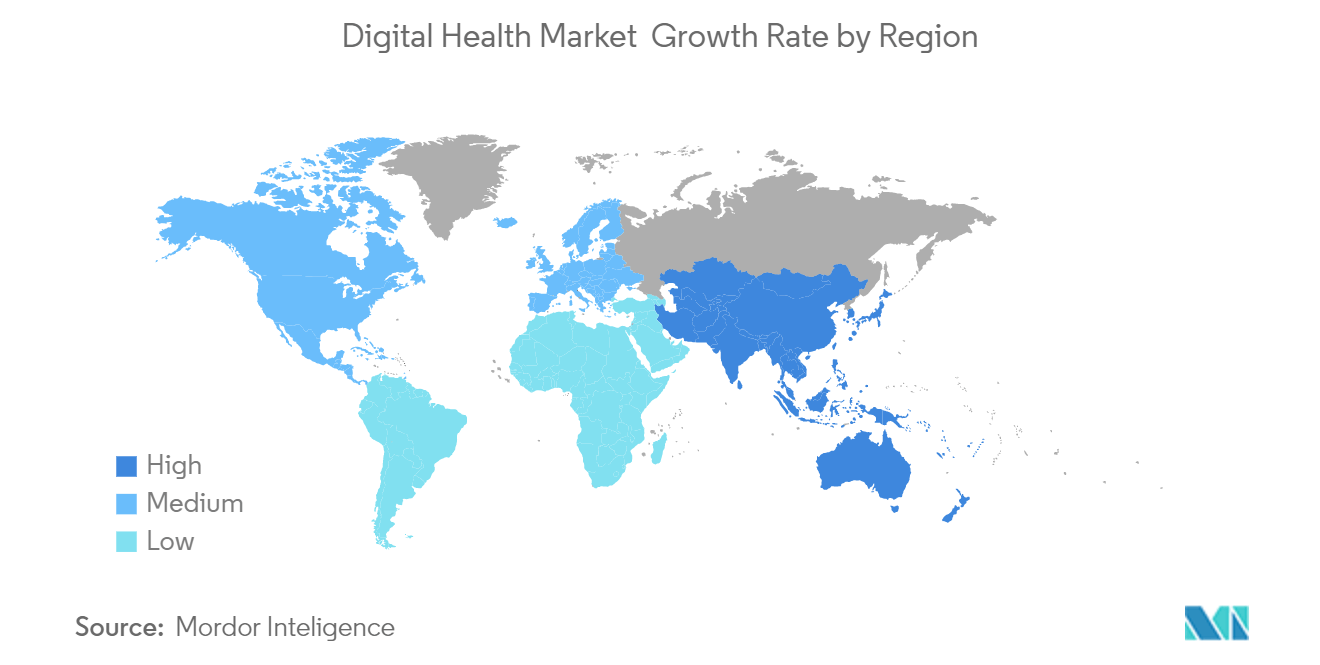 To understand geography trends, Download Sample Report
Competitive Landscape
In terms of market share, a few of the major players are currently dominating the market. Some of the companies which are currently dominating the market are Allscripts Healthcare Solutions Inc., Koninklijke Philips N.V., OTH.IO, International business Machinery Corporation (IBM), and AMD Global Telemedicine Inc.
Recent Developments
In March 2022, DeliverHealth, a global provider of technology-enabled solutions for hospitals, health systems, and group practices, launched its partner program built to unify point solutions in healthcare and clear the way for essential, resilient connections among providers, clinicians, and patients. The platform allows for frictionless access and effective workflows to apply purpose-built explainable AI with needed human-in-the-loop flexibility that delivers speed to value.
In March 2022, Blessing Health System, an integrated rural health system selects Biofourmis, a virtual care and digital therapeutics provider to launch its own home hospital services. Biofourmis is supporting the health system with its turnkey, end-to-end, home hospital solution for participation in the Rural Home Hospital project.
Table of Contents
1. INTRODUCTION

1.1 Study Assumptions and Market Definition

1.2 Scope of the Study

2. RESEARCH METHODOLOGY

3. EXECUTIVE SUMMARY

4. MARKET DYNAMICS

4.1 Market Overview

4.2 Market Drivers

4.2.1 Increasing Adoption of Digital Healthcare

4.2.2 Rise in Artificial Intelligence, IoT, and Big Data

4.2.3 Growing adoption of mobile health applications

4.3 Market Restraints

4.3.1 Cybersecurity and Privacy Concerns

4.4 Porter's Five Forces Analysis

4.4.1 Threat of New Entrants

4.4.2 Bargaining Power of Buyers/Consumers

4.4.3 Bargaining Power of Suppliers

4.4.4 Threat of Substitute Products

4.4.5 Intensity of Competitive Rivalry

5. MARKET SEGMENTATION (Market Size by Value – USD million)

5.1 By Component

5.1.1 Hardware

5.1.2 Software

5.1.3 Services

5.2 By Technology

5.2.1 Telehealth

5.2.2 mHealth

5.2.3 Health Analytics

5.2.4 Digital Health Systems

5.3 Geography

5.3.1 North America

5.3.1.1 United States

5.3.1.2 Canada

5.3.1.3 Mexico

5.3.2 Europe

5.3.2.1 Germany

5.3.2.2 United Kingdom

5.3.2.3 France

5.3.2.4 Italy

5.3.2.5 Spain

5.3.2.6 Rest of Europe

5.3.3 Asia-Pacific

5.3.3.1 China

5.3.3.2 Japan

5.3.3.3 India

5.3.3.4 Australia

5.3.3.5 South Korea

5.3.3.6 Rest of Asia-Pacific

5.3.4 Middle-East and Africa

5.3.4.1 GCC

5.3.4.2 South Africa

5.3.4.3 Rest of Middle-East and Africa

5.3.5 South America

5.3.5.1 Brazil

5.3.5.2 Argentina

5.3.5.3 Rest of South America

6. COMPETITIVE LANDSCAPE

6.1 Company Profiles

6.1.1 AdvancedMD Inc.

6.1.2 Allscripts Healthcare Solutions Inc.

6.1.3 AT & T

6.1.4 Athenahealth Inc.

6.1.5 Cerner Corporation

6.1.6 AMD Global Telemedicine Inc.

6.1.7 Cisco Systems

6.1.8 iHealth Lab Inc

6.1.9 International business Machinery Corporation (IBM)

6.1.10 Koninklijke Philips N.V.

6.1.11 McKesson Corporation

6.1.12 OTH.IO

*List Not Exhaustive

7. MARKET OPPORTUNITIES AND FUTURE TRENDS
**Competitive Landscape covers- Business Overview, Financials, Products and Strategies and Recent Developments
You can also purchase parts of this report. Do you want to check out a section wise price list?
Frequently Asked Questions
What is the study period of this market?
The Global Digital Health Market market is studied from 2019 - 2027.
What is the growth rate of Global Digital Health Market?
The Global Digital Health Market is growing at a CAGR of 18.4% over the next 5 years.
Which region has highest growth rate in Global Digital Health Market?
Asia-Pacific is growing at the highest CAGR over 2021- 2026.
Which region has largest share in Global Digital Health Market?
North America holds highest share in 2021.
Who are the key players in Global Digital Health Market?
Allscripts Healthcare Solutions Inc., Koninklijke Philips N.V.,, OTH.IO, AMD Global Telemedicine Inc., International business Machinery Corporation (IBM) are the major companies operating in Global Digital Health Market.
80%

of our clients seek made-to-order reports. How do you want us to tailor yours?