The global copper stranded wire market is expected to register a CAGR of 6.2% between 2018 and 2023. Owing to advancements in infrastructure, appliances, and transportation, the global copper stranded wire market is expected to grow during the forecast period.
Development of Products with More Flexible and Functional Applications
Stranded copper wire consists of multiple number of small copper wires, which increases the surface area and flow of current. The raw product for stranded copper wire is copper rod, which is available from various copper manufactures. Most variations are seen on a number of wires in stranded wire. These wires are extensively used for electrical wiring in homes, commercial areas, buildings, and industries. Stranded copper wire, being flexible, has greater functionality for moving cables between knobs, switches and circuit boards, or wherever physical flexing is needed. Due to their exceptional qualities the demand for copper stranded wires may increase in the near future.
Infrastructure is the Major Application
Infrastructure is likely to be one of the most dynamic industrial sectors in the next fifteen years. The volume of construction output will grow by 85% to USD 15.5 trillion, globally, by 2030, with three countries, China, the United States and India leading the way and accounting for 57% of the total global growth. The massive infrastructural boom, coupled with energy requirement, provided lucrative opportunities for the copper stranded wire market. Most wires are being installed because of the rapid urbanization, due to which infrastructure has become the major sector.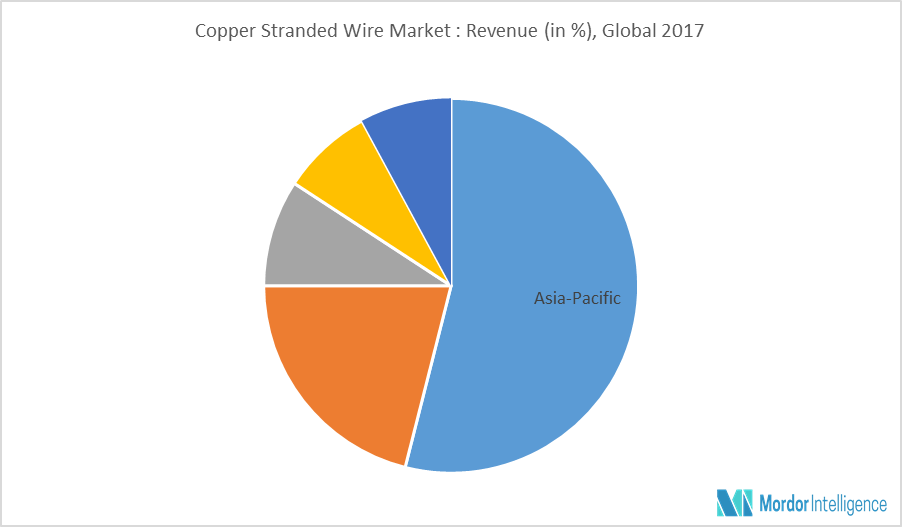 Asia-Pacific to Lead the Market
In 2016, Asia-Pacific held the largest regional market share for copper stranded wire market. Asia-Pacific is the fastest-growing region in the copper stranded wire market, due to the increasing construction and growing energy demand. Growing infrastructural projects is one of the factors favoring the market growth. Large-scale investments in countries, like China and India, toward the positive growth of the infrastructural sector in these regions is fuelling the market for new houses; this is expected to provide a rewarding opportunity for the market to grow. Government initiatives in these countries are promoting the usage of copper stranded wires, which is expected to have a positive effect on the market over the forecast period.
Major Players: Nexans SA, General Cable Corporation, Sumitomo Electric Industries, Southwire Company LLC, and SKB Group, among others.
Notable Developments in the Market
June 2017: EMFIT had expanded into the Internet of Things (IoT) market, with the release of a quasi-piezoelectric coaxial cable that ensures self-shielding for use in high electromagnetic interference (EMI) environments.
Reasons to Purchase the Report
Analyzing various perspectives of the market with the help of Porter's five forces analysis
The application that is expected to dominate the market
The regions that are expected to witness the fastest growth during the forecast period
Identify the latest developments, market shares, and strategies employed by the major market players
3-month analyst support, along with the Market Estimate sheet (in Excel)
Customization of the Report
This report can be customized to meet your requirements. Please connect with our analyst, who will ensure you get a report that suits your needs.
1. Introduction
1.1 Research Phases
1.2 Study Deliverables
1.3 Scope of the Report
2. Executive Summary
3. Market Insights
3.1 Industry Value-Chain Analysis
3.2 Industry Attractiveness – Porter's Five Forces Analysis
3.2.1 Bargaining Power of Suppliers
3.2.2 Bargaining Power of Consumers
3.2.3 Threat of New Entrants
3.2.4 Threat of Substitute Products and Services
3.2.5 Degree of Competition
3.3 Policies & Regulations
4. Market Dynamics
4.1 Drivers
4.1.1 Increasing Energy Requirement
4.1.2 Developments of Products with More Flexible and Functional Applications
4.2 Restraints
4.2.1 Loss of Energy due to Proximity Effect
4.2.2 More Expensive to Manufacture
4.3 Opportunities
4.3.1 Development of Corrosion Resistant Wire
4.3.2 Development of Litz Wire for High-frequency Transformers
4.3.3 Increasing Usage in Infrastructure, Telecommunications, Energy, etc., activities in Emerging Economies
5. Market Segmentation and Analysis (Market Size, Share and Forecast)
5.1 By Geometry
5.1.1 Bunched
5.1.2 Concentric
5.1.3 Roleplay
5.1.4 Others (Compressed, Rope,etc.)
5.2 By Application
5.2.1 Infrastructure
5.2.2 Industrial
5.2.3 Energy
5.2.4 Transportation
5.2.5 Electronics & Telecommunication
5.2.6 Others
6. Regional Market Analysis (Market Size, Share and Forecast)
6.1 Asia-Pacific
6.1.1 China
6.1.2 India
6.1.3 Japan
6.1.4 South Korea
6.1.5 ASEAN Countries
6.1.6 Rest of Asia-Pacific
6.2 Europe
6.2.1 Germany
6.2.2 United Kingdom
6.2.3 France
6.2.4 Italy
6.2.5 Rest of Europe
6.3 North America
6.3.1 United States
6.3.2 Canada
6.3.3 Mexico
6.3.4 Rest of North America
6.4 South America
6.4.1 Brazil
6.4.2 Argentina
6.4.3 Rest of South America
6.5 Middle East & Africa
6.5.1 Saudi Arabia
6.5.2 South Africa
6.5.3 Rest of Middle East & Africa
7. Future of the Market
8. Competitive Landscape
8.1 Mergers & Acquisitions, Joint Ventures, Collaborations, and Agreements
8.2 Market Share Analysis**
8.3 Strategies Adopted by Leading Players
9. Company Profiles (Overview, Financials**, Products & Services, Recent Developments, and Analyst View)
9.1 Alan Wire Co.
9.2 Alfanar Group
9.3 General Cable Corporation
9.4 Nexans SA
9.5 Owl wire & Cable LLC
9.6 Pacific Electric Wire and Cable Co. Ltd
9.7 Polycab Wires Pvt. Ltd
9.8 Prysmian SPA
9.9 Sarkuysan
9.10 SKB Group
9.11 Southwire Company LLC
9.12 Sumitomo Electric Industries
9.13 Superior Essex
*List not exhaustive
10. Disclaimer
** Subject to availability on public domain