Cleanroom Technology Market Size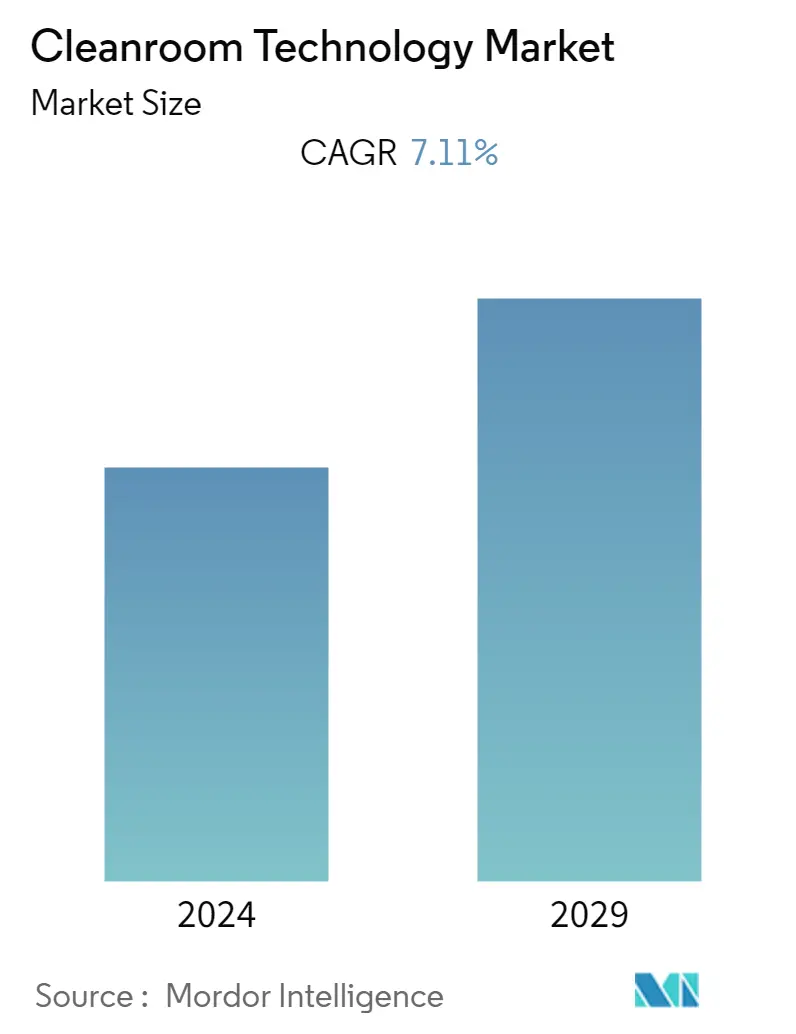 Study Period
2018- 2028
Base Year For Estimation
2022
CAGR
7.11 %
Fastest Growing Market
Asia Pacific
Largest Market
North America
Market Concentration
Medium

Major Players

*Disclaimer: Major Players sorted in no particular order
Need a report that reflects how COVID-19 has impacted this market and its growth?
Cleanroom Technology Market Analysis
The cleanroom technology market was valued at USD 8.17 billion the previous year and is expected to register a CAGR of 7.11%, reaching USD 12.11 billion by the next five years.
Due to the increasing demand for advanced cleanroom technology across various industries where stringent contamination control is vital for ensuring product and process safety and effectiveness, the objective is to effectively regulate and minimize contamination. This involves maintaining precise control over the levels of dust, airborne microorganisms, aerosols, and vaporized particles on a per-cubic-meter basis.
Development of the modern, clean room began during the Second World War to improve the quality and reliability of instrumentation used in manufacturing guns, tanks, and aircraft. During this time, HEPA filters were also developed to contain the dangerous radioactive, microbial, or chemical contaminants that resulted from experiments into nuclear fission, as well as research into chemical and biological warfare. The evolution of clean rooms gained momentum as a result of NASA's space travel program in the 1950s and 1960s. It was during this time that the concept of 'laminar flow' was introduced, which marked a turning point in clean room technology.
Notably, this concept gained wide popularity during COVID-19 owing to the significant rise in electronics manufacturing along with huge investment in the pharmaceutical industry for vaccine production. The introduction of mRNA vaccine technology and the speed with which the COVID-19 vaccines were approved and manufactured stand out as amazing innovations. Right now, there are several mRNA-based vaccines in the pipeline, and one thing that all of them have in common is the need for sterile processing. Moreover, the pandemic increased demand for PPE kits and gloves, which has led to increased production of PPE kits, thereby assisting the market growth.
With the growing demand for electronics, cleanroom technology providers are witnessing increased business. As a result of this, governments from developed and developing nations are significantly working towards securing ample cleanrooms to handle any scarce situation domestically. For instance, the 2022 CHIPS Act was officially passed by the US government in 2022. Under this act, the US Government wants US companies to build cleanrooms in the USA for semiconductor manufacturing instead of outsourcing to cleanrooms in foreign countries. After introducing this act, foreign semiconductor manufacturers have also been planning new US-based cleanrooms to get US government funding.
Cleanrooms are gaining popularity in various end-user markets as a controlled environment has become a necessity for maintaining high-quality products. However, the cost of a cleanroom is not only extremely investment-intensive to build, but operational costs can also depend on the number of required air exchanges and filtration efficiency. The operation can be extremely costly, as maintaining the appropriate air quality means the room has to be in constant operation. Not to mention, energy-efficient operation and continuous adherence to cleanroom standards make a cleanroom one of the most important infrastructures for manufacturing technology and laboratories. This is expected to challenge the market's growth.
Cleanrooms have been deeply established as an integral part of manufacturing processes, especially in semiconductor and electronics manufacturing, as cleanliness can be ensured in their regulated and sterile conditions, avoiding possible contamination by harmful bacteria and pollutants. The COVID-19 pandemic rendered the need for a myriad of supplies and set conditions so severe that cleanroom technology had to be brought to the forefront of manufacturing development, serving as a foundation for action in keeping the virus at bay.
Thus, the significant boost in the semiconductor industry boosted by last year's pandemic lockdown orders as changing consumer habits, driven by the rise in remote work, distance learning, gaming, entertainment, and internet shopping - significantly increased demand for consumer electronic devices to the point that demand for semiconductors far outpaced production. Demand for semiconductors continues to surge far beyond the global capacity for supply as digitization expands into every facet of daily life. Many of the world's largest fabricators, like Intel and the Taiwan Semiconductor Manufacturing Company (TSMC), are expanding capacity with new fabrication facilities to satisfy that demand, which has positively impacted the market studied.
Cleanroom Technology Market Trends
Semiconductor Manufacturing to be the Largest End User
Cleanrooms are a necessary part of semiconductor manufacturing as this industry relies heavily on cleanroom environments to manufacture sensitive microelectronics. Semiconductor chips are utilized in every computerized device - from household objects like cell phones to complex machines such as vehicles, defense technology, or spacecraft. They are produced using highly sensitive materials to create delicate layers that must be worked on carefully. Thus, tasks like semiconductor chip manufacturing, testing, and packaging must be carried out in a controlled cleanroom environment.
Semiconductor cleanrooms are amongst the most demanding cleanrooms. As photolithography linewidths go below 0.1 microns, these cleanrooms are usually class 10 or 100 cleanroom classification (ISO-4 or ISO-5). Additionally, semiconductor cleanrooms have tight temperature and humidity requirements. Such cleanrooms can vary in size from 500 SF to 500,000 SF; usually, semiconductor cleanrooms use ULPA filters instead of HEPA filters to prevent even the smallest submicron particles from entering the cleanroom. While HEPA filters can catch 99.97% of particles at 0.3u, ULPA filters can catch 99.999% at 0.12u.
Owing to extremely fine linewidths, the manufacturing processes in semiconductor cleanrooms are highly sensitive to temperature and humidity variations. Typically, semiconductor cleanrooms need +1 degrees Fahrenheit and +5% or 10% relative humidity. This requires dedicated air handlers for each room with hot and cold elements. Most semiconductor cleanrooms have dedicated chillers and boilers to support the HVAC system. Furthermore, personnel working in semiconductor cleanrooms usually wear bunny suits, booties, hoods, masks, and gloves to prevent particles from entering the cleanroom. After garbing up, the personnel often pass through a cleanroom air shower, which blows them off with HEPA-filtered air to remove any particles on the outside of their cleanroom garments.
Furthermore, the growing investments in the semiconductor industry around the world are a key growth driver for the market. For instance, in August 2022, the United States government passed the CHIPS and Science Act aimed at boosting semiconductor chip manufacturing in the country. It authorized around USD 52 billion in government subsidies for semiconductor manufacturing and research in the US and an estimated USD 24 billion in investment tax credits for semiconductor chip manufacturers.
Due to this, the growing demand for nanotechnology and semiconductors necessitates implementing more sophisticated cleanroom procedures. Rensselaer Polytechnic Institute (RPI) provides the Micro and Nanofabrication Clean Room (MNCR) facility, housed within the Center for Materials, Devices, and Integrated Systems (CMDIS), which offers the BYOND program to undergraduate students seeking to establish a solid foundation and acquire training for a career in this field.
With the semiconductor industry expanding significantly and its dominance in the APAC region, the region is expected to provide significant potential growth to the studied market. The first modern cleanroom facility globally can be dated back to the 1960s, and the cleanroom facility was introduced to developing Asia, including Malaysia, in the 1980s.
Cleanroom shifted from the US to Asia in the 1990s due to the growth of semiconductor and microelectronics manufacturing industries. US companies such as Intel, Dell, Motorola, etc. established their manufacturing facilities in Asia during that period, which has driven the growth of the cleanroom industry in Asia.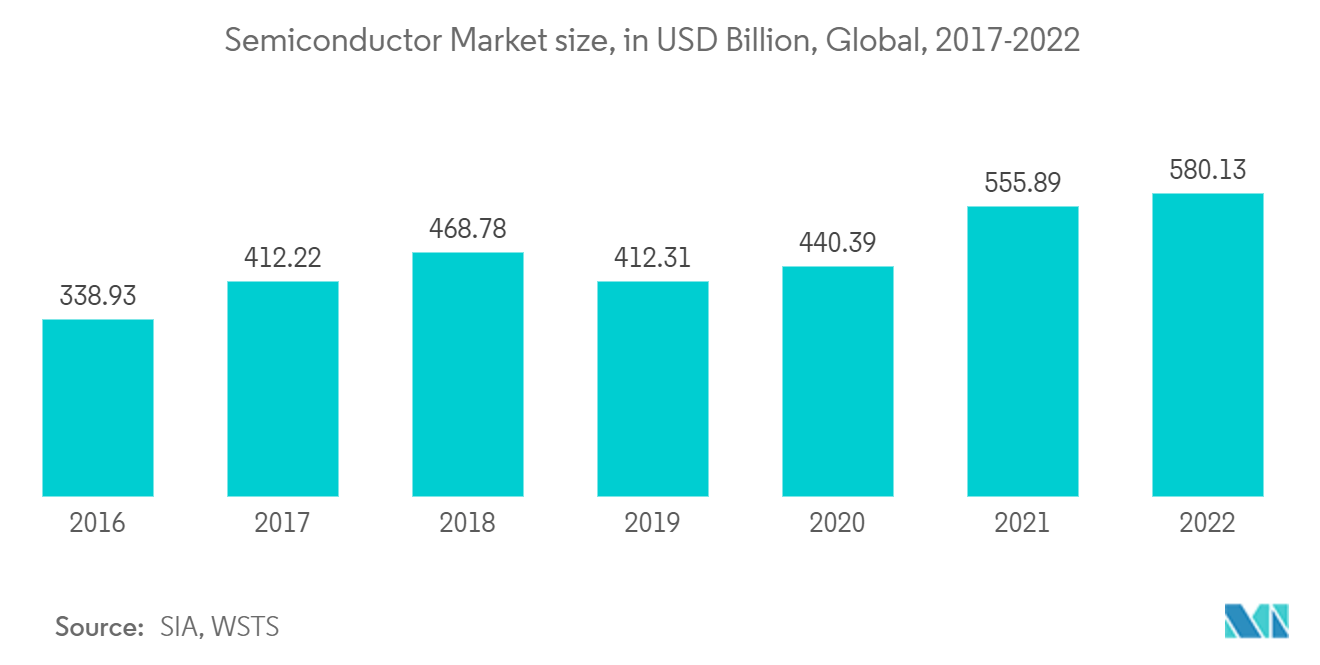 To understand key trends, Download Sample Report
North America is Expected to Hold Significant Market Share
It is anticipated that North America will experience significant growth during the projected period, primarily due to the rising aftermarket sales and the shift towards modified cut-to-length logging techniques in the region.
This growth is largely attributed to the growing biotechnology industry, which is still young, especially compared with the automotive, chemical, and steel industries. The growth of the biotechnology industry is a unique story, and yet it rests on foundations common to other segments of American industry.
Years of research, both government-funded and privately funded, continue to provide a knowledge base unequaled in the world. Through biomanufacturing, sustainable biomass across the United States has been converted into new products and provides an alternative to petroleum-based production for chemicals, medicines, fuels, materials, and more.
For instance, in September 2022, President Biden signed an Executive Order (EO) on 'Advancing Biotechnology and Biomanufacturing Innovation for a Sustainable, Safe, and Secure American Bioeconomy.' In the EO, the President laid out his vision for a whole-of-government approach to advance biotechnology and biomanufacturing by creating a research agenda that outlines the foundational and use-inspired R&D needs that will lead to innovative solutions in health, climate change, energy, food security, agriculture, supply chain resilience, and national and economic security.
With the growing biotechnology sector, cleanroom technology has seen significant investment from the regional players. For instance, in November 2022, Charles River Laboratoires International, Inc. announced the expansion of its cell therapy contract development and manufacturing (CDMO) facility in Memphis, Tenn. The expanded space is suitable for clinical and commercial cell therapy manufacturing, with an additional nine (9) state-of-the-art processing suites, adding to 16 cleanrooms.
Furthermore, the regional countries are largely looking forward to strengthening chip manufacturing, which is expected to help America with the strategic technologies of the future, including AI, 5G, quantum computing, and more, that will determine global economic and military leadership for decades to come. According to a new report by the Semiconductor Industry Association, the US government has a strategic opportunity to reverse the decades-long trajectory of declining chip manufacturing in America, strengthen national security, make supply chains more resilient, and make the country one of the most attractive places in the world to produce semiconductors. This growth is expected to provide a wide share of traction to the North American cleanroom technology market as the companies have announced their plans to majorize the region in the upcoming few years.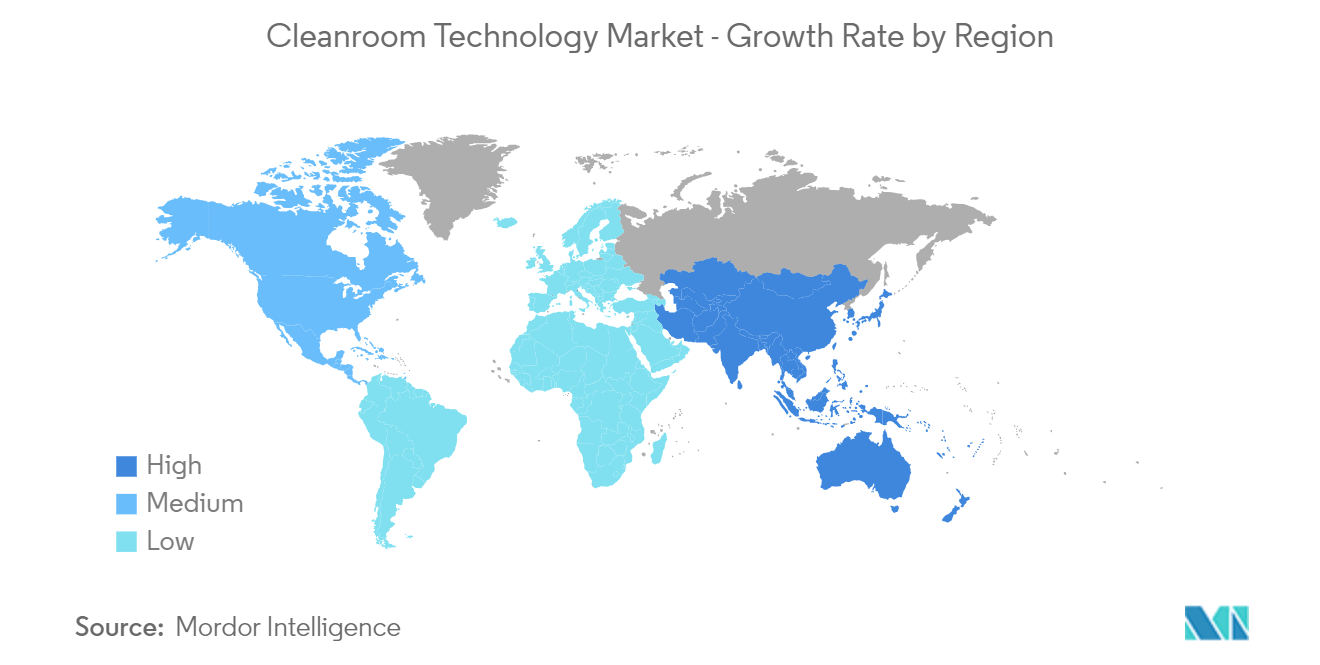 To understand geography trends, Download Sample Report
Cleanroom Technology Industry Overview
In the cleanroom technology market, intense competitive rivalry prevails due to the fragmentation of the cleanroom equipment industry, with numerous vendors vying for market share. Among these vendors, especially in the consumable segments, fierce competition is evident as they seek to capture a larger portion of the market. Key players in this sector include M+W Group GmbH, Azbil Corporation, Taikisha Global Limited, Kimberly Clark Corporation, Ardmac Ltd, and more.
In May 2023, ExyteSingapore, a renowned Engineering, Procurement, and Construction (EPC) firm specializing in high-tech facilities, received the prestigious SBR International Business Award in the Industrial Construction category. This accolade recognizes the company's exceptional execution in designing and constructing a new facility for GlobalFoundries (GF), a semiconductor company in Singapore. The state-of-the-art facility spans 23,000 sqm of cleanroom space and includes a Central Utility Building (CUB) and administrative offices. It will have the capacity to produce 450,000 wafers (300mm) annually. Upon completion, GF's Singapore site will boast a total capacity of around 1.5 million wafers (300mm) per year.
In the same month, Azbil Production (Thailand) Co. Ltd., a production subsidiary located in Chonburi, Thailand, announced plans to construct a new factory building. The primary aim of this expansion is to fortify the company's global production system, supporting overseas business development. The new facility will enhance production capacity and enable the manufacture of a broader range of items in anticipation of rising demand as Azbil Group's overseas business continues to grow. Additionally, it will cater to the needs of the Group's overseas customers for advanced production of various products.
Cleanroom Technology Market Leaders
M+W Group

Azbil Corporation

Taikisha Global Limited

Kimberly Clark Corporation

Ardmac Ltd
*Disclaimer: Major Players sorted in no particular order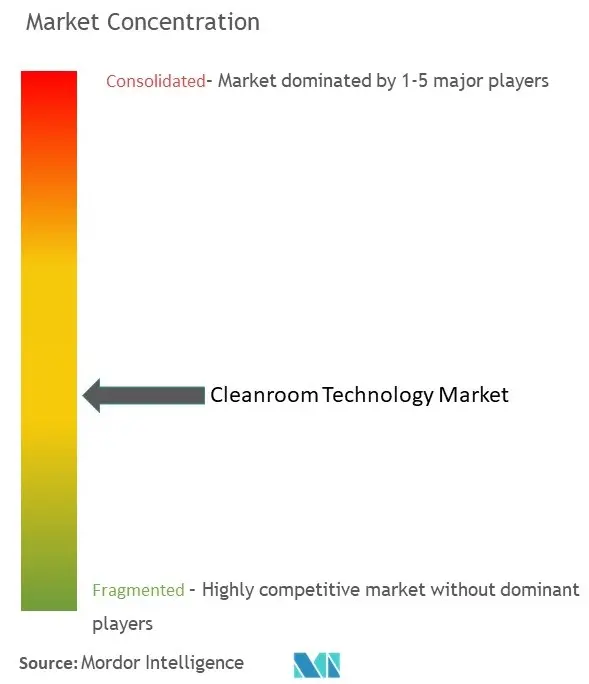 Cleanroom Technology Market News
August 2023: Bosch revealed plans to establish a state-of-the-art semiconductor test center for chips and sensors in Malaysia. The facility boasts an expansive area of over 18,000 square meters, housing clean rooms, office spaces, and dedicated R&D laboratories designed to accommodate up to 400 associates.
July 2023: Analog Devices Inc. announced its intention to enhance its cleanroom capabilities to optimize the manufacturing process. As part of their latest investment, the company will also introduce a semiconductor maintenance training program. This substantial investment of USD 1 billion is poised to foster the growth and efficiency of their semiconductor facility in Beaverton. Notably, the expansion will result in an additional 25,000 square feet, boosting the cleanroom capacity to an impressive 118,000 square feet.
July 2023: Labconco Corporation introduced the Nexus Horizontal Clean Bench. This groundbreaking laminar flow hood is the industry's first of its kind to incorporate complete onboard intelligence. The innovative laminar flow workstation sets a new benchmark in the sector by providing unmatched protection against contamination for non-hazardous samples and processes.
Cleanroom Technology Market Report - Table of Contents
1. INTRODUCTION

1.1 Study Assumptions and Market Definition

1.2 Scope of the Study

2. RESEARCH METHODOLOGY

3. EXECUTIVE SUMMARY

4. MARKET INSIGHTS

4.1 Market Overview

4.2 Industry Attractiveness - Porter's Five Forces Analysis

4.2.1 Bargaining Power of Suppliers

4.2.2 Bargaining Power of Buyers

4.2.3 Threat of New Entrants

4.2.4 Threat of Substitutes

4.2.5 Degree of Competition

4.3 Impact of COVID-19 on the Market

5. MARKET DYNAMICS

5.1 Market Drivers

5.1.1 Overall Growth in Biotechnology and Healthcare Spending in Major Markets

5.1.2 Stringent Government Regulations and Demand for Quality Products

5.2 Market Challenges

5.2.1 High Installation, Maintenance Costs, and Lack of Skilled Workforce

6. MARKET SEGMENTATION

6.1 By Component

6.1.1 Type of Equipment

6.1.1.1 Cleanroom Air Showers

6.1.1.2 HVAC Systems

6.1.1.3 Laminar Air Flow Systems

6.1.1.4 High Efficiency Filters

6.1.1.5 Desiccator Cabinets

6.1.1.6 Fan Filter Units

6.1.2 Type of Consumable

6.1.2.1 Apparels

6.1.2.2 Gloves

6.1.2.3 Wipes

6.1.2.4 Vacuum Systems

6.1.2.5 Disinfectants

6.1.2.6 Other Types of Consumables

6.2 By End-User

6.2.1 Pharmaceutical

6.2.2 Biotechnology

6.2.3 Medical Devices

6.2.4 Hospitals

6.2.5 Semiconductor Manufacturing

6.2.6 Other End-Users

6.3 By Geography

6.3.1 North America

6.3.2 Europe

6.3.3 Asia Pacific

6.3.4 Rest of the World (Latin America and Middle East and Africa)

7. COMPETITIVE LANDSCAPE

7.1 Company Profiles

7.1.1 M+W Group

7.1.2 Azbil Corporation

7.1.3 Taikisha Global Limited

7.1.4 Kimberly Clark Corporation

7.1.5 Ardmac Ltd

7.1.6 Ansell Limited

7.1.7 Clean Air Products

7.1.8 Labconco Corporation

*List Not Exhaustive

8. INVESTMENT ANALYSIS

9. MARKET OPPORTUNITIES AND FUTURE TRENDS
**Subject to Availability
Cleanroom Technology Industry Segmentation
In a controlled environment with minimal particulate contamination, specific temperature, humidity, room pressure, and particle and dust count are achieved and maintained by the use of cleanroom equipment, specialized partitions being cleanroom walls, ceilings, and flooring systems. Apart from these, consumables, such as apparel, gloves, wipes, vacuum systems, disinfectants, sanitizers, etc., are used.
The cleanroom technology market is segmented by component (type of equipment (cleanroom air showers, HVAC systems, laminar air flow systems, high-efficiency filters, desiccator cabinets, and fan filter units), by type of consumable (apparel, gloves, wipes, vacuum systems, disinfectants, an other type of consumables)), by end-user (pharmaceutical, biotechnology, medical devices, hospitals, semiconductor manufacturing, and other end-users), and by geography (North America, Europe, Asia Pacific, Rest of the World (Latin America, and Middle East and Africa).
The market sizes and forecasts are provided in terms of value in USD for all the above segments.
By Component

Type of Equipment
Cleanroom Air Showers
HVAC Systems
Laminar Air Flow Systems
High Efficiency Filters
Desiccator Cabinets
Fan Filter Units

Type of Consumable
Apparels
Gloves
Wipes
Vacuum Systems
Disinfectants
Other Types of Consumables
By End-User
Pharmaceutical
Biotechnology
Medical Devices
Hospitals
Semiconductor Manufacturing
Other End-Users
By Geography
North America
Europe
Asia Pacific
Rest of the World (Latin America and Middle East and Africa)
Cleanroom Technology Market Research FAQs
What is the study period of this market?
The Cleanroom Technology Market is studied from 2018 - 2028.
What is the growth rate of Cleanroom Technology Market?
The Cleanroom Technology Market is growing at a CAGR of 7.11% over the next 5 years.
Which region has highest growth rate in Cleanroom Technology Market?
Asia Pacific is growing at the highest CAGR over 2018- 2028.
Which region has largest share in Cleanroom Technology Market?
North America holds highest share in 2022.
Who are the key players in Cleanroom Technology Market?
M+W Group, Azbil Corporation, Taikisha Global Limited, Kimberly Clark Corporation, Ardmac Ltd are the major companies operating in Cleanroom Technology Market.
Cleanroom Technology Industry Report
Statistics for the 2023 Cleanroom Technology market share, size and revenue growth rate, created by Mordor Intelligence™ Industry Reports. Cleanroom Technology analysis includes a market forecast outlook to for 2023 to 2028 and historical overview. Get a sample of this industry analysis as a free report PDF download.
Cleanroom Technology Market Report Snapshots
80%

of our clients seek made-to-order reports. How do you want us to tailor yours?