Candy Market Insight
The market, as part of the confectionery industry, is seasonal with a huge demand during the festive seasons. Mars leads the global market, followed by Mondeléz. In the US, Hershey leads the market with more than 30% share. The global candy market has been valued at USD 79.35 billion in 2018, and is further expected to register a CAGR of 3.5%, during the period of 2018-2023.
BBX Capital acquired largest specialty candy retailer IT'SUGAR, for USD 57 million. The company is the largest specialty candy retailer in the United States with 95 locations, in 26 States.
Changing Consumer Preference Leading to Product Innovation in Candy Market
An increase in disposable income and urbanization drives the growth of this market. The rising demand for dark chocolate, and product innovation are other driving factors. With the rise in health concerns like obesity and diabetes that inhibit the growth of the global candy market, manufacturers have come up with sugar-free, and low-calorie candies to tackle this situation. New product innovations from the major companies, aid the market to grow at a faster rate. Few of those product innovations by the international players in the market, such as: launch of two new flavors by Sejoyia Foods - Coconut Cashew, and Coco-Roons. Coco-Roons deliver a rich, indulgent taste in a cookie that has just a few simple ingredients that are organic, non-GMO, vegan and paleo-friendly, with no refined sugar, and no gluten. Wrigley has reformulated its iconic juicy fruit original gum to offer longer-lasting flavor. The new product is available in Chicago, and is replacing all Juicy Fruit Original packs on the market.
Non-Chocolate Candy Records High Growth Rate
The global candy market has two major segments, chocolate candy, and non-chocolate candy. Chocolate candies contain either chocolate or cocoa products. The non-chocolate candy market is further segmented by the product type, into boiled sweet, breath sweetener, cotton candy, licorice, lollipop and sour, chewing gum, caramel etc. Non-chocolate candy market records a higher growth rate due to changing consumer preferences. The global candy market can also be segmented on the basis of the distribution channel, into super markets/hyper markets, convenience stores, grocery stores, online, and others.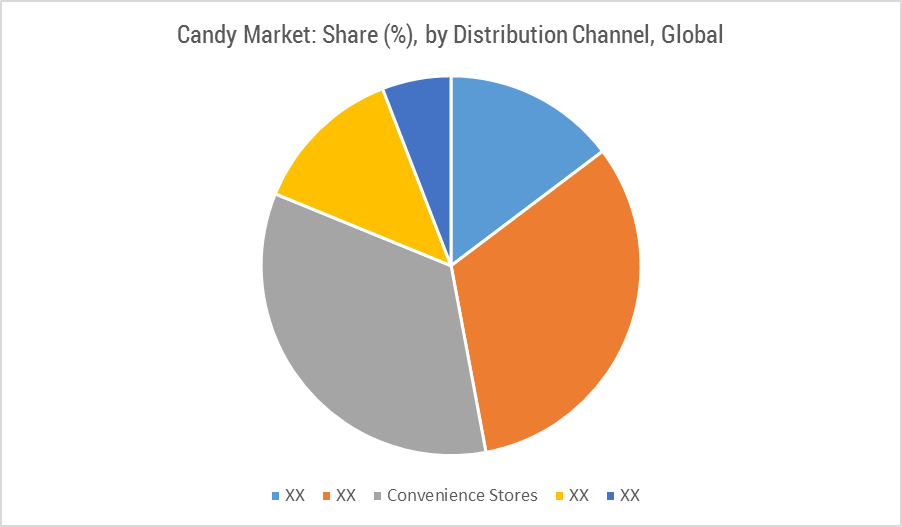 North America Dominates the Candy Market
North America is the major contributor with respect to candy market's revenue, followed by Europe. The United States, alone, generates a demand of more than 7.7 billion pounds every year. The growth of the market continues in the Asia-Pacific region led by populated nations, like China, and India. This is attributed by the increase in disposable income, and change in tastes and preferences. Asia-Pacific records a CAGR of 5.2% during the forecast period, and is expected to grow at a much faster rate within the next ten years.
Candy Market Competitive Landscape
Major players: Ferrara Candy Co., Mars Inc., Mondeléz International Inc, Demet's Candy Co., Arcor, August Storck Kg, Yildiz Holding and Nestlé SA.
The global candy market is highly fragmented due to a large number of local and international suppliers. On the global platform, the top five companies account for half of the industry's revenues, while small and medium firms from Europe also have significant global presence.
Reasons to Purchase this Candy Market Report
Analyzing outlook of the market with the recent trends, and Porter's five forces analysis
Market dynamics, which essentially consider the factors, which are impelling the present market scenario, along with growth opportunities of the market in the years to come
Market segmentation analysis including qualitative & quantitative research incorporating the impact of economic & non-economic aspects
Regional and country level analysis integrating the demand and supply forces that are influencing the growth of the market
Competitive landscape involving the market share of major players, along with the key strategies adopted for development in the past five years
Comprehensive company profiles covering the product offerings, key financial information, recent developments, SWOT analysis, and strategies employed by the major market players
3-month analyst support, along with the Market Estimate sheet in excel
Customization of the Candy Market Report
Value chain analysis
Consumer behavior analysis in country level