Market Snapshot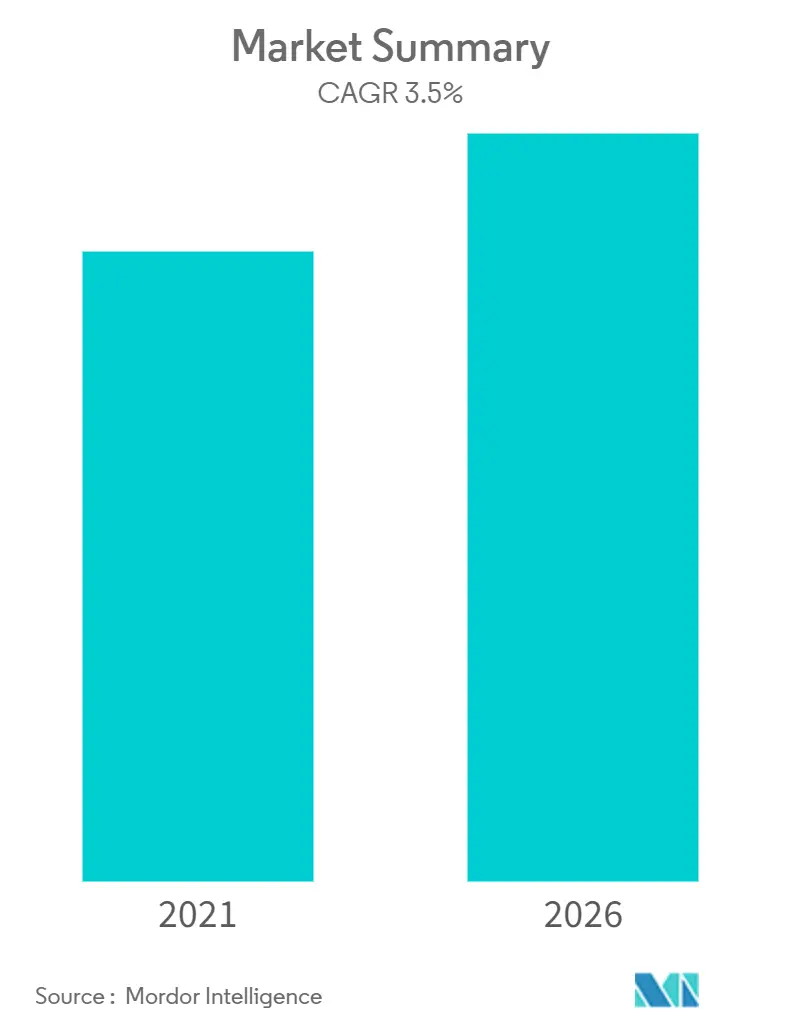 Study Period:
2016 - 2026
Base Year:
2020
Fastest Growing Market:
Middle-East and Africa
Largest Market:
Asia Pacific
CAGR:

>

3.5 %
Need a report that reflects how COVID-19 has impacted this market and its growth?
Market Overview
The butadiene market size was estimated at 12,430 kilotons in 2020, and the market is projected to register a CAGR of over 3.5% during the forecast period (2021-2026).
The market was negatively impacted by COVID-19 in 2020. Considering the ongoing pandemic scenario, the automotive manufacturing units and building construction projects were temporarily halted. Thus, this negatively impacted the demand for styrene-butadiene and polybutadiene rubber, which are used in tires, building crack fillers, concrete additives, etc., which declined the demand for butadiene. However, the use of protective gloves made from nitrile rubber has increased in the current situation, thus stimulating the demand for the butadiene market.
Over the short term, the developing downstream market in Asia-Pacific is expected to drive the market's growth.
Polybutadiene dominated the market holding a share of almost 30%. However, the acrylonitrile butadiene styrene (ABS) segment is expected to witness the highest CAGR during the forecast period.
The innovation of bio-butadiene to produce products like synthetic rubber, thermoplastic elastomers, nylon, etc., is likely to create opportunities for the market in the coming years.
Scope of the Report
Butadiene, a colorless, non-corrosive gas, is used for the production of resins and plastics, including butadiene rubber, styrene rubber, adiponitrile, polychloroprene, nitrile rubber, and others. It is mainly produced from the extractive distillation of by-products from steam crackers while producing ethylene and propylene. The butadiene market is segmented by application, end-user industry, and region. By application, the market is segmented into polybutadiene (PBR), chloroprene, styrene-butadiene (SBR), nitrile rubber (acrylonitrile butadiene NBR), acrylonitrile butadiene styrene (ABS), adiponitrile, sulfolane, ethylidene norbornene, styrene butadiene latex, and other applications. By end-user industry, the market is segmented into plastic and polymer, tire and rubber, chemical, and other end-user industries. The report also covers the market size and forecasts for the butadiene market in 15 countries across major regions. For each segment, the market sizing and forecasts have been done on the basis of volume (kiloton).
Application
Polybutadiene (PBR)
Chloroprene
Styrene-Butadiene (SBR)
Nitrile Rubber (Acrylonitrile Butadiene NBR)
Acrylonitrile Butadiene Styrene (ABS)
Adiponitrile
Sulfolane
Ethylidene Norbornene
Styrene Butadiene Latex
Other Applications
End-user Industry
Plastic and Polymer
Tire and Rubber
Chemical
Other End-user Industries
Geography

Asia-Pacific
China
India
Japan
South Korea
Rest of Asia-Pacific

North America
United States
Canada
Mexico

Europe
Germany
France
United Kingdom
Italy
Rest of Europe

South America
Brazil
Argentina
Rest of South America

Middle-East and Africa
Saudi Arabia
South Africa
Rest of Middle-East and Africa
Key Market Trends
Polybutadiene (PBR) to Dominate the Market
Polybutadiene rubber (BR) is a synthetic rubber used as a substitute for natural rubber. Polybutadiene rubber can be produced by two processes, namely anionic polymerization or coordination polymerization of 1,3-butadiene in the non-polar solvent.
Commercially, polybutadiene is available in two types, i.e., solid polybutadiene and liquid polybutadiene, out of which, solid polybutadiene holds the larger share in terms of consumption. Furthermore, solid polybutadiene is divided into four types i.e., high cis, low cis, high trans, and high vinyl polybutadiene, depending on the choice of the catalyst system.
Polybutadiene rubber (BR) offers properties such as resistance to low temperatures, excellent elastic properties, high wear resistance owning to low coefficient of friction and strength properties, and low hysteresis loss. Additionally, polybutadiene rubber offers high flexibility and high resistance to dynamic fatigue at low temperatures.
The operating temperature of polybutadiene rubber products ranges from 60°C to 100°C, for long-term applications and for short term applications optimum temperature range is 60°C to 120°C.
Polybutadiene rubber is widely used in the manufacturing of tire treads for commercial and passenger vehicles, automotive components, covers for pneumatic and water hoses, golf balls, footwear, industrial parts, rubber isolators and casters, inner tubes of hoses for sandblasting, conveyor belts, shoe soles, and polystyrene modifier.
PBR is also used to manufacture golf balls, various elastic objects, and to coat or encapsulate electronic assemblies, offering high electrical resistivity. In addition, it is further used in railway pads, bridge blocks, and as a fuel in combination with an oxidizer in various solid rocket boosters, such as Japan's H-IIB launch vehicle.
China accounts for the major share of the Asia-Pacific region in polybutadiene rubber market. In recent years, China had become the global largest producer, consumer, and importer of polybutadiene rubber which is expected to boost the demand of PBR which in turn increase the market demand of Butadiene.
Owing to its excellent elastic properties, polybutadiene rubber is also used as an insulation solution for wires and cables used in the electrical industry
Companies such as UBE INDUSTRIES, LTD., China Petrochemical Corporation (Sinopec), INEOS, Mitsubishi Corporation, Kumho Petrochemical, NOVA Chemicals Corporate are engaged in the manufacturing of polybutadiene rubber.
Owing to all these factors, the market for butadiene is likely to grow globally during the forecast period.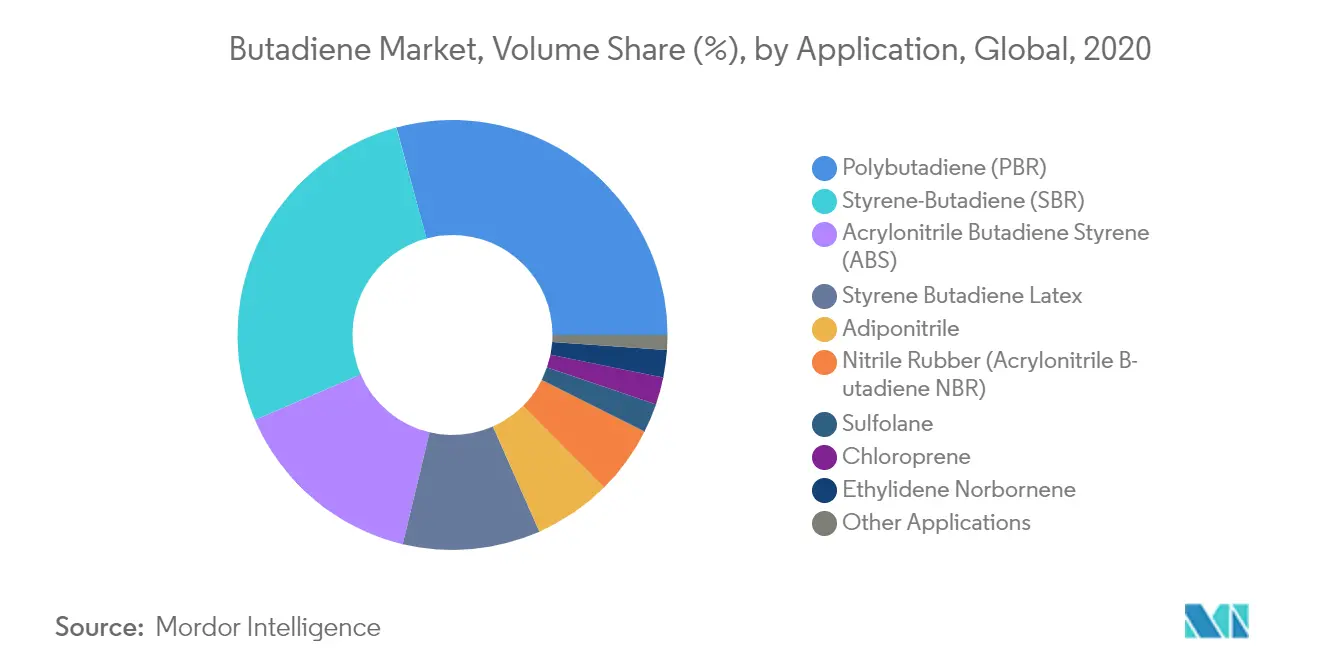 To understand key trends, Download Sample Report
Asia-Pacific Region to Dominate the Market
The Asia-Pacific region dominated the global butadiene market. The downstream market in Asia-Pacific witnessed a huge spur in the past few years, owing to which the demand for butadiene has witnessed a rapid increase due to its requirement.
China is one of the largest chemical manufacturing hubs in the world, with wide range of industries. The Chinese butadiene market is expected to witness significant growth. Due to the presence of a large number of indigenous players.
Furthermore, China is projected to produce 704 million tires per year by 2025, including 527 million passenger radial tires, 148 million truck/bus radial tires, 29 million bias truck tires, 20,000 extra-large industrial tires, 12 million agricultural tires, and 54,000 aircraft tires. In addition, China will produce 120.7 million motorcycle tires and 420 million bicycle tires annually by 2025. This is quite instrumental in propelling the market demand butadiene in the country over the forecast period.
In India, there are 41 tire manufacturers in India and around 6,000 non-tire manufacturers producing seals, conveyor belts, extruded and molded rubber profiles to be used in automotive, railway, defense, aerospace, and other applications.
Indian truck and bus tire production increased by 35% in December of the year 2020 over the same month the previous year. Truck and bus tire output fell by 8% with 126.4 lakh units from April to December of the year 2020 compared to the same time the previous year. In recent months, motorcycle tire production has improved. Motorcycle tire output grew by 25% in double digits with the production of 69.19 lakh units in December 2020.
Additionally, India is currently the second highest consumer and producer of footwear in the world. The country is currently producing around 9% of the global annual production of the footwear. The footwear sector in India is one of the largest in the region behind China.
Apart from this, the Asia-Pacific region is the largest producer of vehicles across the world. Butadiene is used to produce intermediates like styrene-butadiene (SBR) and others, which are further used to manufacture automotive products include tires, conveyor belts, etc.
According to the OICA, 2020, total industrial production in India was about 3,394,446 vehicles, including passenger, commercial, three-wheeler, two-wheeler, and quadricycles, which declined by about 25% compared to 4,524,366 vehicles produced over the same period last year. However, in Q1 2021, the country produced 1,291,497 vehicles, which increased 31% over 986,097 vehicles produced in Q1 2020. The government's reforms such as "Aatma Nirbhar Bharat" and "Make in India" programs are likely to boost the automotive industry in the near future.
According to the China Association of Automobile Manufacturers (CAAM), the automotive production decline by about 2% in 2020. The country produced 25,225,242 units in 2020, which declined from 25,750, 650 units in 2019. However in Q1, 2021, the production reached 6,352,028 which increased 81.7% over Q1 2020. The manufacturing activities are picking up pace, driving the demand for the butadiene.
Therefore, the aforementioned factors are expected to show a significant impact on the market in the coming years.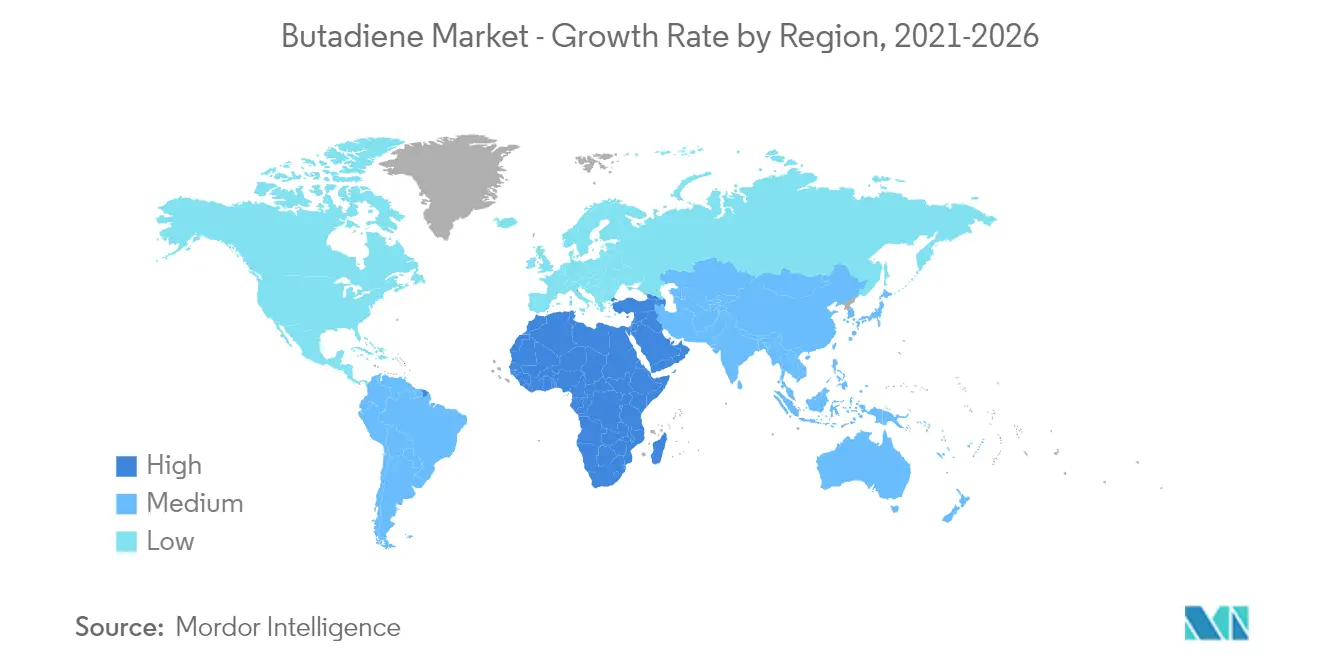 To understand geography trends, Download Sample Report
Competitive Landscape
The global butadiene market is fragmented in nature, with the top five players occupying less than 30% of the market share as of 2020. These companies include China Petroleum & Chemical Corporation (Sinopec), China National Petroleum Corporation, TPC Group, Royal Dutch Shell PLC, and Exxon Mobil Corporation, among others.
Recent Developments
In June 2021, ENEOS Corporation, the oil company in Japan, acquired JSR Corporation's global elastomers business, which includes the manufacture and sale of synthetic rubber. JSR will establish a new company and will transfer the elastomer business and the shares of international subsidiaries and affiliates related to this business to the new company by splitting the company. ENEOS will subsequently acquire all of the shares of the new company, making it a wholly-owned subsidiary.
In April 2021, Sinopec-SK Petrochemical Co., Ltd., a joint venture of SK Global Chemical (a subsidiary of SK Innovation) and Sinopec, planned to complete its expansion of new petrochemical facilities and start commercial operations in the second half of 2021. In October 2017, Sinopec-SK Petrochemical announced an additional investment plan valued at KRW740 billion (USD657.4 million) to expand petrochemical facilities for 300,000 tons of ethylene, 300,000 tons of polyethylene, 300,000 tons of polypropylene, and 60,000 tons of butadiene. This investment money came from the revenues that Sinopec-SK Petrochemical had raised independently.
Table of Contents
1. INTRODUCTION

1.1 Study Assumptions

1.2 Scope of the Study

2. RESEARCH METHODOLOGY

3. EXECUTIVE SUMMARY

4. MARKET DYNAMICS

4.1 Drivers

4.1.1 Developing Downstream Market in Asia-Pacific

4.1.2 Other Drivers

4.2 Restraints

4.2.1 Hazardous Effects Caused by Butadiene

4.2.2 Unfavorable Conditions Arising Due to the Impact of COVID-19

4.2.3 Closure of Several Tire Manufacturing Plants

4.3 Industry Value Chain Analysis

4.4 Porter's Five Forces Analysis

4.4.1 Bargaining Power of Suppliers

4.4.2 Bargaining Power of Buyers

4.4.3 Threat of New Entrants

4.4.4 Threat of Substitute Products and Services

4.4.5 Degree of Competition

4.5 Feedstock Analysis

4.6 Technological Snapshot

5. MARKET SEGMENTATION

5.1 Application

5.1.1 Polybutadiene (PBR)

5.1.2 Chloroprene

5.1.3 Styrene-Butadiene (SBR)

5.1.4 Nitrile Rubber (Acrylonitrile Butadiene NBR)

5.1.5 Acrylonitrile Butadiene Styrene (ABS)

5.1.6 Adiponitrile

5.1.7 Sulfolane

5.1.8 Ethylidene Norbornene

5.1.9 Styrene Butadiene Latex

5.1.10 Other Applications

5.2 End-user Industry

5.2.1 Plastic and Polymer

5.2.2 Tire and Rubber

5.2.3 Chemical

5.2.4 Other End-user Industries

5.3 Geography

5.3.1 Asia-Pacific

5.3.1.1 China

5.3.1.2 India

5.3.1.3 Japan

5.3.1.4 South Korea

5.3.1.5 Rest of Asia-Pacific

5.3.2 North America

5.3.2.1 United States

5.3.2.2 Canada

5.3.2.3 Mexico

5.3.3 Europe

5.3.3.1 Germany

5.3.3.2 France

5.3.3.3 United Kingdom

5.3.3.4 Italy

5.3.3.5 Rest of Europe

5.3.4 South America

5.3.4.1 Brazil

5.3.4.2 Argentina

5.3.4.3 Rest of South America

5.3.5 Middle-East and Africa

5.3.5.1 Saudi Arabia

5.3.5.2 South Africa

5.3.5.3 Rest of Middle-East and Africa

6. COMPETITIVE LANDSCAPE

6.1 Mergers and Acquisitions, Joint Ventures, Collaborations, and Agreements

6.2 Market Share (%) Analysis

6.3 Strategies Adopted by Leading Players

6.4 Company Profiles

6.4.1 BASF SE

6.4.2 Braskem

6.4.3 China Petroleum & Chemical Corporation

6.4.4 Dow

6.4.5 Evonik Industries AG

6.4.6 Exxon Mobil Corporation

6.4.7 Formosa Plastics Group

6.4.8 INEOS

6.4.9 JSR Corporation

6.4.10 LG Chem

6.4.11 LOTTE CHEMICAL TITAN HOLDING BERHAD

6.4.12 LyondellBasell Industries Holdings BV

6.4.13 Reliance Industries Limited

6.4.14 Repsol

6.4.15 Royal Dutch Shell PLC

6.4.16 SABIC

6.4.17 TPC Group

6.4.18 China National Petroleum Corporation

*List Not Exhaustive

7. MARKET OPPORTUNITIES AND FUTURE TRENDS

7.1 Innovation of Bio-butadiene
**Subject to Availability
You can also purchase parts of this report. Do you want to check out a section wise price list?
Frequently Asked Questions
What is the study period of this market?
The Butadiene Market market is studied from 2016 - 2026.
What is the growth rate of Butadiene Market?
The Butadiene Market is growing at a CAGR of >3.5% over the next 5 years.
Which region has highest growth rate in Butadiene Market?
Middle-East and Africa is growing at the highest CAGR over 2021- 2026.
Which region has largest share in Butadiene Market?
Asia Pacific holds highest share in 2020.
Who are the key players in Butadiene Market?
China Petroleum & Chemical Corporation, TPC Group, Royal Dutch Shell PLC, Exxon Mobil Corporation, China National Petroleum Corporation are the major companies operating in Butadiene Market.
80%

of our clients seek made-to-order reports. How do you want us to tailor yours?