The Asia-Pacific architectural coatings market stood at 11,065.10 kilo metric ton in 2017. The market is expected to register a CAGR of 7.06% in terms of volume, during the forecast period, 2018 to 2023. Increasing housing construction activities in emerging economies of Asia-Pacific is expected to drive the market in the forecast period.
Increasing Housing Construction Activities in Emerging Economies of Asia-Pacific
The emerging economies, such as China, India, Indonesia, Vietnam and Philippines, in the Asia-Pacific region have been witnessing a strong growth in construction activities. Robust economic performance in 2017 is expected to further accelerate the growth in housing construction activities in the region. In Indonesia, millennials account for about more than 50% of the productive population. With the increasing young population in the country, the housing demand has also been increasing simultaneously. In order to cater to growing demand for affordable houses, the construction of housing units has been increasing in the country. In 2016, the country witnessed construction of 7,00,000 affordable houses. Besides this, in 2017 the country was on track to build about 9,00,000 new affordable houses in the country.
In India, the government has been actively providing boost to the housing construction, where it aims to provide home to about 1.3 billion people. The country is likely to witness around USD1.3 trillion of investment in housing during the next seven years, where the country is likely to witness construction of 60 million new homes in the country. The availability of affordable housing is expected to rise around 70% by 2024 in the country. Hence, with such boom in housing construction activities in the emerging economies of Asia-Pacific, the demand for paints & coatings in the region is projected to increase substantially during the forecast period.
Water-borne Technology – The Dominant Technology Type
The VOCs released from solvent-borne coatings is the core reason for the switch of manufacturers to water-borne coatings. Also, other properties, like low odor, more durability, and more block resistance make waterborne coatings more preferable. There are many regulations from several governments, which supports water-based coatings. In recent times there has been a propensity to seek coatings with high usability, and water clean-up characteristics among the users, water-borne coatings meet the requirements, and also facilitate low viscosity, without the addition of low-molecular weight monomers.
China to Dominate the Market Growth
China is the largest market for architectural coatings, accounting for around 60% of the regional market. China's real estate sector has been growing rapidly with increased investment by the government. In 2016, property prices in China rose by about 30.0% due to increased activity in the real estate space. In China, the housing authorities of Hong Kong have launched a number of measures to push-start the construction of low-cost housing. The authorities has projected the capital expenditure in construction of HKD 23,923 million in its proposed budget for 2018-19, i.e. 7% higher than the budget allotted for the FY2017, in order to construct more affordable flats. The growth in construction is expected to boost the architectural coatings market in the country, during the forecast period.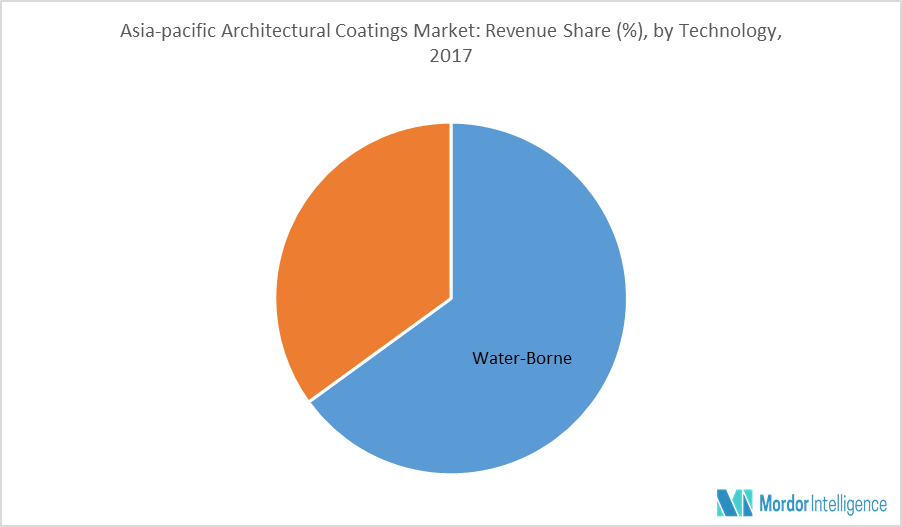 Key Developments
June 2017: The Sherwin-Williams Company completed the acquisition of The Valspar Corporation and created a global leader in paints & coatings industry
April 2017: Asian Paints subsidiary Berger International has acquired Causeway Paints Lanka (Pvt) Ltd. (CPLPL) in Sri Lanka
April 2017: NBCC Ltd has signed a deal with Poland-based Bolix SA, a fully-owned subsidiary of Berger Paints India Ltd, for energy-efficient building solutions
Major Players: Asian Paints, Berger Paints, Kansai Nerolac and Akzonobel, among others.
Reasons to Purchase this Report
Analyze how the growing automotive production & sales will drive the market
Analyze various perspectives of the market with the help of Porter's five forces analysis
The product type that is expected to dominate the market
The region that is expected to witness fastest growth during the forecast period
Identify the latest developments, market shares, and strategies employed by the major market players
3-month analyst support, along with the Market Estimate sheet in excel
Customization of the Report
This report can be customized to meet your requirements. Please connect with our analyst, who will ensure you get a report that suits your needs
1. Introduction
1.1 Research Phases
1.2 Study Deliverables
1.3 Scope of the Report
2. Executive Summary
3. Market Insights
3.1 Industry Value-Chain Analysis
3.2 Industry Attractiveness – Porter's Five Forces Analysis
3.2.1 Bargaining Power of Suppliers
3.2.2 Bargaining Power of Consumers
3.2.3 Threat of New Entrants
3.2.4 Threat of Substitute Products and Services
3.2.5 Degree of Competition
4. Market Dynamics
4.1 Drivers
4.1.1 Increasing Demand from the Construction Industry
4.2 Restraints
4.2.1 Rising Environmental Concerns and Regulations in China
4.2.2 Rise in Prices of Raw Materials
4.3 Opportunities
4.3.1 Accelerating Demand for Eco-friendly Coatings
4.3.2 Introduction of Fluoropolymer Coatings
5. Market Segmentation and Analysis (Market Size, Share, and Forecast)
5.1 By Construction
5.1.1 Commercial
5.1.2 Residential
5.2 By Application
5.2.1 Professional
5.2.2 DIY
5.3 By Technology
5.3.1 Water-borne
5.3.2 Solvent-borne
5.4 By Resin Type
5.4.1 Vinyl Acrylate
5.4.2 Pure Acrylics
5.4.3 Acetates
5.4.4 Styrene Acrylics
5.4.5 Alkyd
5.4.6 Others
6. Regional Market Analysis (Market Size, Share, and Forecast)
6.1 China
6.2 India
6.3 Japan
6.4 South Korea
6.5 ASEAN Countries
6.6 Australia & New Zealand
6.7 Rest of Asia-Pacific
7. Competitive Landscape
7.1 Mergers & Acquisitions, Joint Ventures, Collaborations, and Agreements
7.2 Market Share Analysis**
7.3 Strategies Adopted by Leading Players
8. Company Profiles (Overview, Financials**, Products & Services, Recent Developments)
8.1 Akzo Nobel N.V.
8.2 Asian Paints
8.3 Beckers Group
8.4 Berger Paints India Limited
8.5 Carpoly
8.6 Jotun
8.7 Kansai Paint Co., Ltd
8.8 KCC Paints
8.9 Masco Corporation
8.10 Nippon Paint Co., Ltd (Nipsea Group)
8.11 PPG Industries, Inc.
8.12 RPM International Inc.
8.13 The Sherwin-Williams Company
*List not exhaustive
9. Disclaimer
**Subject to availability on public domain