Angola Agriculture Industry Overview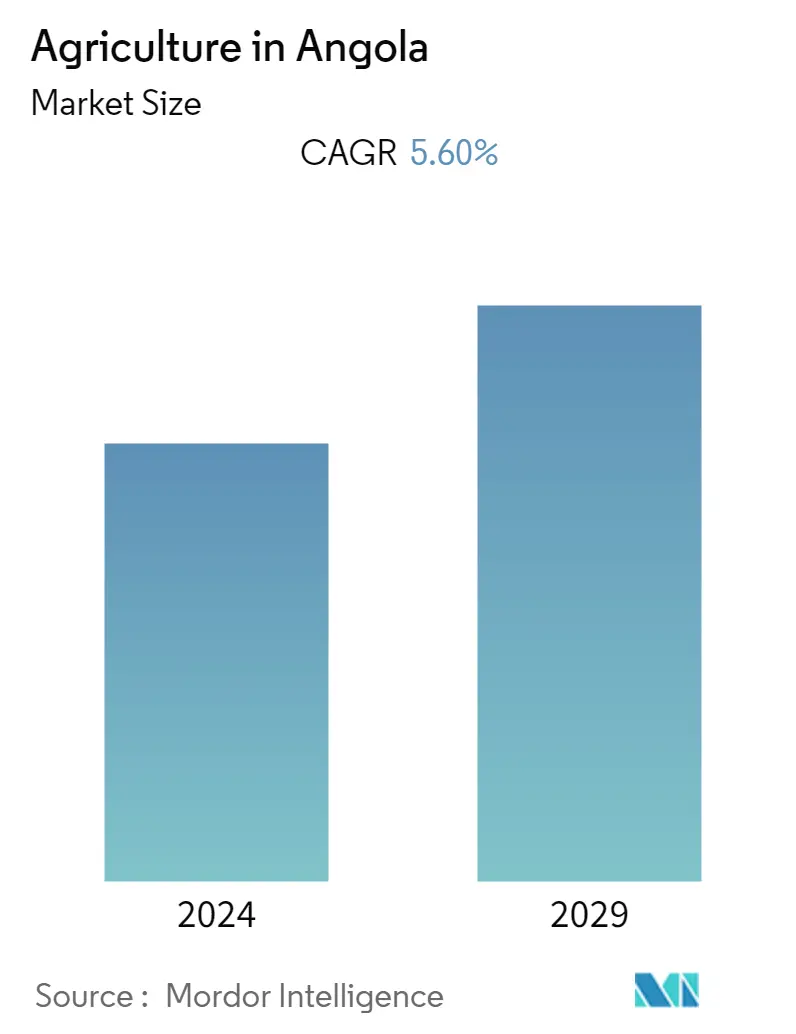 Study Period:
2017-2027
CAGR:
5.6 %
Need a report that reflects how COVID-19 has impacted this market and its growth?
Angola Agriculture Market Analysis
Angola's agriculture market is projected to record a CAGR of 5.6% during the forecast period.
Agriculture provides food, income, and work for two-thirds of the Angolan population, with women making up the majority of the labor force. The country has many agroecological zones that are suitable for the growth of a wide range of tropical and subtropical crops for both domestic and export consumption.
Angola has enormous agricultural potential due to natural advantages such as good soils, ample water, and a pleasant climate. The Angola Ministry of Agriculture has made strategic policies to make Angolan coffee competitive in the region again. Cassava, corn, beans, potatoes, sweet potatoes, soy, bananas, coffee, rice, and other vegetables and fruits are currently Angola's principal crops.
The hills and valleys, particularly in the southern provinces, are the most productive. The rainy season lasts from October to May and is considered the best time for vegetable cultivation. Tomatoes are grown throughout the dry season, which lasts from June to September. The favorable climatic conditions for crop production and government policies encouraging the participation of private players in developing the agricultural sector, such as the National Medium-term Development Plan for the Agricultural Sector (PDMPSA), are some of the factors driving the market's growth.
Angola Agriculture Industry Segments
The report defines agricultural products in terms of the end-users, and the scope includes only fresh produce, processed or value-added products are not part of the scope.
The report covers major crops under different categories that are prominently grown throughout the country. The Angolan agriculture market is segmented into food crops/cereals, fruits, and vegetables.  The report includes a production analysis (volume), consumption analysis (value and volume), export analysis (value and volume), import analysis (value and volume), and price trend analysis. The report offers the market sizes and forecasts in terms of value (USD million) and volume (metric ton) for the above-mentioned segments.
Angola Agriculture Market Trends
Favorable Government Policies Encouraging Agricultural Production
The conducive government policies are promoting agriculture in Angola. Agricultural development to diversify the economy and build domestic food production capacity is a featured element of the Angolan government's National Development Plan for 2018-2022, which will decrease the country's dependence on imported food. The Angolan government issued the Presidential Decree PAPE (Action Plan for Employability Promotion) to support this development.
Angola's agricultural support to producers is centered on maize and beans. The support is high for these commodities compared to other countries. Agriculture public support policies and programs contributed 45 percent of total gross revenues perceived by maize farmers. In comparison, beans received up to 28 percent in recent years. This has resulted in increased bean production. For instance, bean production increased from 2.1 million metric tons in 2017 to 2.5 million metric tons by 2019. There was a slight decline in production in 2020 due to various factors, including the pandemic.
In its efforts to diversify the economy and address climate change, the Government of Angola has been revitalizing its rural economy and its vast agricultural resources. The USD 300 million Bank-financed Climate Resilience and Water Security Project (RECLIMA) was approved in March 2022 & it will assist the government in improving water supplies and strengthening water resource management in Angola to increase climate resilience. The Ministry of Agriculture and Rural Development in Angola is collaborating with the private sector to achieve objectives like the distribution of seeds and tools, reconstruction of rural infrastructure, and others. The government has also directly aided in the establishment of several big agricultural projects and businesses. Gesterra S.A., Aldeia Nova, Quiminha Project (PIDARQ), etc. These policies have a direct or indirect impact on increasing the private sector's involvement in agriculture, which may enhance the overall agricultural sector in the country.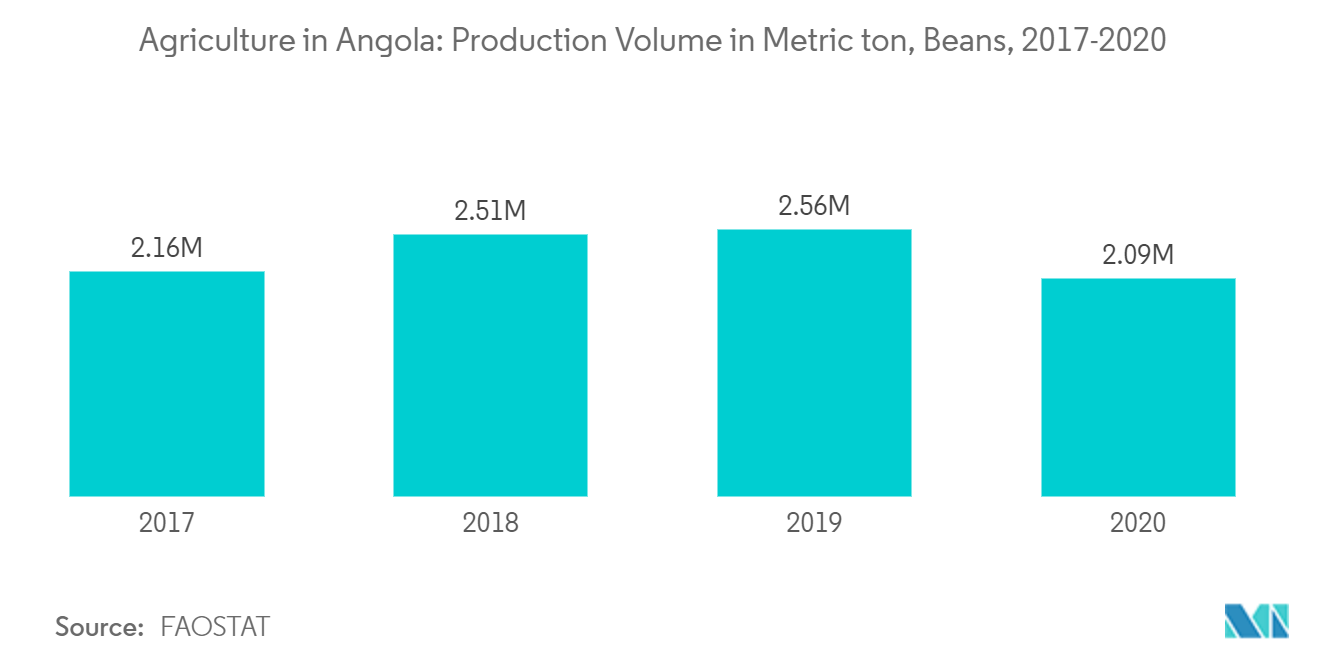 To understand key trends, Download Sample Report
High Regional Trade of Coffee
Agriculture in the country comprises several segments, namely fruits, vegetables, cereals, and pulses. One of the major crops of Angolan agriculture is coffee. Before the civil war, Angola used to be one of the world's biggest coffee producers. The Angola Ministry of Agriculture made strategic policies to make Angolan coffee competitive again. The policies have been highly favoring coffee which is evident as the exports doubled in value in 2021 as compared to the year 2017. The coffee exports in 2021 from Angola were valued at USD 2.12 million, and Major export destinations were the countries in North America and Europe.
Coffee productivity is currently around 260 kg/ha on average, owing to substantial disparities between ancient farms (e.g., 100 kg/ha) and restored and well-maintained farms (e.g., 400-500 kg/ha). Angola produces two varieties of coffee: Coffea canephora, often known as Robusta26, and Coffea Arabica, also known as Arabica. Angolan Robusta coffee is said to have a distinct flavor and to be of the highest quality among producing countries. This is most likely owing to local farming practices, which often grow coffee in shadow, as well as environmental circumstances such as high altitude (e.g., some plantations are located around 1,100 meters above sea level) and soil type.
The Angolan National Coffee Institute (INCA) was established as a responsible government body for the coffee sector's development, aiming to attract private investors for public-private partnerships (PPP) and establish a 'coffee fund' for smallholder farmers. These initiatives help enhance the production of coffee and increase the demand for coffee in the region.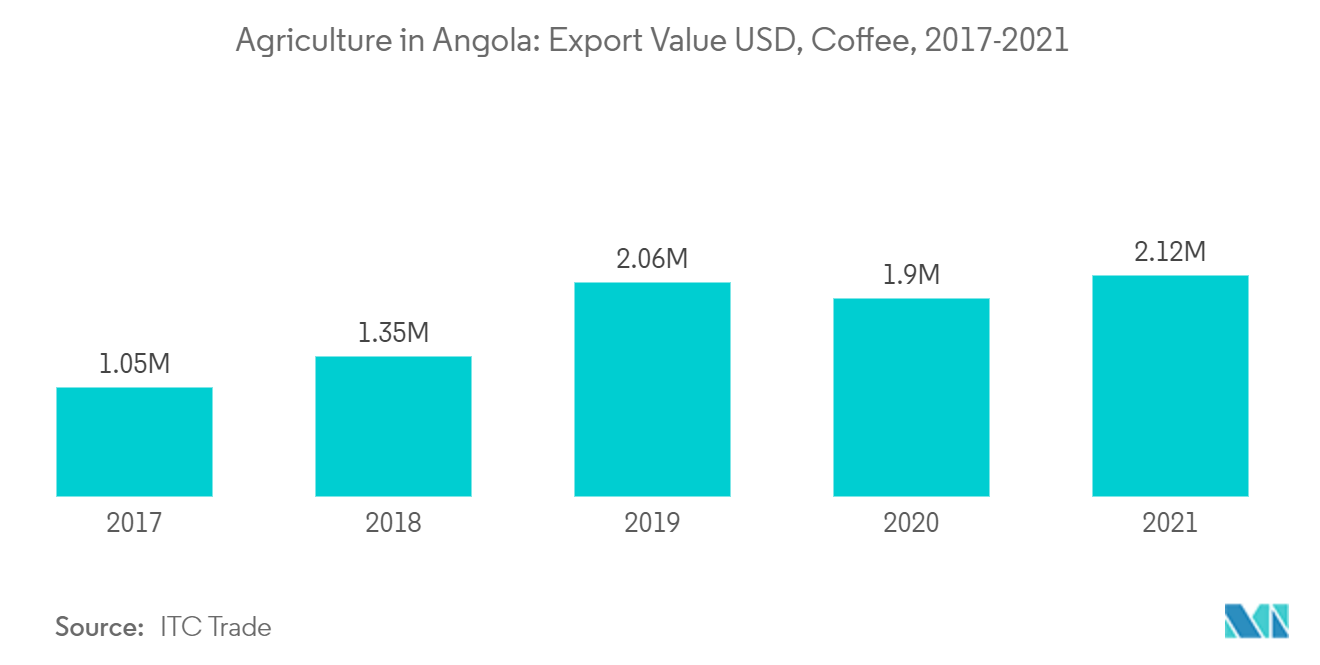 Angola Agriculture Market Recent Developments
September 2022: World Bank and the French Agency for Development provided USD 230 million for Angola Commercial Agriculture Project (PDAC). The project aims to increase agricultural productivity and market access to more commercial farms.
June 2022: The World Bank authorized the USD 300 million-worth Smallholder Agricultural Transformation Project (PROTAF), which will go into effect on December 15, 2022. The PROTAF initiative will assist farmers in increasing their output and increasing access to agricultural extension through the institutionalization of Farmer Field Schools and help smallholder farmers.
Angola Agriculture Market Report - Table of Contents
1. INTRODUCTION

1.1 Study Assumptions and Market Definition

1.2 Scope of the Study

2. RESEARCH METHODOLOGY

3. EXECUTIVE SUMMARY

4. MARKET DYNAMICS

4.1 Market Overview

4.2 Market Drivers

4.3 Market Restraints

4.4 Value Chain Analysis

5. MARKET SEGMENTATION (Production Analysis, Consumption Analysis by Value & Volume, Import Analysis by Value & Volume, Export Analysis by Value & Volume)

5.1 Food Crops/Cereals

5.2 Fruits

5.3 Vegetables

6. INTERNATIONAL TRADE AND PRICE SCENARIOS

6.1 Onion

6.2 Potato

6.3 Tomato

6.4 Garlic

6.5 Cauliflower

6.6 Beans

6.7 Eggplant

6.8 Lemon

6.9 Apple

6.10 Banana

6.11 Grapes

6.12 Strawberry

6.13 Watermelon

6.14 Dates

6.15 Olives

7. Regional Analysis

7.1 PESTLE Analysis

7.2 Supply Chain Analysis

7.3 Government Policies

8. Competitive Analysis

8.1 Distribution Network and Retail Analysis

8.2 List/Profiles of Key Players

9. MARKET OPPORTUNITIES AND FUTURE TRENDS
Angola Agriculture Market Research FAQs
What is the study period of this market?
The Agriculture in Angola market is studied from 2017 - 2027.
What is the growth rate of Agriculture in Angola?
The Agriculture in Angola is growing at a CAGR of 5.6% over the next 5 years.
Agriculture in AngolaIndustry Reports
In-depth industry statistics and market share insights of the Agriculture in sector for 2020, 2021, and 2022. The Agriculture in research report provides a comprehensive outlook of the market size and an industry growth forecast for 2023 to 2028. Available to download is a free sample file of the Agriculture in report PDF.
80%

of our clients seek made-to-order reports. How do you want us to tailor yours?