Instantánea del mercado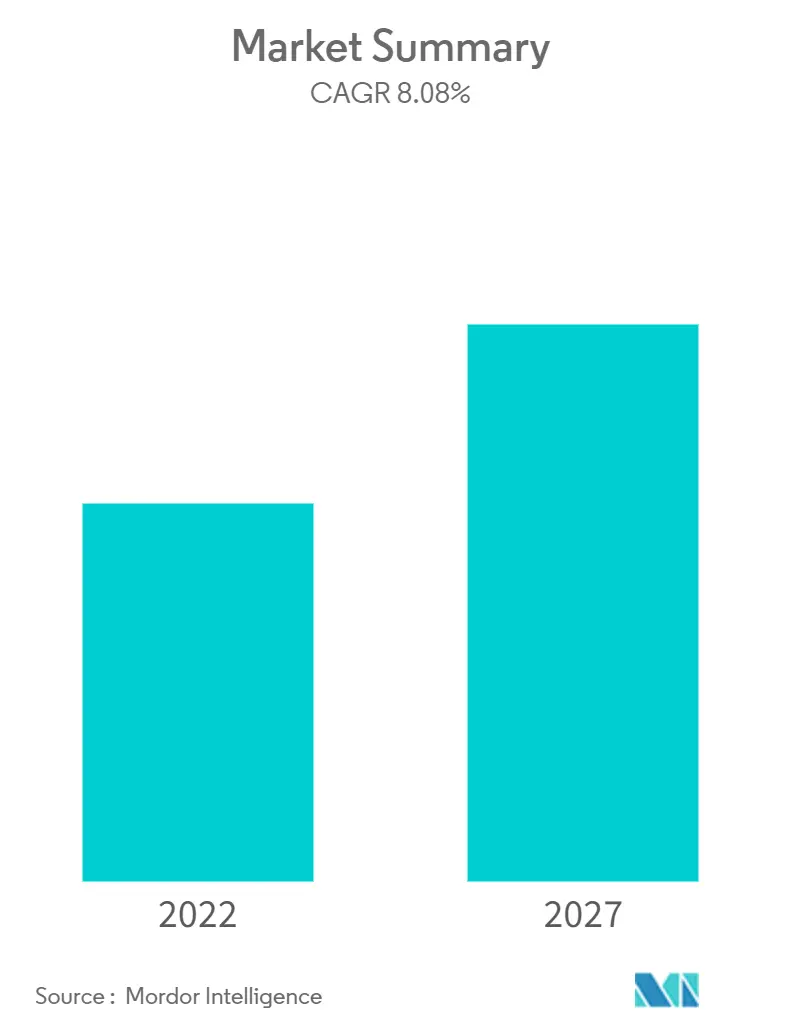 Study Period:
2016 -2027
Base Year:
2021
Fastest Growing Market:
Asia Pacific
Largest Market:
Asia Pacific
CAGR:
8.08 %
Need a report that reflects how COVID-19 has impacted this market and its growth?
Visión general del mercado
Se proyecta que el mercado global de probióticos registre una CAGR de 8.08% durante el período de pronóstico (2022-2027).
Con el impacto repentino de COVID-19, el mercado ha sido testigo de un aumento en la demanda de productos que brinden salud inmunológica, lo que probablemente tenga un impacto positivo en el mercado de probióticos. Debido a tales factores, hay importantes lanzamientos de productos para atender la creciente demanda. En Asia-Pacífico, India tiene un aumento en la cantidad más alta de nuevos alimentos, bebidas y suplementos lanzados en los últimos cinco meses, seguidos por Australia e Indonesia. Por ejemplo, en abril de 2020, Meluka Australia, la subsidiaria de Eve Investment, que cotiza en ASX, lanzó un nuevo producto Meluka honey and probiotic tonic para ser el primero de su tipo en el mercado nacional según afirma la compañía. ​
El mercado de los probióticos está impulsado por la fuerte demanda de productos saludables entre los consumidores, especialmente de la generación más joven. Los probióticos forman parte de los alimentos y bebidas funcionales. Son conocidos por mejorar la funcionalidad intestinal, junto con otros beneficios, como aumentar la inmunidad.
No existe una demarcación clara para los productos farmacéuticos y alimenticios a base de probióticos, con variaciones entre los diferentes países. Por lo tanto, la complejidad en los aspectos regulatorios, legislativos y tecnológicos está sirviendo como un obstáculo importante para el crecimiento del mercado.
Alcance del Informe
Los probióticos son bacterias y levaduras vivas que son buenas para usted, especialmente para su sistema digestivo. El mercado global de probióticos está segmentado por tipo en alimentos probióticos, bebidas probióticas, suplementos dietéticos y alimentos para animales. Los alimentos probióticos se subdividen en yogur, cereales de panadería/desayuno, alimentos para bebés y fórmulas infantiles, otros alimentos probióticos. Además, las bebidas probióticas se han clasificado en bebidas probióticas a base de frutas y bebidas probióticas a base de lácteos. Por canal de distribución, el mercado está segmentado en supermercados/hipermercados, farmacias y droguerías, tiendas de conveniencia, canales en línea y otros canales de distribución. El estudio también incluye un análisis de las principales regiones, como América del Norte, Europa, Asia-Pacífico, América del Sur y Medio Oriente y África.
By Type

Probiotic Foods
Yogurt
Bakery/Breakfast Cereals
Baby Food and Infant Formula
Other Probiotic Foods

Probiotic Drinks
Fruit-based Probiotic Drinks
Dairy-based Probiotic Drinks

Dietary Supplements
Animal Feeds/Foods
By Distribution Channel
Supermarkets/Hypermarkets
Pharmacies and Health Stores
Convenience Stores
Online Retail Stores
Other Distribution Channels
By Geography

North America
United States
Canada
Mexico
Rest of North America

Europe
Spain
United Kingdom
Germany
France
Italy
Russia
Rest of Europe

Asia-Pacific
China
Japan
India
Australia
Rest of Asia-Pacific

South America
Brazil
Argentina
Rest of South America

Middle-East and Africa
South Africa
Saudi Arabia
Rest of Middle-East and Africa
Tendencias clave del mercado
Importancia de la conciencia de la salud entre los millennials
Los probióticos son una fuerza impulsora dentro de la floreciente categoría de suplementos para la salud digestiva, y personas de todas las edades los consumen. Sin embargo, el mayor consumo se observa entre los millennials debido a su creciente conciencia sobre la salud y el bienestar a través de la publicidad multicanal, lo que influye en gran medida en su patrón de consumo. Los suplementos de probióticos representan la categoría de condición específica más grande para las ventas minoristas del mercado masivo en los Estados Unidos, y es la segunda categoría de suplemento de condición específica de más rápido crecimiento. Esto demuestra la conciencia entre las personas sobre los beneficios de los suplementos probióticos. Los millennials, al ser tecnológicamente avanzados, se actualizan con los hechos relacionados con la salud y, con ello, tratan de modificar sus rutinas y hábitos alimentarios en consecuencia.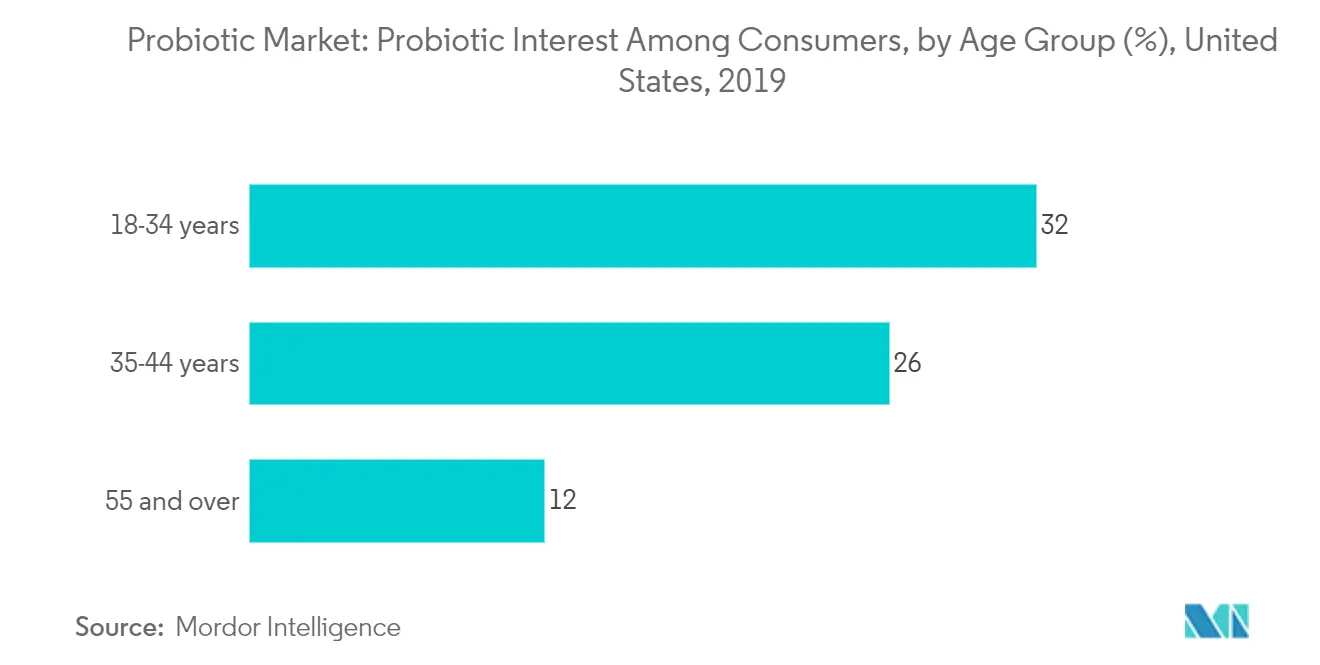 To understand key trends, Download Sample Report
Asia-Pacífico surgió como líder del mercado
El mercado de probióticos de Asia-Pacífico está impulsado por la creciente conciencia e interés en las nuevas tecnologías, la cobertura de los medios y la demanda de los consumidores. Se espera que la creciente conciencia sobre los probióticos en China e India impulse aún más el crecimiento del mercado en la región. En China, la inclusión de probióticos en el segmento de fórmulas infantiles ha experimentado una gran demanda, que es probable que aumente en los próximos años. El mercado ha sido testigo de un crecimiento significativo, debido al aumento del envejecimiento de la población y una comprensión cada vez mayor de la importancia de la salud preventiva, junto con una gran cantidad de estudios que muestran beneficios en torno a la inmunidad, la salud cognitiva y el cuidado de la piel. Las innovaciones en cadenas comerciales con nuevas formulaciones ayudan a diferenciar las marcas y los productos correspondientes.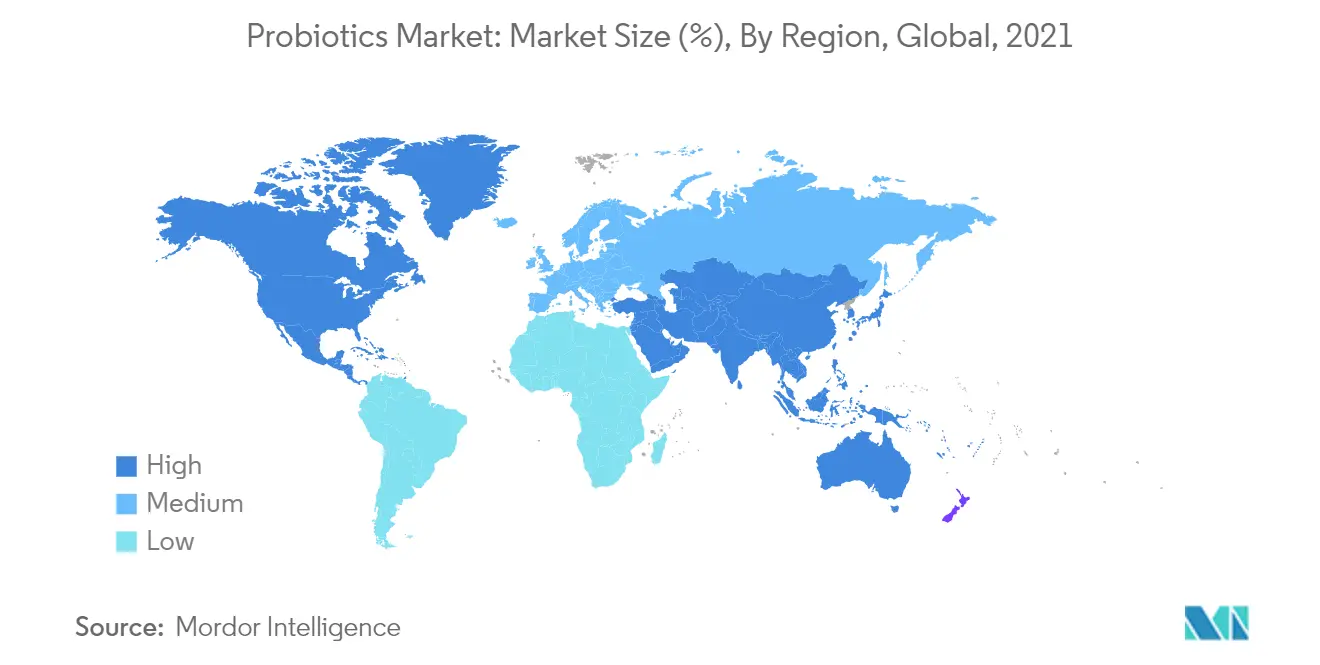 To understand geography trends, Download Sample Report
Panorama competitivo
El mercado es altamente competitivo, con la presencia de jugadores clave, como Nestlé SA, Danone SA, PepsiCo Inc., Lifeway Foods Inc. y Yakult Honsha Co. Ltd. La ventaja competitiva sostenible a través de la diferenciación es alta y los fabricantes están introduciendo cada vez más innovaciones de producto, en términos de ingredientes, precio y funcionalidades. Esto ha llevado a un alto grado de competencia en el mercado. Además, estas empresas están aumentando sus inversiones en investigación y desarrollo. Las empresas también se están enfocando en desarrollar productos con funcionalidades mejoradas, en línea con las necesidades de los consumidores, para expandir su presencia y mantener sus posiciones en el mercado.
Recent Development
In 2020,BioGaia signed an agreement with ETHICAL NUTRITION – Roemmers Nutritional Division, for the exclusive rights to sell BioGaia Protectis drops and BioGaia Protectis tablets in Argentina. The products will be sold under the BioGaia brand.​
In 2019 - Nestlé SA launched a probiotic solution for lactating mothers to reduce the risk of breast pain and mastitis. The agreement between Nestlé and Spanish biotech company, Biosearch Life, structured in two contracts: a license agreement for the marketing in 41 countries of the patented strain Hereditum Lactobacillus fermentum LC40 and a second contract for the manufacture and supply of the same strain.
In 2019, Yakult Middle East FZCO launched Yakult Gold fermented milk drink, containing 30 billion of Yakult's property Lactobacillus casei strain Shirota per bottle in the United Arab Emirates.​
Table of Contents
1. INTRODUCTION

1.1 Study Assumptions and Market Definition

1.2 Scope of the Study

2. RESEARCH METHODOLOGY

3. EXECUTIVE SUMMARY

4. MARKET DYNAMICS

4.1 Market Drivers

4.2 Market Restraints

4.3 Porter's Five Forces Analysis

4.3.1 Threat of New Entrants

4.3.2 Bargaining Power of Buyers/Consumers

4.3.3 Bargaining Power of Suppliers

4.3.4 Threat of Substitute Products

4.3.5 Intensity of Competitive Rivalry

5. MARKET SEGMENTATION

5.1 By Type

5.1.1 Probiotic Foods

5.1.1.1 Yogurt

5.1.1.2 Bakery/Breakfast Cereals

5.1.1.3 Baby Food and Infant Formula

5.1.1.4 Other Probiotic Foods

5.1.2 Probiotic Drinks

5.1.2.1 Fruit-based Probiotic Drinks

5.1.2.2 Dairy-based Probiotic Drinks

5.1.3 Dietary Supplements

5.1.4 Animal Feeds/Foods

5.2 By Distribution Channel

5.2.1 Supermarkets/Hypermarkets

5.2.2 Pharmacies and Health Stores

5.2.3 Convenience Stores

5.2.4 Online Retail Stores

5.2.5 Other Distribution Channels

5.3 By Geography

5.3.1 North America

5.3.1.1 United States

5.3.1.2 Canada

5.3.1.3 Mexico

5.3.1.4 Rest of North America

5.3.2 Europe

5.3.2.1 Spain

5.3.2.2 United Kingdom

5.3.2.3 Germany

5.3.2.4 France

5.3.2.5 Italy

5.3.2.6 Russia

5.3.2.7 Rest of Europe

5.3.3 Asia-Pacific

5.3.3.1 China

5.3.3.2 Japan

5.3.3.3 India

5.3.3.4 Australia

5.3.3.5 Rest of Asia-Pacific

5.3.4 South America

5.3.4.1 Brazil

5.3.4.2 Argentina

5.3.4.3 Rest of South America

5.3.5 Middle-East and Africa

5.3.5.1 South Africa

5.3.5.2 Saudi Arabia

5.3.5.3 Rest of Middle-East and Africa

6. COMPETITIVE LANDSCAPE

6.1 Most Active Companies

6.2 Most Adopted Strategies

6.3 Market Share Analysis

6.4 Company Profiles

6.4.1 PepsiCo Inc.

6.4.2 Nestle SA

6.4.3 Danone SA

6.4.4 Yakult Honsha Co. Ltd

6.4.5 Now Foods

6.4.6 BioGaia

6.4.7 Reckitt Benckiser LLC

6.4.8 Morinaga Milk Industry Co. Ltd ​

6.4.9 Amway Corp​

6.4.10 Lifeway Foods Inc. 

*List Not Exhaustive

7. MARKET OPPORTUNITIES AND FUTURE TRENDS

8. IMPACT OF COVID-19 ON THE MARKET
**Subject to Availability
You can also purchase parts of this report. Do you want to check out a section wise price list?
Frequently Asked Questions
¿Cuál es el período de estudio de este mercado?
El mercado de Probióticos Market se estudia desde 2016 hasta 2027.
¿Cuál es la tasa de crecimiento del mercado probióticos?
El mercado de los probióticos está creciendo a una CAGR del 8,08 % en los próximos 5 años.
¿Que region tiene la tasa de crecimiento mas alta en el mercado Probioticos?
Asia Pacífico está creciendo a la CAGR más alta durante 2021-2026.
¿Que region tiene la mayor participacion en Probioticos Market?
Asia Pacífico tiene la participación más alta en 2021.
¿Quiénes son los jugadores clave que operan en el mercado Probioticos?
Nestlé SA, Groupe Danone, PepsiCo Inc. (Kevita), Yakult Honsha Co. Ltd, Lifeway Foods Inc. son las principales empresas que operan en el mercado de probióticos.
80%

of our clients seek made-to-order reports. How do you want us to tailor yours?