Instantánea del mercado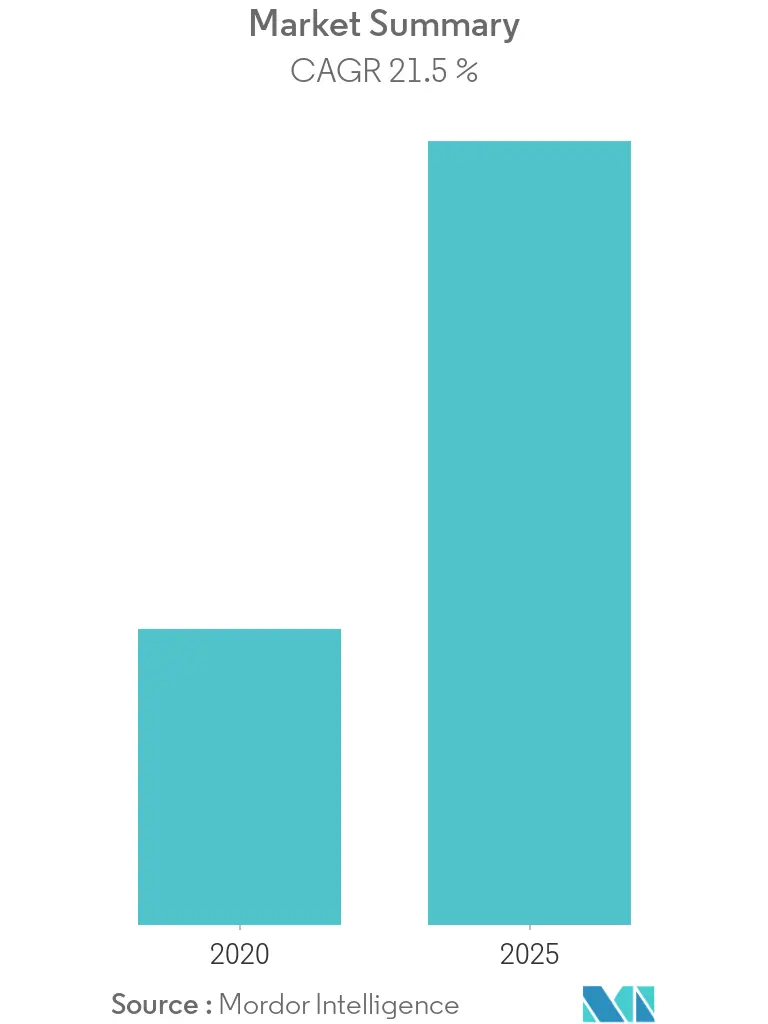 Study Period:
2016 - 2026
Base Year:
2021
CAGR:
21.5 %
Need a report that reflects how COVID-19 has impacted this market and its growth?
Visión general del mercado
Los AuM en India Mutual Find Industry se sitúan en 24,55 billones de INR al 31 de mayo de 2020. Los AuM en India se han cuadruplicado en una década (2010 - 2020) y apuntan a cuadruplicarse para 2025. Los AuM de capital continuaron siendo los principales contribuyente con una participación del 42,1 %, mientras que los esquemas orientados a la deuda representaron el 28,8 % de los activos bajo gestión y el mercado líquido/dinero representaron el 23,3 % en septiembre de 2019.
La penetración digital, el gobierno que apunta a las ciudades inteligentes y el aumento de la velocidad de los datos también están facilitando la deriva de la participación de activos hacia ciudades y pueblos más pequeños. El aumento de la contribución minorista a través de SIP muestra el poder de la penetración digital en la India.
El número total de folios al 31 de mayo de 2020 fue de 91 millones, y la inversión máxima del segmento minorista fue de 80,3 millones INR.
Alcance del Informe
Una comprensión de la industria india de fondos mutuos, el entorno regulatorio, las empresas de MF y sus modelos comerciales, junto con una segmentación detallada del mercado, tipos de productos, tendencias actuales del mercado, cambios en la dinámica del mercado y oportunidades de crecimiento. Análisis en profundidad del tamaño del mercado y pronóstico para los distintos segmentos.
Tendencias clave del mercado
Creciente base de inversionistas individuales, con un aumento en el tamaño de los boletos
La industria ha visto una creciente participación de los hogares en los últimos años, dada la creciente conciencia, la inclusión financiera y un mejor acceso a los canales bancarios. La industria agregó 44,2 millones de folios entre marzo de 2014 y junio de 2019. Casi todo el crecimiento de los folios provino del segmento de inversionistas individuales (minorista y HNI), que registró una CAGR de 15,5% durante este período. El tamaño promedio de sus boletos también aumentó de 102 000 INR en marzo de 2014 a 169 000 INR en junio de 2019.
A junio de 2019, el 57,4 % de los AUM de los inversores individuales se encontraba en fondos orientados a la renta variable, mientras que los inversores institucionales preferían principalmente el segmento de renta fija (deuda y líquido/mercado monetario), que constituía el 77,2 % de sus activos. Los vehículos SIP son impulsados ​​en gran medida por inversores minoristas debido a una mayor conciencia financiera y una mayor penetración digital.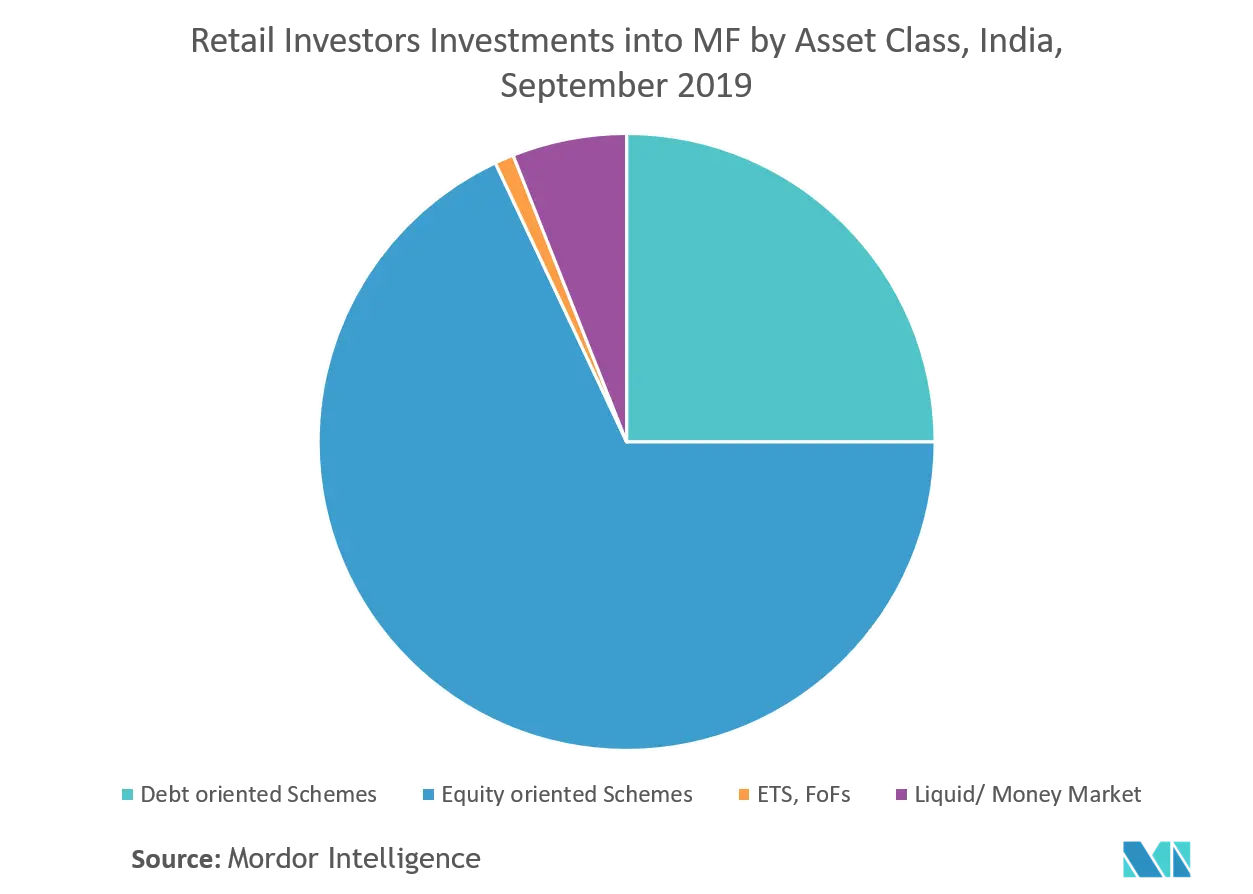 To understand key trends, Download Sample Report
Importancia del Plan Sistemático de Inversiones (SIP) como herramienta de inversión en MF en la India
A medida que surgen nuevos inversores minoristas, el plan de inversión Systematic tiene una tendencia alcista constante a pesar de la volatilidad del mercado. Las cuentas SIP totales aumentaron de 10 millones en abril de 2016 a 27,3 millones en junio de 2019. Los SIP tomados por inversores con un horizonte de inversión a largo plazo brindan mejores rendimientos y reducen significativamente los rendimientos negativos. Hay casi 32 millones de cuentas SIP a partir de mayo de 2020 a través de las cuales los inversores invierten regularmente en esquemas de fondos mutuos indios. El monto de la cuota SIP podría ser tan pequeño como ₹ 500 por mes. SIP ha ido ganando popularidad entre los inversores indios de MF, ya que ayuda en el promedio de costos de rupias y también en la inversión de manera disciplinada sin preocuparse por la volatilidad del mercado y el momento del mercado.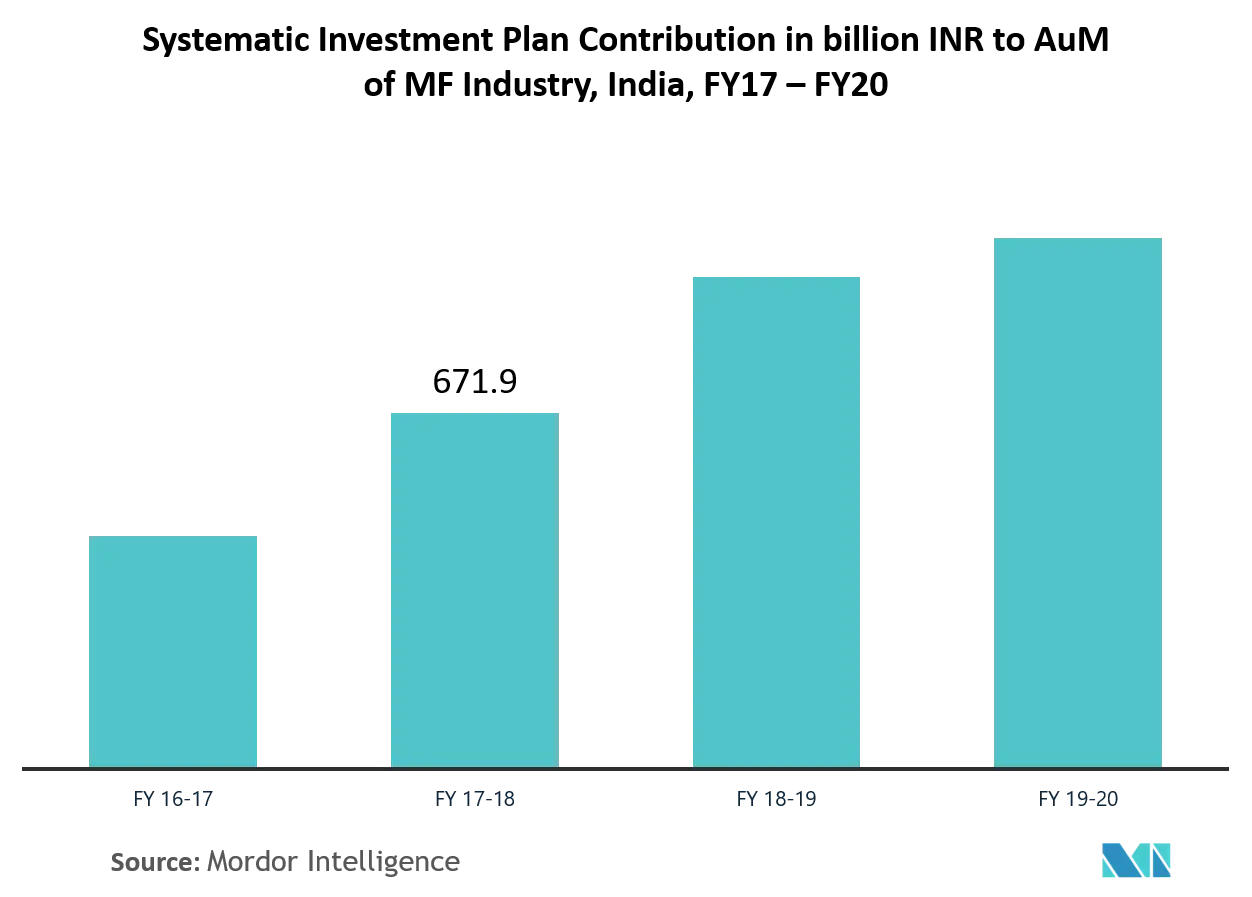 Panorama competitivo
El informe incluye una descripción general de las empresas de MF que operan en India y en uno o algunos otros países. Deseamos presentar perfiles detallados de algunas de las principales empresas que cubren las ofertas de productos, las regulaciones que las rigen, sus oficinas centrales y su desempeño financiero. Actualmente, algunos de los principales actores que dominan el mercado se enumeran a continuación.
Table of Contents
1. INTRODUCTION

1.1 Study Deliverables

1.2 Study Assumptions

1.3 Scope of the Study

2. RESEARCH METHODOLOGY

3. EXECUTIVE SUMMARY

4. MARKET DYNAMICS

4.1 Market Overview

4.1.1 A Brief on Indian Economy And Asset Management Industry in India

4.1.2 India Mutual Fund Industry Size - AuMs over the years

4.1.3 A Brief on Geographical Categorization (T30, B30, etc) of Indian Mutual Fund Landscape

4.2 Insights on Various Types of Schemes or Funds Offered in Indian Mutual Fund Industry

4.3 Prominence of SIPs as a Tool of Investment in Mutual Funds in India

4.4 A brief on Regulatory Environment

4.4.1 Regulatory Bodies Governing The Industry

4.4.2 Indsutry Policies Affecting The Mutual Funds Schemes

4.4.3 Notable Reforms in Light of Macro Economic Factors And Incidents like IL&FS Collapse

4.5 Technological Innovations Shaping The Industry

4.5.1 Trends of Gross Inflows - Physical Mode Vs Digital Mode

4.5.2 Technologies (like AI, ML, RPA) That Are Changing The Ecosystem

4.5.3 Fintechs Inflencing The Mutual Funds Industry in India

4.6 Market Drivers

4.6.1 Rising Awareness - Growing Investor Base

4.6.2 Rising Share of Financial Savings In Total Household Savings

4.7 Market Restraints

4.8 Value Chain / Supply Chain Analysis

4.9 Porters 5 Force Analysis

4.9.1 Threat of New Entrants

4.9.2 Bargaining Power of Buyers/Consumers

4.9.3 Bargaining Power of Suppliers

4.9.4 Threat of Substitute Products

4.9.5 Intensity of Competitive Rivalry

4.10 Impact of COVID 19 on the market

5. MARKET SEGMENTATION

5.1 By Asset Class/Scheme Type

5.1.1 Debt Oriented Schemes

5.1.2 Equity Oriented Schemes

5.1.3 Money Market

5.1.4 ETFs & FoFs

5.2 By Source of Funds

5.2.1 Banks Sponsored

5.2.2 Insurance Companies

5.2.3 Retail Investors

5.2.4 Indian Institutional Investors

5.2.5 FIIs, FPIs

5.2.6 Other Source of Funds

6. COMPETITIVE LANDSCAPE

6.1 Market Competition Overview (Market Concentration And M&A Deals)

6.2 Company Profiles

6.2.1 SBI Mutual Fund

6.2.2 HDFC Mutual Fund

6.2.3 ICICI Prudential Mutual Fund

6.2.4 Reliance Mutual Fund

6.2.5 Aditya Birla Sun Life Mutual Fund

6.2.6 DSP BlackRock Mutual Fund

6.2.7 Kotak Mutual Fund

6.2.8 IDFC Mutual Fund

6.2.9 Tata Mutual Fund

6.2.10 Invesco Mutual Fund

6.2.11 Sundaram Mutual Fund*

*List Not Exhaustive

7. MARKET OPPORTUNITIES AND FUTURE TRENDS
You can also purchase parts of this report. Do you want to check out a section wise price list?
Frequently Asked Questions
¿Cuál es el período de estudio de este mercado?
El mercado de la industria de fondos mutuos de la India se estudia desde 2016 hasta 2026.
¿Cuál es la tasa de crecimiento de la industria de fondos mutuos de la India?
La industria de fondos mutuos de la India está creciendo a una CAGR del 21,5 % en los próximos 5 años.
¿Quiénes son los jugadores clave en la industria de fondos mutuos de India?
HDFC Mutual Fund, ICICI Prudential Mutual Fund, SBI Mutual Fund, Aditya Birla Sun Life Mutual Fund, UTI Mutual Fund son las principales empresas que operan en India Mutual Fund Industry.
80%

of our clients seek made-to-order reports. How do you want us to tailor yours?