Instantánea del mercado
Study Period:
2016 - 2026
Base Year:
2021
Fastest Growing Market:
Asia Pacific
Largest Market:
Asia Pacific
CAGR:
8.8 %
Need a report that reflects how COVID-19 has impacted this market and its growth?
Visión general del mercado
Es probable que el mercado mundial de harina de plumas experimente una CAGR de alrededor del 8,8 %, especialmente debido a la tracción ganada por los costos de los ingredientes de los alimentos en los últimos años. Especialmente, en regiones en desarrollo como Asia y África, la producción lechera o el pastoreo de ganado en pequeña escala es la práctica común, estos agricultores a menudo no logran alcanzar su límite de producción debido a su incapacidad para suministrar alimentos adecuados a su ganado. El alto costo de la alimentación del ganado los está limitando para suministrar alimentos adecuados. Por lo tanto, el potencial de usar subproductos como la harina de plumas en el alimento compuesto puede reducir drásticamente los costos de alimentación y, por lo tanto, hacer que suficientes materias primas estén disponibles a nivel mundial.
Alcance del Informe
La harina de plumas es un subproducto del procesamiento de aves de corral y se elabora a partir de plumas de aves moliéndolas parcialmente bajo calor y presión elevados. A los efectos del estudio, la harina de plumas se ha considerado un ingrediente de piensos utilizado en la industria de piensos compuestos a escala comercial. Las premezclas de harina de plumas que están disponibles para ser mezcladas a nivel de finca han sido excluidas del alcance del estudio de mercado.
Type
Conventional
Organic
Application
Animal Feed
Agrochemicals
Others
Geography

North America
United States
Canada
Mexico
Rest of North America

Europe
Germany
United Kingdom
France
Russia
Spain
Rest of Europe

Asia Pacific
China
India
Japan
Indonesia
Rest of Asia-Pacific

South America
Brazil
Argentina
Rest of South America

Middle East and Africa
South Africa
Egypt
Rest of Middle East and Africa
Tendencias clave del mercado
Harina de Plumas para Servir como una Alternativa Económicamente Viable para Ingredientes para Piensos
Los desechos de plumas del sector de procesamiento de aves de corral pueden utilizarse potencialmente como fuente de proteínas en la industria de alimentos compuestos. Las mejoras en los métodos de procesamiento actuales que hidrolizan las proteínas en las plumas para hacerlas más digeribles para los animales no rumiantes han llevado a la disponibilidad de harina de plumas hidrolizadas de alta calidad que podría considerarse como una alternativa económica viable para los ingredientes de alimentos para ganado. El valor alimenticio de la harina de plumas puede verse afectado no solo por su contenido proteico sino también por su contenido energético. Además, el índice de conversión alimenticia resultante del análisis comparativo de la ración basal de maíz y soja, harina de pescado al 5 % y harina de plumas al 5 %, revela claramente que la inclusión de la harina de plumas resultó en 2,24, mientras que la ración basal de maíz y soja y harina de pescado a 2,25 y 2,20 respectivamente. Esta, demuestra claramente el perfil nutricional de la harina de plumas. Además, es probable que los crecientes costos de las materias primas para piensos y el aumento proporcional de la brecha entre la oferta y la demanda de materias primas para piensos aceleren el crecimiento de alternativas económicas viables, como la harina de plumas, en los próximos años.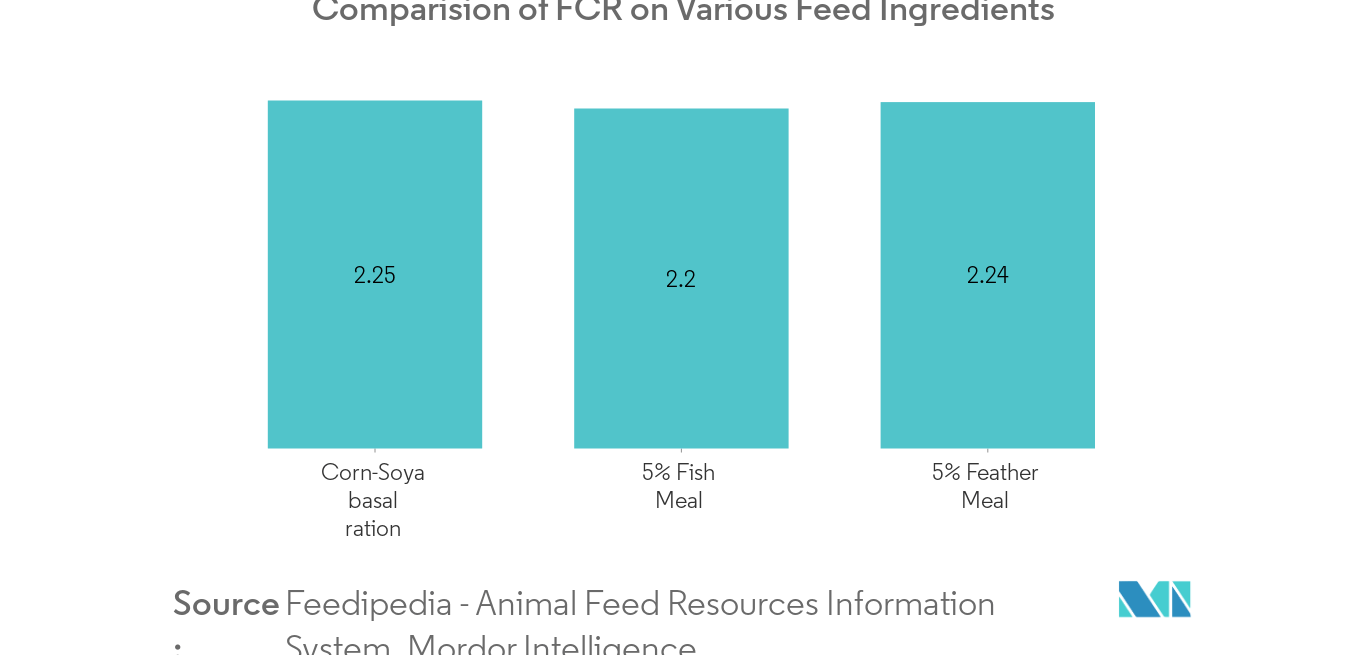 To understand key trends, Download Sample Report
Asia-Pacífico impulsará el mercado de harina de plumas
Asia-Pacífico está emergiendo como un punto caliente en el escenario del procesamiento de alimentos. La enorme producción de productos agrícolas junto con los diversos recursos animales ha convertido al país en uno de los principales países productores de alimentos del mundo. En este sentido, la industria de procesamiento de aves y carne está en auge, especialmente la producción y procesamiento de aves, ya que su tasa de crecimiento es muy alta. Asia tiene la población avícola más alta, con 14.600 millones de cabezas en 2018. Para garantizar la seguridad de la carne de pollo para los consumidores, está surgiendo gradualmente una industria de procesamiento organizada. Hoy en día, las modernas plantas de procesamiento de pollos de engorde tienen el potencial de procesar de 200 000 a 1 000 000 de aves por día, por lo que también se produce un tonelaje de material de desecho. Actualmente, Feather Meal es una fuente de proteína subutilizada en la región. Es más,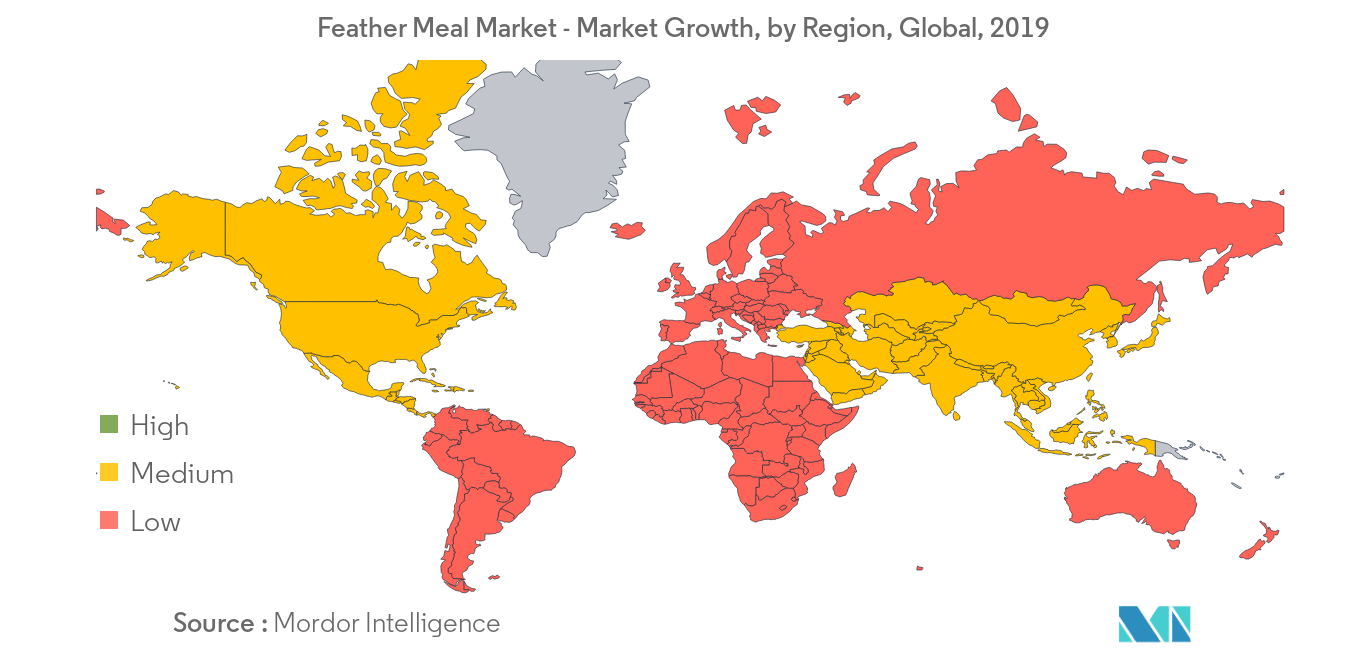 To understand geography trends, Download Sample Report
Panorama competitivo
El mercado global de harina de plumas es un mercado muy especializado, con varias pequeñas y medianas empresas que tienen una participación mínima en el mundo. Esto ha resultado en una competencia muy dura. El desarrollo de mercados regionales y actores locales en diferentes partes del mundo es el principal factor de la naturaleza fragmentada del mercado. Asia-Pacífico y América del Norte son las dos regiones que muestran las máximas actividades de la competencia.
Table of Contents
1. INTRODUCTION

1.1 Study Deliverables

1.2 Study Assumptions

1.3 Scope of the Study

2. RESEARCH METHODOLOGY

3. EXECUTIVE SUMMARY

4. MARKET DYNAMICS

4.1 Market Overview

4.2 Market Drivers

4.3 Market Restraints

4.4 Porter's Five Force Analysis

4.4.1 Threat of New Entrants

4.4.2 Bargaining Power of Buyers/Consumers

4.4.3 Bargaining Power of Suppliers

4.4.4 Threat of Substitute Products

4.4.5 Intensity of Competitive Rivalry

5. MARKET SEGMENTATION

5.1 Type

5.1.1 Conventional

5.1.2 Organic

5.2 Application

5.2.1 Animal Feed

5.2.2 Agrochemicals

5.2.3 Others

5.3 Geography

5.3.1 North America

5.3.1.1 United States

5.3.1.2 Canada

5.3.1.3 Mexico

5.3.1.4 Rest of North America

5.3.2 Europe

5.3.2.1 Germany

5.3.2.2 United Kingdom

5.3.2.3 France

5.3.2.4 Russia

5.3.2.5 Spain

5.3.2.6 Rest of Europe

5.3.3 Asia Pacific

5.3.3.1 China

5.3.3.2 India

5.3.3.3 Japan

5.3.3.4 Indonesia

5.3.3.5 Rest of Asia-Pacific

5.3.4 South America

5.3.4.1 Brazil

5.3.4.2 Argentina

5.3.4.3 Rest of South America

5.3.5 Middle East and Africa

5.3.5.1 South Africa

5.3.5.2 Egypt

5.3.5.3 Rest of Middle East and Africa

6. COMPETITIVE LANDSCAPE

6.1 Market Share Analysis

6.2 Most Adopted Strategies

6.3 Company Profiles

6.3.1 The Boyer Valley Company

6.3.2 Valley Proteins

6.3.3 North Country Organics

6.3.4 Wudi Musen Biological

6.3.5 Kleingarn Agrarprodukte

6.3.6 FASA Group

6.3.7 JG Pears

6.3.8 K-Pro U.S

7. MARKET OPPORTUNITIES AND FUTURE TRENDS
You can also purchase parts of this report. Do you want to check out a section wise price list?
Frequently Asked Questions
¿Cuál es el período de estudio de este mercado?
El mercado de Feather Meal Market se estudia desde 2016 hasta 2026.
¿Cuál es la tasa de crecimiento del mercado Harina de plumas?
El mercado de harina de plumas está creciendo a una CAGR del 8,8 % en los próximos 5 años.
¿Que region tiene la tasa de crecimiento mas alta en el mercado Harina de plumas?
Asia Pacífico está creciendo a la CAGR más alta durante 2021-2026.
¿Qué región tiene la mayor participación en Harina de plumas Market?
Asia Pacífico tiene la participación más alta en 2021.
¿Quiénes son los jugadores clave que operan en el mercado Harina de plumas?
FASA Group, North Country Organics, Wudi Musen Biological, Ltd., Boyer Valley Company, Valley Proteins, Inc. son las principales empresas que operan en Feather Meal Market.
80%

of our clients seek made-to-order reports. How do you want us to tailor yours?