Instantánea del mercado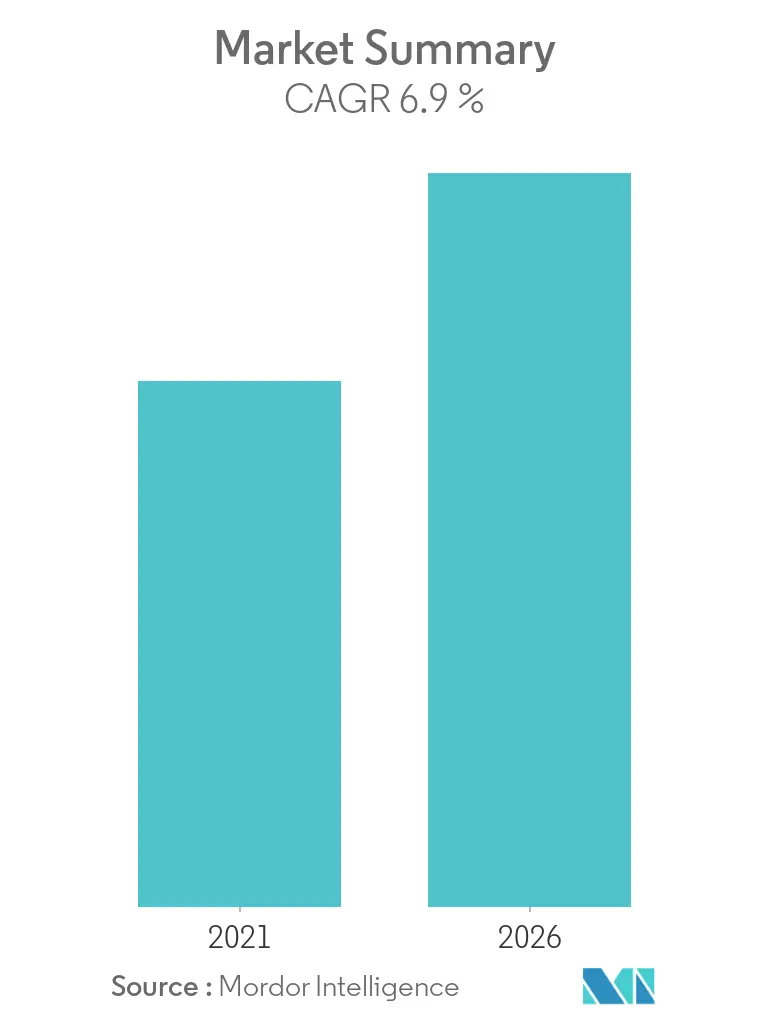 Study Period:
2016 - 2026
Base Year:
2021
CAGR:
6.9 %
Need a report that reflects how COVID-19 has impacted this market and its growth?
Visión general del mercado
El mercado de fertilizantes de Asia-Pacífico se valoró en USD 9380 millones en 2020 y se espera que registre una CAGR del 6,9 % durante el período de pronóstico (2021-2026).
La pandemia de COVID-19 ha tenido un impacto directo en la cadena de suministro del mercado de fertilizantes en Asia-Pacífico. Los productores de cultivos se vieron afectados por interrupciones en los sistemas de transporte local e internacional, puertos y carreteras obstruidos y retrasos en los trámites aduaneros, lo que les impidió el acceso a insumos intermedios como fertilizantes. La dependencia de la producción de granos y semillas oleaginosas de estos insumos ha resultado en una reducción de la producción debido a la inaccesibilidad de los agricultores a los insumos.
Los principales factores que impulsan el mercado son las innovaciones tecnológicas en el mercado de fertilizantes, el crecimiento de la demanda de fertilizantes con micronutrientes, la disminución de la tierra cultivable per cápita y el aumento de la demanda de alimentos. Sin embargo, los altos costos de producción y la creciente demanda de biofertilizantes están frenando levemente el crecimiento del mercado.
Alcance del Informe
Los fertilizantes se refieren a sustancias naturales o artificiales que contienen elementos químicos que mejoran el crecimiento y la productividad de las plantas. Los fertilizantes mejoran la fertilidad natural del suelo y reemplazan los elementos químicos tomados del suelo por cultivos anteriores. Los fertilizantes modernos incluyen fertilizantes nitrogenados, potásicos y fosfatados. El estudio analiza el escenario actual del mercado de fertilizantes de Asia-Pacífico. El mercado está segmentado por tipo (nitrógeno, fosfático, potásico y otros tipos), aplicación (granos y cereales, legumbres y semillas oleaginosas, frutas y verduras, cultivos de plantación y otras aplicaciones) y geografía (China, Japón, India, Australia , Indonesia, Vietnam, Tailandia, Filipinas y el resto de Asia-Pacífico). Además de esto, también se incluye en el informe una descripción general de los actores clave en el mercado de fertilizantes de Asia-Pacífico.
By Type

Nitrogenous Fertilizers
Urea
Calcium Ammonium Nitrate
Ammonium Nitrate
Ammonium Sulfate
Anhydrous Ammonia
Other Nitrogenous Fertilizers

Phosphatic Fertilizers
Mono-ammonium Phosphate (MAP)
Di-ammonium Phosphate (DAP)
Single Super Phosphate (SSP)
Triple Super Phosphate (TSP)
Other Phosphatic Fertilizers

Potash Fertilizers
Muriate of Potash (MoP)
Other Potassic Fertilizers

Other Types
By Application
Grains and Cereals
Pulses and Oilseeds
Fruits and Vegetables
Plantation Crops
Other Applications
Geography
China
Japan
India
Australia
Indonesia
Vietnam
Thailand
Philippines
Rest of Asia-Pacific
Tendencias clave del mercado
Disminución de la tierra cultivable per cápita y aumento de la demanda de alimentos
La población en la región de Asia-Pacífico está aumentando a un ritmo acelerado. Esta creciente población se suma a la demanda de alimentos. El suministro de alimentos a esta creciente población se ha convertido en una amenaza. Por otro lado, la tierra cultivable está disminuyendo debido a la industrialización y urbanización. Los fertilizantes se han utilizado durante mucho tiempo para aumentar la productividad de los cultivos. Este uso adecuado y equilibrado de fertilizantes puede ayudar a alimentar a la creciente población con la tierra cultivable disponible. Por lo tanto, los principales factores que impulsan la demanda de fertilizantes incluyen la necesidad de intensificar los cultivos mientras se persiguen prácticas cada vez más sostenibles y se buscan alternativas biológicas para impulsar la producción con una menor presión sobre el medio ambiente para cerrar la brecha de rendimiento. Según la FAO,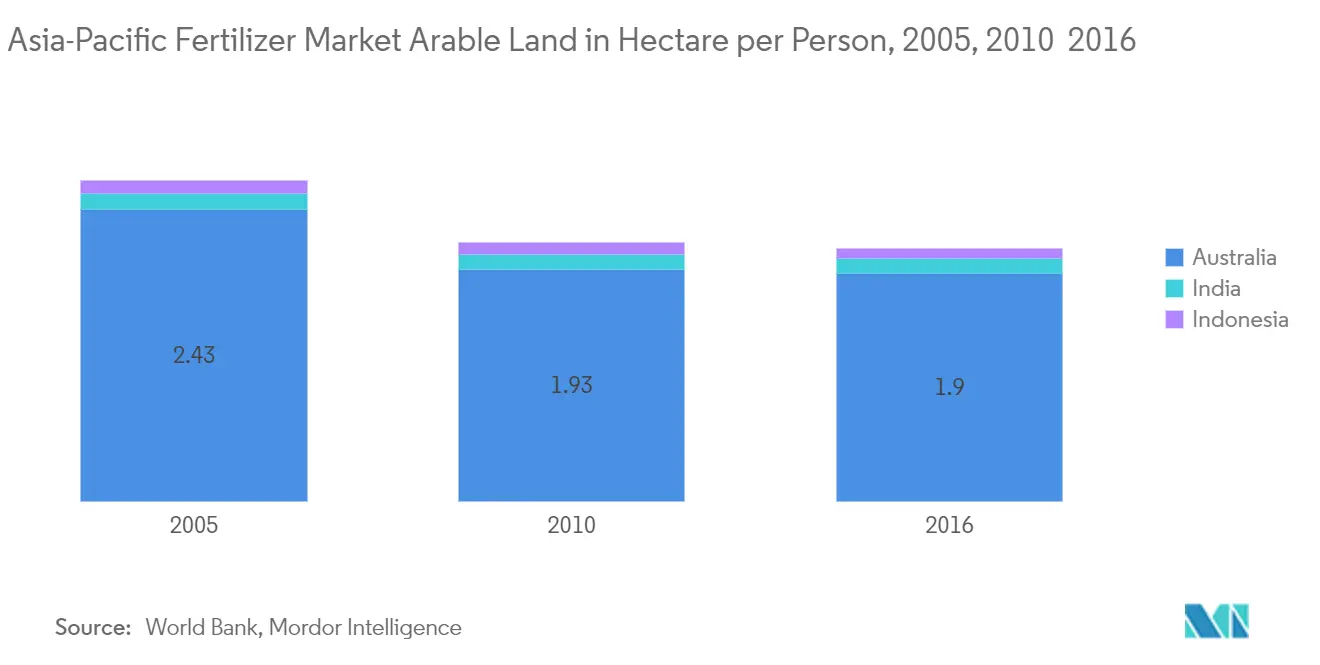 To understand key trends, Download Sample Report
China domina el mercado de fertilizantes de Asia-Pacífico
China alimenta al 22% de la población mundial con apenas el 12,68% de la tierra cultivable. Los principales cultivos que se cultivan en China son el arroz, el trigo, las papas, el maíz, el maní, el té, el mijo, la cebada, las manzanas, el algodón y las semillas oleaginosas. Según el informe de Desarrollo de la Industria Agrícola de China, China tiene el objetivo de convertirse en autosuficiente en alimentos básicos, como arroz, maíz y trigo, para 2035. El gobierno garantiza un precio mínimo para los granos y los almacena en silos gubernamentales. . Los agricultores del país también están utilizando fertilizantes y pesticidas para aumentar la producción. La zona agrícola más importante del país es la llanura del norte de China, que se extiende por varias provincias.
En 2017, el Instituto Internacional de Nutrición Vegetal (IPNI) de China llevó a cabo un programa de aplicación de fertilizantes de urea de liberación controlada (CRU) en la provincia de Hubei en China central. Se ha demostrado que el uso constante de fertilizantes CRU ayuda a mejorar el rendimiento y la rentabilidad de los principales cultivos, como el arroz y la berenjena. Estos estudios de investigación pueden crear conciencia entre los agricultores, lo que puede aumentar el consumo de fertilizantes en el país.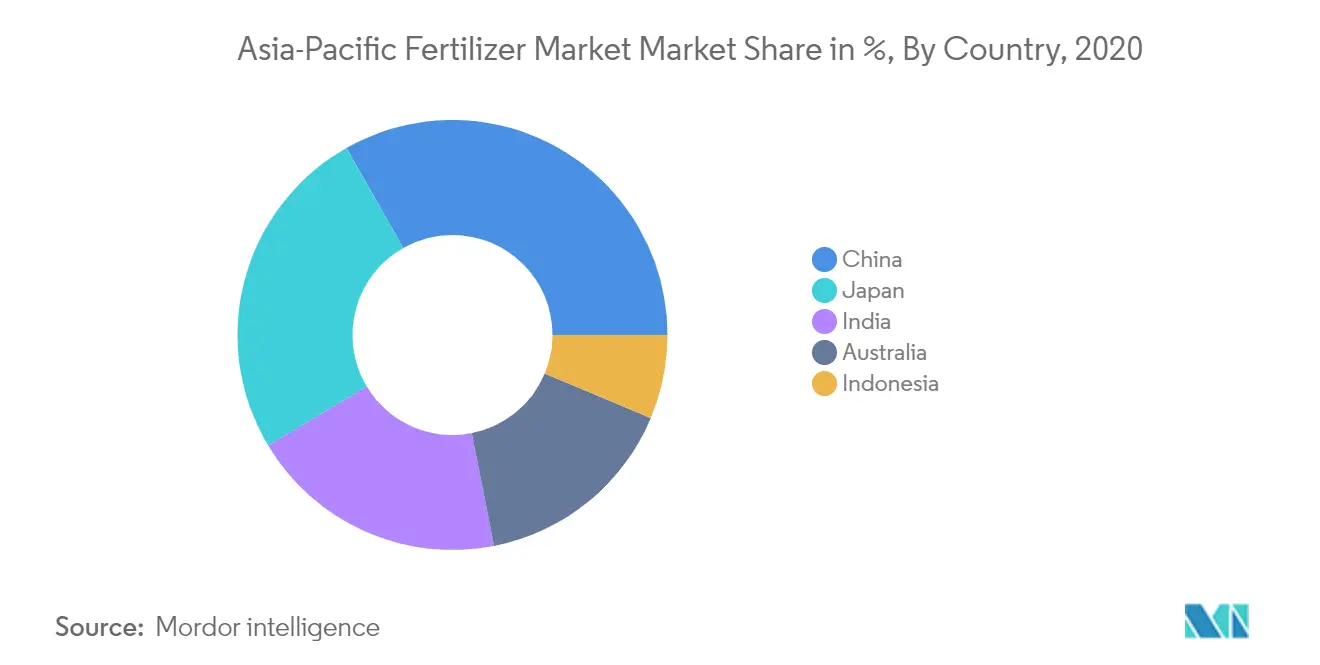 To understand geography trends, Download Sample Report
Panorama competitivo
El mercado de fertilizantes de Asia-Pacífico está muy fragmentado, con los cinco principales actores del mercado acaparando una participación mínima en el mercado. El desarrollo de los mercados regionales y la creciente participación de los actores locales en las inversiones extranjeras directas son los principales factores que promueven la naturaleza fragmentada del mercado. Algunos de los jugadores que operan en el mercado son Yara International, Sinofert Holdings Ltd, Groupe OCP, Pt Petrokimia Gresik y China Blue Chemical Ltd.
Recent Developments
In January 2021, Groupe OCP made an agreement with Hubei Forbon Technology Co. Ltd (Forbon), a Chinese company, to establish a joint venture (JV) for the development of new generation technologies for fertilizers and smart agriculture. The JV is established in Wuhan, China.
​​In January 2018, Yara International ASA completed its acquisition of Tata Chemicals' urea business in India, marking a significant step forward for its growth ambitions in India. The acquired plant has an annual production of about 0.7 million metric ton of ammonia and 1.2 million metric ton of urea. With this acquisition, Yara expanded its production capacity to cater to the rising demand.
Table of Contents
1. INTRODUCTION

1.1 Study Assumptions and Market Definition

1.2 Scope of the Study

2. RESEARCH METHODOLOGY

3. EXECUTIVE SUMMARY

4. MARKET DYNAMICS

4.1 Market Overview

4.2 Market Drivers

4.3 Market Restraints

4.4 Porter's Five Forces Analysis

4.4.1 Bargaining Power of Suppliers

4.4.2 Bargaining Power of Buyers

4.4.3 Threat of New Entrants

4.4.4 Threat of Substitute Products and Services

4.4.5 Intensity of Competitive Rivalry

5. MARKET SEGMENTATION

5.1 By Type

5.1.1 Nitrogenous Fertilizers

5.1.1.1 Urea

5.1.1.2 Calcium Ammonium Nitrate

5.1.1.3 Ammonium Nitrate

5.1.1.4 Ammonium Sulfate

5.1.1.5 Anhydrous Ammonia

5.1.1.6 Other Nitrogenous Fertilizers

5.1.2 Phosphatic Fertilizers

5.1.2.1 Mono-ammonium Phosphate (MAP)

5.1.2.2 Di-ammonium Phosphate (DAP)

5.1.2.3 Single Super Phosphate (SSP)

5.1.2.4 Triple Super Phosphate (TSP)

5.1.2.5 Other Phosphatic Fertilizers

5.1.3 Potash Fertilizers

5.1.3.1 Muriate of Potash (MoP)

5.1.3.2 Other Potassic Fertilizers

5.1.4 Other Types

5.2 By Application

5.2.1 Grains and Cereals

5.2.2 Pulses and Oilseeds

5.2.3 Fruits and Vegetables

5.2.4 Plantation Crops

5.2.5 Other Applications

5.3 Geography

5.3.1 China

5.3.2 Japan

5.3.3 India

5.3.4 Australia

5.3.5 Indonesia

5.3.6 Vietnam

5.3.7 Thailand

5.3.8 Philippines

5.3.9 Rest of Asia-Pacific

6. COMPETITIVE LANDSCAPE

6.1 Most Adopted Strategies

6.2 Market Share Analysis

6.3 Company Profiles

6.3.1 China BlueChemical Ltd

6.3.2 Sinofert Holding Ltd

6.3.3 PT Petrokimia Gresik

6.3.4 Hubeu Xin Yanf Feng Fertilizer Industry Limited

6.3.5 Yara International

6.3.6 Groupe OCP

6.3.7 ICL- Israel Chemicals Ltd

6.3.8 Haifa Chemicals Ltd

6.3.9 PT Pupuk Iskandar Muda

6.3.10 PT Pupuk Kujang

6.3.11 PT Pupuk Kalimantan Timur

6.3.12 PT Pupuk Sriwidjaya Palembang

6.3.13 The Mosaic Company

7. MARKET OPPORTUNITIES AND FUTURE TRENDS

8. IMPACT OF COVID-19 ON THE MARKET
You can also purchase parts of this report. Do you want to check out a section wise price list?
Frequently Asked Questions
¿Cuál es el período de estudio de este mercado?
El mercado de mercado de fertilizantes de Asia y el Pacífico se estudia desde 2016 hasta 2026.
¿Cuál es la tasa de crecimiento del mercado Fertilizantes de Asia y el Pacífico?
El mercado de fertilizantes de Asia-Pacífico está creciendo a una CAGR del 6,9 % en los próximos 5 años.
¿Quiénes son los jugadores clave que operan en el mercado de Asia-Pacífico Fertilizantes?
China BlueChemical Ltd, Sinofert Holding Ltd, PT Petrokimia Gresik, Yara International, Groupe OCP son las principales empresas que operan en el mercado de fertilizantes de Asia-Pacífico.
80%

of our clients seek made-to-order reports. How do you want us to tailor yours?