1,6-Hexanediol Market Snapshot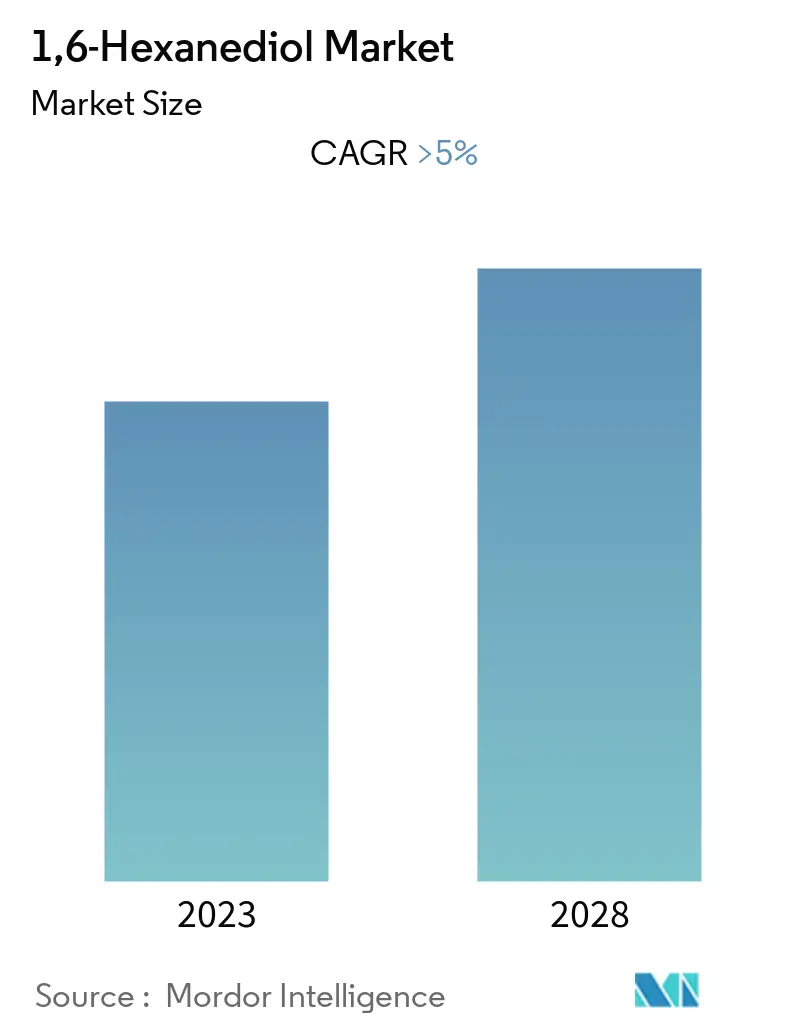 Need a report that reflects how COVID-19 has impacted this market and its growth?
Visión general del mercado
Se espera que el mercado mundial de 1,6-hexanodiol crezca a una CAGR de alrededor del 7 % durante el período de pronóstico. Los principales factores que impulsan el mercado estudiado son el uso creciente como materia prima para la fabricación de compuestos químicos y la creciente demanda del sector de la energía eólica. Por otro lado, la presencia de sustitutos como el butanodiol y el pentanodiol y las condiciones desfavorables que surgen debido al brote de COVID-19 son las principales restricciones, lo que obstaculiza el crecimiento del mercado.
Se espera que el avance en la tecnología y el desarrollo de materia prima de base biológica brinde nuevas oportunidades para el mercado de 1,6-hexanodiol.
Se espera que los segmentos de poliuretano y recubrimientos dominen el mercado mundial de 1,6-hexanodiol durante el período de pronóstico debido a su amplia gama de usos en las industrias de pinturas y recubrimientos.
La región de Europa representa el mercado más grande y también se espera que sea el mercado de más rápido crecimiento durante el período de pronóstico debido al consumo de países como Alemania y el Reino Unido.
Alcance del Informe
El informe de mercado de 1,6-hexanodiol incluye:
Raw Material
Cyclohexane
Adipic Acid
Application
Polyurethane
Coatings
Acrylates
Adhesives
Polyester Resins
Plasticizers
Others
Geography

Asia-Pacific
China
India
Japan
South Korea
Rest of Asia-Pacific

North America
United States
Canada
Mexico

Europe
Germany
United Kingdom
France
Italy
Rest of Europe

South America
Brazil
Argentina
Rest of South America

Middle-East and Africa
Saudi Arabia
South Africa
Rest of Middle-East and Africa
Tendencias clave del mercado
Creciente demanda del segmento de poliuretano y revestimientos
El crecimiento de los poliuretanos se atribuye a la gran demanda de pinturas y revestimientos, elastómeros, espumas. El 1,6-hexanodiol se utiliza como extensor de cadena en el segmento de aplicación del poliuretano. Convierte el poliuretano en un poliuretano modificado con una resistencia a la corrosión sustancialmente alta.
Además, impregna diferentes propiedades en los poliuretanos, como alta resistencia mecánica, baja temperatura de transición vítrea y alta resistencia al calor.
Un factor clave para el crecimiento de los poliuretanos es la demanda de sus subaplicaciones o derivados, como elastómeros, recubrimientos y espumas de poliuretanos termoplásticos, en diversas regiones.
Además, la creciente necesidad de recubrimientos mecánicos atribuible al fuerte desarrollo de la industria del usuario final está impulsando el crecimiento del mercado. Los recubrimientos protectores se utilizan a gran escala en aplicaciones, por ejemplo, automóviles, cimientos y aparatos y engranajes para mejorar la calidad y las propiedades estéticas del artículo. Por lo tanto, se prevé que el desarrollo sólido de la industria aumente el mercado mundial de 1,6 hexanodiol.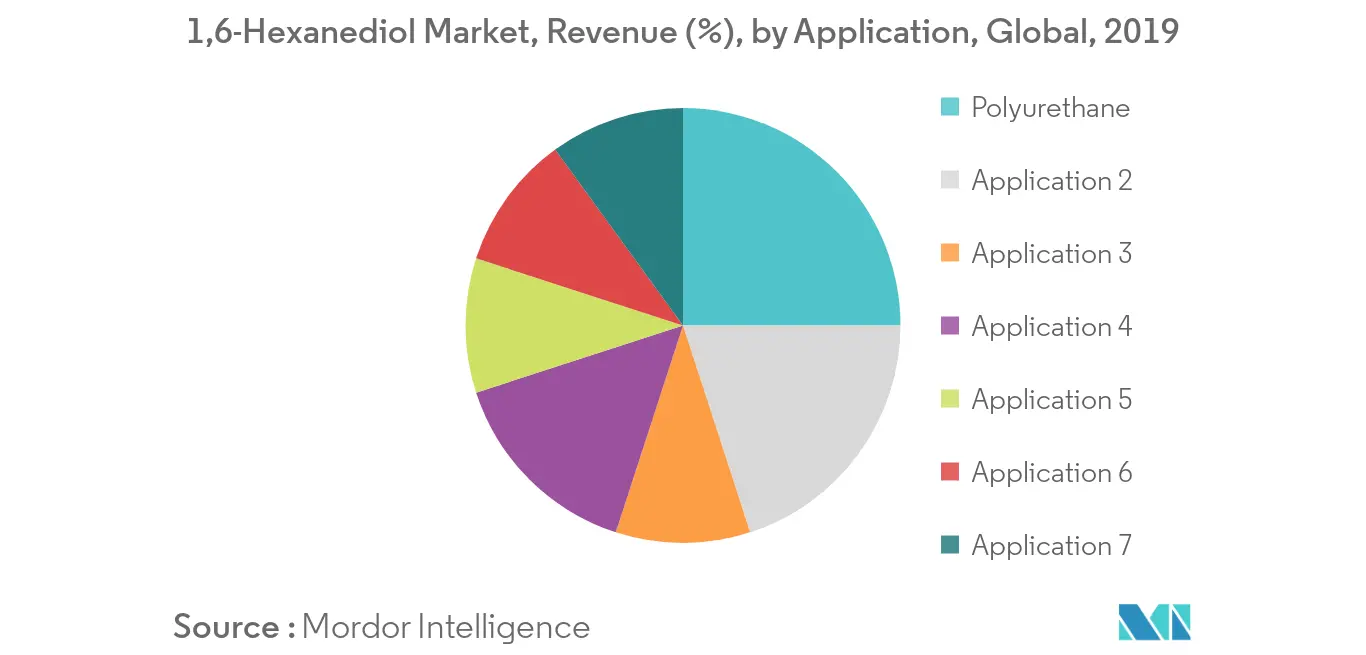 To understand key trends, Download Sample Report
Región de Europa para dominar el mercado
Europa es el mercado de más rápido crecimiento para el 1,6-hexanodiol y se prevé que siga siéndolo debido al consumo constante de los fabricantes de adhesivos, agentes suavizantes, lacas, acrílicos y varios otros productos de consumo, que están impulsando el crecimiento del 1,6 -mercado de hexanodiol.
El uso de productos químicos en la fabricación de acrilatos será especialmente notable en Europa. Alemania e Italia se encuentran entre los principales importadores de la región, lo que se atribuye principalmente a la creciente demanda de PU en aplicaciones para automóviles.
Se proyecta que la industria de la construcción experimente un crecimiento significativo a lo largo de los años, debido a las fuertes inversiones en nuevos desarrollos de infraestructura, proyectos de vivienda y renovación/repintado de edificios residenciales y comerciales.
Además, la presencia de empresas líderes como BASF SE, Perstorp AB y otras aumenta aún más la demanda del producto en la región. Estos participantes de la industria están invirtiendo fuertemente para expandir su presencia en el mercado emergente mediante el lanzamiento de productos rentables a base de 1,6-hexanodiol.
Es probable que todos los factores antes mencionados mejoren la demanda del mercado de 1,6-hexaxnediol en la región.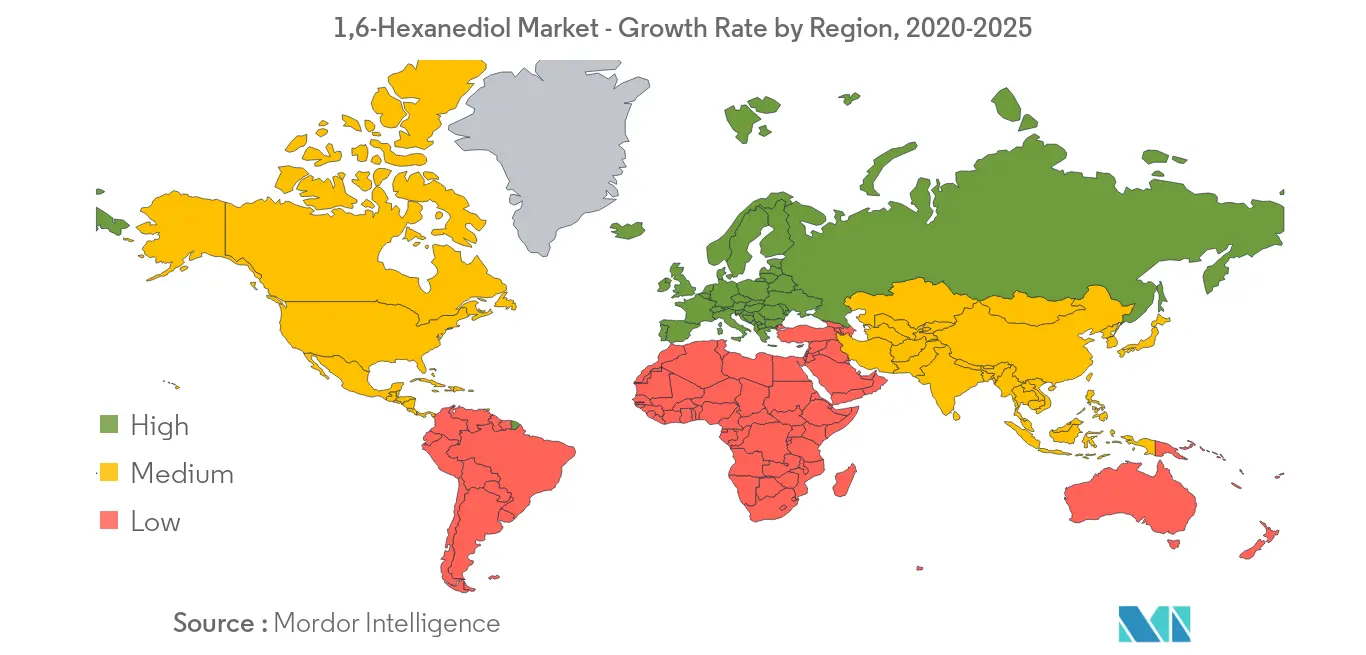 To understand geography trends, Download Sample Report
Panorama competitivo
El mercado mundial de 1,6-hexanodiol está parcialmente consolidado por naturaleza, con unos pocos jugadores importantes que dominan una parte importante del mercado. Algunas de las principales empresas son BASF SE, Perstorp, LANXESS, UBE INDUSTRIES,LTD. y Prasol Chemicals Pvt. Ltd. entre otros.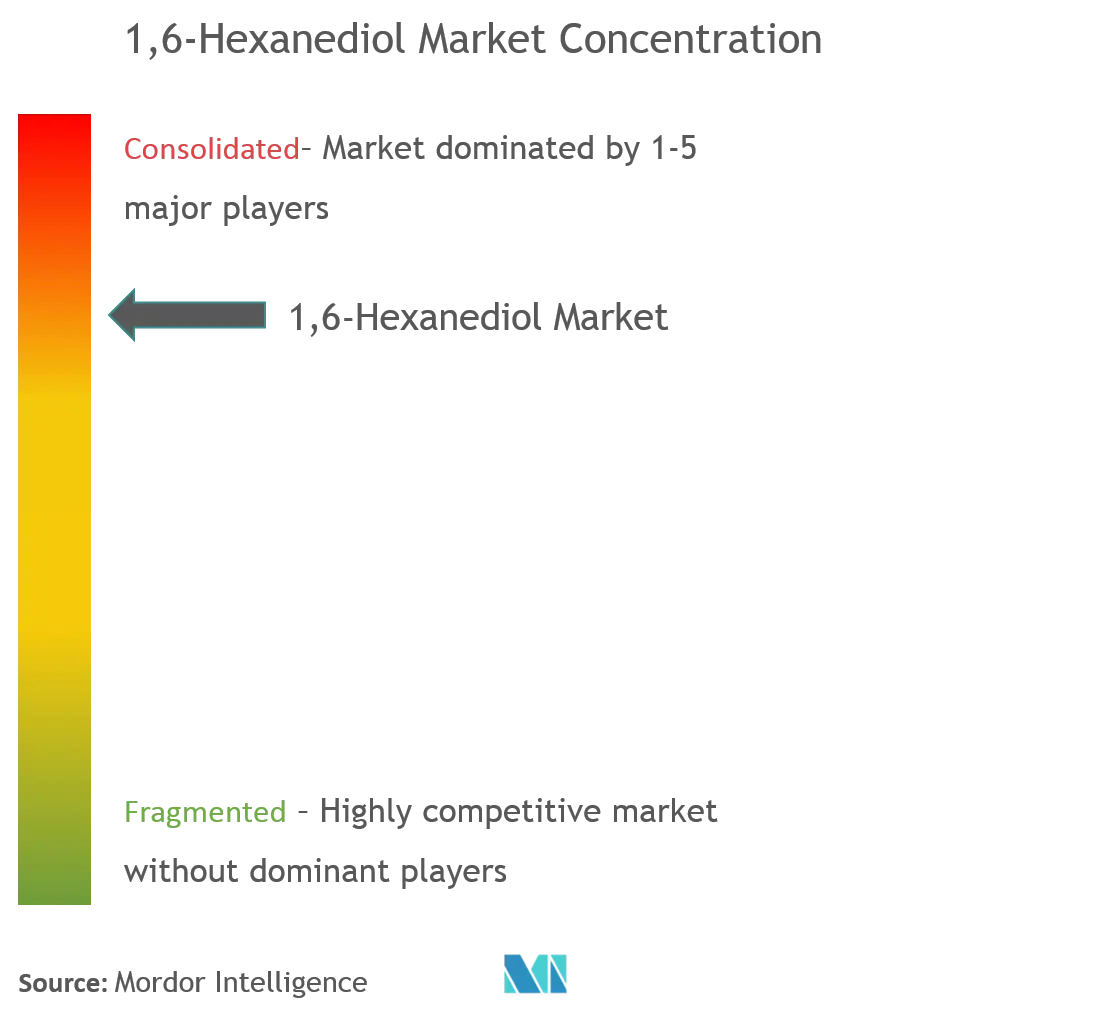 Table of Contents
1. INTRODUCTION

1.1 Study Assumptions

1.2 Scope of the Study

2. RESEARCH METHODOLOGY

3. EXECUTIVE SUMMARY

4. MARKET DYNAMICS

4.1 Drivers

4.1.1 Increasing Usage as Feedstock for Manufacturing Chemical Compounds

4.1.2 Rising Demand from the Wind Energy Sector

4.2 Restraints

4.2.1 Presence of Substitutes

4.2.2 Unfavorable Conditions Arising Due to COVID-19 Outbreak

4.3 Industry Value Chain Analysis

4.4 Porter's Five Forces Analysis

4.4.1 Threat of New Entrants

4.4.2 Bargaining Power of Buyers

4.4.3 Bargaining Power of Suppliers

4.4.4 Threat of Substitute Products

4.4.5 Degree of Competition

4.5 Price Trend Analysis

5. MARKET SEGMENTATION

5.1 Raw Material

5.1.1 Cyclohexane

5.1.2 Adipic Acid

5.2 Application

5.2.1 Polyurethane

5.2.2 Coatings

5.2.3 Acrylates

5.2.4 Adhesives

5.2.5 Polyester Resins

5.2.6 Plasticizers

5.2.7 Others

5.3 Geography

5.3.1 Asia-Pacific

5.3.1.1 China

5.3.1.2 India

5.3.1.3 Japan

5.3.1.4 South Korea

5.3.1.5 Rest of Asia-Pacific

5.3.2 North America

5.3.2.1 United States

5.3.2.2 Canada

5.3.2.3 Mexico

5.3.3 Europe

5.3.3.1 Germany

5.3.3.2 United Kingdom

5.3.3.3 France

5.3.3.4 Italy

5.3.3.5 Rest of Europe

5.3.4 South America

5.3.4.1 Brazil

5.3.4.2 Argentina

5.3.4.3 Rest of South America

5.3.5 Middle-East and Africa

5.3.5.1 Saudi Arabia

5.3.5.2 South Africa

5.3.5.3 Rest of Middle-East and Africa

6. COMPETITIVE LANDSCAPE

6.1 Mergers and Acquisitions, Joint Ventures, Collaborations, and Agreements

6.2 Market Share (%)/Ranking Analysis**

6.3 Strategies Adopted by Leading Players

6.4 Company Profiles

6.4.1 BASF SE

6.4.2 Hefei TNJ Chemical Industry Co. Ltd.

6.4.3 LANXESS

6.4.4 Perstorp

6.4.5 Prasol Chemicals Co. Ltd.

6.4.6 Shandong Yuanli Science and Technology Co. Ltd.

6.4.7 UBE INDUSTRIES,LTD.

6.4.8 Zhejiang Lishui Nanming Chemical Co.,Ltd.

6.4.9 Zhengzhou Meiya Chemical Products Co. Ltd.

*List Not Exhaustive

7. MARKET OPPORTUNITIES AND FUTURE TRENDS

7.1 Advancement in Technology and Development of Bio-Based Raw Material

7.2 Other Opportunities
**Subject to Availability
You can also purchase parts of this report. Do you want to check out a section wise price list?
Frequently Asked Questions
¿Cuál es el período de estudio de este mercado?
El mercado de 1,6-hexanediol Market se estudia desde 2016 hasta 2026.
¿Cuál es la tasa de crecimiento del mercado 1,6-hexanodiol?
El mercado de 1,6-hexanodiol está creciendo a una CAGR de >5 % en los próximos 5 años.
¿Qué región tiene la tasa de crecimiento más alta en el mercado 1,6-hexanodiol?
Asia Pacífico está creciendo a la CAGR más alta durante 2021-2026.
¿Qué región tiene la mayor participación en el mercado 1,6-hexanodiol?
Europa tiene la participación más alta en 2021.
¿Quiénes son los jugadores clave que operan en el mercado 1,6-hexanodiol?
BASF SE, Prasol Chemicals SA Ltd., LANXESS, Perstorp, UBE INDUSTRIES,LTD. son las principales empresas que operan en el mercado 1,6-hexanodiol.
80%

of our clients seek made-to-order reports. How do you want us to tailor yours?