Momentaufnahme des Rohrisolierungsmarktes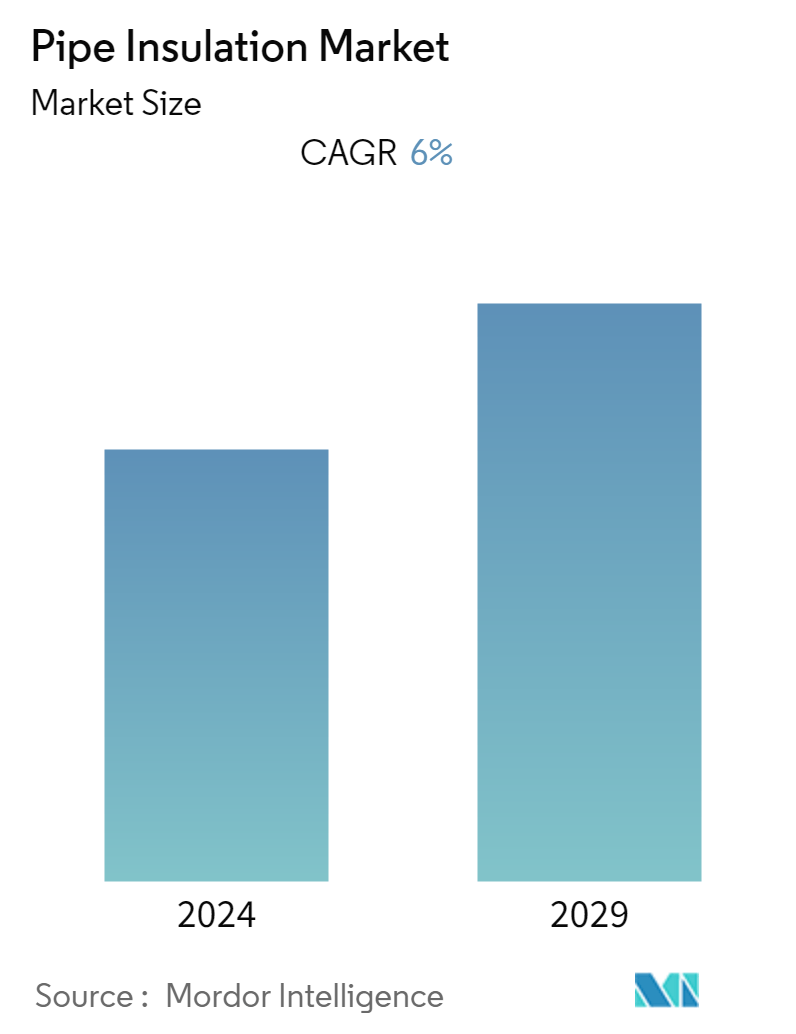 Study Period:
2016 - 2026
Base Year:
2021
Fastest Growing Market:
Asia Pacific
Largest Market:
Asia Pacific
CAGR:
6 %
Need a report that reflects how COVID-19 has impacted this market and its growth?
Marktübersicht
Es wird erwartet, dass der Markt für Rohrisolierungen im Prognosezeitraum weltweit um ca. 6 % CAGR wachsen wird. Hauptfaktoren, die den untersuchten Markt antreiben, sind die wachsende Nachfrage aus der Öl- und Gasindustrie.
Einer der Hauptgründe für das Wachstum des Marktes sind die zunehmenden Bedenken hinsichtlich der Energieeffizienz.
Haupteinschränkungen sind die Kosten des Endprodukts und die arbeitsintensive Arbeit, die für Anwendungen erforderlich ist.
Umfang des Berichts
Der Marktbericht Rohrisolierung umfasst:
Type
Fiberglass
Rockwool
Silicates
Polyurethane
Rubber Foams
Others
End-User Industry
Buildings and Construction
Oil and Gas
Transportation
General Industrial
Others
Geography

Asia-Pacific
China
India
Japan
South Korea
Rest of Asia-Pacific

North America
United States
Canada
Mexico

Europe
Germany
United Kingdom
France
Italy
Turkey
Rest of Europe

South America
Brazil
Argentina
Rest of South America

Middle-East and Africa
Saudi Arabia
South Africa
Rest of Middle-East and Africa
Wichtige Markttrends
Building and Construction, um den Markt für Rohrisolierungen zu dominieren
Die Gebäude- und Bauindustrie verwendet einen großen Anteil an Rohrisolierungen, sie reichen von HLK-, Sanitär- und Elektroinstallationen, wobei die wahre Essenz Energieeffizienz ist.
Die Zahl der Klimaanlagen für Privathaushalte und Gewerbe hat zugenommen – im Jahr 2017 lag die Zahl bei 110,9 Millionen Einheiten im Jahr 2017 und erreichte 111,4 Millionen Einheiten im Jahr 2018.
Dieser Anstieg kann direkt auf höhere Ausgaben für Gebäude und Konstruktionen wie Bürogebäude, Einkaufszentren usw. zurückgeführt werden. Die Ausgaben der Bauindustrie steigen weltweit von Jahr zu Jahr. 2018 lag der Wert bei 11,4 Billionen US-Dollar. Das weltweit verkaufte Volumen an Büroimmobilien lag 2018 bei 340 Mrd. USD.
Daher wird die wachsende Nachfrage der Bauindustrie voraussichtlich die größte auf dem Markt für Rohrisolierungen sein.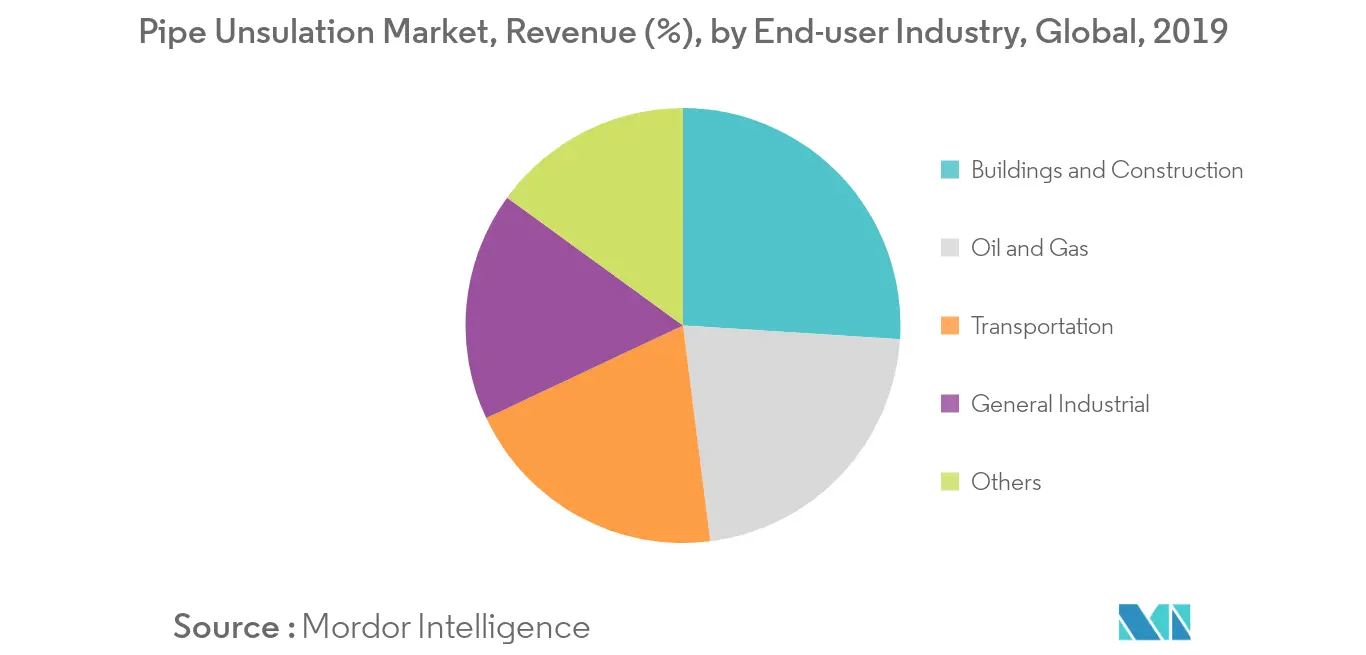 To understand key trends, Download Sample Report
Region Asien-Pazifik, um den Markt zu dominieren
Die Region Asien-Pazifik, insbesondere Länder wie Indien, China und Japan, investieren zunehmend Geld in Gewerbeflächen wie Bürogebäude und Einzelhandelsgebäude wie Einkaufszentren und Geschäfte.
Die Wachstumsrate der Anzahl der Einkaufszentren hat weltweit zugenommen, aber im asiatisch-pazifischen Raum ist sie mit einer Wachstumsrate von 5 % am höchsten, Europa hat eine Wachstumsrate von 2,7 % und die Vereinigten Staaten von 0,4 %.
Die meisten Hochhäuser der Welt stehen in Asien. Im Jahr 2018 gab es in Asien 109 Hochhäuser, in Nordamerika 16 und in Europa 1.
Daher wird der asiatisch-pazifische Raum voraussichtlich die am schnellsten wachsende und größte Region für den Rohrisolierungsmarkt sein.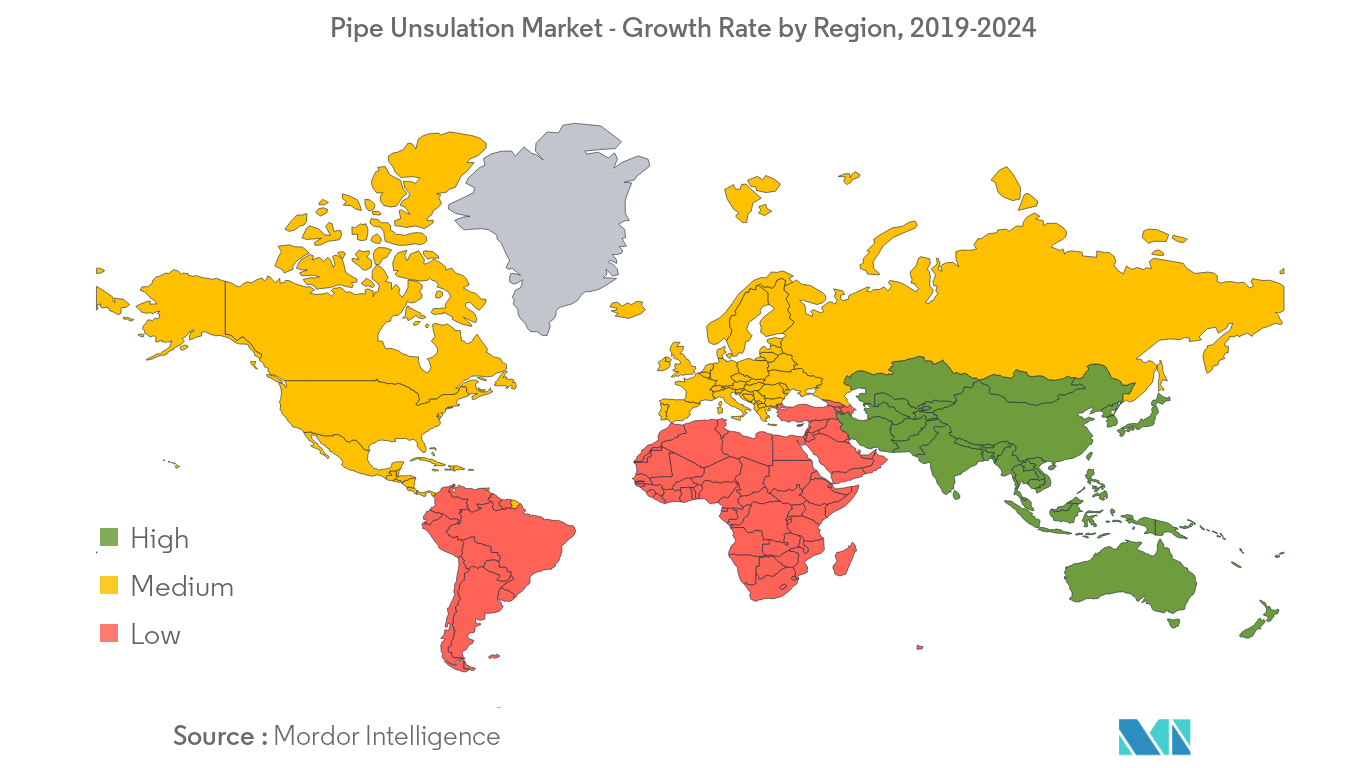 To understand geography trends, Download Sample Report
Wettbewerbslandschaft
Der globale Markt für Rohrisolierungen ist teilweise durch die Präsenz einer Reihe von Unternehmen konsolidiert, die einen großen Marktanteil anstreben. Die wichtigsten Unternehmen sind unter anderem Rockwool International A/S, Owens Corning, Saint-Gobain, Kingspan Group und ARMACELL LLC.
Hauptakteure
Rockwool International A/S

Owen Corning

Heiliger Gobain

Kingspan-Gruppe

ARMACELL LLC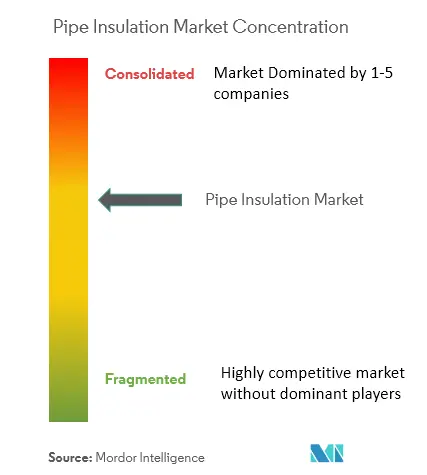 Table of Contents
1. INTRODUCTION

1.1 Study Assumptions

1.2 Scope of the Study

2. RESEARCH METHODOLOGY

3. EXECUTIVE SUMMARY

4. MARKET DYNAMICS

4.1 Market Drivers

4.1.1 Increasing Concerns for Energy Efficiency

4.2 Market Restraints

4.2.1 High Cost of Product & Labor-Intensive Work

4.3 Industry Value Chain Analysis

4.4 Porter's Five Forces Analysis

4.4.1 Threat of New Entrants

4.4.2 Bargaining Power of Buyers

4.4.3 Bargaining Power of Suppliers

4.4.4 Threat of Substitute Products

4.4.5 Degree of Competition

5. MARKET SEGMENTATION

5.1 Type

5.1.1 Fiberglass

5.1.2 Rockwool

5.1.3 Silicates

5.1.4 Polyurethane

5.1.5 Rubber Foams

5.1.6 Others

5.2 End-User Industry

5.2.1 Buildings and Construction

5.2.2 Oil and Gas

5.2.3 Transportation

5.2.4 General Industrial

5.2.5 Others

5.3 Geography

5.3.1 Asia-Pacific

5.3.1.1 China

5.3.1.2 India

5.3.1.3 Japan

5.3.1.4 South Korea

5.3.1.5 Rest of Asia-Pacific

5.3.2 North America

5.3.2.1 United States

5.3.2.2 Canada

5.3.2.3 Mexico

5.3.3 Europe

5.3.3.1 Germany

5.3.3.2 United Kingdom

5.3.3.3 France

5.3.3.4 Italy

5.3.3.5 Turkey

5.3.3.6 Rest of Europe

5.3.4 South America

5.3.4.1 Brazil

5.3.4.2 Argentina

5.3.4.3 Rest of South America

5.3.5 Middle-East and Africa

5.3.5.1 Saudi Arabia

5.3.5.2 South Africa

5.3.5.3 Rest of Middle-East and Africa

6. COMPETITIVE LANDSCAPE

6.1 Mergers and Acquisitions, Joint Ventures, Collaborations, and Agreements

6.2 Market Share/Ranking Analysis**

6.3 Strategies Adopted by Leading Players

6.4 Company Profiles

6.4.1 ?Kaimann GmbH

6.4.2 ARMACELL LLC

6.4.3 BASF SE

6.4.4 Covestro AG

6.4.5 Frost King Weatherization Products / Thermwell Products Co., Inc

6.4.6 Huamei

6.4.7 Huntsman International LLC

6.4.8 Illinois Tool Works Inc.

6.4.9 ISOCLIMA S.p.A.

6.4.10 Johns Manville. A Berkshire Hathaway Company

6.4.11 Kingspan Group

6.4.12 Knauf Insulation

6.4.13 L'ISOLANTE K-FLEX S.p.A.

6.4.14 NMC SA

6.4.15 Nomaco

6.4.16 ODE Insulation

6.4.17 Owens Corning

6.4.18 Paroc Group

6.4.19 ROCKWOOL International A/S

6.4.20 Saint-Gobain

6.4.21 Wincell Insulation Co.,Ltd.

*List Not Exhaustive

7. MARKET OPPORTUNITIES AND FUTURE TRENDS

7.1 Growing Use in the Oil and Gas Industry
**Subject to Availability
Frequently Asked Questions
Was ist der Untersuchungszeitraum dieses Marktes?
Der Markt für Rohrisolierungen wird von 2016 bis 2026 untersucht.
Wie hoch ist die Wachstumsrate des Rohrisolierung-Marktes?
Der Rohrisolierungsmarkt wächst in den nächsten 5 Jahren mit einer CAGR von 6 %.
Welche Region hat die höchste Wachstumsrate auf dem Rohrisolierung-Markt?
Der asiatisch-pazifische Raum wächst zwischen 2021 und 2026 mit der höchsten CAGR.
Welche Region hat den größten Anteil am Rohrisolierung Markt?
Asien-Pazifik hält 2021 den höchsten Anteil.
Wer sind die wichtigsten Hersteller auf dem Rohrisolierung-Markt?
Rockwool International A/S, Owens Corning, Saint-Gobain, Kingspan Group und ARMACELL LLC sind die wichtigsten Unternehmen, die auf dem Markt für Rohrisolierungen tätig sind.
80%

of our clients seek made-to-order reports. How do you want us to tailor yours?