Markt-Snapshot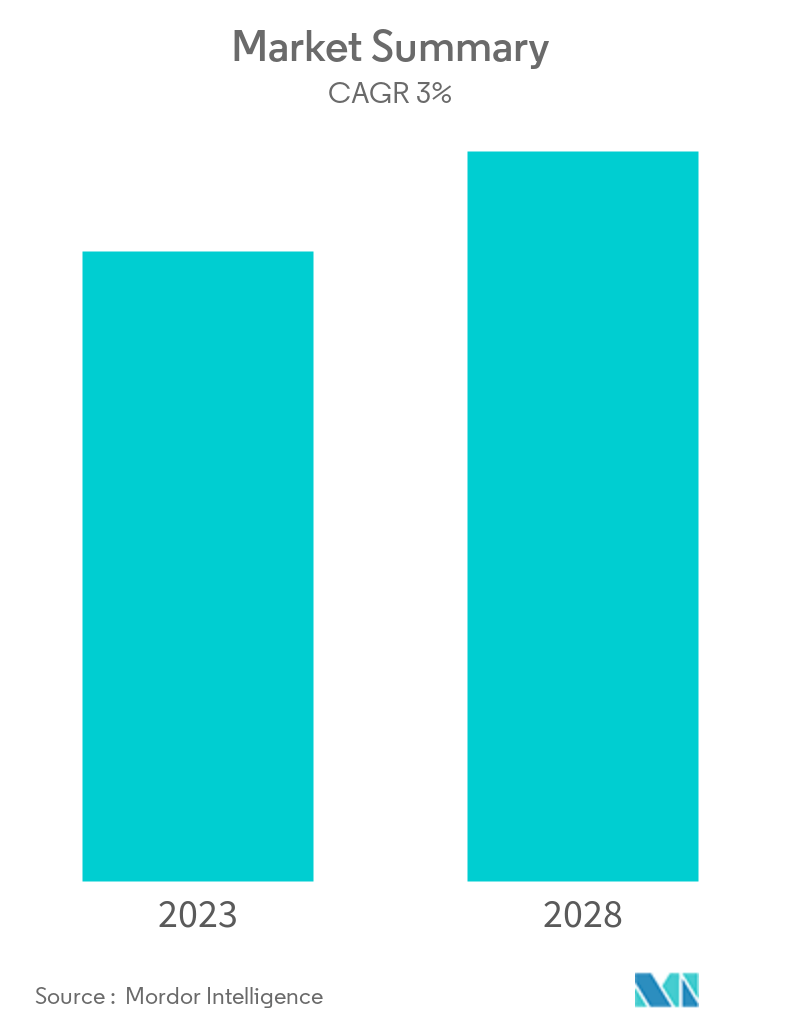 Study Period:
2016 - 2026
CAGR:

>

3 %

Major Players

*Disclaimer: Major Players sorted in no particular order
Need a report that reflects how COVID-19 has impacted this market and its growth?
Marktübersicht
Es wird geschätzt, dass der nordamerikanische Markt für Tenside im Prognosezeitraum ein deutliches Wachstum mit einer geschätzten CAGR von über 3 % verzeichnen wird. Wesentliche Wachstumstreiber sind der zunehmende Einsatz von Bio-Tensiden und die reichliche Verfügbarkeit von Rohstoffen. Es wird jedoch erwartet, dass Umweltbedenken und Probleme in Bezug auf Gesundheit und Sicherheit das Wachstum des untersuchten Marktes behindern.
Die Verwendung als Lungensurfactant beim Neonatal Respiratory Distress (NRD)-Syndrom dürfte in Zukunft eine Chance darstellen.
Die Vereinigten Staaten dominierten den Markt in der gesamten Region aufgrund der Expansion von Industrien wie Körperpflege, Lebensmittelverarbeitung usw.
Umfang des Berichts
Der Marktbericht für nordamerikanische Tenside umfasst:
Type

Anionic Surfactant
Linear Alkylbenzene Sulfolane (LAS or LABS)
Alcohol Ethoxy Sulfates (AES)
Alpha Olefin Sulfonates (AOS)
Secondary Alkane Sulfonate (SAS)
Methyl Ester Sulfonates (MES)
Sulfosuccinates
Others

Cationic Surfactant
Quaternary Ammonium Compounds
Others

Non-ionic Surfactant
Alcohol Ethoxylates
Ethoxylated Alkyl-phenols
Fatty Acid Esters
Others

Amphoteric Surfactant
Silicone Surfactant
Other Types
Origin
Synthetic Surfactant

Bio-based Surfactant

Chemically Synthesized Bio-based Surfactants
Sucrose Ester
Alkyl Polyglycoside
Fatty Acid Glucamide
Sorbitan Ester
Others

Bio-surfactants
Glycolipid
Fatty Acid, Phospholipid, Neutral Lipid
Lipopeptide
Polymeric Bio-surfactant
Application
Household Soap and Detergent
Personal Care
Lubricants and Fuel Additives
Industry & Institutional Cleaning
Food Processing
Oilfield Chemicals
Agricultural Chemicals
Textile Processing
Emulsion Polymerization
Other Applications
Geography
United States
Canada
Mexico
Rest of North America
Wichtige Markttrends
Steigende Nachfrage nach Haushaltsseifen und Waschmitteln
Reinigungsmittel sind in der Regel eine Mischung aus Tensiden, die hauptsächlich zum Reinigen verwendet werden und in unterschiedlichen Verdünnungen erhältlich sind. Waschmittel bestehen aus Alkylbenzolsulfonaten, die ähnliche chemische Eigenschaften wie Seife haben, jedoch eine höhere Löslichkeit in hartem Wasser aufweisen.
Waschmittel werden hinsichtlich ihrer ionischen Eigenschaften klassifiziert, nämlich anionisch, kationisch und nichtionisch. Die in der Segmentierung genannte Seife befasst sich hauptsächlich mit Wasch- und Wäscheanwendungen.
Die in Waschmitteln und Seifen enthaltenen Tenside vermischen sich mit Wasser und haften mit dem Schmutz auf Kleidung und anderen Reinigungsoberflächen. Dies hilft, die Oberflächenspannung zu reduzieren und den Schmutz von der betroffenen Oberfläche zu entfernen.
Die Hauptanwendung von Reinigungsmitteln spiegelt sich in Haushaltsreinigern und Kraftstoffzusätzen wider.
Auf Nordamerika entfällt 1/3 der weltweiten Herstellung von Seifen und Waschmitteln. Die Vereinigten Staaten und Kanada machen den Großteil der Herstellung und des Verbrauchs von Seifen und Reinigungsmitteln aus.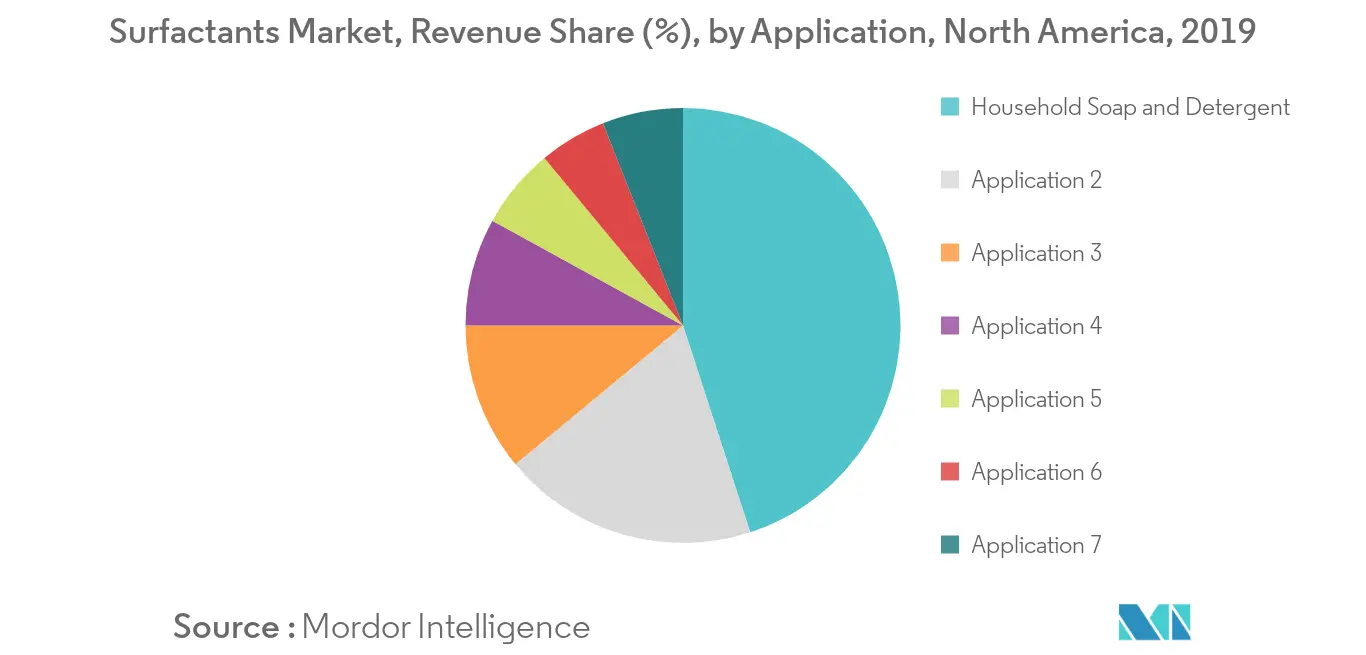 To understand key trends, Download Sample Report
Vereinigten Staaten dominieren den Markt
Die Vereinigten Staaten sind der größte Verbraucher von Tensiden in der Region. Aufgrund der expandierenden Körperpflegeindustrie hat die Verwendung von Tensiden in den letzten Jahren zugenommen, was im Prognosezeitraum voraussichtlich weiter zunehmen wird.
Die lebensmittelverarbeitende Industrie des Landes expandiert, was voraussichtlich die Verwendung von Tensiden erhöhen wird. Tenside werden in Schmiermitteln und Kraftstoffadditiven verwendet. Dieser Faktor hat im Laufe der Jahre die zunehmende Verwendung von Tensiden in der Automobilindustrie vorangetrieben.
Die Struktur der Tensidzulieferindustrie des Landes ist vielschichtig und komplex. Es besteht aus Spielern, die Tenside und Rohstoffe für Tenside herstellen. Eines der Hauptsegmente der Schönheits- und Kosmetikindustrie des Landes ist das Premiumproduktsegment.
Die US-Seifen- und Waschmittelindustrie umfasst rund 630 Betriebe (Unternehmen mit einem oder mehreren Standorten) mit einem kombinierten Jahresumsatz von etwa 25 Mrd. USD. Zu den wichtigsten Herstellern von Tensiden im Land gehören 3M, Arkema Group, BASF SE, Clariant AG usw.
Es wird erwartet, dass die Gesamtnachfrage nach Tensiden im Land aufgrund der Verwendung von Tensiden in der Landwirtschaft, im Textilbereich usw. steigen wird.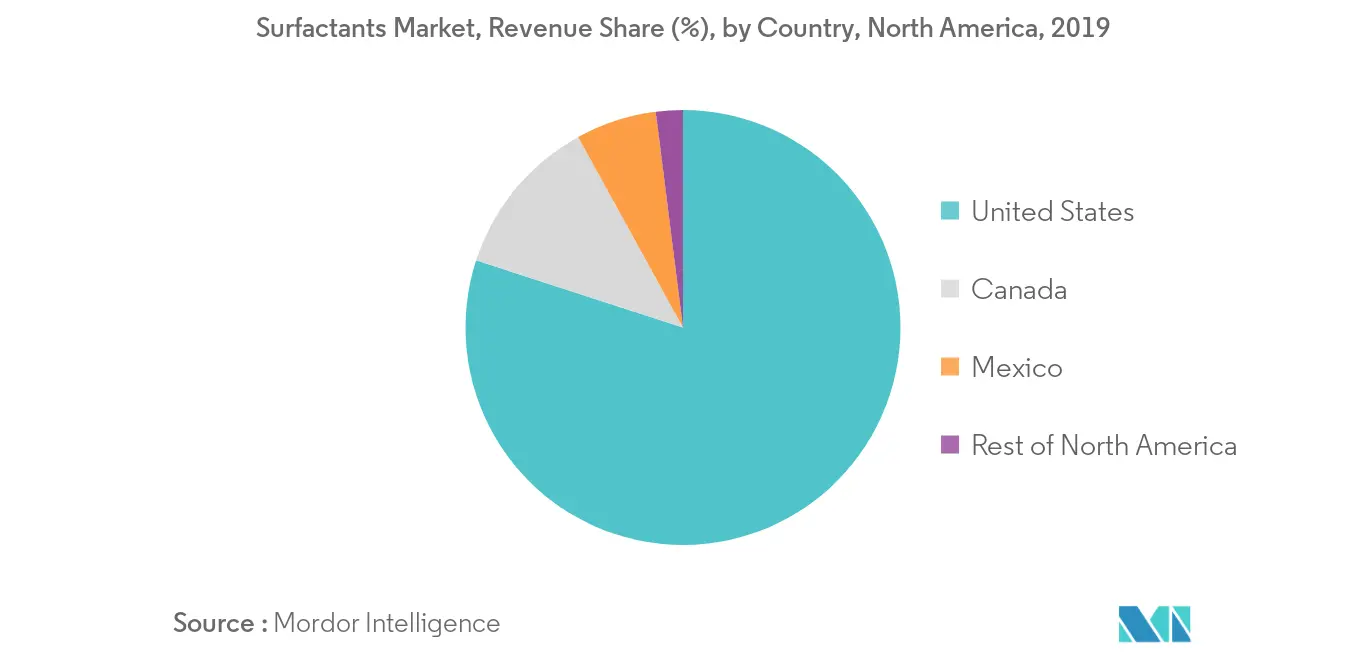 To understand geography trends, Download Sample Report
Wettbewerbslandschaft
Der Markt für Tenside in Nordamerika ist stark fragmentiert, wobei die fünf größten Unternehmen einen Marktanteil von über 10 % ausmachen. Zu den großen Unternehmen gehören unter anderem Stepan Co., Nouryon, BASF SE, Croda International und Huntsman International LLC.
Hauptakteure
Stepan Co.

BASF SE

Croda International

Huntsman International LLC.

Nurion
*Disclaimer: Major Players sorted in no particular order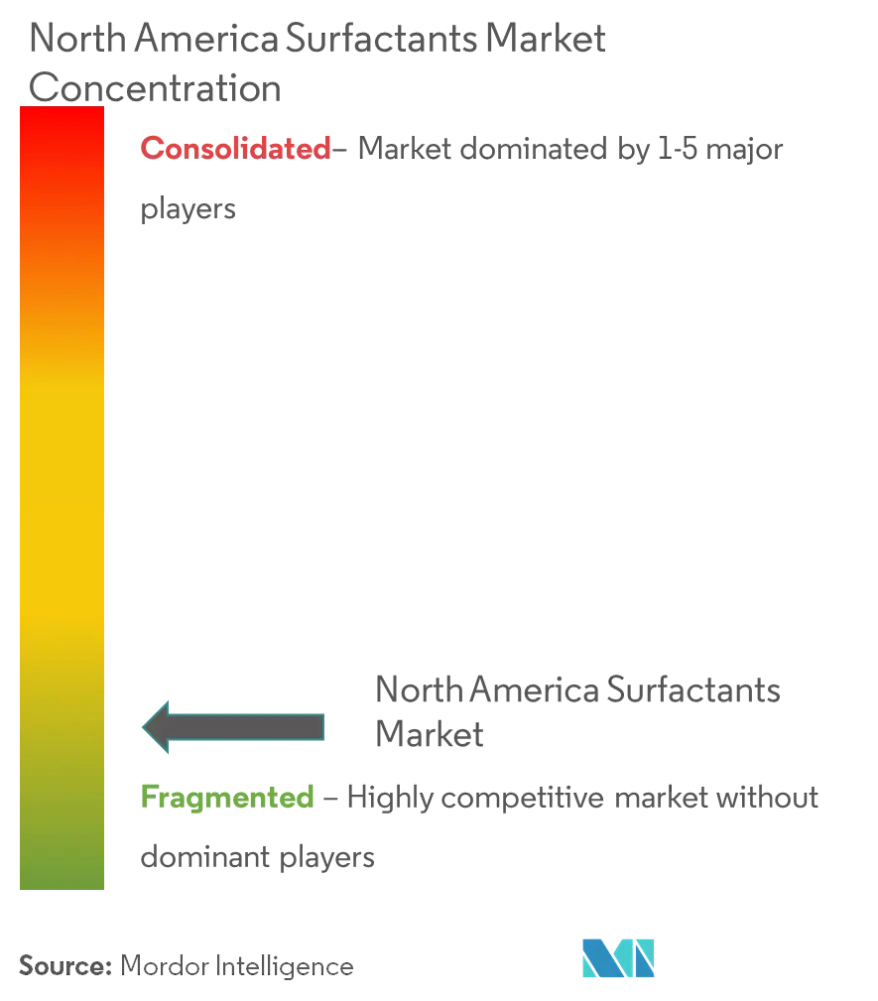 Table of Contents
1. INTRODUCTION

1.1 Study Assumptions

1.2 Scope of the Study

2. RESEARCH METHODOLOGY

3. EXECUTIVE SUMMARY

4. MARKET DYNAMICS

4.1 Drivers

4.1.1 Increasing Demand for Bio-surfactants

4.1.2 Wide Area of Applications

4.1.3 Abundant Supply of Raw Materials

4.2 Restraints

4.2.1 Environmental Concerns Related to Synthetic Surfactants

4.2.2 Other Restraints

4.3 Industry Value Chain Analysis

4.4 Porter's Five Forces Analysis

4.4.1 Bargaining Power of Suppliers

4.4.2 Bargaining Power of Consumers

4.4.3 Threat of New Entrants

4.4.4 Threat of Substitute Products and Services

4.4.5 Degree of Competition

5. MARKET SEGMENTATION

5.1 Type

5.1.1 Anionic Surfactant

5.1.1.1 Linear Alkylbenzene Sulfolane (LAS or LABS)

5.1.1.2 Alcohol Ethoxy Sulfates (AES)

5.1.1.3 Alpha Olefin Sulfonates (AOS)

5.1.1.4 Secondary Alkane Sulfonate (SAS)

5.1.1.5 Methyl Ester Sulfonates (MES)

5.1.1.6 Sulfosuccinates

5.1.1.7 Others

5.1.2 Cationic Surfactant

5.1.2.1 Quaternary Ammonium Compounds

5.1.2.2 Others

5.1.3 Non-ionic Surfactant

5.1.3.1 Alcohol Ethoxylates

5.1.3.2 Ethoxylated Alkyl-phenols

5.1.3.3 Fatty Acid Esters

5.1.3.4 Others

5.1.4 Amphoteric Surfactant

5.1.5 Silicone Surfactant

5.1.6 Other Types

5.2 Origin

5.2.1 Synthetic Surfactant

5.2.2 Bio-based Surfactant

5.2.2.1 Chemically Synthesized Bio-based Surfactants

5.2.2.1.1 Sucrose Ester

5.2.2.1.2 Alkyl Polyglycoside

5.2.2.1.3 Fatty Acid Glucamide

5.2.2.1.4 Sorbitan Ester

5.2.2.1.5 Others

5.2.2.2 Bio-surfactants

5.2.2.2.1 Glycolipid

5.2.2.2.2 Fatty Acid, Phospholipid, Neutral Lipid

5.2.2.2.3 Lipopeptide

5.2.2.2.4 Polymeric Bio-surfactant

5.3 Application

5.3.1 Household Soap and Detergent

5.3.2 Personal Care

5.3.3 Lubricants and Fuel Additives

5.3.4 Industry & Institutional Cleaning

5.3.5 Food Processing

5.3.6 Oilfield Chemicals

5.3.7 Agricultural Chemicals

5.3.8 Textile Processing

5.3.9 Emulsion Polymerization

5.3.10 Other Applications

5.4 Geography

5.4.1 United States

5.4.2 Canada

5.4.3 Mexico

5.4.4 Rest of North America

6. COMPETITIVE LANDSCAPE

6.1 Mergers and Acquisitions, Joint Ventures, Collaborations, and Agreements

6.2 Market Share Analysis**

6.3 Strategies Adopted by Leading Players

6.4 Company Profiles

6.4.1 3M

6.4.2 Arkema Group

6.4.3 Ashland

6.4.4 BASF SE

6.4.5 Bayer AG

6.4.6 Clariant AG

6.4.7 Croda International

6.4.8 Dow

6.4.9 Elementis Specialties

6.4.10 Emery Oleochemicals

6.4.11 Evonik Industries AG

6.4.12 Galaxy Surfactants

6.4.13 Geo Specialty Chemicals

6.4.14 Godrej Industries

6.4.15 Henkel Corporation

6.4.16 Huntsman International LLC

6.4.17 Innospec

6.4.18 Kao Corporation

6.4.19 Lonza

6.4.20 Mitsui Chemicals Inc.

6.4.21 Nouryon

6.4.22 Procter & Gamble

6.4.23 Reliance Industries Ltd

6.4.24 Sanyo Chemical Industries

6.4.25 Sasol

6.4.26 Sinopec Jinling Petrochemical Co. Ltd

6.4.27 Solvay

6.4.28 Stepan Co.

*List Not Exhaustive

7. MARKET OPPORTUNITIES AND FUTURE TRENDS

7.1 Usage as Lung Surfactant in Neonatal Respiratory Distress (NRD) Syndrome
**Subject to Availability
Frequently Asked Questions
Was ist der Untersuchungszeitraum dieses Marktes?
Der nordamerikanische Markt für Tenside wird von 2018 bis 2028 untersucht.
Wie hoch ist die Wachstumsrate des nordamerikanischen Marktes für Tenside?
Der nordamerikanische Markt für Tenside wächst in den nächsten 5 Jahren mit einer CAGR von >3 %.
Wer sind die Hauptakteure auf dem nordamerikanischen Tenside-Markt?
Stepan Co., BASF SE, Croda International, Huntsman International LLC., Nouryon sind die wichtigsten Unternehmen, die auf dem nordamerikanischen Markt für Tenside tätig sind.
80%

of our clients seek made-to-order reports. How do you want us to tailor yours?