市场快照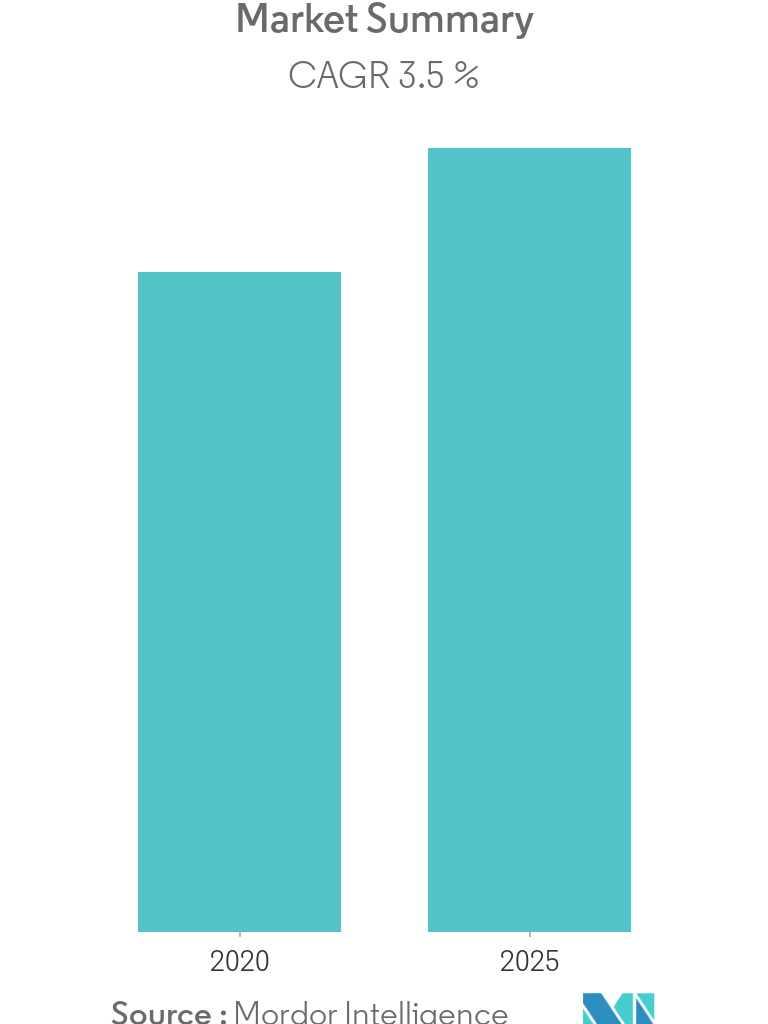 Study Period:
2016 - 2026
CAGR:

>

3.5 %

Major Players

*Disclaimer: Major Players sorted in no particular order
市场概况
由于铁路货运部门的高绩效,预计加拿大货运和物流市场在预测期内将出现强劲增长。蓬勃发展的电子商务行业以及建筑、制药和医疗保健行业的增长可能会推动市场。
2018年,加拿大有1980万电子商务用户活跃。此外,电子商务的渗透可能会进一步增加对物流行业的需求。
2018 年 9 月,英国皇家邮政 PLC 的国际部门以 3.6 亿加元(2.14 亿英镑)的价格收购了加拿大包裹递送公司 Dicom Canada,从而增加了其在美国多个州和整个欧洲不断增长的业务,显示预计快递市场将进一步增长并见证国际商业利益。
报告范围
加拿大货运和物流市场报告涵盖主要细分市场,如货运、快递和信使、货运代理、仓储、增值服务和其他功能。此外,该报告还提供了对电子商务行业、该国运费和多式联运等方面的见解。
还提供了公司简介,以识别在加拿大运营的一些主要国际和本地参与者。它们有助于了解市场的竞争格局。
Function

Freight Transport
Road
Rail
Sea and Inland
Air

Freight Forwarding
Warehousing
Courier, Express, and Parcel
Value-added Services
Cold Chain Logistics, Last Mile Logistics, Return Logistics, and Other Emerging Areas
End User
Construction
Oil and Gas and Quarrying
Agriculture, Fishing, and Forestry
Manufacturing and Automotive
Distributive Trade
Other End Users (Pharmaceutical and Healthcare)
主要市场趋势
铁路货运业务稳步增长
2018 年,以收入吨英里计算的铁路货运量较 2017 年增长 6.1%,与 2013-2017 年平均水平相比增长 6.0%。同比来看,铁路货运部门的工作量(以总吨英里计算)与五年平均水平相比增长了 6.2% 和 10.15。与 2017 年相比,2018 年加拿大货运列车的行驶距离(以货运列车英里计算)增加了 5.4%,达到 6860 万辆。2018 年,源自加拿大的多式联运运输总量比 2017 年增加了 1.85 个,因为加拿大 1 类铁路运输更多的拖车和集装箱。
此外,2018 年来自加拿大的整车数量增长 15.85%,达到 610 万辆的历史新高,增长主要来自制造业和杂项运输以及多式联运。
加拿大铁路协会 (RAC) 跟踪由加拿大货运铁路运输的 11 个商品组。2018 年,多式联运货物、矿物、燃料和化学品是通过加拿大铁路运输的最大车辆类别,占所有车辆的 67%。根据运输的车辆数量,2018 年商品组中增幅最大的是制造和杂项 (56.2%)、多式联运 (20.2%) 以及机械和汽车 (13.2%)。唯一下降的是食品(1.1%)。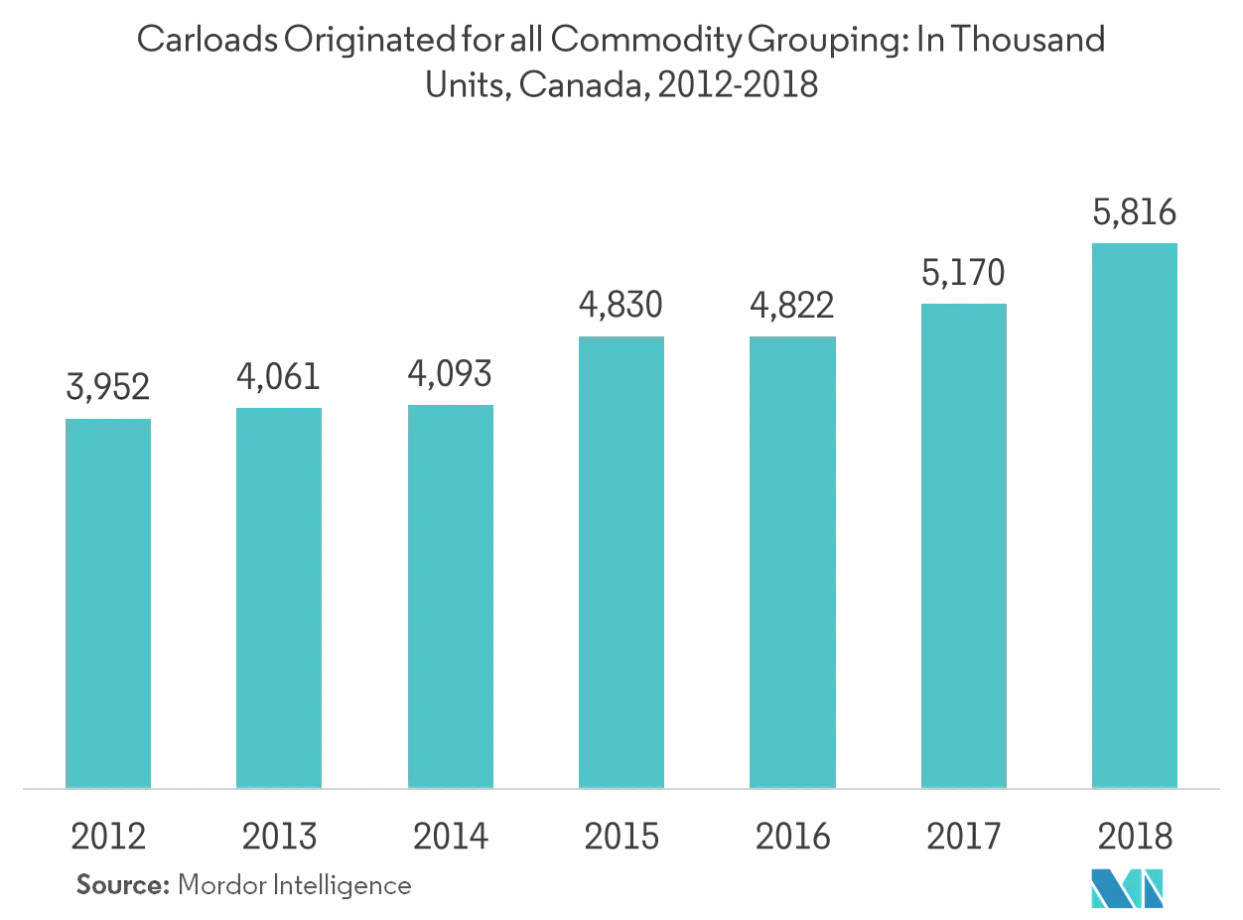 To understand key trends, Download Sample Report
2018 年强劲的贸易业绩
2018年加拿大商品出口继续增长,增长6.5%至5850亿美元,出口价格上涨2.2%,出口量增长4.1%。同时,加拿大商品进口增长 5.8% 至 6,070 亿美元,进口价格和进口量均增长,分别增长 2.4% 和 3.3%。结果,商品贸易总额达到创纪录的 1.2 万亿美元。此外,由于 2018 年出口超过进口,加拿大的商品贸易逆差收窄 27 亿美元至 220 亿美元。
加拿大商品出口在 2018 年连续第二年增长,除汽车和零部件外,所有行业的出口均增长。能源出口增长领先,增长 140 亿美元,即 15%,价值达到 1110 亿美元,其次是消费品(+ 36 亿美元)和林业、建筑和包装产品(+ 34 亿美元)。2018 年,加拿大的商品进口增长 5.8%,即 330 亿美元,达到 6070 亿美元。所有行业的进口都有所增长,其中金属矿石和矿物、能源产品、飞机和其他运输设备的进口均实现了两位数的增长。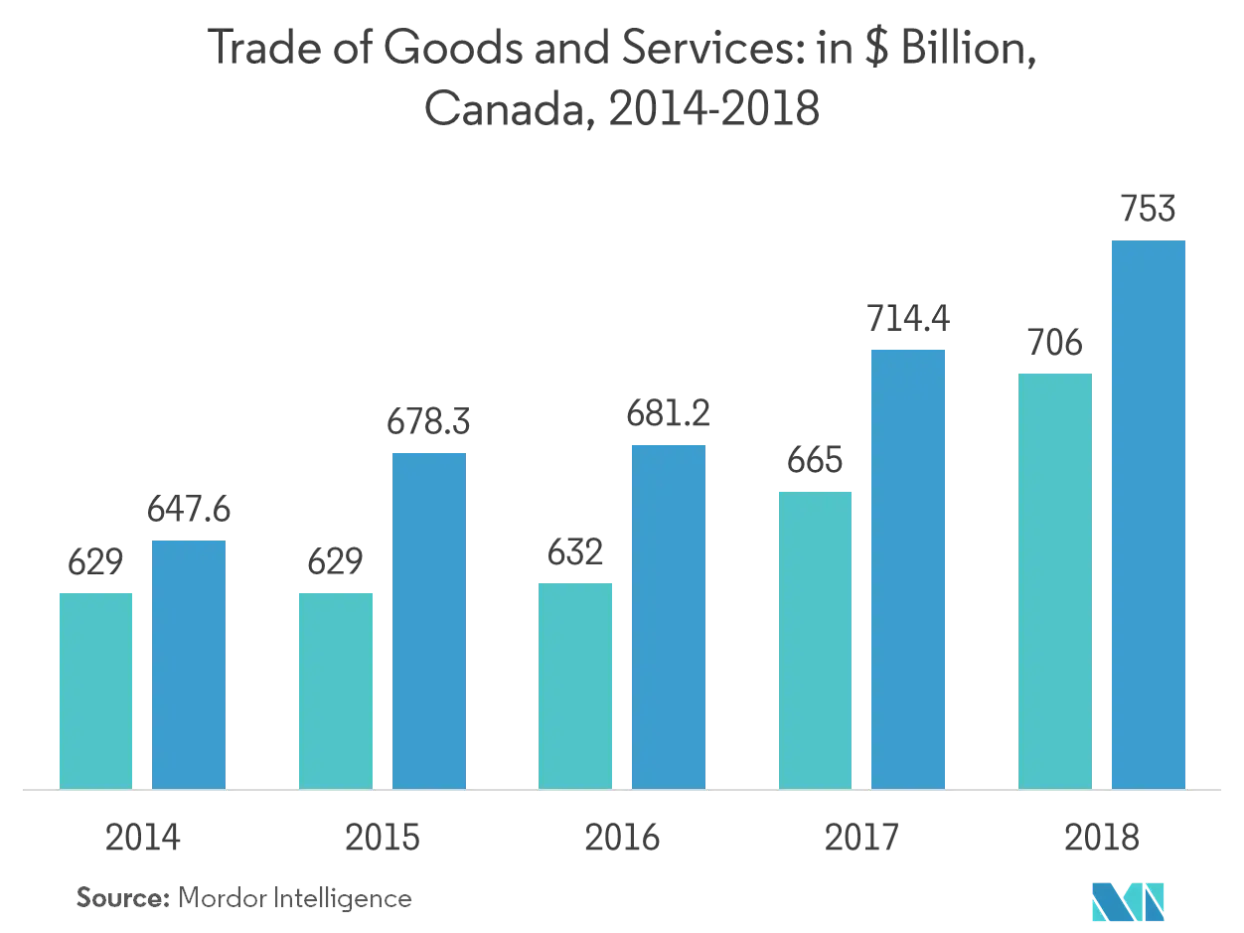 竞争格局
预计加拿大货运和物流市场将分散,参与者众多。由于加拿大的贸易量不断增长,预计市场将出现日益激烈的竞争。
主要玩家
Aramex

C.H. Robinson Worldwide

Air Tindi Ltd

Canada Post Corporation

Versacold Logistics Services
*Disclaimer: Major Players sorted in no particular order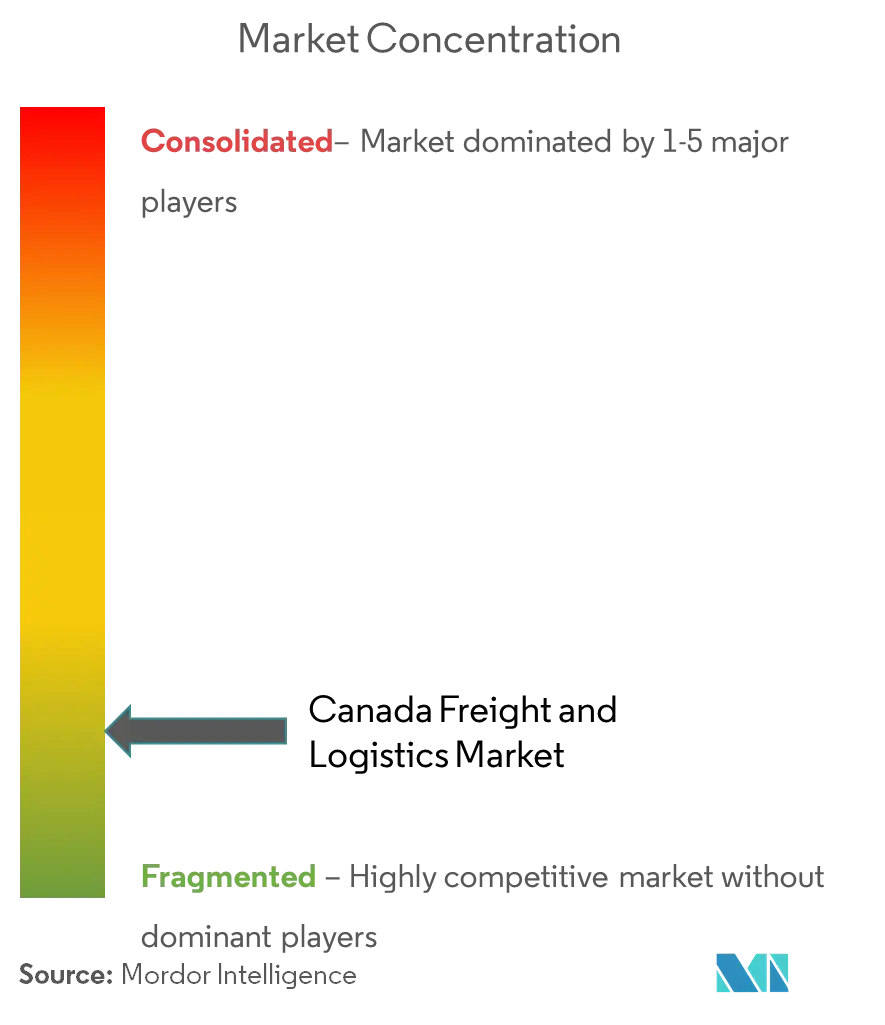 Table of Contents
1. INTRODUCTION

1.1 Study Assumptions and Market Definition

1.2 Scope of the Study

2. RESEARCH METHODOLOGY

3. EXECUTIVE SUMMARY

4. MARKET INSIGHTS AND DYNAMICS

4.1 Market Overview

4.2 Market Dynamics

4.2.1 Drivers

4.2.2 Restraints

4.2.3 Opportunities

4.3 Technological Innovations and their Impact

4.4 Impact of the Growth of E-commerce on the Market

4.5 Impact of Regulations on the Logistics Sector

4.6 Industry Attractiveness - Porter's Five Forces Analysis

4.7 Freight Rates/Logistics Cost Trends

4.8 Insights into Intermodal Freight Transportation

5. MARKET SEGMENTATION

5.1 Function

5.1.1 Freight Transport

5.1.1.1 Road

5.1.1.2 Rail

5.1.1.3 Sea and Inland

5.1.1.4 Air

5.1.2 Freight Forwarding

5.1.3 Warehousing

5.1.4 Courier, Express, and Parcel

5.1.5 Value-added Services

5.1.6 Cold Chain Logistics, Last Mile Logistics, Return Logistics, and Other Emerging Areas

5.2 End User

5.2.1 Construction

5.2.2 Oil and Gas and Quarrying

5.2.3 Agriculture, Fishing, and Forestry

5.2.4 Manufacturing and Automotive

5.2.5 Distributive Trade

5.2.6 Other End Users (Pharmaceutical and Healthcare)

6. COMPETITIVE LANDSCAPE

6.1 Overview (Market Concentration and Major Players)

6.2 Company Profiles

6.2.1 International Players

6.2.1.1 Agility Logistics Ltd

6.2.1.2 Aramex

6.2.1.3 C.H. Robinson Worldwide

6.2.1.4 CEVA Logistics

6.2.1.5 Bollore Logistics

6.2.1.6 CJ Logistics Corporation

6.2.1.7 DHL Global Forwarding

6.2.1.8 DSV Air & Sea Inc.

6.2.1.9 Expeditors International of Washington Inc.

6.2.1.10 DB Schenker

6.2.1.11 FedEx

6.2.1.12 Kuehne + Nagel

6.2.2 Local Players (Key Information/Overview)

6.2.2.1 TFI International Inc.

6.2.2.2 Cargojet Inc.

6.2.2.3 Logistec Corp.

6.2.2.4 Purolator Inc.

6.2.2.5 Algoma Central Corp.

6.2.2.6 Versacold Logistics Services

6.2.2.7 Air Tindi Ltd

6.2.2.8 Best International Cargo Inc.

6.2.2.9 CMS Shipping

6.2.2.10 Delmar International Inc.

6.2.2.11 Canada Post Corporation

7. APPENDIX

7.1 GDP Distribution, by Activity

7.2 Insights into Capital Flows

7.3 Economic Statistics - The Transport and Storage Sectors' Contribution to the Economy

7.4 External Trade Statistics - Export and Import, by Product

8. DISCLAIMER
**Subject to Availability
Market Definition
Vehicle Types

- Passenger Vehicles, Commercial Vehicles and Motorcycles are the vehicle types considered under the automotive lubricants market.

Product Types

- For the purpose of this study, lubricant products such as engine oils, transmission oils, greases and hydraulic fluids are taken into consideration.

Service Refill

- Service refill is the primary factor considered while accounting the lubricant consumption for each of the vehicle segments, under the study.

Factory Fill

- First lubricant fill-ups for newly produced vehicles are considered.
Research Methodology
Mordor Intelligence follows a four-step methodology in all our reports.
80%

of our clients seek made-to-order reports. How do you want us to tailor yours?