UK Telecom Market Size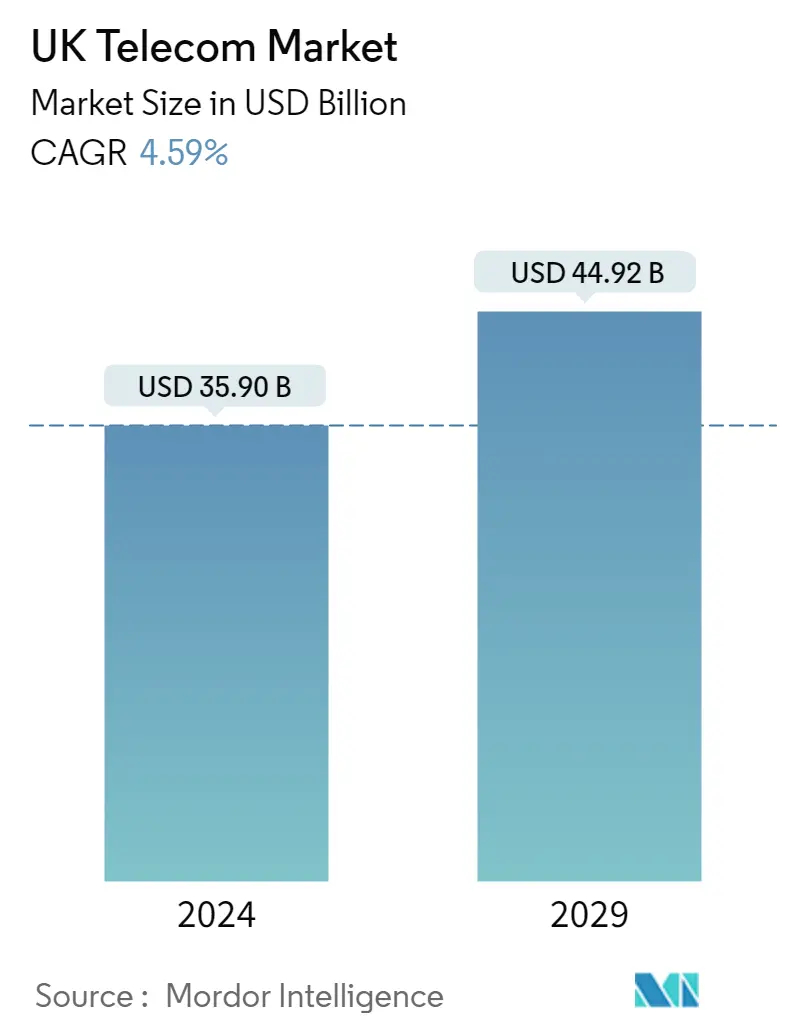 Study Period:
2018 - 2028
CAGR:
4.58 %

Major Players

*Disclaimer: Major Players sorted in no particular order
Need a report that reflects how COVID-19 has impacted this market and it's growth?
UK Telecom Market Analysis
The United Kingdom's telecom market revenue is expected to register a CAGR of 4.58% over the forecast period. The United Kingdom is one of the largest telecommunication markets in the world. The availability of telecom infrastructure is considered to be extremely important because it supports much of the economic and social activity in the United Kingdom.
According to a study by World Data.info, the United Kingdom had approximately 111.04 million connections under the country code (+44) in the previous year. There were 79.01 million mobile phones among them or 1.2 on average per person. This number is 1.1 mobile phones per person in the United States.
Encouragingly, the United Kingdom is doing exceptionally well in growing broadband internet connections. As per the report of World Data.info, as of 2020, all locals have an internet connection to a degree of about 95%. Nearly 41% of people have a strong Internet connection, at least as fast as the previous ISDN (more than 256 kbit/s). All fixed connections to the Internet through DSL, cable, or satellite were counted but not those made through mobile communications. An average of 2.3 individuals per home translates to around 93.4% of all homes having a fast internet connection.
The communication networks in the United Kingdom must be secure. As per the United Kingdom Supply Chain Review Report, the government hopes to make a 5G signal available to most of the population by 2027, 15 million more premises connected to full fiber by 2025, and total fiber coverage throughout the country by 2033. Only after faith in the security and resiliency of the underlying infrastructure can the potential economic and social advantages of 5G and total fiber digital connection be realized.
The largest mobile and internet providers in the United Kingdom have agreed on a plan to assist consumers who are having trouble paying their bills due to the cost-of-living problem. This plan includes steps to allow moving to cheaper agreements without paying the penalty. The biggest telecoms firms, including BT, Virgin Media O2, Vodafone, Three, Sky, and TalkTalk, have jointly agreed on a package that was decided at a summit at Downing Street. The businesses committed to a five-point plan of official promises to help consumers cope with skyrocketing inflation, energy prices, and tax hikes after introducing inflation-busting increases to residential phone and internet rates in earlier 2022.
Greater connection demand and a quicker pace in looking for new sources of infrastructure investment in the United Kingdom are both results of COVID-19. Across the country, customer demand for telecommunications services has increased due to the rapid and considerable growth in individuals working, shopping, and enjoying entertainment at home. Government and regulatory pressure to enhance connectivity and network capacity in the United Kingdom has increased due to the surge in online activity and the global economy's rising digitalization. In recent years, the overall amount spent on telecommunications connectivity has surged while the length of the technology lifecycle has dramatically decreased.
The United Kingdom's mobile and internet networks have met the added demand for remote work. To guarantee that demand for data and consumption can be satisfied, providers continue to expand their networks and add more capacity. Both fixed and mobile networks are designed to aid at peak times. Individuals frequently use applications at home in the evenings, including Netflix, Amazon Prime, Sky Go, and other streaming or gaming services. They consume far more bandwidth than standard business tools like emails, phones, and video calls. The providers of the country became much more affluent, prioritizing the whole country to stay connected, which includes fixing problems and repairs.
UK Telecom Industry Segmentation
The study provides an in-depth analysis of the telecommunication industry in the United Kingdom. The United Kingdom telecom market is segmented by services, which have been further classified into voice services (wired, wireless), data and messaging services, and OTT and pay-TV.
The United Kingdom telecom market is segmented by connectivity, services, telecom towers, and enterprise network industry.
The market sizes and forecasts are provided in terms of value (USD million) for all the above segments.
By Services (Coverage to include Average Revenue Per User for the overall Services segment, Market size and Estimates for each segment for the period of 2020-2027 and in-depth Trend Analysis)

Voice Services
Wired
Wireless

Data and Messaging Services (Coverage to include Internet & Handset Data packages, Package Discounts)
OTT and PayTV Services
UK Telecom Market Trends
This section covers the major market trends shaping the UK Telecom Market according to our research experts:
5G Roll-Out in the United Kingdom to Drive the Market
With the debut of the 5G network by EE in May 2019, the United Kingdom was one of the first markets to offer the technology internationally. Since then, the market has performed at a level with many other European markets in terms of 5G despite the United Kingdom operators increasing their 5G expenditure. As per the Connected Nations 2021 study from the Office of Communications, the United Kingdom's 5G network investment is rising, reaching GBP 330 million in 2020, up more than GBP 150 million (88%) from 2019.
Hotspot installations in suburban regions and along major transportation routes supplement the high-capacity C-band spectrum, the primary technology supporting dense metropolitan areas. In 2020 and 2021, the number of mobile base stations offering 5G services quadrupled, rising from 3,000 locations to over 6,500 sites. According to the EU 5G Observatory's International Scoreboard, this would put the United Kingdom significantly behind South Korea, China, the European Union average, and even the United States, with over 10,000 people per 5G base station based on the country's population as of 2020.
The mobile network operators in the United Kingdom already install and manage a portion of their radio access network (RAN) through network sharing agreements to cut costs and optimize network rollout. EE and Three UK have formed Mobile Broadband Network Limited (MBNL) as a 50/50 joint company to oversee the planning and management of their shared network. In 2019 O2 and Vodafone announced that they would share 5G-active hardware, such as radio antennae, to hasten the rollout of 5G and lower the cost. Vodafone gave Vantage Towers a 50% stake in the company in January 2021.
All four carriers in the UK have been using mid-band spectrum for 5G since the first installations, which is regarded as a spectrum "sweet spot" that provides both quick speeds and extensive geographic coverage. Every operator increased their spectrum holdings in the 700 MHz and 3.6-3.8 GHz frequency bands in April 2021. The operator's 5G coverage already encompasses 300 towns and cities, and its 5G services are expected to be available to 50% of the United Kingdom's population by 2023. The government also said in December 2021 that it wanted to stop supporting 2G and 3G networks by 2033 to make room for 5G.
In the United Kingdom, 5G is presently being implemented in a non-standalone (NSA) mode, which means it still depends on the 4G LTE core network. With 5G core networks and 5G RAN, it is anticipated that all operators will eventually upgrade to 5G standalone (SA), significantly as more 5G capabilities, like ultra-low latency communication (URLC) and virtual network functions, like network slicing, proliferate and open new use cases for the technology. The recent edge computing and 5G SA partnership between EE, the BBC, and Ericsson demonstrated the unique powers of these technologies. The transition to a cloud-based core and the introduction of 5G SA by 2023 may make it easier for EE to expand 5G coverage to 90% of the geographic area of the United Kingdom by 2028. Additionally, EE intends to market 5G SA in a way that appeals to consumers and "brings technology to people in a truly personal way."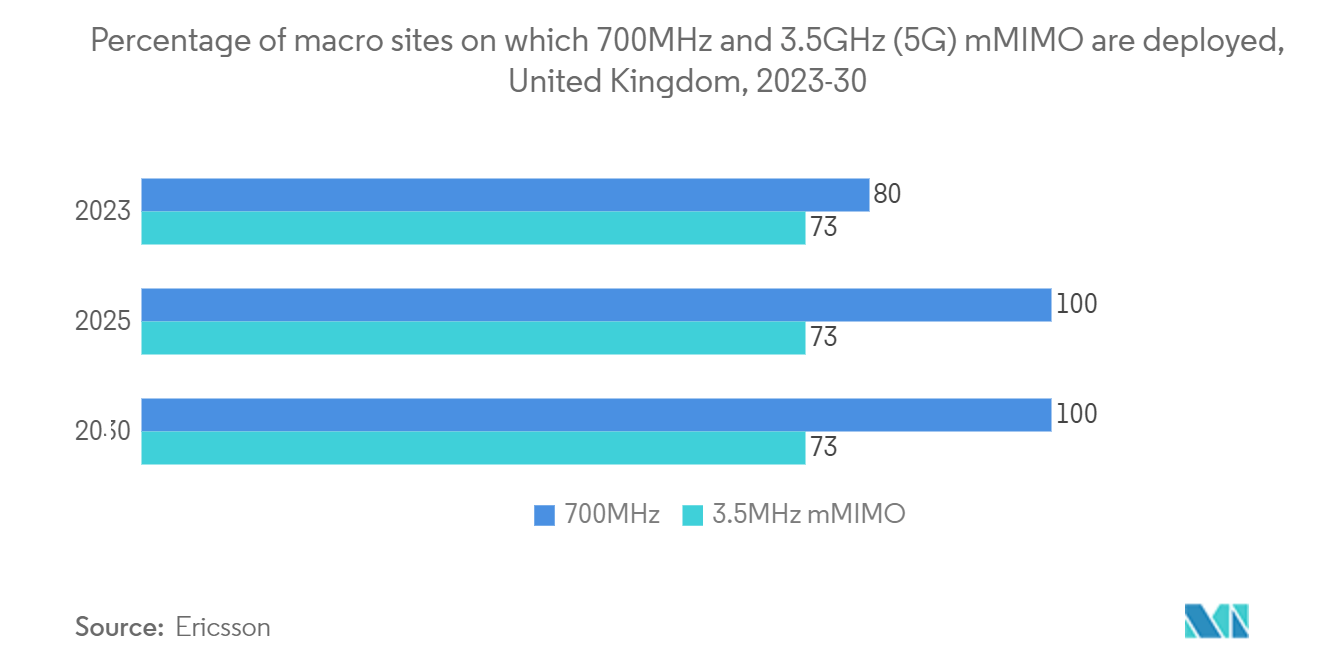 To understand key trends, Download Sample Report
Superior Cyber Security to Aid in Market Growth
The technical environment in many businesses in the United Kingdom is evolving quickly because of IoT devices and sensors. The Internet of Things has numerous positive effects on people's lives, including improved quality of life and more business revenue. The cost of government IT may also be significantly reduced, which is advantageous to everybody. In the United Kingdom, the "Internet of Things" has developed because of the confluence of several technologies. First, as more gadgets connect to the internet, this technical development enhances steady connectivity. Second, telecommunications may now track communication remotely with IoT. Through its usefulness, IoT has led to a seamless process across several companies in the country, resulting in a rise in income.
The Internet of Things (IoT) is a global network of interconnected gadgets and sensors. It is expected that the United Kingdom will become closer to a fully connected Britain in 2022 as 5G coverage expands and millions more gadgets start utilizing the internet of things. Businesses may link their devices to a centralized hub using a fixed-IP SIM card, which is ideal for remote monitoring and control. Thousands of companies in the country currently employ IoT, primarily in the manufacturing, transportation, and industrial sectors. Their procedures' ability to be linked to an online platform considerably increases efficiency and lowers operating expenses.
To make the advantages of IoT more available to companies of all sizes and digital sophistication levels, Vodafone has developed a variety of IoT solutions. For instance, the Smart Hub enables logistics firms to follow freight or cars even in far-flung areas where regular services are impractical - with it, almost anywhere in the United Kingdom can get a WiFi-strength connection. This might be used by emergency services in rural regions to coordinate quick actions in even the most dangerous circumstances and communicate with other blue-light colleagues.
Following consultation with various industry "stakeholders," the United kingdom's telecom regulator, Office of Communications, has determined four areas that it intends to focus on to encourage the growth of the Internet of Things. Spectrum availability, data privacy, network security and resilience, and network addressing is the regulator's top priorities for promoting IoT growth. According to the Office of Communications, the IoT may increase reliance on safe and dependable data networks and storage, so that's a prominent priority area for promoting growth. Given that the most recent communications protocol better enables numerous connections, together with IPv6.
By establishing a regulatory framework that may encourage investment and innovation, the telecoms regulator, Office of Communications, hopes to guarantee that the United Kingdom takes the lead in developing the Internet of Things (IoT). According to the Office of Communications report, 360 million IoT-connected devices will be developed, and more than a billion daily data will be exchanged by 2022. Service providers may have to run and manage a considerable number of relatively low-powered connected devices, each needing access to spectrum, whether or not the much-hyped figure of 50 billion devices or more is reached within five years.
Every environmental issue is becoming more and more well-known in the United Kingdom, leading to the development of Green IoT. It entailed utilizing technology that assists in developing a healthy IoT environment. As a result, it focuses on helping users across the country; gather, store, and access data through the available storage and facilities.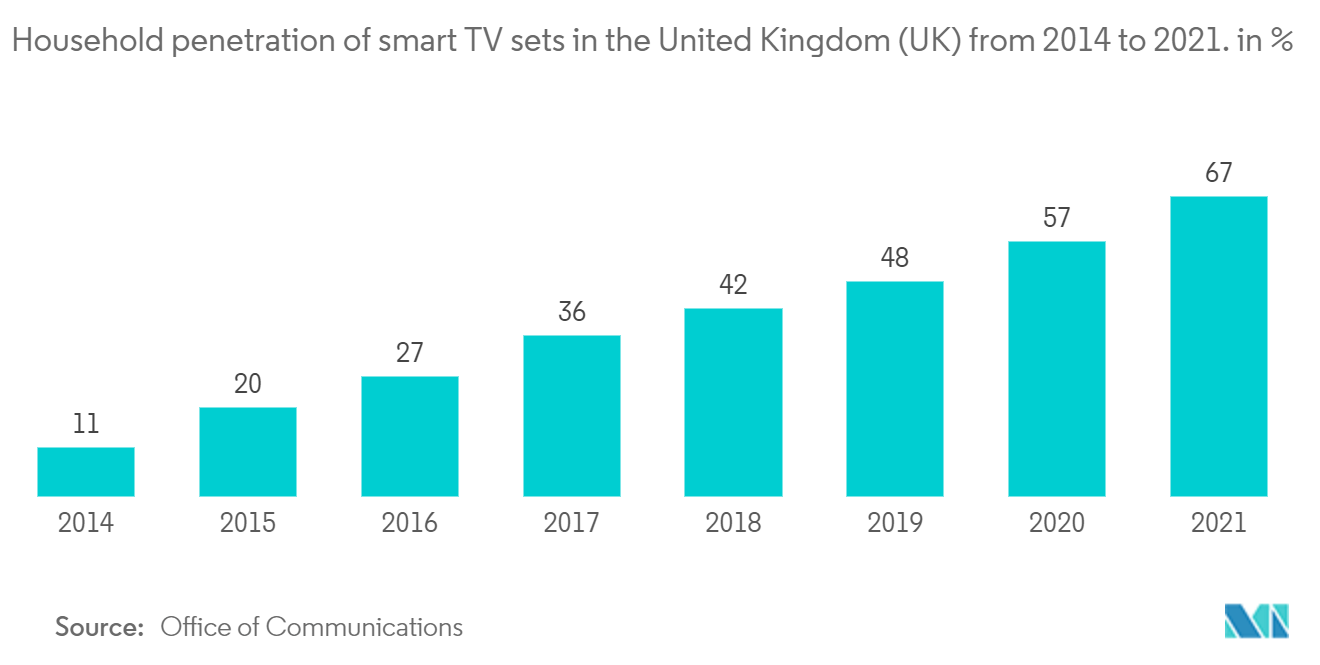 UK Telecom Industry Overview
The United Kingdom's telecom market is fragmented in nature. Some major players in the market studied include Vodafone Limited, Sky UK Limited, BT Group plc, Telefónica UK Limited, and Teleperformance Limited. The market also hosts other Internet service providers (ISPs), MVNOs, and fixed-line service providers. Some US telecommunication companies are competitive internationally and hold firm ground in the global telecom space.
June 2022 - Vodafone initiated the United Kingdom's first live 'wind- and solar-powered mobile phone mast in Pembrokeshire, Wales. By eliminating the requirement for a link to the national energy grid, the specifically constructed mast offered connectivity to "not-spots" in the United kingdom's most remote and inhospitable places, aiding the industry's goal of 95% UK landmass coverage by 2025.
May 2022 - BT Group PLC signed a five-year contract with Amazon Web Services (AWS) to speed up its digital transformation process. This arrangement is a part of BT's larger modernization initiative, which is expected to retire old applications, related infrastructure, and data centers to save USD 2 billion in gross annualized savings by the end of FY24.
UK Telecom Market Leaders
Vodafone Limited

BT Group plc

Sky UK Limited

Telefonica UK Limited

Teleperformance Limited
*Disclaimer: Major Players sorted in no particular order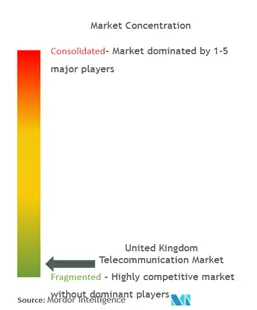 UK Telecom Market News
October 2022 - Vodafone unveiled its Pro II plan, the speediest Wi-Fi technology across all homes in the United Kingdom. The new Ultra Hub and Super Wi-Fi booster employ the most recent Wi-Fi 6E technology, which may offer Wi-Fi to more than 150 devices. This is a first for any significant broadband provider in the United Kingdom.
October 2022 - BT Group PLC, the digital division of the BT Group, launched a brand-new internal machine learning operations (ML-Ops) platform dubbed AI Accelerator. The new platform orchestrates, accelerates, and tracks the deployments of AI models created by the data community at BT Group, evaluating their effectiveness and behavior to extract value from the 29-petabyte data estate of the company.
October 2022 - Vodafone confirmed that it was discussing with its market rival, Three, to merge its business entities in the United Kingdom. In the proposed acquisition, the UK businesses of both firms would be amalgamated, with Vodafone controlling 51% and CK Hutchison from Three owning 49% of the new company. The combined company would compete with the two established market leaders for all the United Kingdom clients and gain from reasonably priced access to a third, high-quality, and secure 5G network across the country.
UK Telecom Market Report - Table of Contents
1. INTRODUCTION

1.1 Study Assumptions and Market Definition

1.2 Scope of the Study

2. RESEARCH METHODOLOGY

3. EXECUTIVE SUMMARY

4. MARKET INSIGHTS

4.1 Market Overview

4.2 Industry Ecosystem Analysis

4.3 Industry Attractiveness - Porter's Five Forces Analysis

4.3.1 Bargaining Power of Suppliers

4.3.2 Bargaining Power of Consumers

4.3.3 Threat of New Entrants

4.3.4 Threat of Substitute Products

4.3.5 Intensity of Competitive Rivalry

4.4 COVID-19 Impact on the Industry Ecosystem

4.5 Regulatory Landscape in the Country

5. MARKET DYNAMICS

5.1 Market Drivers

5.1.1 Rising demand for 5G

5.1.2 Growth of IoT usage in Telecom

5.2 Market Restrain

5.2.1 The emergence of stiff competition is a concern for the industry

5.3 Analysis of the Market based on Connectivity (Coverage to include In-depth Trend Analysis)

5.3.1 Fixed Network

5.3.1.1 Broadband (Cable modem, wireline-fiber, wireline DSL, fixed Wi-Fi ), Trends regarding ADSL/VDSL, FTTP/B, cable modem, FWA, and 5G FWA )

5.3.1.2 Narrowband

5.3.2 Mobile Network

5.3.2.1 Smartphone and mobile penetration

5.3.2.2 Mobile Broadband

5.3.2.3 2G, 3G, 4G and 5G connections

5.3.2.4 Smart Home IoT and M2M connections

5.4 Analysis of Telecom Towers (Coverage to include in-depth trend analysis of various types of towers, like, lattice, guyed, monopole, and stealth towers)

6. MARKET SEGMENTATION

6.1 By Services (Coverage to include Average Revenue Per User for the overall Services segment, Market size and Estimates for each segment for the period of 2020-2027 and in-depth Trend Analysis)

6.1.1 Voice Services

6.1.1.1 Wired

6.1.1.2 Wireless

6.1.2 Data and Messaging Services (Coverage to include Internet & Handset Data packages, Package Discounts)

6.1.3 OTT and PayTV Services

7. COMPETITIVE LANDSCAPE

7.1 Company Profiles

7.1.1 Vodafone Limited

7.1.2 Sky UK Limited

7.1.3 BT Group PLC

7.1.4 Telefonica UK Limited

7.1.5 Teleperformance

7.1.6 TalkTalk Telecom Group

7.1.7 Lycamobile

7.1.8 Virgin Media

7.1.9 Sitel Group

7.1.10 Ericsson

*List Not Exhaustive

8. INVESTMENT ANALYSIS

9. MARKET OPPORTUNITIES AND FUTURE TRENDS
**Subject to Availability
UK Telecom Market Research FAQs
What is the study period of this market?
The United Kingdom Telecom Market is studied from 2018 - 2028.
What is the growth rate of United Kingdom Telecom Market ?
The United Kingdom Telecom Market is growing at a CAGR of 4.58% over the next 5 years.
Who are the key players in United Kingdom Telecom Market ?
Vodafone Limited, BT Group plc, Sky UK Limited, Telefonica UK Limited, Teleperformance Limited are the major companies operating in United Kingdom Telecom Market .
United Kingdom Telecom Industry Report
Statistics for the 2023 United Kingdom Telecom market share, size and revenue growth rate, created by Mordor Intelligence™ Industry Reports. United Kingdom Telecom analysis includes a market forecast outlook to 2028 and historical overview. Get a sample of this industry analysis as a free report PDF download.
80%

of our clients seek made-to-order reports. How do you want us to tailor yours?