The South America PUR hot-melt adhesives market is expected to register a CAGR of 6.06% during the forecast period, 2018-2023. Brazil is estimated to lead the market, owing to its advancement in packaging and increase in production of footwear. Footwear segment is expected to be the fastest growing segment, by application.
Increasing Applications in a Vast Range of Industries
PUR hot-melt adhesives are designed for high impact, toughened applications. The adhesives begin to polymerize as they cool and undergo a secondary moisture cure that causes the adhesive to crosslink, forming a new polyurethane polymer that provides higher strength and flexibility than traditional hot melts. PU hot-melt adhesives are heat resistant and can be used in heat-sensitive end-use applications, as well as for bonding appliance housings and cabinets, thermal insulation panels in dishwashers, nameplates, touchpads, and vinyl gaskets. These adhesives are increasingly used in the production of automotive interior panels. An extensive variety of assembly bonds, such as retainer bonding, bonding of steel frames of sun roofs, and window tracks are required. The adhesive systems are more frequently used for lamination applications in automotive. PUR hot-melt adhesives are used to laminate nearly all textile substrates. After cross-linking, the adhesives provide a high-quality bond, which is not only soft on the material, but is boil resistant as well. The applications of PU hot-melt adhesives are increasing rapidly in the packaging industry. Perfumes, pharmaceuticals, cosmetics, and beauty products are packaged in transparent or clear cases. PU hot-melt adhesives are used to seal those packages and ensure a clear application and flawless end products.
Footwear - The Fastest-growing Application
PUR hot-melt adhesives facilitate rapid bonding processes and are used for a wide range of assembly operations, thereby supplanting solvent-borne adhesives. The footwear industry makes extensive use of this adhesive to produce flexible joints, insole bonding, edge folding, etc. The processes suited to hot melts mainly concern components of the upper part of the shoe prepared from leather, textiles, and board materials. PUR hot-melt adhesives are used in the application of sport shoes and leather shoes. PUR hot-melts are used for bonding the flat soles of running shoes, edge folding, and shoes' upper bonding, among others. Moreover, properties like excellent bond strength and resistance to temperature and weather conditions provided by these adhesives are important requirements for the footwear segment. The water resistance offered by PUR hot-melt adhesives helps in creating waterproof bonds between linings and insoles. Adhesives with good strength and other physical properties, like water resistance, have become indispensable to the footwear industry. These applications are boosting the demand for PUR hot-melt adhesives in this market segment.
Brazil to Lead the Market
In 2017, Brazilian automotive industry recorded a growth of 25.2% YoY, reaching a total of 2,699,672 vehicles. With an increase in the number of government social housing programs including, 'Minha Casa, Minha Vada', the demand for adhesives in Brazil has also increased. Construction of new hotels, coupled with the refurbishment of the existing houses, is likely to boost the demand for PUR hot-melt adhesives. The Brazilian footwear market has been majorly occupied by global apparel and footwear players, which include Nike, Adidas, Puma, and Geox. The footwear market is majorly driven by cotton consumption, textile consumption, personal disposable income, and the country's population.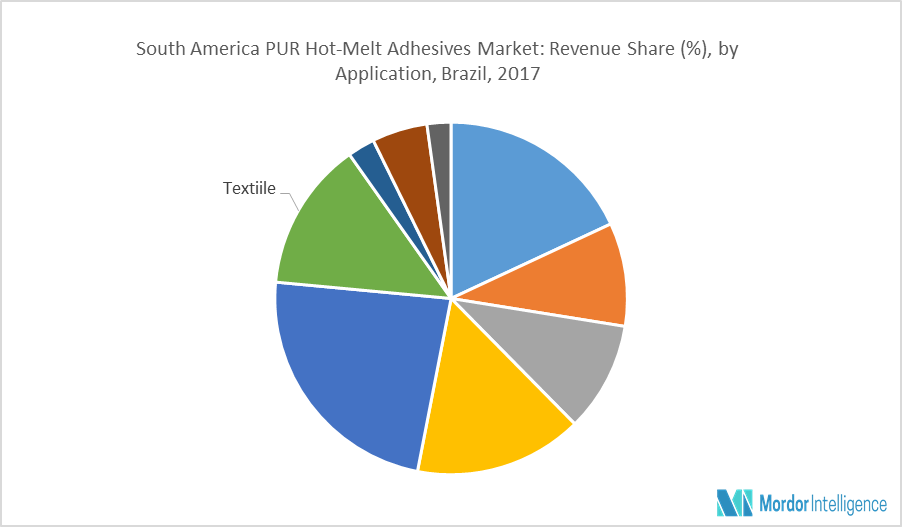 Notable Developments in the Market
October 2017: H.B. Fuller's finalized its acquisition of Royal Adhesives & Sealants for USD 1.575 billion. This acquisition is likely to deepen H.B. Fuller's expertise in a range of sectors, such as medical, electronics, hygiene, transportation, construction, clean energy, and others.
January 2017: H.B. Fuller Company acquired the industrial adhesives business of Wisdom Worldwide Adhesives.
Major Players: Henkel AG, HB Fuller, Arkema, Sika AG, and Hernon manufacturing, among others.
Reasons to Purchase this Report
To understand the impact of end-user applications on the market
Analyzing various perspectives of the market with the help of Porter's five forces analysis
To understand the dominating technology in the market
Countries expected to witness the fastest growth during the forecast period
Identify the latest developments, market shares, and strategies employed by the major market players
3 months analyst support, along with the Market Estimate sheet (in excel)
Customization of the Report
This report can be customized to meet your requirements. Please connect with our representative, who will ensure you to get a report that suits your needs.
1. Introduction
1.1 Research Phases
1.2 Scope of the Market
1.3 Study Deliverables
2. Executive Summary
3. Market Insights
3.1 Industry Value Chain Analysis
3.2 Industry Attractiveness - Porter's Five Forces Analysis
3.2.1 Bargaining Power of Suppliers
3.2.2 Bargaining Power of Consumers
3.2.3 Threat of New Entrants
3.2.4 Threat of Substitute Products and Services
3.2.5 Degree of Competition
4. Market Dynamics
4.1 Drivers
4.1.1 Increasing Usage as a Substitute for Solvent-borne Adhesives
4.1.2 Increasing Applications in a Vast Range of Industries
4.2 Restraints
4.2.1 Volatility in Availability and Price of Raw Material
4.2.2 Other Restraints
4.3 Opportunities
4.3.1 Growing Demand for Bio-based PUR Hot-melt Adhesives
4.3.2 Innovative Product Development to Gain Competitive Edge
5. Market Segmentation and Analysis (Market Size, Growth, and Forecast)
5.1 By Type
5.1.1 Non-reactive
5.1.2 Reactive
5.2 By Application
5.2.1 Packaging
5.2.2 Healthcare
5.2.3 Automotive
5.2.4 Furniture (Woodworking)
5.2.5 Footwear
5.2.6 Textile
5.2.7 Electronics
5.2.8 Bookbinding
5.2.9 Others
6. Regional Market Analysis
6.1 Brazil
6.2 Argentina
6.3 Colombia
6.4 Chile
6.5 Rest of South America
7. Competitive Landscape
7.1 Mergers and Acquisitions, Joint Ventures, Collaborations, and Agreements
7.2 Market Share Analysis**
7.3 Strategies Adopted by Leading Players
8. Company Profiles (Overview, Financials**, Products & Services, and Recent Developments)
8.1 3M
8.2 Arkema Group (Bostik)
8.3 Ashland Inc.
8.4 Avery Dennison Corporation
8.5 BASF SE
8.6 Beardow Adams do Brasil Adesivos
8.7 DowDuPont
8.8 Evonik Industries AG
8.9 H.B. Fuller Company
8.10 Henkel AG & Co. KGaA
8.11 Hernon Manufacturing Inc.
8.12 Jowat AG
8.13 PPG Industries Inc
8.14 Sika AG
*List Not Exhaustive
9. Disclaimer
**Subject to availability on public domain