Market Insights
Fermented foods have grown tremendously in recent years giving way to a profitable market of food culture. Probiotics and functional foods are the new trends in the market capturing the world across, from the US to developing regions. Functional dairy products have created a huge competition among microbial culture companies.
The North America microbial food culture market is expected to register a CAGR of 5.6%, during the forecast period of 2018 - 2023. Microbial food cultures, such as viable bacteria, yeasts, and moulds are used as food ingredients in fermented foods, and as a probiotic in the food industry. The viability of microbial culture is important at the time of food consumption. MFC has been used for centuries for the conversion of substrate into fermented food products, with improved sensory properties.
Biotechnological Innovations Play a Crucial Role in Driving the Market
Increased alcoholic beverage consumption, especially beer, is the primary driving factor of the market. MFC has widened the application market from dairy to bakery, which has increased its consumption demand. Lactic acid bacteria & yeasts have been used since years in the dairy & bakery application, capturing a huge market. Moreover, the probiotic market, which has grown at a fast rate in the recent years, further triggers the market growth. Consumers are looking for live food cultures that have positive health benefits.
Despite the growing market, there is a need for innovative, different strains of cultures with high potential value in food processing. Biotechnological innovations are playing a great role in the advancement of microbial food cultures. However, the stringent regulatory framework that puts emphasis on its documented use is always a restraint for the market. MFC requires strict growth environment, which is sometimes hard to maintain in the processing plant that hinders the microbial food culture market growth.
Lactic Acid Bacteria Holds the Largest Share
The North America microbial food culture market has been segmented by, type of culture, strain type, application, and geography. MFC market, by type, includes bacteria, yeast, and mould. Bacteria culture, such as lactic acid bacteria, holds the largest share in the market due to its significant dairy market. However, yeast consumption in beer, and other applications are growing in the market. Mould is the fastest-growing market segment, supported by the huge cheese consumption in developing countries, such as China.
Various microbial food culture strains available in the North American market are single strain culture, multi-strain culture, and multi-strain mixed culture. By application, the market is segmented into beverages, dairy, bakery, cereals, and others. The beverages segment is sub-segmented into alcoholic & non-alcoholic beverages, and holds the largest share in the market due to the massive consumption of dairy, and alcoholic beverages. Yeast has a dominant market in bakery food products with its vast consumption in the sour dough, and bread manufacturing.
US Holds the Highest Share in North America MFC Market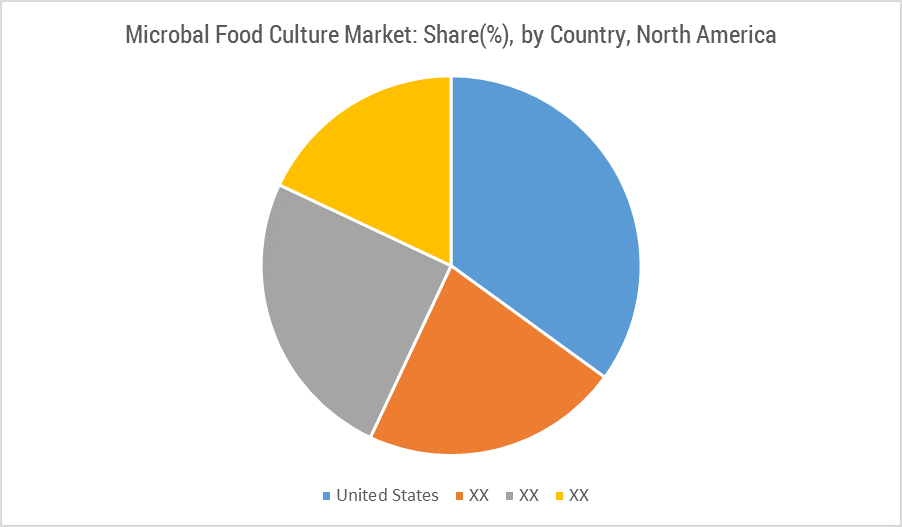 By geography, the North American microbial food culture market has been segmented into the United States, Canada, Mexico, and other countries. North America is the second largest market covering a huge demand for beer and kefir products. The United States holds a major share in the MFC market, and the microbal food culture market, followed by Canada, and Mexico.
Competitive Landscape
Major Players: Chr. Hansen A/S, Dohler Group, Angel Yeast Co. Ltd., Danisco A/S, Csk Food Enrichment B.V., Lactina Ltd., Lb Bulgaricum Plc. And Lallemand Inc. Most adopted strategies by the key players in the company is mergers and acquisitions, which enable them to utilize the key resources of companies merged with.
Reasons to Purchase this Report
Analyzing outlook of the market with the recent trends and Porter's five forces analysis
Market dynamics, which essentially consider the factors, which are impelling the present market scenario, along with growth opportunities of the market in the years to come
Market segmentation analysis, including qualitative & quantitative research incorporating the impact of economic & non-economic aspects
Regional and country level analysis integrating the demand and supply forces that are influencing the growth of the market
Competitive landscape involving the market share of major players, along with the key strategies adopted for development in the past five years
Comprehensive company profiles covering the product offerings, key financial information, recent developments, SWOT analysis, and strategies employed by the major market players
3-month analyst support, along with the Market Estimate sheet in excel
Customization of the Report
Value chain analysis
Consumer behavior analysis in country level
1. Introduction
1.1 Key Deliverables of the Study
1.2 Study Assumptions
1.3 Market Definition
2. Research Approach & Methodology
2.1 Introduction
2.2 Research Designs
2.3 Study Timeline
2.4 Study Phases
2.4.1 Secondary Research
2.4.2 Discussion Guide
2.4.3 Market Engineering and Econometric Modelling
2.4.4 Expert Validation
3. KEY FINDINGS OF THE STUDY
4. MARKET OVERVIEW
4.1 Market Dynamics
4.1.1 Drivers
4.1.1.1 Increased Alcoholic Beverages Consumption
4.1.1.2 Wide Application Market with High-Demand from Dairy and Bakery Sectors
4.1.1.3 Probiotic Market Encouraging Significant Growth
4.1.1.4 Advancement in Biotechnological Innovation
4.1.2 Restraints
4.1.2.1 Stringent Regulatory Enviornment
4.1.2.2 Strict Growth Conditions
4.1.3 Opportunities
4.1.3.1 Growing Functional Food and Beverages Market
4.1.4 Porter's Five Forces Analysis
4.1.4.1 Bargaining Power of Buyers
4.1.4.2 Bargaining Power of Suppliers
4.1.4.3 Degree of Competition
4.1.4.4 Threat of New Entrants
4.1.4.5 Threat of Substitute Products and Services
5. MARKET SEGMENTATION
5.1 Market Segmentation
5.1.1 By Type
5.1.1.1 Bacteria
5.1.1.2 Yeast
5.1.1.3 Mold
5.1.2 By Strain Type
5.1.2.1 Single-Strain Culture
5.1.2.2 Multi-Strain Culture
5.1.2.3 Multi-Strain Mixed Culture
5.1.3 By Application
5.1.3.1 Beverages
5.1.3.1.1 Alcoholic
5.1.3.1.2 Non-Alcoholic (Except Dairy-Based)
5.1.3.2 Dairy
5.1.3.3 Bakery
5.1.3.4 Cereals
5.1.3.5 Others
5.1.4 By Geography
5.1.4.1 U.S.
5.1.4.2 Canada
5.1.4.3 Mexico
5.1.4.4 Others
6. COMPETITIVE LANDSCAPE
6.1 Market Share Analysis
6.2 Most Active Companies in the Past Five Years
6.3 Most Preferred Strategic Approach by Major Companies
7. COMPANY PROFILES
7.1 Chr. Hansen A/S
7.2 Dohler Group
7.3 DSM
7.4 Danisco A/S
7.5 Csk Food Enrichment B.V.
7.6 Lb Bulgaricum Plc.
7.7 Lallemand Inc.
7.8 Lesaffre Group
7.9 Wyeast Laboratories Inc.
7.10 Nebraska Cultures Inc. (U.S.)
7.11 Lyosan Inc.
8. Appendix
8.1 Sources
8.2 Disclaimer