Market Snapshot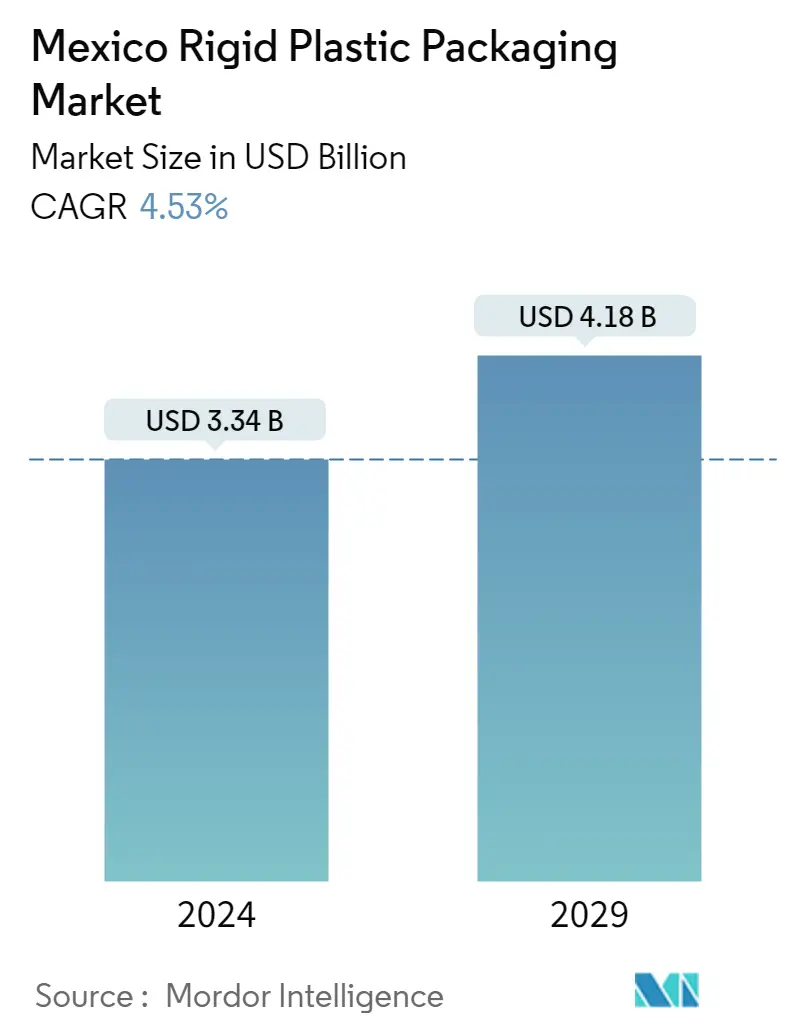 Study Period:
2020-2027
Base Year:
2021
CAGR:
2.96 %
Need a report that reflects how COVID-19 has impacted this market and its growth?
Market Overview
The Mexico Rigid Plastic Packaging Market volume was valued at 1.86 million tons in 2021 and is expected to reach 2.23 million tons by 2027, registering a CAGR of 2.96% over the forecast period (2022 - 2027).
Rigid plastic packaging provides unique benefits, such as stiffness, high impact strength, and high barrier properties, which expanded the market for rigid plastic packaging in recent years. In Mexico, the food industry is one of the significant contributors to the rigid plastic market. According to the International Trade Administration, in 2021, packaging was the key driver of Mexico's plastics industry, attributing 47% of the market demand. Plastic packaging items used in the food and beverage industry are usually created locally. The increased demand for packaged food and pharmaceutical products drove market growth during the pandemic. However, claims regarding the survival of the virus up to 72 hours on materials, such as plastic, also hampered market growth.
Crude oil is a source of raw material (i.e., feedstock) for making plastics. According to the Bank of Mexico, in March 2022, Mexico's crude oil exports averaged USD 104.4 per barrel, the highest in over three years. The North American country's export blend price plummeted in the first months of 2020, dipping below USD 13 per barrel in April 2020, following a global decrease in demand amidst the pandemic. Since May 2020, Mexico's export of crude oil price showed a recovering trend and remained above USD 60 for 12 consecutive months. Overall, during the pandemic, due to price fluctuation, the manufacturing capability of rigid plastic declined. However, currently, it is recovering.
The rigid plastic packaging industry is highly fragmented in the country, with market incumbents, such as Amcor, Grupo Phoenix, Berry Group, and ALPLA, along with several regional Mexican contract packaging firms. Although barriers to entry for new players are moderate, regional packaging companies witness value in foraying, especially in the rigid packaging industry, owing to significant demand from various end-user industries.
Carbonated beverages dominate the Mexican soft drinks industry in a major way. Though packaged water and fruit-based drinks started gaining popularity among Mexican consumers in recent years, carbonated beverages are way ahead of the rest of these categories in the country's soft drinks market. In particular, the isotonic drinks segment in Mexico is the largest in Latin America.
During the covid inflicted lockdown, industries were forced to shut down operations as the employees and workers were unable to report for work. Strict government regulations to curb the spread further aggravated the situation in the initial days. Owing to this, the demand for industrial-grade plastic declined in till the companies found a way to operate with limited strength. This impacted the industrial-grade rigid plastic demand equally.
Scope of the Report
The scope of the study focuses on the market analysis of Rigid plastic packaging sold across Mexico. Market sizing encompasses the revenue generated through Rigid plastic packaging sold by various market players. The study also tracks key market parameters, underlying growth influencers, and major vendors operating in the industry, which supports the market estimations and growth rates over the forecast period. In addition, the overall impact of COVID-19 on the ecosystem is analyzed. The scope of the report encompasses market sizing and forecast for segmentation by Material Type, Product Type, and End-user type.
By Material Type
PE (Polyethylene) - HDPE and LDPE
PP (Polypropylene)
PET (Polyethylene Terephthalate)
PVC (Polyvinyl Chloride )
PS and EPS (Polystyrene and Expanded Polystyrene)
Other Rigid Plastic Materials
By Product Type
Bottles and Jars
Trays and Containers

Bulk Grade Products
Intermediate Bulk Container (IBC)
Crates and Pallets

Other Product Types
By End-user Type
Food
Beverages
Industrial and Construction
Automotive
Other End-user Types
Key Market Trends
Bottled Water and Carbonates-Based Products Drives the Market in the Country
With a population of more than 22 million, Mexico City's metropolitan area faces enormous water security challenges. Its supply heavily relies on an overdraft of groundwater, as well as imports from neighboring basins, leading to problems like subsidence and raising concern over sustainability. The impacts of this water stress in Mexico City are highly unequal across the metropolitan area and specifically severe in low-income peri-urban neighborhoods.
The lack of reliable access to clean water creates many negative consequences for low-income communities. Suboptimal water quality is the key reason for detrimental health consequences and poses a higher risk of waterborne diseases. To carry water from outside dwellings is a very time-consuming and exhaustive task for several families. Low-income households in Mexico City generally rely on bottled water and water trucks for a significant part of their domestic water consumption.
However, water truck delivery is more expensive than regular water service from the public distribution network. While water price set by the public water system is highly subsidized, bottled water and private water truck services are priced based on the supply-demand relationship. Overall, owing to the higher prices of the water truck, the demand for bottled water increased significantly.
According to Autonomous Metropolitan University Iztapalapa Unit, 80% of Mexicans are regular consumers due to a lack of confidence in public water service. Eight out of every 10 Mexicans and nine out of every 10 Mexico City residents regularly consume bottled water, making the country the world's top per-capita consumer of the product.
Coca-Cola is the most popular soft drink company in the country. Although Coca-Cola is popular across Latin America, it is particularly popular in Mexico. Drinking Coke "is a ritual, like drinking red wine for the French" is a common refrain in Mexico. Despite the lockdown due to the pandemic, Coca-Cola's sales fell by only 5% in the second quarter of 2020 in Mexico. This relatively modest decrease was caused by the slumping business at restaurants and street food stalls, where Coke is the ubiquitous (and invariably cheapest) beverage of choice.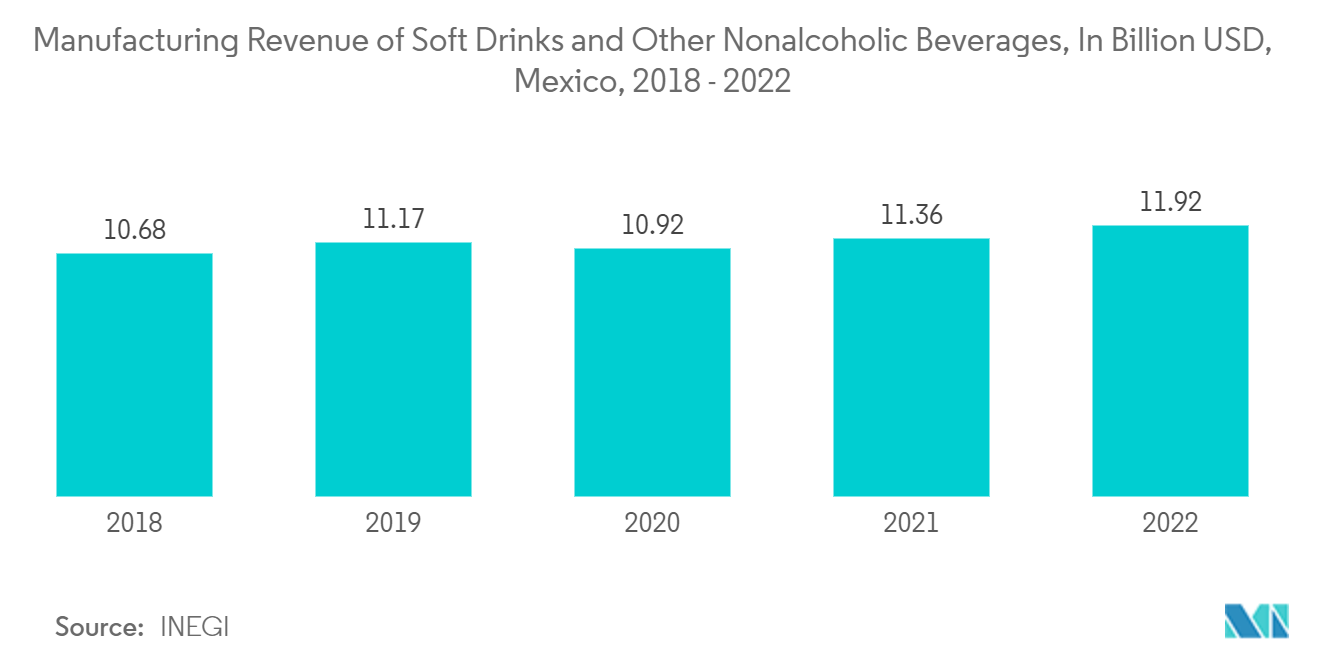 To understand key trends, Download Sample Report
Industrial Sector Expected to Rebound Steadily Over the Next Few Years
As the global demand for technology products has increased, so has Mexican manufacturing of higher value-added products. Mexico's export of electronics, aerospace products, and medical devices have tripled in recent past years. While vehicle production remains a focused part of the Mexican manufacturing sector, the country's production of products is evolving in terms of sophistication and scope. This has created a number of favorable opportunities for foreign investors.
The industrial sector is expected to rebound again after the covid pandemic; according to the Ministry of Economic Affairs, the foreign direct investment (FDI) in the manufacturing sector in Mexico amounted to approximately USD 7.48 billion in the first half of 2021. According to trading economics, Mexico's industrial production rose by 2.7% year-on-year in April of 2022, unchanged from the previous month but beating market expectations of a 1.8% gain. Gains were driven by manufacturing (4.5%), utilities (3.2% ), construction (2.1%), and mining (0.1%).
Major economic firms confirm that Mexico is well-positioned for continued growth in the coming years. Today Mexico is the 15th largest economy in the world in nominal terms and the 11th largest when measured by purchasing power parity. It has been projected that by 2050 Mexico will be the fifth largest economy in the world for the value of its Gross Domestic Product (GDP). It will take this position behind China, the United States, India, and Brazil.
The industrial packaging market is highly dependent on global import and export activities. While products, such as plastic drums, have huge demand from heavy manufacturing industries, other products, such as plastic IBCs (Intermediate Bulk Containers), have huge applications in logistics and short-distance transportation of goods.​ The rigid plastic IBCs are used in various industries, such as the food and beverage industry, pharmaceutical industry, chemical industry, paints, inks, and lubricant industry. The Rigid Intermediate Bulk Container Association (RIBCA) fosters the interests of persons, firms, and corporations engaged in the business of manufacturing or assembling rigid intermediate bulk containers.​​
Mexico's trade accounts for 35% of Latin America's total trade. This is largely due to the fact that it has entered into 12 free trade agreements that cover its commercial affairs with 45 nations. The most significant trade treaties that Mexico has signed have been the NAFTA, the US-Mexico-Canada Free Trade Agreement, the Mexico-EU Free Trade Agreement, and the Trans-Pacific Partnership. The increased trade among nations points toward a major supply distribution trend, and this might lead to demand for plastic IBC, pallets, and crates during transportation.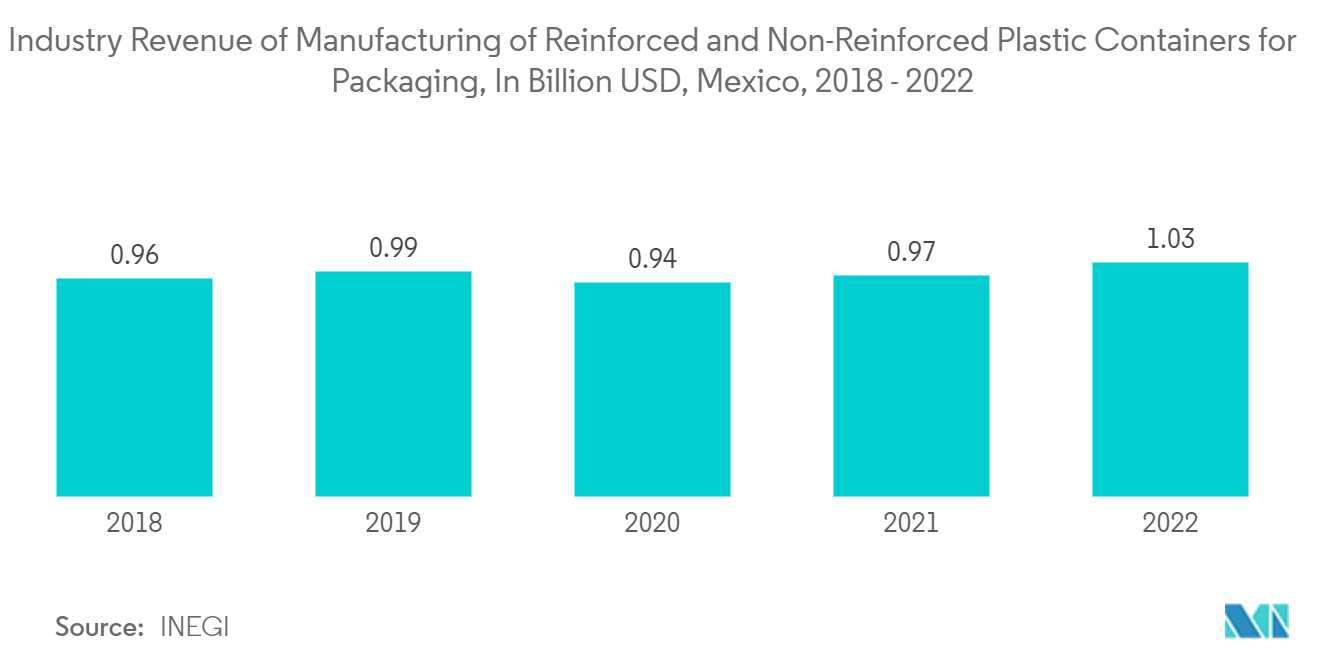 Competitive Landscape
The Mexico Rigid Plastic Packaging Market is fragmented, with players such as Amcor Rigid Packaging Mexico, Grupo Phoenix, and Aptar Group Inc. operating in the market. The Rigid plastic packaging market comprises several global and regional players competing for attention in a contested market.
April 2022 - Aptar announced its progress in testing and converting prototype material from the PureCycle Feedstock Evaluation Unit into multiple colors of hinged closures with performances similar to conventional resin for food, beverage, and cosmetic applications.
September 2021 - Grupo Phoenix, one of the prominent players in rigid packaging solutions, was fully acquired by Tekni-Plex, increasing the company's ability to expand its customer-driven, market-focused innovations, particularly in the food and beverage industry. Both companies have operating facilities in Mexico.
Recent Development
June 2022 - Aptar developed new mono-material solutions or modified existing ones with more recycled resins for sustainable product development, expanded its resin portfolio with new PCR Plus resin specifically designed for the cosmetic industry, and continued a three-year partnership with PureCycle to accelerate the use of Ultra-Pure Recycled Polypropylene (UPR) into dispensing solutions.
March 2022 - Berry Global Group has partnered with Koa to launch body cleanser and body moisturizer bottles made from 100% recycled plastic. As a prominent player in sustainability, Berry places a firm focus on creating a positive environmental impact through streamlined operations, continuously engaged partners, and optimized products, a vision shared by Koa. Koa chose Berry as their supplier for this project due to the shared vision for sustainability in packaging.
Table of Contents
1. INTRODUCTION

1.1 Study Assumption and Market Definition

1.2 Scope of the Study

2. RESEARCH METHODOLOGY

3. EXECUTIVE SUMMARY

4. MARKET INSIGHTS

4.1 Market Overview

4.2 Porter's Five Forces Analysis

4.2.1 Bargaining Power of Suppliers

4.2.2 Bargaining Power of Buyers

4.2.3 Threat of New Entrants

4.2.4 Threat of Substitutes

4.2.5 Intensity of Competitive Rivalry

5. MARKET DYNAMICS

5.1 Market Drivers

5.1.1 Bottled Water and Carbonates-based Products

5.1.2 Industrial Sector Expected to Rebound Steadily Over the Next Few Years

5.2 Market Challenges

5.2.1 Environmental and Cost Challenges

5.3 Assessment of COVID-19 Impact on the Rigid Plastic Packaging Market in Mexico

6. MARKET SEGMENTATION

6.1 By Material Type

6.1.1 PE (Polyethylene) - HDPE and LDPE

6.1.2 PP (Polypropylene)

6.1.3 PET (Polyethylene Terephthalate)

6.1.4 PVC (Polyvinyl Chloride )

6.1.5 PS and EPS (Polystyrene and Expanded Polystyrene)

6.1.6 Other Rigid Plastic Materials

6.2 By Product Type

6.2.1 Bottles and Jars

6.2.2 Trays and Containers

6.2.3 Bulk Grade Products

6.2.3.1 Intermediate Bulk Container (IBC)

6.2.3.2 Crates and Pallets

6.2.4 Other Product Types

6.3 By End-user Type

6.3.1 Food

6.3.2 Beverages

6.3.3 Industrial and Construction

6.3.4 Automotive

6.3.5 Other End-user Types

7. COMPETITIVE LANDSCAPE

7.1 Company Profiles

7.1.1 Amcor Rigid Packaging Mexico

7.1.2 Grupo Phoenix

7.1.3 Aptar Group Inc.

7.1.4 Greif Inc.

7.1.5 ALPLA Mexico SA de CV (ALPLA Group)

7.1.6 Berry Global Inc.

7.1.7 Winpak Ltd

7.1.8 Sonoco Mexico Products Company

7.1.9 COEXPAN SA (Coexpan México, SA de CV)

7.1.10 Monoflo International

*List Not Exhaustive

8. INVESTMENT ANALYSIS

9. FUTURE OUTLOOK OF THE MARKET
You can also purchase parts of this report. Do you want to check out a section wise price list?
Frequently Asked Questions
What is the study period of this market?
The Mexico Rigid Plastic Packaging Market market is studied from 2020 - 2027.
What is the growth rate of Mexico Rigid Plastic Packaging Market ?
The Mexico Rigid Plastic Packaging Market is growing at a CAGR of 2.96% over the next 5 years.
Who are the key players in Mexico Rigid Plastic Packaging Market ?
Amcor Rigid Packaging Mexico, Grupo phoenix, Aptar Group Inc, GREIF Inc., ALPLA Mexico S.A. de C.V. (ALPLA GROUP) are the major companies operating in Mexico Rigid Plastic Packaging Market .
80%

of our clients seek made-to-order reports. How do you want us to tailor yours?