The hypochlorite bleaches market is estimated to register a moderate CAGR, in terms of revenue and volume, during the forecast period, 2018-2023. North America is likely to continue to account for the major share of the market with a sustained growth in dental care and wastewater treatment applications. Sodium hypochlorite is expected to lead the market in product type segment.
Increasing Demand to Treat Polluted Water from Industries
The growing applications of industrial water, and more efficient water recycling and process technologies is driving the market for hypochlorite bleaches. Industrial water is the fastest growing sector of the global water market. The market for industrial water is predicted to grow by 50% in the next five years. Besides, the increasing enactment of stringent regulations by governments is mandating to treat the water released from industries. The growth in the industrial water sector is expected to continue during the forecast period, which is to maintain the growth pace of hypochlorite consumption.
Sodium Hypochlorite to Dominate the Market
Among sodium, calcium, potassium, and lithium hypochlorite, sodium hypochlorite is expected to dominate the market followed by calcium chlorite, in terms of consumption. Sodium hypochlorite is used on a large scale in several industries including agriculture, pharmaceutical, waste disposal industries, etc. In water treatment industry, it is used to disinfect the water, as it is relatively cheap and can disinfect small to large amounts of water, thereby, making it a preferred choice.
Asia Pacific to Lead among Other Regions
Geography wise, Asia Pacific is expected to dominate the consumption of hypochlorite bleaches due to the presence of countries with large population along with limited availability of potable water, including China and India. The increasing application of hypochlorite bleaches in wastewater treatment; household products, dental care, and chemical industry are to support the growth of hypochlorite bleaches in the region. Growing awareness among the general public and the protests against the harmful effects of industrial and municipal wastewater contaminated with human wastes, on the environment has led to strict regulations governing the release of treated wastewater in the region. Consequently, propelling the usage of hypochlorite bleaches in the region.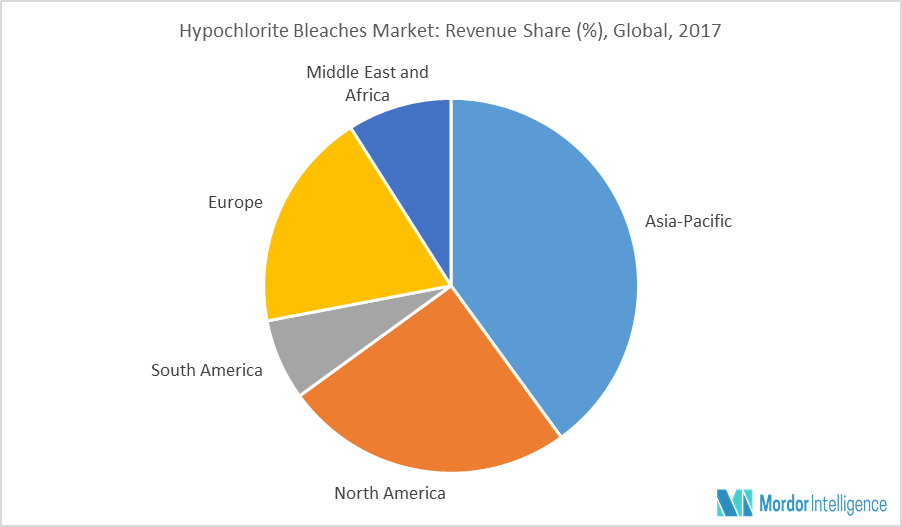 Notable Developments in the Market
March 2018: The City of Anacortes Water Treatment Plant will switch from disinfecting water with chlorine gas to using sodium hypochlorite following tighter state safety regulations on the use of gaseous chlorine
Major Players: Tianjin Yufeng Chemical Co.,Ltd, Olin Corporation, Sigma Aldrich, INEOS, shijiazhuang xinlongwei chemical co. ltd, amongst others.
Reasons to Purchase this Report
To understand the impact of increasing stringent regulations on the market
Analyzing various perspectives of the market with the help of Porter's five forces analysis
To understand the dominating end-user industry in the market
Countries expected to witness the fastest growth during the forecast period
Identify the latest developments, market shares, and strategies employed by the major market players
3-month analyst support, along with the Market Estimate sheet in excel
Customization of the Report
This report can be customized to meet your requirements. Please connect with our representative, who will ensure you to get a report that suits your needs
1. Introduction
1.1 Research Phases
1.2 Study Deliverables
2. Executive Summary
3. Market Insights
3.1 Industry Value Chain Analysis
3.2 Industry Attractiveness – Porter's Five Forces Analysis
3.2.1 Bargaining Power of Suppliers
3.2.2 Bargaining Power of Consumers
3.2.3 Threat of New Entrants
3.2.4 Threat of Substitute Products and Services
3.2.5 Degree of Competition
3.3 Trade Analysis
3.4 Technological Snapshot
3.5 Regulatory Policy Analysis
4. Market Dynamics
4.1 Drivers
4.1.1 Increasing Demand to Treat Polluted Water from Industries
4.1.2 Growing Concerns over the Spread of Pathogens
4.1.3 Increasing Demand from the Aquaculture Industry
4.2 Restraints
4.2.1 Preference to Hydrogen Peroxide Bleaching
4.2.2 Highly Polluting and Corrosive Properties of Hypochlorites
4.3 Opportunities
4.3.1 Development of Microbiologically Safe Mung Bean Sprouts, Using Sodium Hypochlorite
4.3.2 Sodium Hypochlorite Crystals as an Excellent Oxidant for Primary and Secondary Alcohols
5. Market Segmentation and Analysis (Market Size, Growth, and Forecast)
5.1 By Product
5.1.1 Sodium Hypochlorite
5.1.2 Calcium Hypochlorite
5.1.3 Lithium Hypochlorite
5.1.4 Potassium Hypochlorite
5.1.5 Others
5.2 By End-user Industry
5.2.1 Pulp & Paper
5.2.2 Disinfectants
5.2.3 Textiles
5.2.4 Laundry Bleach
5.2.5 Aquaculture
5.2.6 Others
6. Regional Market Analysis (Market Size, Growth, and Forecast)
6.1 Asia-Pacific
6.1.1 China
6.1.2 India
6.1.3 Japan
6.1.4 South Korea
6.1.5 ASEAN Countries
6.1.6 Rest of Asia-Pacific
6.2 North America
6.2.1 United States
6.2.2 Canada
6.2.3 Mexico
6.2.4 Rest of North America
6.3 Europe
6.3.1 Germany
6.3.2 United Kingdom
6.3.3 Italy
6.3.4 France
6.3.5 Rest of Europe
6.4 South America
6.4.1 Brazil
6.4.2 Argentina
6.4.3 Rest of South America
6.5 Middle East & Africa
6.5.1 Saudi Arabia
6.5.2 South Africa
6.5.3 Rest of Middle East & Africa
7. Future of the Market
8. Competitive Landscape
8.1 Mergers & Acquisitions, Joint Ventures, Collaborations, and Agreements
8.2 Market Share Analysis**
8.3 Strategies Adopted by Leading Players
9. Company Profiles (Overview, Products & Services, Financials**, Recent Developments, and Analyst View)
9.1 INEOS
9.2 Odyssey Manufacturing co.
9.3 Aditya Birla Chemicals
9.4 Coventya
9.5 Sigma Aldrich
9.6 Olin Corporation
9.7 Ecoviz Kft
9.8 The Occidental Petroleum Corporation
9.9 JSC AVANGARD
9.10 Electrolytic Technologies
9.11 Ecoviz Kft
9.12 Lion Apparel, Inc.
9.13 SAI CHEM CORPORATION
9.14 Shijiazhuang Xinlongwei Chemical Co., Ltd.
9.15 Shouguang Tianwei Chemical Co., Ltd.
9.16 Tianjin Yufeng Chemical Co.,Ltd.
9.17 Union Overseas Enterprise Ltd.
9.18 United Chloro Paraffin Pvt. Ltd.
*List Not Exhaustive
10. Disclaimer
**Subject to Feasibility & Availability on Public Domain