Market Snapshot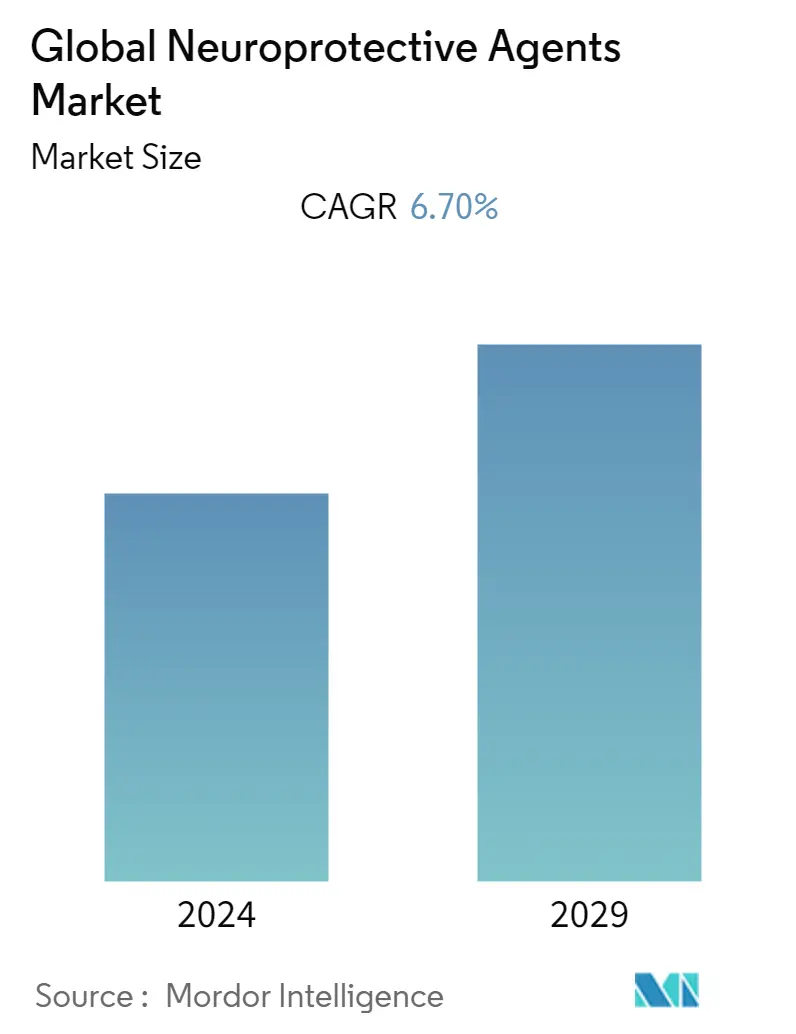 Study Period:
2019-2027
Base Year:
2021
Fastest Growing Market:
Asia-Pacific
Largest Market:
North America
CAGR:
6.7 %
Need a report that reflects how COVID-19 has impacted this market and its growth?
Market Overview
The Neuroprotective Agents Market is projected to register a CAGR of 6.70% during the forecast period (2022-2027).
The COVID-19 epidemic has had a significant impact on the market. Many COVID-19 patients have shown neurological symptoms and indicators since the outbreak of the COVID-19 pandemic in 2020. Despite the terrifying related fatality rate, there was no known effective established treatment against the extremely contagious COVID-19 infection in the initial days. Neurological consequences of COVID-19 include anosmia, acute cerebrovascular disease, acute disseminated post-infectious encephalomyelitis, and encephalitis, among others. SARS-CoV-2 may also be a neurotropic virus due to its immunity to cerebral fever. Multiple nеurоlоgсаl dаmаgе shown by COVID-19 patients could be attributed to hyperinflammation caused by SARS-CoV-2 infections. Natural phytochemicals such as kolaviron, resveratrol, vernodalin, vernodalol, and apigenin have been shown to have anti-inflammatory and therapeutic capabilities, which may help to mitigate the negative effects of COVID-19. Thus, COVID-19 increased the chances of neurological damage, which is expected to drive the market growth.
The factors expected to drive the market growth include the increasing prevalence of neurological diseases. Worldwide, neurological illnesses are a leading cause of disability and mortality. The 'big three' neurodegenerative disorders, Alzheimer's disease, Parkinson's disease, and amyotrophic lateral sclerosis, cause significant morbidity and mortality in the aged population across the globe. Neuroprotective medicines are those that help to maintain the structure and function of neurons. Neuroprotective medications have the potential to reduce the 6 million deaths caused by stroke each year. According to the World Health Organization's Global Burden of Disease report, around 50 million people worldwide suffer from epilepsy every year.
Also, according to the NHS England, in 2021, around 1 in 12,500 people in England will have a ruptured brain aneurysm every year. Furthermore, around 3.0% of adults in the United Kingdom have a cerebral aneurysm. Also, according to the Brain Aneurysm Foundation, an estimated 6 million Americans are affected by cerebral aneurysms each year. Every year, the disease kills half a million people globally. Approximately 40.0% of ruptures result in death, and approximately 66.0% of those who survive have some permanent brain damage. Thus, the vast and rapidly growing patient population base for target diseases across the key markets is primarily responsible for the significant volume consumption of neuroprotective agents, leading to market growth.
Secondary biochemical alterations in the brain are caused by traumatic brain injuries and stroke. This causes tissue damage as well as neuronal cell death. Neuroprotective medications help patients avoid subsequent tissue loss and improve their behavioral outcomes. Several clinical trials are looking into this outcome. In the United States, trauma is the biggest cause of mortality and disability. Trauma kills an estimated 79,000 children and adults under the age of 45 per year, compared to 49,000 non-communicable disease deaths and 15,000 infectious illness fatalities. Trauma is the leading cause of potential years of life lost in those under the age of 65 in the United States.
The rising frequency of neurological illnesses has prompted several academics and manufacturers to ramp up their research and development efforts in order to create neurological disorder medications for therapy. Various companies from around the world have submitted applications for the most promising neurological illness medications, which are currently in various stages of regulatory approval. Various producers, on the other hand, have previously released medications for neurological disorders. Improving neurological disorder medication research and development efforts are expected to meet the demand for neurological disorder drugs while also increasing the supply of neurological disorder drugs at the most competitive pricing. As a result, the market is being driven by increased research and development for neurological illness medications.
Governments all around the world are focusing more on healthcare infrastructure and taking the required steps to build or change it, as well as advance therapeutic delivery. Over the last few years, the healthcare infrastructure in developing countries has been through major changes by government and regulatory bodies, all of which are aimed at improving healthcare delivery and incorporating all segments of the population. Increased focus on healthcare infrastructure is predicted to boost public investment, reliability, and the pace of diagnosis and treatment, resulting in new prospects for neurological disorders and driving the market.
Scope of the Report
As per the scope of this report, neuroprotective agents are the drugs that help to protect brain neurons from degeneration and injury. These medications are used to treat a variety of central nervous system disorders, including Parkinson's disease, Alzheimer's disease, and traumatic brain injuries. The frequency of neurodegenerative illnesses rises dramatically with age. As a result, the demand for neuroprotective is expected to grow in the future as average life lengths rise, creating a substantial market for innovative medications to treat these disorders.
The Neuroprotective Agents Market is segmented by Drug Class (Anesthetics, Antagonists, Antidepressants, Cytokines, Others), By Application (Alzheimer's disease, Dementia, Epilepsy, Multiple sclerosis), By Route of Administration (Oral, Topical, Epidural, Intravenous) By Distribution Channel (Hospital Pharmacies, Retail Pharmacies, Drug Stores, Online Pharmacies) and Geography (North America, Europe, Asia-Pacific, Middle East & Africa, and South America). The market report also covers the estimated market sizes and trends for 17 different countries across major regions globally. The report offers the value (in USD million) for the above segments.
By Drug Class
Anesthetics
Antagonists
Antidepressants
Cytokines
Others
By Application
Alzheimer's disease
Dementia
Epilepsy
Multiple sclerosis
Others
By Route of Administration
Oral
Topical
Epidural
Intravenous
By Distribution Cahnnel
Hospital Pharmacies
Retail Pharmacies
Drug Stores
Online Pharmacies
Geography

North America
United States
Canada
Mexico

Europe
Germany
United Kingdom
France
Italy
Spain
Rest of Europe

Asia-Pacific
China
Japan
India
Australia
South Korea
Rest of Asia-Pacific

Middle-East and Africa
GCC
South Africa
Rest of Middle-East and Africa

South America
Brazil
Argentina
Rest of South America
Key Market Trends
The Alzheimer's disease Segment is Expected to Hold a Major Market Share in the Neuroprotective Agents Market
According to the Alzheimer's Association, an estimated 5.2 million Americans have Alzheimer's disease, which is the 6th biggest cause of mortality in the United States, killing over 500,000 people each year. As a result, there is a large market for Alzheimer's treatment, which would encourage the development of neuroprotective medications. Depression, memory loss, loss of inhibitions, and issues with thinking and reasoning are all classic Alzheimer's symptoms. Physical checks, blood tests, brain imaging, mental status and neuropsychological testing are commonly used to diagnose it. Alzheimer's disease is becoming more common as the global population ages, which increases the disease's incidence and provides opportunities for growth in the Alzheimer's treatment market.
According to the United Nations' World Population Prospects (WPP), the number of people living with Alzheimer's disease is expected to reach 1.4 billion by 2030, with an annual growth rate of 3%. However, medications for Alzheimer's therapy are in development and are projected to launch in the near future, boosting the market growth. The growth of Alzheimer's disease treatment and the market is attributed to a rise in demand for targeted therapies, an increase in research and development activities for the development of novel drugs and therapies, an increase in cases of Alzheimer's disease among the population, and an increase in expenditure for the development of healthcare infrastructure.
Other factors driving market growth include rising expenditure on healthcare infrastructure development, rising public awareness about the disease in developing regions, increased government initiatives to promote awareness in backward areas, and an increase in the strategic collaboration rate among market players.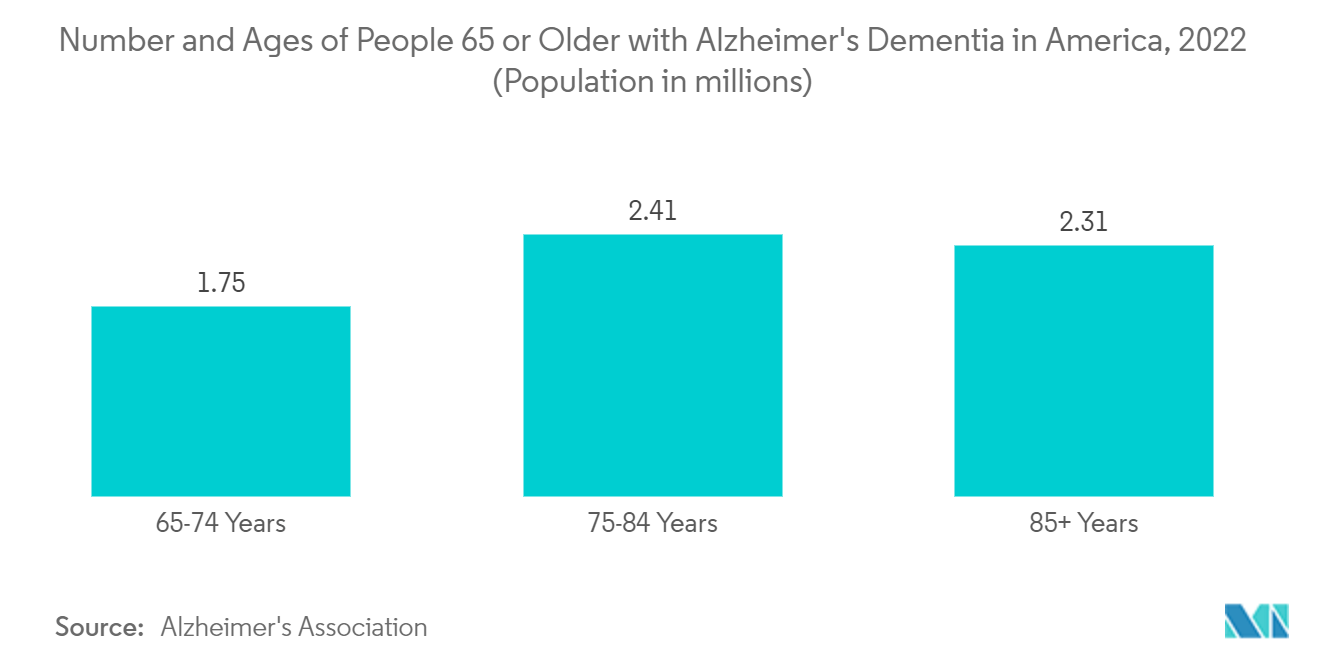 To understand key trends, Download Sample Report
North America is Expected to Hold a Significant Share in the Market and Expected to do Same in the Forecast Period
North America is expected to hold a major market share in the global Neuroprotective Agents Market. Each year, 60,000 Americans are diagnosed with Parkinson's disease, according to the Parkinson's Disease Foundation. Also, The Alzheimer's Disease Fact and Figures Report estimated that 5.8 million Americans are living with dementia, among which 5.6 million are aged 65 years and above in 2019. The same source also reports that the total costs for Alzheimer's were USD 290 billion, which includes Medicare (51%), Medicaid (17%), Out of Pocket (22%), and other costs (11%). As a result, North America is the primary market for these drugs. According to the Alzheimer's Association, the number of geriatricians in the United States will have to roughly triple by 2050 to adequately care for the predicted number of persons with Alzheimer's disease. Therefore, an increasing patient population is expected to contribute to the growth of the studied market in the region.
Government funding and support for research activities are increasing due to the rising burden of the disease. The US congress invested about USD 10 million in multiple sclerosis research and may increase the funding by USD 20 million. CDC established a National Neurological Conditions Surveillance System (NNCSS) for tracking the disease. In 2019, Canada released its first national strategy for tackling dementia. The Canadian Institutes of Health Research spent around USD 200 million for research activities on dementia, and it is providing an additional USD 31.6 million over five years, which is likely to bring together individuals for advanced research opportunities. The rising burden of the disease and healthcare infrastructure and supportive government initiatives make North America a very attractive opportunity for industries.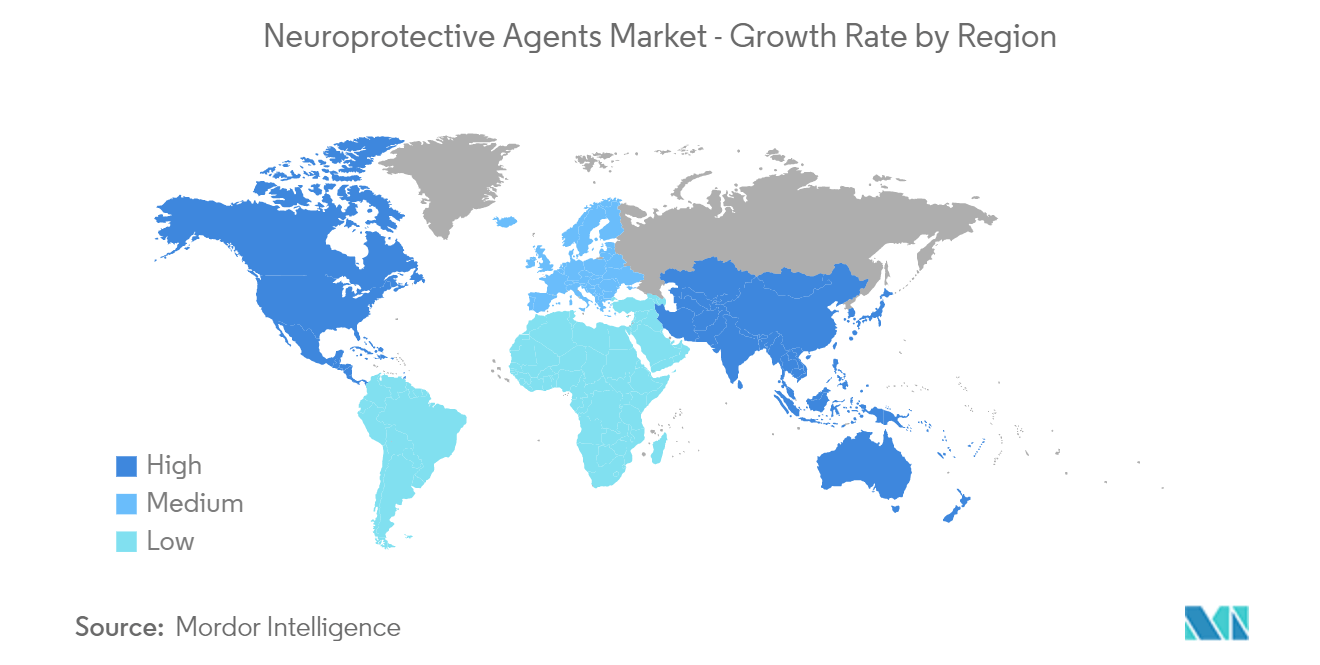 To understand geography trends, Download Sample Report
Competitive Landscape
The Neuroprotective Agents Market is fragmented, competitive, and consists of several major players. In terms of market share, a few of the major players are currently dominating the market. Some of the companies which are currently dominating the market are Merck KGaA, Novartis Pharmaceuticals Corporation, Teva Pharmaceutical Industries Ltd., Genervon Biopharmaceuticals, LLC., Neuren Pharmaceuticals, Pfizer Inc, GlaxoSmithKline plc, Sunovion Pharmaceuticals Inc, Bioniz Theraputics, Sun Pharmaceutical Industries Ltd., and Hikma Pharmaceuticals PLC.
Recent Development
In November 2021, Merck KGaA invested in Synthekine, a cytokine bioresearch company, to expand the company's reach in the treatment of autoimmune diseases.
In November 2020, Novartis Pharmaceuticals Corporation gave an update on CAN-COVID trial conducted in hospitalized patients infected with COVID-19 pneumonia and cytokine release syndrome.
Table of Contents
1. INTRODUCTION

1.1 Study Assumptions & Market Defination

1.2 Scope of the Study

2. RESEARCH METHODOLOGY

3. EXECUTIVE SUMMARY

4. MARKET DYNAMICS

4.1 Market Overview

4.2 Market Drivers

4.2.1 Increase in Incidence and Prevalence of Neurodegenerative Diseases

4.2.2 Increase in Stroke and Traumatic Central Nervous System Injuries

4.2.3 Rising Awareness for Neuroprotective Agents

4.3 Market Restraints

4.3.1 Failure of Clinical Trails in Neuroprotective Productline.

4.3.2 Strigent Regulatory Approvals

4.4 Porter's Five Forces Analysis

4.4.1 Threat of New Entrants

4.4.2 Bargaining Power of Buyers/Consumers

4.4.3 Bargaining Power of Suppliers

4.4.4 Threat of Substitute Products

4.4.5 Intensity of Competitive Rivalry

5. MARKET SEGMENTATION

5.1 By Drug Class

5.1.1 Anesthetics

5.1.2 Antagonists

5.1.3 Antidepressants

5.1.4 Cytokines

5.1.5 Others

5.2 By Application

5.2.1 Alzheimer's disease

5.2.2 Dementia

5.2.3 Epilepsy

5.2.4 Multiple sclerosis

5.2.5 Others

5.3 By Route of Administration

5.3.1 Oral

5.3.2 Topical

5.3.3 Epidural

5.3.4 Intravenous

5.4 By Distribution Cahnnel

5.4.1 Hospital Pharmacies

5.4.2 Retail Pharmacies

5.4.3 Drug Stores

5.4.4 Online Pharmacies

5.5 Geography

5.5.1 North America

5.5.1.1 United States

5.5.1.2 Canada

5.5.1.3 Mexico

5.5.2 Europe

5.5.2.1 Germany

5.5.2.2 United Kingdom

5.5.2.3 France

5.5.2.4 Italy

5.5.2.5 Spain

5.5.2.6 Rest of Europe

5.5.3 Asia-Pacific

5.5.3.1 China

5.5.3.2 Japan

5.5.3.3 India

5.5.3.4 Australia

5.5.3.5 South Korea

5.5.3.6 Rest of Asia-Pacific

5.5.4 Middle-East and Africa

5.5.4.1 GCC

5.5.4.2 South Africa

5.5.4.3 Rest of Middle-East and Africa

5.5.5 South America

5.5.5.1 Brazil

5.5.5.2 Argentina

5.5.5.3 Rest of South America

6. COMPETITIVE LANDSCAPE

6.1 Company Profiles

6.1.1 Merck KGaA,

6.1.2 Novartis Pharmaceuticals Corporation

6.1.3 Teva Pharmaceutical Industries Ltd.

6.1.4 Genervon Biopharmaceuticals, LLC.

6.1.5 Neuren Pharmaceuticals

6.1.6 Pfizer Inc

6.1.7 GlaxoSmithKline plc.

6.1.8 Sunovion Pharmaceuticals Inc.

6.1.9 Bioniz Theraputics.

6.1.10 Sun Pharmaceutical Industries Ltd.

6.1.11 Hikma Pharmaceuticals PLC

*List Not Exhaustive

7. MARKET OPPORTUNITIES AND FUTURE TRENDS
**Competitive Landscape covers- Business Overview, Financials, Products and Strategies and Recent Developments
You can also purchase parts of this report. Do you want to check out a section wise price list?
Frequently Asked Questions
What is the study period of this market?
The Global Neuroprotective Agents Market market is studied from 2019 - 2027.
What is the growth rate of Global Neuroprotective Agents Market?
The Global Neuroprotective Agents Market is growing at a CAGR of 6.7% over the next 5 years.
Which region has highest growth rate in Global Neuroprotective Agents Market?
Asia-Pacific is growing at the highest CAGR over 2021- 2026.
Which region has largest share in Global Neuroprotective Agents Market?
North America holds highest share in 2021.
Who are the key players in Global Neuroprotective Agents Market?
Merck KGaA , Novartis Pharmaceuticals Corporation , Teva Pharmaceutical Industries Ltd. , Pfizer Inc , GlaxoSmithKline plc. are the major companies operating in Global Neuroprotective Agents Market.
80%

of our clients seek made-to-order reports. How do you want us to tailor yours?