The global body temperature monitoring market is expected to register a CAGR of 7% during the forecast period of 2018–2023. Body temperature monitoring devices are used to detect any changes in the body temperature.
Preference of Digital Thermometer over Mercury-based Thermometers
Mercury thermometers were a prominent device for measuring temperature. However, recent times have seen the rapid development of non-mercury-based thermometers to record body temperature. Major among them is the digital thermometer that has gained popularity worldwide. It is witnessing widespread adoption because of regulation imposed on mercury thermometers.
Digital thermometers measure temperature by monitoring changes in the electrical properties like voltage and resistance inside the device. The temperature measured is inversely proportional to the resistance. They help in giving accurate, faster result as compared to mercury thermometers and are safe, as mercury is a neurotoxic metal that can adversely affect the human body. Digital thermometers are economically cheaper than the other forms of non-mercury thermometers. As a result, they are widely preferred by physicians, healthcare providers, and patients. The market is thus set to grow for digital thermometers. The other factors, such as the rise of infectious conditions, like swine flu, Ebola, and others are increasing the demand for non-contact thermometers. The increasing pediatric population is also driving the growth of thermometers and the increasing demand for disposable thermometers are the major drivers for the market.
Issues Related to Rectal Thermometers
Rectal temperature gives the closest estimate of the core temperature of a patient. Even though rectal thermometers are accurate, they do have several shortcomings. Their readings vary depending on the depth of insertion and presence of feces and other bacteria in the rectum. The procedure might cause great discomfort. In addition, there is a risk of contagious diseases spreading. There have been cases of rectal perforation in infants, while the elder generation is not very comfortable with the procedure. With other easier options for temperature measurement, like non-contact-based thermometers and infrared-based thermometers present in the market, the use of rectal thermometers is not much in practice. Hence, issues related to rectal thermometers are a major constraint for the body temperature monitoring market. The other factors such as concerns about the use of infrared thermometers among caregivers are the major restraints of the market.
United States Leads the Market in the North America
In 2017, the United States body temperature monitoring market held the largest market share in North America due to the high adoption rate to new technologies.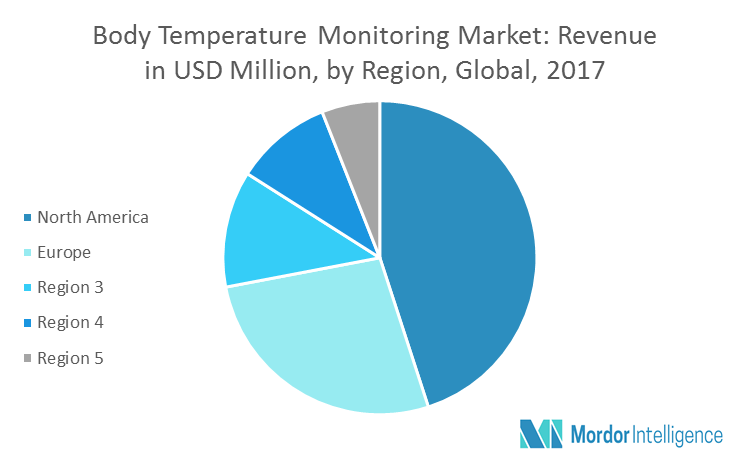 Key Developments in the Market
March 2018: Medtronic signed a partnership agreement with Lehigh Valley Health Network mainly to deliver value-based healthcare programs.
The major players include 3M Company, A&D Medical, Actherm, Inc., American Diagnostic Corporation, Briggs Healthcare, Hicks Thermometers Limited, Kaz USA, Inc., Medtronic PLC, Sanomedics International Holdings, Inc., and Welch Allyn, Inc., among others.
Reasons to Purchase the Report
Follow the current and future body temperature monitoring market in the developed and emerging markets
Analyzing various perspectives of the market with the help of Porter's five forces analysis
The segment that is expected to dominate the market
Regions that are expected to witness fastest growth during the forecast period
Identify the latest developments, market shares and strategies employed by the major market players.
3 months analyst support along with the Market Estimate sheet (in excel).
Customization of the Report
This report can be customized to meet your requirements. Please connect with our representative, who will ensure you to get a report that suits your needs.
1. Introduction
1.1 Market Definition
2. Research Methodology
3. Executive Summary
4. Key Inferences
5. Market Overview
5.1 Current Market Scenario
5.2 Porter's Five Forces Analysis
5.2.1 Bargaining Power of Suppliers
5.2.2 Bargaining Power of Consumers
5.2.3 Threat of New Entrants
5.2.4 Threat of Substitute Products and Services
5.2.5 Competitive Rivalry within the Industry
6. Drivers, Restraints, Opportunities, and Challenges Analysis (DROC)
6.1 Drivers
6.1.1 Rise of Infectious Conditions Like Swine Flu, Ebola and Increasing the Demand for Non-contact Thermometers
6.1.2 Increasing Pediatric Population Driving the Growth of Thermometers
6.1.3 Increasing Demand of Disposable Thermometers
6.1.4 Preference of Digital Thermometer over Mercury-based Thermometers
6.2 Market Restraints
6.2.1 Concerns about the Use of Infrared Thermometers among Caregivers
6.2.2 Issues Related to Rectal Thermometers
6.3 Opportunities
6.4 Key Challenges
7. Market Segmentation
7.1 By Product
7.1.1 Contact
7.1.1.1 Digital Thermometers
7.1.1.2 Infrared Thermometers
7.1.1.3 Infrared Ear Thermometers
7.1.1.4 IR Temporal Artery Thermometer
7.1.1.5 Body Temperature Monitoring Pills
7.1.1.6 Mercury Thermometers
7.1.1.7 Disposable thermometers
7.1.1.8 Others
7.1.2 Non-contact
7.1.2.1 Non-contact Infrared Thermometers
7.1.2.2 Thermal Scanners
7.1.2.3 Others
7.2 By Application
7.2.1 Oral Cavity
7.2.2 Rectum
7.2.3 Ear
7.2.4 Others
7.3 By End User
7.3.1 Hospitals
7.3.2 Clinics
7.3.3 Homes
7.4 By Geography
7.4.1 North America
7.4.1.1 United States
7.4.1.2 Canada
7.4.1.3 Mexico
7.4.2 Europe
7.4.2.1 France
7.4.2.2 Germany
7.4.2.3 United Kingdom
7.4.2.4 Italy
7.4.2.5 Spain
7.4.2.6 Rest of Europe
7.4.3 Asia-Pacific
7.4.3.1 China
7.4.3.2 Japan
7.4.3.3 India
7.4.3.4 Australia & New Zealand
7.4.3.5 South Korea
7.4.3.6 Rest of Asia-Pacific
7.4.4 Middle East & Africa
7.4.4.1 GCC
7.4.4.2 South Africa
7.4.4.3 Rest of the Middle East & Africa
7.4.5 South America
7.4.5.1 Brazil
7.4.5.2 Argentina
7.4.5.3 Rest of South America
8. Competitive Landscape
8.1 Mergers & Acquisition Analysis
8.2 Agreements, Collaborations, and Partnerships
8.3 New Products Launches
9. Key Players
9.1 3M Company
9.2 A&D Medical
9.3 Actherm, Inc.
9.4 American Diagnostic Corporation.
9.5 Briggs Healthcare
9.6 Hicks Thermometers Limited
9.7 Kaz USA, Inc.
9.8 Medtronic PLC
9.9 Sanomedics International Holdings, Inc.
9.10 Welch Allyn, Inc.
*List not Exhaustive
10. Future of the Market
11. Disclaimer