Freight Forwarding Market Size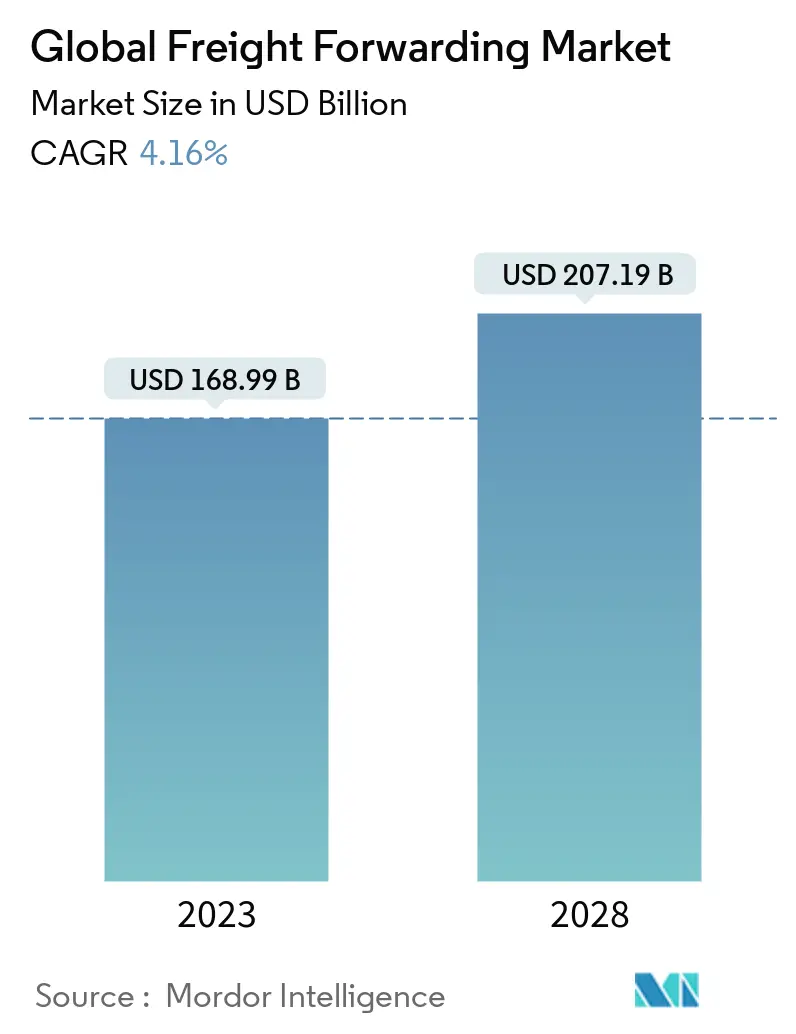 Study Period
2019 - 2028
Market Size (2023)
USD 168.99 Billion
Market Size (2028)
USD 207.19 Billion
CAGR (2023 - 2028)
4.16 %
Fastest Growing Market
Asia Pacific
Largest Market
North America

Major Players

*Disclaimer: Major Players sorted in no particular order
Need a report that reflects how COVID-19 has impacted this market and its growth?
Freight Forwarding Market Analysis
The Global Freight Forwarding Market size is expected to grow from USD 168.99 billion in 2023 to USD 207.19 billion by 2028, at a CAGR of 4.16% during the forecast period (2023-2028).
The market is driven by the huge trade volumes occurring across different regions. Furthermore, resumption of internal air freight has propelled the market growth.
The influx of black swan events in 2022 underscored the importance of flexible and resilient supply chains for the freight forwarding industry. These unanticipated events can have a massively disruptive impact on supply chains. Supply chains have been repeatedly tested in recent years, from the ongoing effects of the COVID-19 pandemic to the Suez Canal obstruction and the war in Ukraine. Staffing shortages, capacity issues, inflation, and demand peaks were also challenges for the freight market. Supply chains are facing more diverse and unpredictable challenges and issues than ever before. The year 2023 will be no different, and the need for domestic and international freight forwarders to be resilient and prepared for anything has never been greater.
Agility, flexibility, and visibility - all of which are often aided by digitalisation - are essential for weathering a storm. Freight forwarders can improve efficiency with the right technology and the ability to collect and analyse data. They are also better positioned to capitalise on opportunities that arise outside of times of disruption. With geopolitical tensions and rising inflation, 2023 is widely expected to be a year of economic slowdown. According to the International Monetary Fund (IMF), global economic growth will slow from 6.0% in 2021 to 3.2% in 2022 and 2.7% in 2023. Meanwhile, the World Trade Organization recently revised its global trade growth forecast for 2023 to 1.0%, down from 3.4% previously. This loss of momentum in many markets will have a significant impact on the customers of freight forwarders.
In addition to the resumption of freighter schedules, more airline passenger capacity is returning to the market. In 2023, international air travel is expected to return to pre-pandemic levels. While rates are still higher than pre-pandemic levels, they are still low. Rates are expected to fall in the first quarter of 2023 unless demand increases. Demand is still low, with no signs of a peak-season surge, as inventories and sales are down due to weak consumer demand. This pattern is expected to continue into early 2023. Trade restrictions involving China, the United States, Russia, Ukraine, and Europe will suffocate and disrupt global supply chains even further. Suppliers are looking for alternative sourcing locations other than China, Southeast Asia, and South Asia.
Logistics managers are informing clients that the ocean freight market is correcting itself faster than expected. The transition from a supply chain that struggled to keep up with unprecedented pandemic demand to a weak demand environment and a freight market that is now oversupplied with both ships and containers highlights the risk of a prolonged global economic downturn. To combat inflation, central banks around the world are raising interest rates. One goal of central banks, including the Federal Reserve, is to reduce demand, which is lowering supply chain prices, which were at record highs and were a significant contributor to inflation. However, monetary policy is treading water because a supply-demand rebalancing can backfire.
Freight Forwarding Market Trends
This section covers the major market trends shaping the Freight Forwarding Market according to our research experts:
Growth in cross-border and sea trade driving the market
As multiple shocks weigh on the global economy, global trade is expected to lose momentum in the second half of 2022 and remain subdued in 2023. WTO economists now forecast a 3.5% growth in global merchandise trade volumes in 2022, up from 3.0% in April 2022. However, they predict a 1.0% increase in 2023, a significant decrease from the previous estimate of 3.4%. Import demand is expected to soften as growth in major economies slows for a variety of reasons. High energy prices caused by the Russia-Ukraine conflict will reduce household spending and raise manufacturing costs in Europe. Monetary policy tightening in the United States will have an impact on interest-sensitive spending in areas such as housing, automobiles, and fixed investment.
Canada's merchandise imports increased by 3.9% in February 2022, following a 7.5% decline in January 2022. Meanwhile, exports increased by 2.8% in February 2022, owing primarily to increased exports of energy products. As a result, Canada's global merchandise trade surplus fell from USD 3.1 billion in January to USD 2.7 billion in February. Imports of basic and industrial chemicals, plastics, and rubber products increased 5.6% in February, owing in part to record-high imports of fertilisers, pesticides, and other chemical products (+18.4%). A slew of recent events has had an impact on this industry, including lower Chinese output, new Russian fertiliser export quotas, and the Ukraine conflict. These occurrences raise concerns about the availability and cost of these products, resulting in a typical movement for Canadian fertiliser imports.
For those working in the container shipping industry, 2022 was a profitable year. The end of the pandemic is expected to make the shipping scenario more stable than it has been in the previous two years. The volume of international container exports increased by around 2-3% in 2022. This is due not only to last year's backlogs but also to the maritime shipping sector's slow recovery. Furthermore, port congestion is expected to normalise in the coming months around the world. However, this is heavily dependent on the pandemic, as another COVID outbreak will worsen the situation.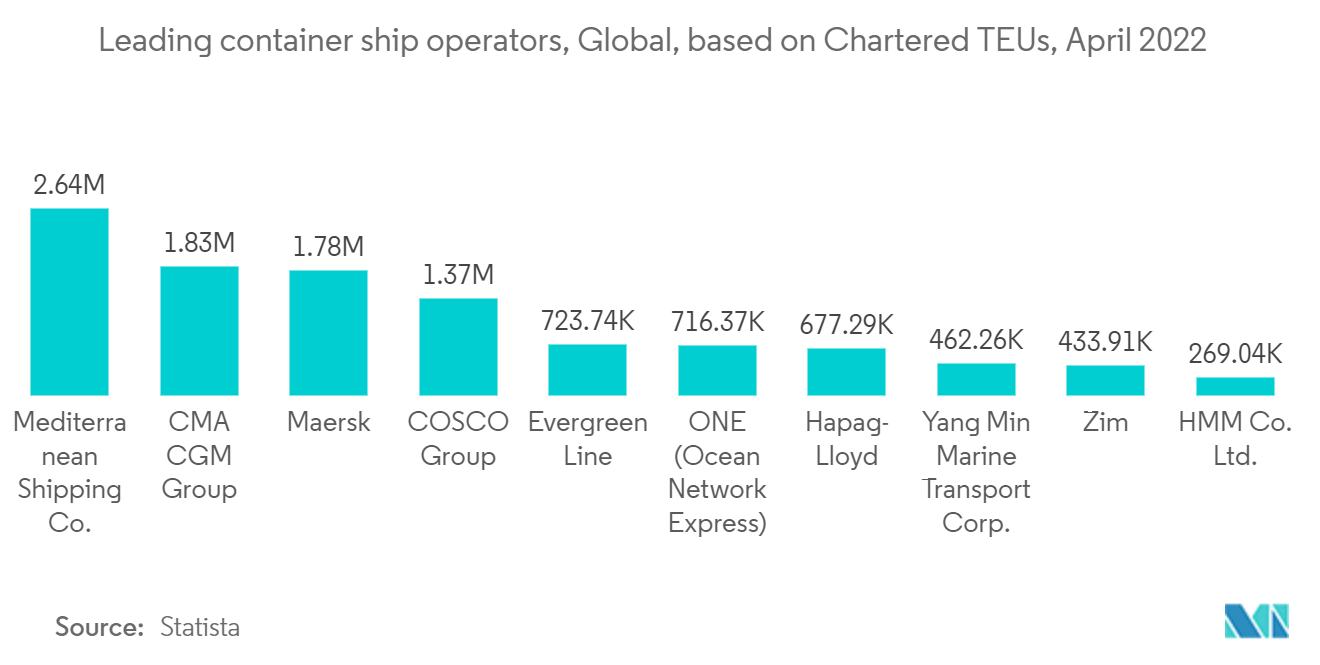 To understand key trends, Download Sample Report
Increasing air freight to reduce time propelling the market growth
The air freight industry is currently dealing with several issues, including grounded planes, route reductions, and a drop in demand. Some multinational air freight companies are reporting a drop in demand compared to the pandemic period. The peak season for e-commerce has already begun, with less than two months until the start of the holiday season. However, despite the time of year, the air freight sector is experiencing a drop in consumer demand, as opposed to the previous two years' burgeoning demand for goods. Simply put, air freight companies anticipate a subdued fourth quarter of 2022 due to several factors.
Customer needs are fueling a growing trend toward omnichannel techniques. Airlines are recognising the need to expand their operations beyond traditional airport-to-airport routes, and airlines and other stakeholders are already recognising the benefits of providing end-to-end assistance. As this trend resumes, agreements between airlines and shippers are likely to prosper. Air shipment will most likely adopt an omnichannel strategy in the future, making it easier to compete for limited cargo capacity and reasonable pricing. In addition to the opportunities for air cargo, there are additional challenges, with the significant concession feigning recruitment crises for the business on both freight and passenger positions, as it is for various sectors.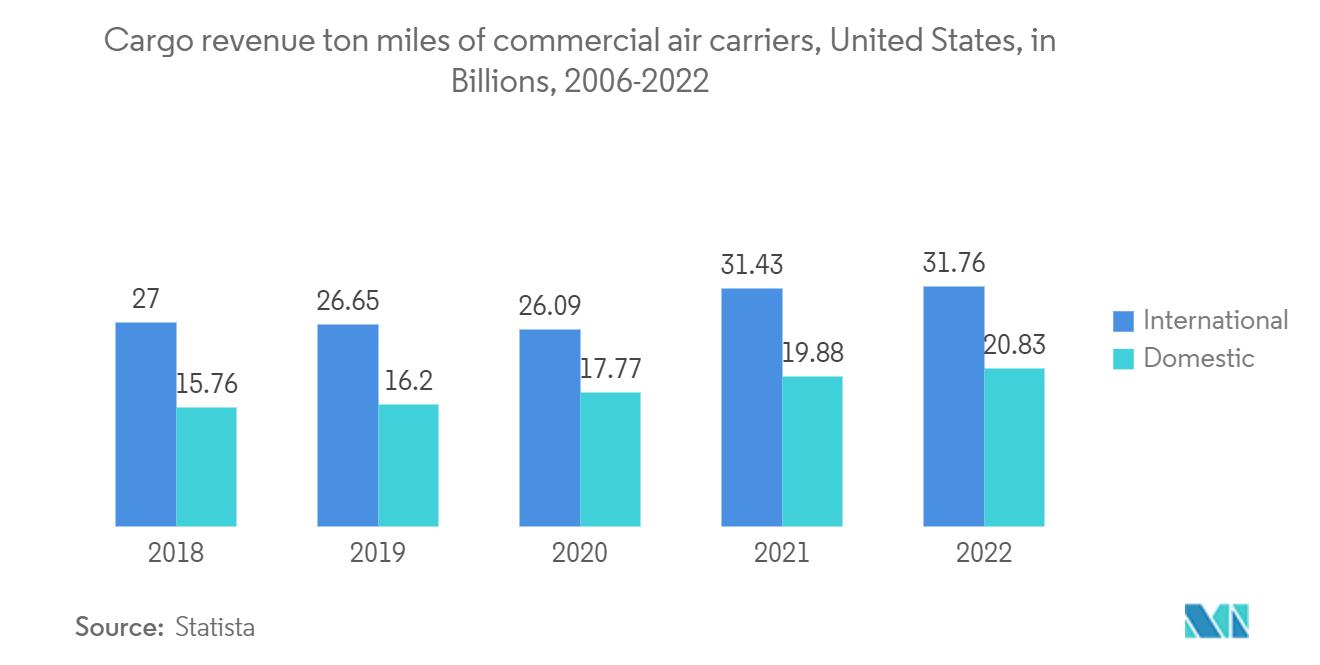 To understand geography trends, Download Sample Report
Freight Forwarding Industry Overview
The Freight Forwarding market is fragmented with a mix of global, regional, and local players. Small- and medium-sized local players still serve the market with small fleets and storage spaces. However, the top 20 players dominate the market accounting for more than 50% of the total market. Leading players in the market include DHL Global Forwarding, Kuehne + Nagel International AG, DB Schenker, DSV, Expeditors International, and many more. As the freight forwarding market is growing steadily and there exists abundant opportunity, the players need to embrace technologies, become more digitized, and increase the scale and efficiency of their operations. Having a strong network spanning the globe is important for companies. International investors are increasingly interested in mergers and acquisitions in the ASEAN logistics market. Global logistics companies have been expanding in the ASEAN region because of increased commerce and trade activities.
Freight Forwarding Market Leaders
Kuehne + Nagel International AG

DB Schenker

Bollore Logistics

DHL Global Forwarding

Nippon Express Co., Ltd.
*Disclaimer: Major Players sorted in no particular order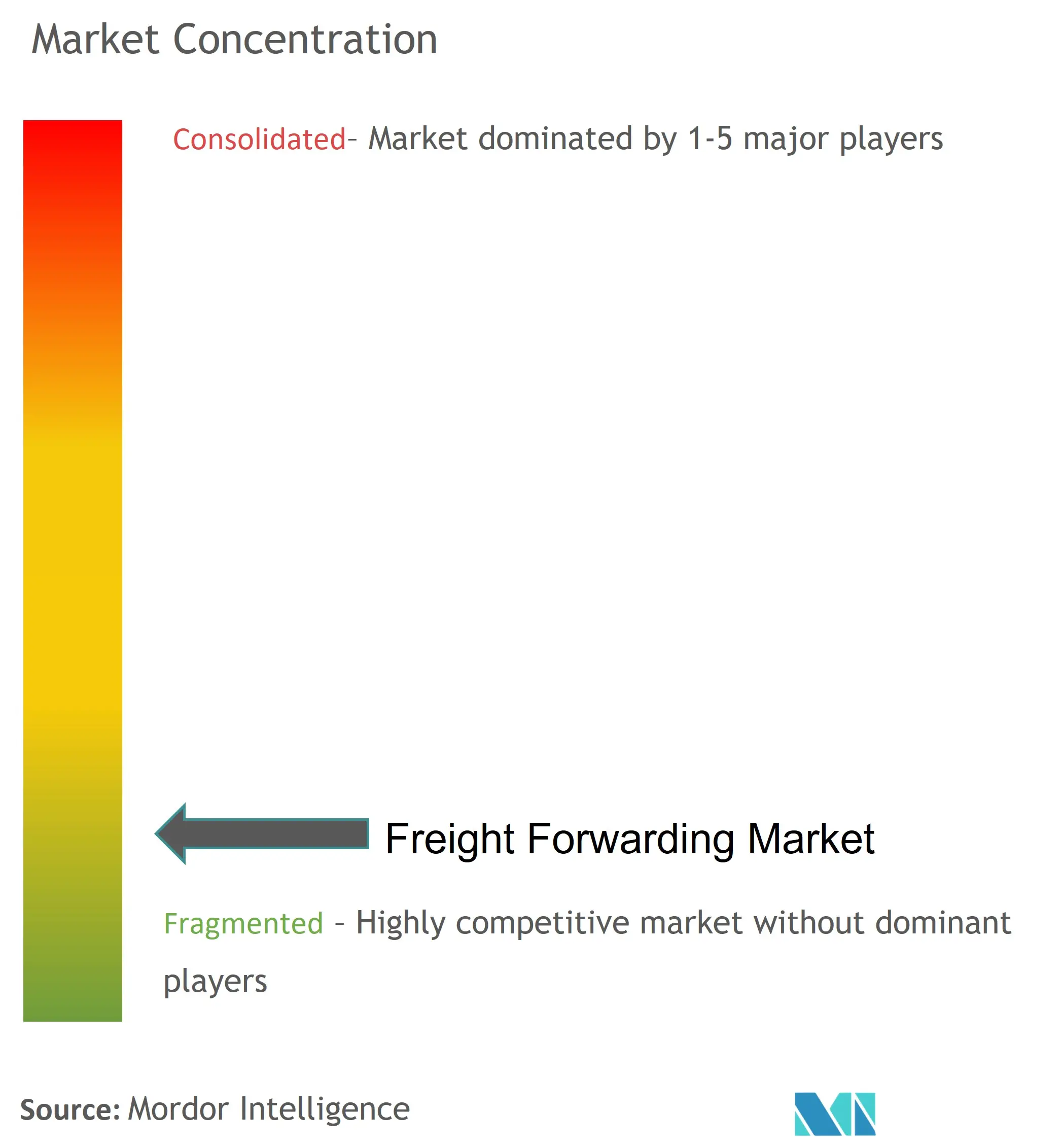 Freight Forwarding Market News
November 2022: Raft, the intelligent freight command centre, announced the integration of PayCargo, an all-in-one logistics payment platform, which will broaden the capabilities of Raft's new AI payment functionality tool; an industry-first, increasing freight forwarders' ability to automate their operations and thus empower their human workforce to focus on value-add activities. Users of Raft will have access to PayCargo's suite of payment options, saving significant time and money while avoiding significant operational risks.
August 2022: A.P. Moller - Maersk (Maersk) has completed its acquisition of LF Logistics, a Hong Kong-based contract logistics company with premium capabilities in Asia-Pacific omnichannel fulfilment services, e-commerce, and inland transport. As a result, LF Logistics will be renamed Maersk. Maersk will add 223 warehouses to its existing portfolio as a result of the acquisition, bringing the total number of facilities to 549 worldwide, spread across 9.5 million square metres.
Freight Forwarding Market Report - Table of Contents
1. INTRODUCTION

1.1 Study Assumptions

1.2 Scope of the Study

2. RESEARCH METHODOLOGY

2.1 Analysis Method

2.2 Research Phases

3. EXECUTIVE SUMMARY

4. MARKET INSIGHTS DYNAMICS

4.1 Current Market Scenario

4.2 Market Overview

4.3 Market Dynamics

4.3.1 Drivers

4.3.2 Restraints

4.3.3 Opportunities

4.4 Value Chain / Supply Chain Analysis

4.5 Porter's Five Force Analysis

4.5.1 Threat of New Entrants

4.5.2 Bargaining Power of Buyers/Consumers

4.5.3 Bargaining Power of Suppliers

4.5.4 Threat of Substitute Products

4.5.5 Intensity of Competitive Rivalry

4.6 Technological Advancements in Freight Forwarding

4.7 Overview of Global Freight Forwarding Market

4.8 Market segmentation of Freight Forwarding

4.9 Digitalisation of Freight Forwarding Market

4.10 Pricing Analysis and Revenue analysis of Freight Forwarding Market

4.11 Regional insights onFreight Forwarding Market

4.12 Pricing Analysis of Freight Forwarding Market regionwise

4.13 Impact of COVID-19 on the market

5. MARKET SEGMENTATION

5.1 By Mode Of Transport

5.1.1 Air Freight Forwarding

5.1.2 Ocean Freight Forwarding

5.1.3 Road Freight Forwarding

5.1.4 Rail Freight Forwarding

5.2 By Customer Type

5.2.1 B2B

5.2.2 B2C

5.3 By Application

5.3.1 Industrial And Manufacturing

5.3.2 Retail

5.3.3 Healthcare

5.3.4 Oil And Gas

5.3.5 Food And Beverages

5.3.6 Other Applications

5.4 By Geography

5.4.1 North America

5.4.1.1 United States

5.4.1.2 Canada

5.4.1.3 Mexico

5.4.2 Europe

5.4.2.1 Germany

5.4.2.2 France

5.4.2.3 United Kingdom

5.4.2.4 Rest of Europe

5.4.3 Asia-Pacific

5.4.3.1 China

5.4.3.2 Japan

5.4.3.3 South Korea

5.4.3.4 India

5.4.3.5 Rest of Asia-Pacific

5.4.4 LAMEA

5.4.4.1 Brazil

5.4.4.2 South Africa

5.4.4.3 GCC

5.4.4.4 Rest of LAMEA

6. COMPETITIVE LANDSCAPE

6.1 Overview

6.2 Company Profiles

6.2.1 Kuehne + Nagel International AG

6.2.2 DB Schenker

6.2.3 Bollore Logistics

6.2.4 DHL Global Forwarding

6.2.5 Nippon Express Co., Ltd.

6.2.6 Dsv Global Transports and Logistics

6.2.7 The Maersk Group

6.2.8 C.H. Robinson

6.2.9 Panalpina

6.2.10 United Parcel Service

6.2.11 FedEx Corp.

6.2.12 Walmart Group

6.2.13 MGF (Manitoulin Global Forwarding)

6.2.14 Hellmann Worldwide Logistics

6.2.15 Expeditors International

6.2.16 Dachser

6.2.17 Imerco

6.2.18 Sinotrans India Private Limited

6.2.19 CEVA Logistics

6.2.20 Uber Freight LLC*

*List Not Exhaustive

7. FUTURE OF THE MARKET

8. APPENDIX
Freight Forwarding Industry Segmentation
The coordination and shipment of goods from one location to another via single or multiple carriers via air, sea, rail, or highway is known as freight forwarding. Freight forwarding principles are based on the efficient and cost-effective transfer of goods that are kept in good condition throughout their journey. A complete background analysis of the Freight Forwarding Market, including the assessment of the economy and contribution of sectors in the economy, market overview, market size estimation for key segments, and emerging trends in the market segments, market dynamics, and geographical trends, and COVID-19 impact is included in the report.
The Freight Forwarding Market is segmented By Mode Of Transport (Air Freight Forwarding, Ocean Freight Forwarding, Road Freight Forwarding, Rail Freight Forwarding), By Customer Type (B2C, B2B), By Application (Industrial And Manufacturing, Retail, Healthcare, Oil And Gas, Food And Beverages and Other Application), and By Geography (North America (US, Canada, Mexico), Europe (Spain, Germany, France, UK, Italy and Rest of Europe), Asia-Pacific (China, Japan, South Korea, India, Rest of Asia-Pacific), LAMEA (Brazil, Argentina, South Africa, Morocco, GCC, Rest of LAMEA)). The report offers market size and forecast values (USD billion) for all the above segments.
By Mode Of Transport
Air Freight Forwarding
Ocean Freight Forwarding
Road Freight Forwarding
Rail Freight Forwarding
By Application
Industrial And Manufacturing
Retail
Healthcare
Oil And Gas
Food And Beverages
Other Applications
By Geography

North America
United States
Canada
Mexico

Europe
Germany
France
United Kingdom
Rest of Europe

Asia-Pacific
China
Japan
South Korea
India
Rest of Asia-Pacific

LAMEA
Brazil
South Africa
GCC
Rest of LAMEA
Freight Forwarding Market Research FAQs
How big is the Global Freight Forwarding Market?
The Global Freight Forwarding Market size is expected to reach USD 168.99 billion in 2023 and grow at a CAGR of 4.16% to reach USD 207.19 billion by 2028.
What is the current Global Freight Forwarding Market size?
In 2023, the Global Freight Forwarding Market size is expected to reach USD 168.99 billion.
Who are the key players in Global Freight Forwarding Market?
Kuehne + Nagel International AG, DB Schenker, Bollore Logistics, DHL Global Forwarding and Nippon Express Co., Ltd. are the major companies operating in the Global Freight Forwarding Market.
Which is the fastest growing region in Global Freight Forwarding Market?
Asia Pacific is estimated to grow at the highest CAGR over the forecast period (2023-2028).
Which region has the biggest share in Global Freight Forwarding Market?
In 2023, the North America accounts for the largest market share in the Global Freight Forwarding Market.
Freight Forwarding Industry Report
Statistics for the 2023 Freight Forwarding market share, size and revenue growth rate, created by Mordor Intelligence™ Industry Reports. Freight Forwarding analysis includes a market forecast outlook to 2028 and historical overview. Get a sample of this industry analysis as a free report PDF download.
Freight Forwarding Market Report Snapshots
80%

of our clients seek made-to-order reports. How do you want us to tailor yours?