The decorative concrete market is expected to register a CAGR of approximately 6.92% during the forecast period, 2018-2023. The market is driven by many factors, such as increasing demand for stamped concrete, growing demand for green buildings, and expanding remodeling and refurbishment activities in European countries.
Rising Demand for Stamped Concrete for Flooring Driving the Market
In recent times, there has been a widespread adoption of stamped concrete in commercial buildings and hotels for flooring activities. Stamped concrete provides aesthetic appeal to the floors as various textures, designs, patterns, and logos can be imparted to it. It is easy to maintain, skid-resistant, and has high strength, and can withstand heavy foot traffic, thereby increasing its demand for flooring.
Stamped Concrete the Largest Product Type
Stamped Concrete is the dominant segment and is expected to grow at a good rate, with growing demand in residential sectors in Asia-Pacific countries. In Australia, houses form the 1980s are undergoing increasing remodeling works, thereby providing opportunities for stamped concrete.
Europe - the Largest Market Share
Europe accounted for the largest share of decorative cement in 2017. Factors such as increasing refurbishment and remodeling activities in countries like Germany and the United Kingdom are favoring the market's growth in the European region. The market is expected to grow at a good pace, with key European companies investing in the incorporation of nanotechnology for additives and other ingredients, which are added to cement in the production process. The market is expected to open new avenues during the forecast period.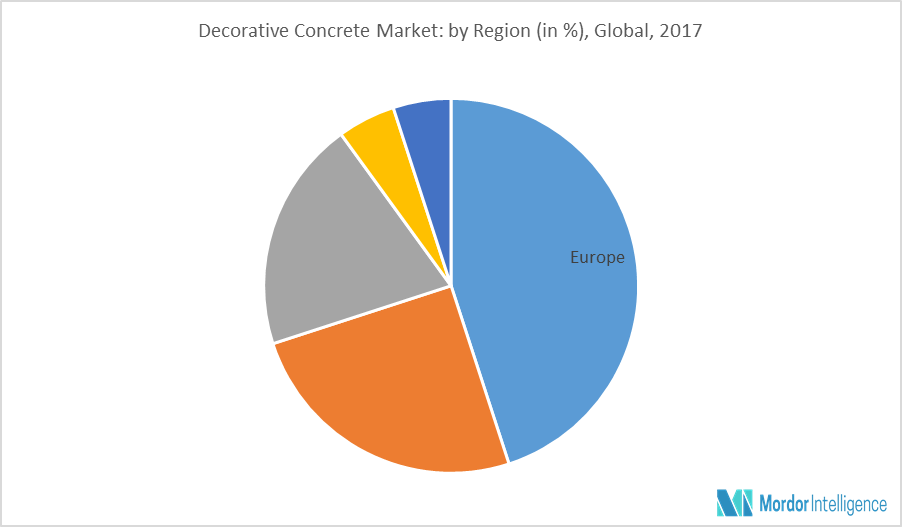 Notable Developments
November 2017: Sika has acquired Butterfield Color, Inc., a US-based market leader associated with the production of decorative concrete floor products and systems.
Major Players: BASF SE, PPG Industries, Inc., 3M, RPM International Inc., Huntsman International LLC, The Sherwin-Williams Company, Boral Limited, CEMEX, S.A.B. de C.V., Sika AG, and UltraTech Cement Ltd., amongst others.
Reason to Purchase the Report
To understand the impact of end-user industries on the market.
Analyzing various perspectives of the market with the help of Porter's five forces analysis
To understand the dominating product type and application in the market
Countries expected to witness the fastest growth during the forecast period
Identify the latest developments, market shares, and strategies employed by the major market players
3-month analyst support, along with the Market Estimate sheet (in Excel)
Customization of the Report
This report can be customized to meet your requirements. Please connect with our representative, who will ensure you get a report that suits your needs.
1. Introduction
1.1 Research Phases
1.2 Study Deliverables
1.3 Scope of the Report
2. Executive Summary
3. Market Insights
3.1 Industry Value Chain Analysis
3.2 Industry Attractiveness – Porter's Five Force Analysis
3.2.1 Bargaining Power of Suppliers
3.2.2 Bargaining Power of Consumers
3.2.3 Threat of New Entrants
3.2.4 Threat of Substitute Products and Services
3.2.5 Degree of Competition
4. Market Dynamics
4.1 Drivers
4.1.1 Increasing Demand for Remodeling and Refurbishment Activities
4.1.2 Strong Demand for Stamped Concrete for Flooring Applications
4.1.3 Growing Demand for Green Buildings
4.2 Restraints
4.2.1 High Capital Expenditure
4.2.2 Other Restraints
4.3 Opportunities
4.3.1 Incorporation of Nanotechnology in the Production Process
4.3.2 Other Opportunities
5. Market Segmentation and Analysis (Market Size, Growth, and Forecast)
5.1 By Type
5.1.1 Stamped Concrete
5.1.2 Polished Concrete
5.1.3 Concrete Overlay
5.1.4 Stained Concrete
5.1.5 Colored Concrete
5.1.6 Concrete Dye
5.1.7 Others
5.2 By Application
5.2.1 Footpath and Driveway
5.2.2 Patio
5.2.3 Pool Deck
5.2.4 Floor
5.2.5 Wall
5.2.6 Other
5.3 By End-user Industry
5.3.1 Residential
5.3.2 Non-residential
6. Regional Market Analysis (Market Size, Growth, and Forecast)
6.1 Asia-Pacific
6.1.1 China
6.1.2 India
6.1.3 Japan
6.1.4 South Korea
6.1.5 Rest of Asia-Pacific
6.2 North America
6.2.1 United States
6.2.2 Canada
6.2.3 Mexico
6.2.4 Rest of North America
6.3 Europe
6.3.1 Germany
6.3.2 United Kingdom
6.3.3 Italy
6.3.4 France
6.3.5 Spain
6.3.6 Rest of Europe
6.4 South America
6.4.1 Brazil
6.4.2 Argentina
6.4.3 Rest of South America
6.5 Middle East & Africa
6.5.1 Saudi Arabia
6.5.2 South Africa
6.5.3 Rest of Middle East & Africa
7. Future of the Market
8. Competitive Landscape
8.1 Mergers & Acquisitions, Joint Ventures, Collaborations and Agreements
8.2 Market Share Analysis**
8.3 Strategies Adopted by Leading Players
9. Company Profiles (Overview, Financials**, Products & Services, and Recent Developments)
9.1 3M
9.2 BASF SE
9.3 Bomanite India
9.4 Boral
9.5 CEMEX S.A.B. de C.V.
9.6 Covestro AG
9.7 Dex-O-Tex
9.8 Elite Crete Systems
9.9 HEIDELBERGCEMENT AG
9.10 LafargeHolcim
9.11 MAPEI Corporation
9.12 NEOCRETE TECHNOLOGIES PVT. LTD.
9.13 Palermo Concrete, Inc.
9.14 Parchem Construction Supplies (Avista)
9.15 RPM International Inc. (Increte Systems Inc)
9.16 Sika AG
9.17 Tarmac
9.18 The Euclid Chemical Company
9.19 Ultratech Concrete
9.20 W. R. Grace & Co.
*List not exhaustive
10. Disclaimer
**Subject to availability on public domain