The global advanced ceramics market was valued at USD 75.34 billion in 2017. This market is expected to reach USD 104.16 billion by 2023, registering a CAGR of 10.81% over the forecast period, 2018-2023. Asia-Pacific is expected to lead the market owing to its rapid growth in the healthcare industry. Advanced ceramics are high strength and highly developed ceramic materials that are primarily lightweight, non-metallic, organic, and corrosion-resistant. These have been developed in the last 50-60 years and have bypassed the use of conventional ceramics.
Soaring Demand from Ceramic Matrix - Composites Segment
The increasing use of advanced ceramics as an alternative to metals and plastics and increasing demand from the medical industry drive this market. However, factors such as high cost and recyclability issue may hinder the growth of the market. Ceramics that include fabrication and polycrystalline microstructures without the reinforcement process are referred to as monolithic ceramics. Monolithic ceramics are the major product type of advanced ceramics market worldwide.
Asia-Pacific Region to Lead the Market
Asia-Pacific is expected to maintain its dominance during the forecasted period, followed by North America and Europe. Furthermore, there is an increase in the use of nanotechnology and higher application in wind turbines and pollution control applications.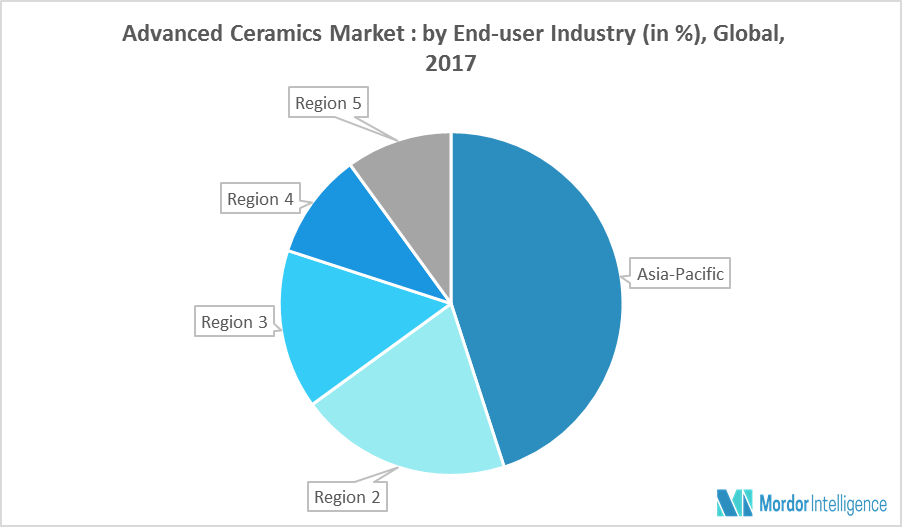 Notable Developments in the Market:
March 2018: 3D printed ceramics reduce cost as well as lead times for complex aerospace parts.
Feb 2017: Ceram Tec announced acquisition of the UK Morgan Advanced Materials' electro-ceramics business.
Jan 2016: Saint-Gobain and Corning Incorporated announce new joint venture to produce lightweight glazing for the automotive market.
Major Players: Advanced Ceramics Ltd, COI Ceramics Inc., CoorsTek Inc., Ceradyne Inc., Kyocera Corporation, and Corning Incorporated, amongst others.
Reasons to Purchase the Report
To understand the impact of end-user applications on the market
Analyzing various perspectives of the market with the help of Porter's five forces analysis
To understand the dominating technology in the market
Countries expected to witness the fastest growth during the forecast period
Identify the latest developments, market shares, and strategies employed by the major market players
3 month analyst support, along with the Market Estimate sheet (in Excel)
Customization of the Report
This report can be customized to meet your requirements. Please connect with our representative, who will ensure you to get a report that suits your needs.
1. Introduction
1.1 Research Phases
1.2 Scope of the Market
1.3 Study Deliverables
2. Executive Summary
3. Market Insights
3.1 Industry Value Chain Analysis
3.2 Industry Attractiveness - Porter's Five Forces Analysis
3.2.1 Bargaining Power of Suppliers
3.2.2 Bargaining Power of Consumers
3.2.3 Threat of New Entrants
3.2.4 Threat of Substitute Products and Services
3.2.5 Degree of Competition
3.3 Patent Analysis
3.4 Price Analysis
4. Market Dynamics
4.1 Drivers
4.1.1 Rise in Use as an Alternative to Metals and Plastics
4.1.2 Growing Demand in Medical Sector
4.1.3 Environmentally Friendly and Reliable to Use
4.2 Restraints
4.2.1 Recyclability and Reparability issues
4.2.2 High Working Capital Cost
4.3 Opportunities
4.3.1 Increasing Applications of Sic and Gan
4.3.2 Growth of Usage in Nanotechnology
4.3.3 Recovery of the Infrastructure Sector
4.3.4 Increasing Usage in Photovoltaic Modules, Wind Turbines, and Pollution Control Applications
4.3.5 Growing Demand for Ceramic Matrix Composites (CMCs) in High Temperature, Corrosion Intensive Applications
5. Market Segmentation and Analysis (Market Size, Growth, and Forecast)
5.1 By End-User Industry
5.1.1 Electronics and Electricals
5.1.2 Transportation
5.1.3 Medical
5.1.4 Industrial
5.1.5 Defense & Security
5.1.6 Chemical
5.1.7 Others (Including Construction)
5.2 By Class Type
5.2.1 Monolithic Ceramics
5.2.2 Ceramic Matrix Composites
5.2.3 Ceramic Coatings
5.2.4 Other Industrial Products
5.3 By Material Type
5.3.1 Alumina
5.3.2 Titanate
5.3.3 Zirconia
5.3.4 Silicon Carbide
5.3.5 Aluminium Nitride
5.3.6 Silicon Nitride
5.3.7 Magnesium Silicate
5.3.8 Pyrolytic Boron Nitride
5.3.9 Others
6. Regional Market Analysis (Market Size, Growth, and Forecast)
6.1 Asia-Pacific
6.1.1 China
6.1.2 India
6.1.3 Japan
6.1.4 South Korea
6.1.5 Rest of Asia-Pacific
6.2 North America
6.2.1 US
6.2.2 Canada
6.2.3 Mexico
6.2.4 Rest of North America
6.3 Europe
6.3.1 Germany
6.3.2 UK
6.3.3 Italy
6.3.4 France
6.3.5 Rest of Europe
6.4 South America
6.4.1 Brazil
6.4.2 Argentina
6.4.3 Rest of South America
6.5 Middle East and Africa
6.5.1 Saudi Arabia
6.5.2 South Africa
6.5.3 Rest of Middle East and Africa
7. Competitive Landscape
7.1 Mergers and Acquisitions, Joint Ventures, Collaborations, and Agreements
7.2 Market Share Analysis**
7.3 Strategies Adopted by Leading Players
8. Company Profiles (Overview, Financials**, Products & Services, and Recent Developments)
8.1 3M (Ceradyne, Inc.)
8.2 Applied Ceramics Inc.
8.3 Blasch Precision Ceramics, Inc.
8.4 Ceramtec
8.5 COI Ceramics, Inc.
8.6 Coorstek Inc.
8.7 Corning Inc.
8.8 H.C. Starck GmbH
8.9 International Ceramic Engineering (ICE)
8.10 Kyocera Corporation
8.11 Materion Corporation
8.12 McDanel Advanced Ceramic Technologies
8.13 Momentive Performance Materials Inc.
8.14 Morgan Advanced Materials PLC
8.15 Murata Manufacturing Co Ltd
8.16 Rauschert GmbH
8.17 Saint-Gobain Advanced Ceramics LLC
8.18 Small Precision Tools Inc.
8.19 Vesuvius PLC
*(List Not Exhaustive)
9. Disclaimer
**Subject to Availability in Public Domain