Instantánea del mercado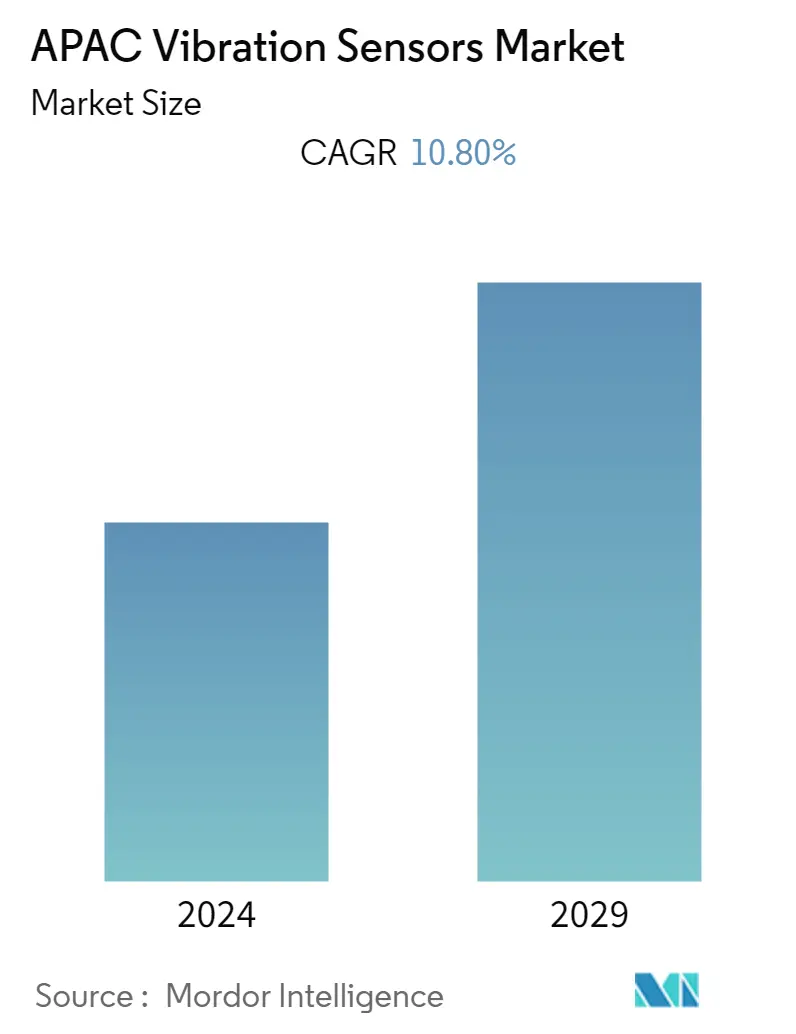 Study Period:
2019-2026
Base Year:
2021
CAGR:
10.8 %
Need a report that reflects how COVID-19 has impacted this market and its growth?
Visión general del mercado
El mercado de sensores de vibración de Asia Pacífico sería testigo de un crecimiento del mercado del 10,8% CAGR durante el período de pronóstico (2021-2026) . Los instrumentos de análisis de vibraciones y balance de ajuste del motor se utilizan para la aviación comercial y militar.
Hay una rápida mejora en los sensores en la industria de las aerolíneas donde se pueden reducir las turbulencias. La personalización en el mercado de sensores de vibración está creciendo con respecto al tamaño, la capacidad de carga y el rango de frecuencia.
Diseñado para identificar los problemas del motor y eliminar rápidamente las extracciones innecesarias del motor, las capacidades de detección con respecto a los sensores y su uso se reducen con sus aplicaciones de usuario final. El tiempo de respuesta en el análisis de vibraciones no se puede detectar debido a la gran carga de la señal. La región de Asia Pacífico pudo sostener su economía durante la crisis financiera.
Las innovaciones y desarrollos tecnológicos condujeron a un mejor funcionamiento y mejoraron la productividad de las máquinas. Por lo tanto, el monitoreo de la condición de la máquina juega un papel importante en la mejora del rendimiento de la máquina.
Aunque la demanda de sensores de vibración ha ido en aumento durante los últimos años, se han identificado problemas de compatibilidad, especialmente en el caso de equipos antiguos, como los principales desafíos que afectan al mercado.
Con la creciente demanda de energía, existe una creciente necesidad de eficiencia energética, que solo se puede obtener a partir del mantenimiento óptimo de la maquinaria de suministro de electricidad.
Debido al reciente brote de COVID-19, la cadena de suministro global y la demanda de múltiples productos han experimentado interrupciones. Además, debido al cierre de la producción en China, múltiples industrias han observado una escasez de suministro de varios productos durante febrero y marzo de 2020. Sin embargo, los proveedores en el mercado están tratando de brindar servicios a las industrias, lo que les ayuda a obtener ingresos.
Scope of the report
The Asia Pacific vibration sensors market is segmented on the basis of type (accelerometers, electrodynamic velocity transducer, non-contact displacement transducer), by material (doped silicon sensors, piezoelectric ceramics, quartz), by technology (hand probes, piezoelectric, piezoresistive sensors, strain gauge sensor, tri-axial sensor, variable capacitance sensors) by application (aerospace, automobile, coal mining and quarry, consumer electronics, food, machine monitoring, medicine, oil and gas, and others), and geography (North America, Europe, Asia-Pacific, Middle East & Africa, and Latin America).
Product
Accelerometers
Proximity Probes
Tachometers
Others
Industry
Automotive
Healthcare
Aerospace and Defense
Consumer Electronics
Oil And Gas
Metals and Mining
Others
Country
China
Japan
India
Others
Tendencias clave del mercado
El usuario final aeroespacial y de defensa tendrá una participación significativa
Un aumento en la conciencia situacional para impulsar las operaciones, el mantenimiento rentable y el aumento en la utilización de activos son algunos de los factores clave que impulsan la demanda de sistemas de monitoreo de la salud de las aeronaves.
El tráfico de pasajeros en Europa y otros mercados de aviación importantes, como el Reino Unido y Alemania, han experimentado un crecimiento en términos de número de pasajeros y movimientos de aeronaves, lo que se espera que impulse el mercado durante el período de pronóstico.
Las fallas en los motores de turbina son la principal causa de fallas mecánicas, lo que está aumentando los costos; por lo tanto, los usuarios recurren cada vez más a los sistemas de gestión de pronóstico de salud (PHM) para prevenir estas pérdidas y reducir los costos de mantenimiento. Dado que la vibración es el parámetro de control de estado más común en la industria de los motores aeroespaciales, es probable que el desarrollo de los sistemas PHM tenga un impacto directo en el crecimiento de los sensores de vibración.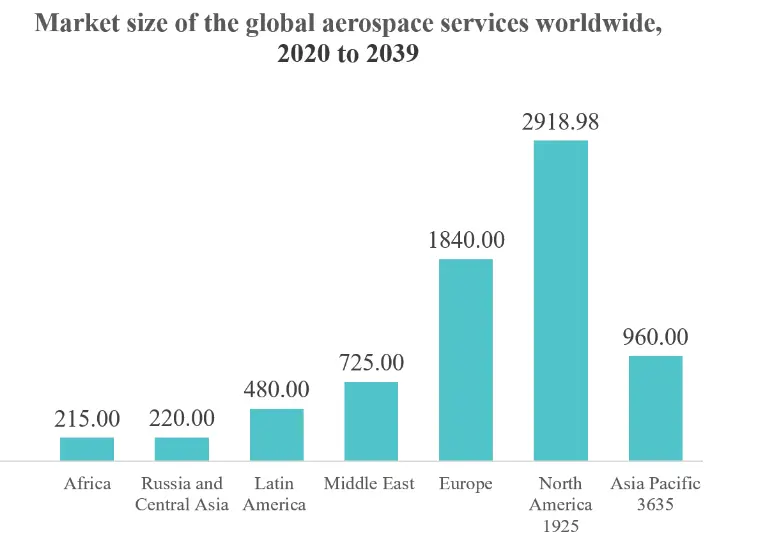 To understand key trends, Download Sample Report
Electrónica de consumo para mostrar un crecimiento significativo
El aumento de la preferencia por el uso de dispositivos electrónicos inteligentes, el aumento de la clase media, el aumento de los ingresos disponibles de los consumidores y los cambios en las preferencias de estilo de vida son algunos de los principales factores que impulsan la demanda de productos electrónicos de consumo, lo que tiene un impacto indirecto en el crecimiento de los sensores de vibración.
Estos sensores se utilizan en la electrónica de consumo para la detección de vibraciones para reducir el ruido y el mantenimiento. Cuando un PC portátil se cae, se utilizan sensores de vibración y golpes para proteger los datos de los discos duros.
Los sensores se utilizan para detectar cambios en la orientación y la rotación de la pantalla y detectar movimiento en tres direcciones. La aplicación de sensores de vibración en la electrónica de consumo está aumentando a medida que los sensores se utilizan para calibrar la posición, el movimiento y la aceleración, con lo que el usuario puede conocer la orientación del teléfono y los cambios en la rotación de la pantalla, las imágenes y varias funciones. propósitos
Por ejemplo, en junio de 2021, Fluke Reliability, una empresa operativa de Fluke Corporation, se enorgullece de anunciar su producto más nuevo, el sistema de sensor de vibración de análisis Fluke 3563. El monitoreo de vibraciones ayuda a los equipos de mantenimiento a reducir el tiempo de inactividad no planificado y evitar que ocurran fallas potencialmente catastróficas, pero ha sido difícil o prohibitivo monitorear cada nivel de un activo.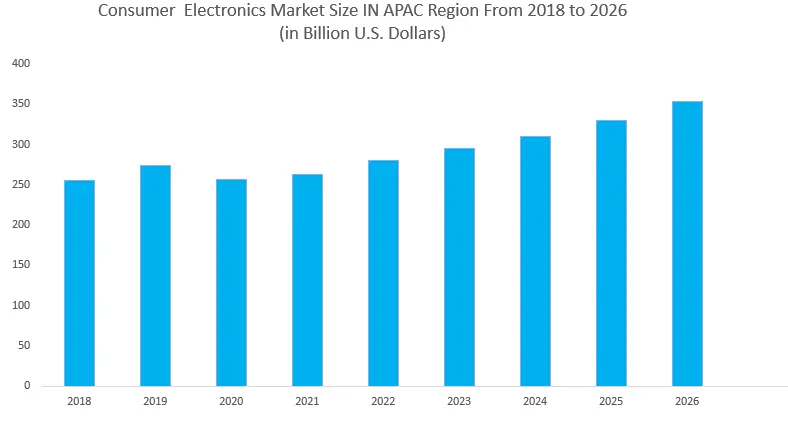 To understand geography trends, Download Sample Report
Panorama competitivo
El mercado de sensores de vibración de Asia Pacífico está muy fragmentado. Se espera que la presencia de fabricantes de sensores globales con identidades de marca establecidas en el mercado tenga una profunda influencia en la intensidad de la rivalidad competitiva, ya que los nuevos participantes enfrentan desafíos para llegar a los consumidores. La identidad de marca juega un papel importante en la determinación del comportamiento del comprador. Por lo tanto, las empresas conocidas tienen una ventaja considerable sobre otros jugadores en el mercado. Algunos de los jugadores clave son Texas Instruments, Honeywell y Emerson.
Junio ​​de 2020: National Instruments Corporations presentó una identidad de marca actualizada, que incluye un nuevo logotipo, identidad visual, experiencias digitales mejoradas y una campaña de marca. Ahora conocido simplemente como NI, está modernizando la industria de pruebas y medidas al combinar su rica herencia de software con nuevas capacidades de nube y aprendizaje automático.
Abril de 2020: Emerson adquirió la empresa líder en controles de turbinas hidroeléctricas, American Governor Company. La incorporación de American Governor Company se basa en las capacidades tecnológicas y la experiencia de Emerson en la industria de la energía y las energías renovables.
Recent Developments
Mar 2020: SKF has announced a compact vibration and temperature sensor that monitors the condition of rotating parts on heavy industrial machinery automatically. The SKF Enlight Collect IMx-1 sensor will allow users to cut both unplanned downtime and maintenance costs. They will also be able to collect data more frequently over hours and days instead of weeks and months from locations that were previously inaccessible, using fewer technicians.​
Mar 2020: TE Connectivity Ltd has completed its public takeover of First Sensor AG. TE now holds 71.87% shares of First Sensor. In combination with First Sensor and TE portfolios, TE will be able to offer a broader product base, including innovative sensors, connectors, and systems, that supports the growth strategy of TE's sensors business and TE Connectivity as a whole.​
Table of Contents
1. Introduction

1.1 Study Assumptions and Market Definition

1.2 Scope of the Study

2. Research Methodology

3. Executive Summary

4. Market Dynamics

4.1 Market Overview

4.2 Market Drivers

4.2.1 Increasing Need for Machine Monitoring and Maintenance

4.2.2 Longer Service Life, Self Generating Capability and Wide Range of Frequency of Vibration Sensors

4.3 Market Restraints

4.3.1 Compatibility With Old Machinery

4.3.2 Critical and Hazardous Implication on the Environment

4.4 Industry Attractiveness - Porter's Five Forces Analysis

4.4.1 Threat of New Entrants

4.4.2 Threat of Substitute Products or Services

4.4.3 Bargaining Power of Suppliers

4.4.4 Bargaining Power of Buyers

4.4.5 Intensity of competitive Rivalry

4.5 Industry Value Chain Analysis

5. Technology Snapshot

5.1 Type of Technology

5.1.1 Inductive

5.1.2 Piezoelectric

5.1.3 Magnetic

5.1.4 Capacitive

5.1.5 Optic Fiber Sensor

6. Market Segmentation

6.1 Product

6.1.1 Accelerometers

6.1.2 Proximity Probes

6.1.3 Tachometers

6.1.4 Others

6.2 Industry

6.2.1 Automotive

6.2.2 Healthcare

6.2.3 Aerospace and Defense

6.2.4 Consumer Electronics

6.2.5 Oil And Gas

6.2.6 Metals and Mining

6.2.7 Others

6.3 Country

6.3.1 China

6.3.2 Japan

6.3.3 India

6.3.4 Others

7. Competitive Landscape

7.1 Company Profiles

7.1.1 SKF AB

7.1.2 National Instruments Corporation

7.1.3 Texas Instruments Incorporated

7.1.4 Analog Devices Inc.

7.1.5 Rockwell Automation Inc.

7.1.6 Emerson Electric Co

7.1.7 Honeywell International Inc.,

7.1.8 NXP Semiconductors N.V.

7.1.9 TE Connectivity Ltd.

7.1.10  Hansford Sensors Ltd.,

7.1.11 Bosch Sensortec GmbH (Robert Bosch GmbH)

*List Not Exhaustive

8. Investment Outlook

9. Future of APAC Vibration Sensors Market
You can also purchase parts of this report. Do you want to check out a section wise price list?
Frequently Asked Questions
¿Cuál es el período de estudio de este mercado?
El mercado de sensores de vibración de APAC se estudia desde 2019 hasta 2026.
¿Cuál es la tasa de crecimiento del mercado Sensores de vibración de APAC?
El mercado de sensores de vibración de APAC está creciendo a una CAGR del 10,8 % en los próximos 5 años.
¿Quiénes son los principales fabricantes en el mercado de Sensores de vibración de APAC?
SKF GmbH, Emerson Electric Corporation, Texas Instrumentation Corporation, National Instruments Corporation, Honeywell International Inc, son las principales empresas que operan en el mercado de sensores de vibración de APAC.
80%

of our clients seek made-to-order reports. How do you want us to tailor yours?