Markt-Snapshot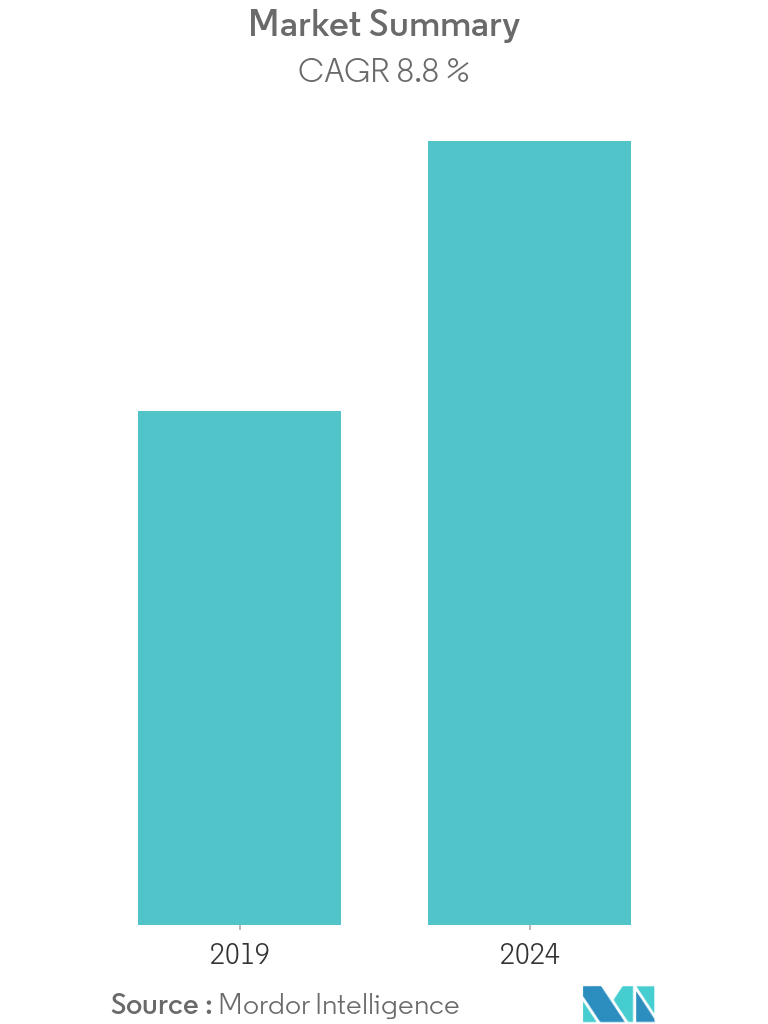 Study Period:
2016 - 2026
Fastest Growing Market:
North America
Largest Market:
Europe
CAGR:
0 %

Major Players

*Disclaimer: Major Players sorted in no particular order
Need a report that reflects how COVID-19 has impacted this market and it's growth?
Marktübersicht
Der Markt für Futtermittel-Probiotika wurde 2018 auf 4.244,1 Millionen USD geschätzt und wird im Prognosezeitraum (2019-2024) voraussichtlich eine CAGR von 8,8 % verzeichnen. Das zunehmende Bewusstsein der Verbraucher für wissenschaftliche Tierernährung ist die Hauptantriebskraft für das Wachstum der probiotischen Industrie. Die Zunahme der industriellen Tierproduktion und die steigende Nachfrage nach tierischen Proteinquellen sind die Faktoren, die das Wachstum des untersuchten Marktes fördern.
Umfang des Berichts
Futterprobiotika beziehen sich auf die Probiotika (nützliche Mikroorganismen), die in Grundmischungen und zusammengesetzte Formen eingearbeitet werden, wobei Hersteller von Vormischungen, Landwirte, Hersteller von Mischfutter sowie Hersteller von Grundmischungen und Konzentraten als Endverbraucher gelten. Der Geltungsbereich des Berichts umfasst keine auf Vormischungen basierenden Probiotika.
By Type
Lactobacilli
Bifidobacteria
Other Types
By Application
Ruminant
Poultry
Swine
Aquaculture
Other Applications
Geography

North America
United States
Canada
Mexico
Rest of North America

Europe
Spain
United Kingdom
Germany
France
Russia
Italy
Rest of Europe

Asia-Pacific
China
India
Japan
Thailand
Australia
Rest of Asia-Pacific

South America
Brazil
Argentina
Rest of South America

Middle East
Saudi Arabia
United Arab Emirates
Rest of Middle East

Africa
South Africa
Egypt
Rest of Africa
Wichtige Markttrends
Steigende Nachfrage nach tierischen Proteinquellen
Der Druck auf die Viehwirtschaft hat sich in den letzten Jahren verstärkt, um die wachsende Nachfrage nach Fleisch und hochwertigem tierischem Eiweiß zu decken. Bevölkerungswachstum, steigende Einkommen in Entwicklungsländern und Urbanisierung haben zu einem Anstieg des weltweiten Viehkonsums geführt. Es wurde festgestellt, dass die Höhe des Einkommens und des Konsums von tierischem Protein direkt mit dem Konsum von Milch, Fleisch und Eiern korreliert, der zu Lasten von Grundnahrungsmitteln zunimmt. Das stärkste Wachstum beim Fleischkonsum wird aufgrund der sich ändernden Ernährungsgewohnheiten, der Urbanisierung und des Wirtschaftswachstums in den Regionen Asien-Pazifik und Lateinamerika erwartet. Beispielsweise übersteigt die Nachfrage nach Fleisch in China nach Angaben von Agriculture and Agri-food Canada weiterhin das einheimische Angebot.
To understand key trends, Download Sample Report
Europa dominiert den Weltmarkt
Früher hatten die meisten Länder in Europa übermäßige Mengen an Antibiotika für ihre Nutztiere eingesetzt. Da die Standardisierung der Fleischkonsumenten im Importland von Tag zu Tag zunimmt, werden Bestände mit einem höheren Antibiotikagehalt abgelehnt. Daher werden die Landwirte aufgefordert, natürliche Zutaten als Futterergänzungsmittel zu verwenden. In diesem Szenario spielten Probiotika eine entscheidende Rolle. Neben der Standardisierung gibt es mehrere Änderungen. So zielt das deutsche Arzneimittelgesetz darauf ab, den Einsatz von Antibiotika in der Nutztierhaltung schrittweise zu reduzieren. Hinzu kommen neue Regelungen in den Regionen, die es den zuständigen Behörden ermöglichen, die Häufigkeit des Antibiotikaeinsatzes bei Nutztieren zu überprüfen. Aufgrund solcher Beschränkungen werden Züchter unter Druck gesetzt, auf natürliche Futterbestandteile umzusteigen,
To understand geography trends, Download Sample Report
Wettbewerbslandschaft
Der Markt für Futtermittelprobiotika ist stark fragmentiert, wobei die fünf führenden Marktteilnehmer 8,95 % des Marktanteils ausmachen. Auf dem untersuchten Markt sind drei Kategorien von Akteuren tätig, nämlich F&E-Unternehmen, Fertigungsunternehmen und Vertriebsunternehmen sowie Markeninhaber. Darüber hinaus besteht der Markt aus einer Reihe von integrierten Akteuren, dh solchen, die in der gesamten B2B-Wertschöpfungskette tätig sind.
Hauptakteure
DSM Nutritional Products Ltd

Danisco A/S

CHR Hansen A/S

Lallemand Inc.

Novus International
*Disclaimer: Major Players sorted in no particular order
Table of Contents
1. INTRODUCTION

1.1 Study Deliverables

1.2 Study Assumptions

1.3 Scope of the Study

2. RESEARCH METHODOLOGY

3. EXECUTIVE SUMMARY

4. MARKET DYNAMICS

4.1 Drivers

4.2 Restraints

4.3 Porter's Five Forces Framework

4.3.1 Bargaining Power of Suppliers

4.3.2 Bargaining Power of Consumers

4.3.3 Threat of New Entrants

4.3.4 Threat of Substitute Products and Services

4.3.5 Degree of Competition

5. MARKET SEGMENTATION

5.1 By Type

5.1.1 Lactobacilli

5.1.2 Bifidobacteria

5.1.3 Other Types

5.2 By Application

5.2.1 Ruminant

5.2.2 Poultry

5.2.3 Swine

5.2.4 Aquaculture

5.2.5 Other Applications

5.3 Geography

5.3.1 North America

5.3.1.1 United States

5.3.1.2 Canada

5.3.1.3 Mexico

5.3.1.4 Rest of North America

5.3.2 Europe

5.3.2.1 Spain

5.3.2.2 United Kingdom

5.3.2.3 Germany

5.3.2.4 France

5.3.2.5 Russia

5.3.2.6 Italy

5.3.2.7 Rest of Europe

5.3.3 Asia-Pacific

5.3.3.1 China

5.3.3.2 India

5.3.3.3 Japan

5.3.3.4 Thailand

5.3.3.5 Australia

5.3.3.6 Rest of Asia-Pacific

5.3.4 South America

5.3.4.1 Brazil

5.3.4.2 Argentina

5.3.4.3 Rest of South America

5.3.5 Middle East

5.3.5.1 Saudi Arabia

5.3.5.2 United Arab Emirates

5.3.5.3 Rest of Middle East

5.3.6 Africa

5.3.6.1 South Africa

5.3.6.2 Egypt

5.3.6.3 Rest of Africa

6. COMPETITIVE LANDSCAPE

6.1 Most Adopted Strategies

6.2 Market Share Analysis

6.3 COMPANY PROFILES

6.3.1 Provita Eurotech Ltd

6.3.2 Life Products Inc.

6.3.3 Calpis Co. Ltd

6.3.4 Chr. Hansen A/S

6.3.5 Lallemand Inc.

6.3.6 Danisco A/S

6.3.7 DSM Nutritional Products Inc.

6.3.8 Orffa International Holding B.V.

6.3.9 Novus International Inc.

6.3.10 Kemin Industries Inc.

6.3.11 Biovet Joint Stock Company

6.3.12 BIOMIN Holding GmbH

7. MARKET OPPORTUNITIES AND FUTURE TRENDS
Frequently Asked Questions
Was ist der Untersuchungszeitraum dieses Marktes?
Der Markt für Futtermittel-Probiotika wird von 2018 bis 2028 untersucht.
Wie hoch ist die Wachstumsrate des Futtermittel-Probiotika-Marktes?
Der Markt für Futterprobiotika wächst in den nächsten 5 Jahren mit einer CAGR von 0 %.
Welche Region hat die höchste Wachstumsrate auf dem Futtermittel-Probiotika-Markt?
Nordamerika wächst von 2018 bis 2028 mit der höchsten CAGR.
Welche Region hat den größten Anteil am Futtermittel-Probiotika-Markt?
Europa hält 2021 den höchsten Anteil.
Wer sind die wichtigsten Hersteller auf dem Feed Probiotika-Markt?
DSM Nutritional Products Ltd, Danisco A/S, CHR Hansen A/S, Lallemand Inc. und Novus International sind die wichtigsten Unternehmen, die auf dem Markt für Futtermittel-Probiotika tätig sind.
80%

of our clients seek made-to-order reports. How do you want us to tailor yours?