Temperature Sensors Market
The global temperature sensors market was valued at USD 5531.9 million in 2017 and is expected to reach a value of USD 8503.1 million by 2023 at a CAGR of 7.37%, over the forecast period (2018 - 2023).
Temperature is the most frequently measured environmental quantity, and temperature influences many biological, physical, chemical, mechanical, and electronic systems. Some processes work well only within a limited field of temperatures. So, necessary care must be taken to monitor and protect the system. Temperature sensing serves to enhance circuit stability. Real-time temperature monitoring, with dedicated temperature sensors, ensures that modern-day systems operate in the safe thermal zone. New-generation sensors monitor internal and external components' hotspots with pinpoint precision enabling real-time temperature monitoring. With the advent of wireless and Silicon on Sapphire technologies, the temperature sensors sector is witnessing new opportunities in the market that could help them gain significant share in the global electronics and electrical industry.
Consumer Electronics to Generate Huge Demand in the Near Future
Consumer electronics is one of the most prominent markets for the use of temperature sensors. The trending wearable gadgets, such as bands and smartwatches, advanced ultra-thin personal computers and tablets, and smart home gadgets, make use of temperature sensors to work efficiently. Trends in the personal computing industry, such as smaller system size, faster processors, and the need to support more advanced applications make monitoring and controlling heat imperative. This trend, coupled with robust sales, and advancements in desktop and portable computers, is likely to continue to support the growth of temperature sensors, in the next four years.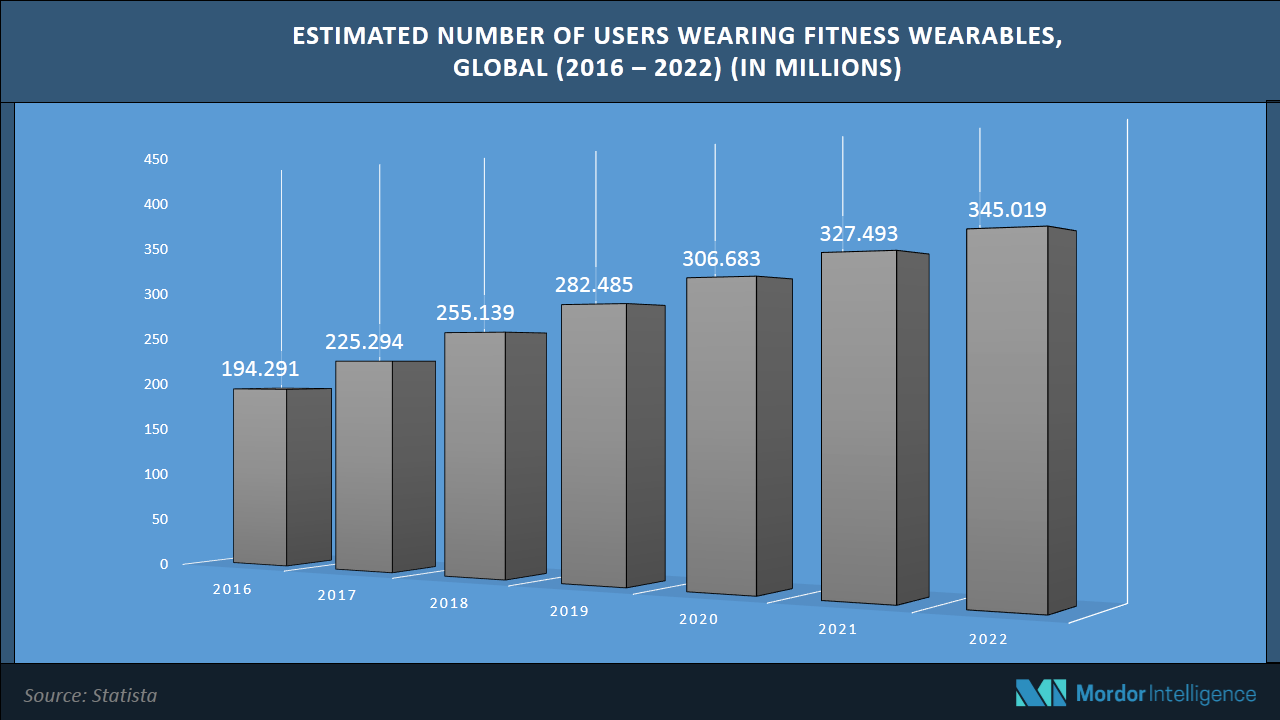 Similarly, wearables are also attracting growing attention in the market, coupled with miniature computers that are worn as garments or accessories. These devices are embedded with temperature sensors that are enabled with environmental sensing capabilities. These embedded temperature sensors can help the smart gadgets users, in improving awareness of the environment around them. The temperature sensors embedded in wearables can also measure relative humidity and temperature (RH/T) to enable devices and their users, to understand ambient condition around them, coupled with the user's physiological information, such as skin temperature or sweating rate, which are attracting many athletes to utilize these gadgets for professional usage.
The significant advantages of these sensors are that they do not require lots of computation power. They are energy efficient, and becoming smaller and smaller with each iteration of the products released into the market, making them ideal for wearables while providing a broad range of potentially valuable applications in the future.
Rapid Factory Automation is increasing Production Efficiency of Electronics Industry
Since the idea of fourth industrial revolution, Industry 4.0, initiated at Hannover Fair, production platforms started adopting digital solution, more than ever in the history of automation. The sales of industrial robots are one of the most visible factors proving the rapid factory automation trend. According to the International Federation of Robotics (IFR), in 2016, industrial robot sales increased by 16% to 294,312 units, a new peak for the fourth year, in a row. In a recent review on the industrial robots, IFR states that between 2011 and 2016, the average robot sales increased by 12% every year, and that the number of robot installations had never increased so profoundly before. Compared to the previous decade's situation, between 2005 and 2008, where the average annual number of robots sold was about 115,000 units, the current situation indicates extreme growth of automation sector in the current scenario.
Adding to this, IFR also states that the primary driver of the growth, in 2016, was primarily from the electrical/electronics industry. IFR reports that the electrical/electronics industry witnessed growth over 41% in the consumption of industrial robots. IFR estimates indicate that more than 30% of the global supply of industrial robots was dedicated to electronics/electrical industry, standing next to the automotive industry, which is accountable for 35% of market share, in the automation race. This trend is maximizing the quality if thermal sensors produced every year. Compared to the production trends that existed before a few decades, the number of manufacturing errors or faulty products, at end-of-the-line in production facility, has almost fallen to zero. Such quality in thermal sensors is expected to make them more reliable over the years to come, and therefore, creating considerable demand in the market
Key Developments in the Temperature Sensors Market
September 2017 - Fluke Process Instruments announced the expansion of the Endurance® Series high-temperature ratio infrared pyrometers to include a new, rugged noncontact fiber-optic (FO) measurement system with single and two-color models. The enhancement is expected to make Endurance® series more reliable in harsh environments
November 2017 - Yokogawa won control systems order for First Flue Gas Desulfurization system in the West Balkans. This system was expected to be used at the Ugljevik coal-fired power plant in northeastern Bosnia and Herzegovina which is the first of its type to be installed in the West Balkans, and is scheduled to start operation in October 2019
Temperature Sensors Market Major Players:
ABB Ltd.
Flir Systems.
Thermometris.
GE Sensing & Inspection Technologies Gmbh.
IRCON Inc.
Yokogawa Electric Corporation.
Reasons to Purchase Temperature Sensors Market Report
Current and future temperature sensors market outlook in the developed and emerging markets
Analyzing various perspectives of the market with the help of Porter's five forces analysis
The segment that is expected to dominate the market
Regions that are expected to witness fastest growth during the forecast period
Identifying the latest developments, market shares, and strategies employed by the major market players
3-month analyst support, along with the Market Estimate sheet in excel
Customize Temperature Sensors Market Report
This report can be customized to meet your requirements. Please connect with our representative, who will ensure you get a report that suits your needs
1. Introduction
1.1 Study Deliverables
1.2 Study Assumptions
1.3 Research Methodology
1.4 Key Findings
2. Executive Summary
3. Temperature Sensors Market Overview
3.1 Overview
3.2 Value Chain Analysis
3.3 Industry Attractiveness - Porter'S Five Forces Analysis
3.3.1 Bargaining Power of Suppliers
3.3.2 Bargaining Power of Consumers
3.3.3 Threat of New Entrants
3.3.4 Threa of Substitute Product
3.3.5 Competitive Rivalry within The Industry
3.4 Industry Policies
4. Market Dynamics
4.1 Temperature Sensors Market Drivers
4.1.1 Increasing Demand in Consumer Electronics
4.1.2 Rapid Factory Automation Increasing Production Efficiencies of Electronics Industry
4.1.3 Increasing focus in Safety Standards
4.2 Temperature Sensors Market Restraints
4.2.1 Avaliability of Multiple technologies
4.3 Temperature Sensors Market Opportunities
4.3.1 Increasing Adoption in Developing Nations
4.3.2 Rapid Evolution in Sensor Technology
5. Temperature Sensors Market Technology Overview
6. Global Temperature Sensors Market Segmentation
6.1 Temperature Sensors Market By Type
6.1.1 Wired
6.1.2 Wireless
6.2 Temperature Sensors Market By technology
6.2.1 Silicon on Sapphire
6.2.2 Bonded Strain Guage
6.2.3 Infrared
6.2.4 Thermocouple
6.2.5 Resistance Temperature Detectors
6.2.6 Thermistor
6.2.7 Temperature Transmitters
6.2.8 Fiber Optic
6.3 Temperature Sensors Market By End-user
6.3.1 Chemicals & Petrochemicals
6.3.2 Oil & Gas
6.3.3 Metals & Mining
6.3.4 Power Generation
6.3.5 Food & Beverage
6.3.6 Automotive
6.3.7 Medical
6.3.8 Aerospace & Military
6.3.9 Consumer Electronics
6.3.10 Others
6.4 Temperature Sensors Market By Geography
6.4.1 North America Temperature Sensors Market Size (2018-2023)
6.4.2 Europe Temperature Sensors Market Size (2018-2023)
6.4.3 Asia-Pacific Temperature Sensors Market Size (2018-2023)
6.4.4 Latin America Temperature Sensors Market Size (2018-2023)
6.4.5 Middle East & Africa Temperature Sensors Market Size (2018-2023)
7. Temperature Sensors Market Company Profiles
7.1 Texas Instruments Incorporated
7.2 Panasonic Corporation
7.3 Siemens AG
7.4 Honeywell International Inc.
7.5 ABB Ltd.
7.6 Analog Devices, Inc.
7.7 Kongsberg Gruppen
7.8 Emerson Electric Company
7.9 STMicroelectronics
7.10 Microchip Technology Incorporated
7.11 NXP Semiconductors N.V.
7.12 Maxim Integrated Products
7.13 Mouser Electronics
7.14 Robert Bosch GmbH
7.15 Günther GmbH Temperaturmesstechnik
7.16 TE Connectivity Ltd.
7.17 Denso Corporation
7.18 Omron Corporation
7.19 FLIR Systems
7.20 Thermometris
7.21 GE Sensing & Inspection Technologies GmbH
7.22 Ircon Inc. (Fluke Process Instruments)
7.23 Yokogawa Electric Corporation
*List not Exhaustive
8. Temperature Sensors Market Investment Analysis
9. Future Outlook of Global Temperature Sensors Market