The South America Non Lethal Weapons Market is expected to register a CAGR of over 5% till 2023. South American countries have been undergoing extreme economic crisis in recent years. Many of the major economies led by Brazil are undergoing a period of recession and this has affected the spending capacity of both the government and the population. The recession has been majorly brought about the commodity price crash and as most of the South American economies are net exporters of commodities, this has affected their finances. The tough situation has also been a major factor for the rise in discontent, protests and demonstrations. In Brazil, there has been large number of protests and demonstrations in 2015 over corruption scandals and resulting in a huge level of discontent there amongst the people. The government, in order to handle such protests, has been ramping up their acquisitions of equipment to control the crowds.
Further, crime levels have risen in recent times; with Venezuela and Brazil continue to be the most violent South American countries. The civilian and law enforcement market for Non Lethal weapons in South America will register moderate rates of growth, while the market for the same in military would be stagnant. North American manfacturers of non lethal ammunitions are expected to accont for majority of the deals during the forecast period 2018 - 2023.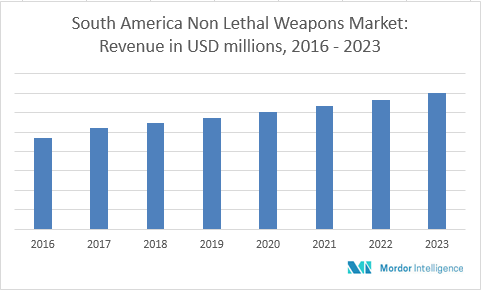 Key Developments in the Market:
May 2018: Vista, maker of Ammunition and Recreation Gear, Plans to Sell Off Gun-Making Unit for a better brand image and public acceptibility.
Major Players: Condor Non Lethal Technologies, Security Devices International, Non Lethal Technologies among others.
Reasons to Purchase this Report
Provides Latest Insights into the south american non lethal weapons market.
Analysing various perspectives of the market with the help of Porter's five forces analysis.
Provides Latest Insights into the non lethal weapons market in south american countries.
Identify the latest developments, market shares and strategies employed by the major market players.
3 months analyst support along with the Market Estimate sheet (in excel).
Customization of the Report
This report can be customized to meet the desired requirements. Please connect with our analyst, who will ensure you get a report that suits your needs.
1. INTRODUCTION
1.1 Scope of the Study
1.2 Market Definition
1.3 Executive Summary
2. RESEARCH METHODOLOGY
2.1 Study Deliverables
2.2 Study Assumptions
2.3 Research Phases
3. MARKET OVERVIEW AND TRENDS
3.1 Industry Attractiveness - Porters Five Force Framework
3.1.1 Bargaining Power of the Suppliers
3.1.2 Bargaining Power of the Consumers
3.1.3 Threat of New Entrants
3.1.4 Threat of Substitute Products and Services
3.1.5 Competitive Rivalry within the Industry
4. MARKET DYNAMICS
4.1 Drivers
4.2 Restraints
4.3 Opportunities
5. SOUTH AMERICA NON-LETHAL WEAPONS MARKET, SEGMENTED BY PRODUCT
5.1 Ammunition
5.1.1 Rubber Bullets
5.1.2 Plastic Bullets
5.1.3 Bean Bag Rounds
5.1.4 Others
5.2 Direct Contact Weapons
5.2.1 Gases and Sprays
5.2.2 Explosives
5.2.3 Water Weapons
5.3 Directed Energy Guns
5.3.1 Crowd Control Weapons
5.3.2 Taser Guns
5.3.3 Others
5.4 Others
6. SOUTH AMERICA NON-LETHAL WEAPONS MARKET, SEGMENTED BY USERS
6.1 Police Forces
6.2 Special Forces
6.3 Civilians
7. SOUTH AMERICA NON-LETHAL WEAPONS MARKET, SEGMENTED BY COUNTRY
7.1 Brazil
7.2 Colombia
7.3 Chile
7.4 Rest of South America
8. COMPETITIVE LANDSCAPE
8.1 Introduction
8.2 Market Share Analysis
9. COMPANY PROFILES
9.1 Combined Systems Inc.
9.2 Condor Non-Lethal Technologies
9.3 BAE Systems
9.4 Security Devices International
9.5 Amtec Less Lethal Weapons
9.6 Alsetex
9.7 Non-Lethal technologies
9.8 The Safariland group
9.9 LRAD Corporation
9.10 Axon (Taser International Inc.)
10. DISCLAIMER