The global nematicide market was estimated at USD 1.29 billion in 2017, and it is expected to exhibit a CAGR of 4.6% during the forecast period (2018 - 2023). Asia-Pacific, the largest producer of fruits & vegetables, is likely to witness the fastest growth during the forecast period. North America and Europe accounted for the largest market share, with more than 60% of the market share in 2017. It is expected that the pesticide ban and market saturation will limit the market expansion in the European and North American markets.
Increasing Adoption of Bio-Based Nematicides
Bio-based nematicides or bionematicides are generally bacterial, or fungal spores along with inert materials. The microbial spores, incorporated in bionematicides germinates, and seize the growth of the nematodes. Fumigants nematicides segment is projected to command the global market with large market revenue due to huge adoption in vegetables & fruit crop production. Liquid form segment is also expected to witness higher CAGR during the forecast period. Though fumigants dominated the global nematicide market in 2016, accounting for 44% of the market share, several advantages, like no residue leftover, no resistance development, and excellent activity are making the bionematicides favored in the market.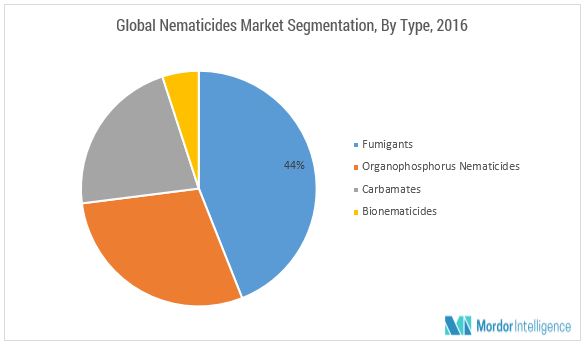 Emerging Market in Developing Countries
The growth potential for nematicides is mostly in the emerging untapped regions, such as China, India, Brazil, and African countries. The consumption of nematicides is low in these countries compared to developed nations. The increasing awareness among farmers is expected to lead to a rise in consumption pattern during the forecast period. China and India are the two largest economies in terms of population, having a rural sector of 67%, and 44%, respectively. These should be the key focus market for nematicides players. The agricultural output of China is 140% higher than that of India, and 68% higher than that of European Union. The growing demand for food products, mainly from developing countries is likely to propel the nematicides consumption, for healthy farm yield, and to decrease crop loss.
Increasing Seed Treatment Practices Driving Demand
Nematicides are applied to the seed and during the growth of the crop, to protect the seeds, as well as to aid in the growth of healthier crops. The increase in the prices of high-quality seeds, such as hybrid, and genetically modified seeds, cost efficiency of seed treatment systems, limitations linked to soil structure, and temperature on the application of crop protection chemicals, and encouraging government regulations are driving the market growth for nematicides.
Key Developments in the Market
With the growing demand, the global nematicides market is experiencing a number of new product launches, mergers & acquisitions, and partnership between the global players.
December 2017: BASF submitted its new Trunemco™ Nematode Management seed treatment to the Environmental Protection Agency (EPA) for registration. Trunemco Nematode Management is a seed-applied solution that will provide growers with a patented combination of a microorganism, and a biochemical.
November 2017: DowDuPont™ announced that DuPont has completed its acquisition of FMC Corporation's Health & Nutrition business (FMC H&N), except for the Omega-3 business, and its divestment to FMC of a portion of DuPont's Crop Protection business.
November 2017: Valent U.S.A. LLC announced the launch of new Aveo EZ Nematicide to help protect soybeans from yield loss caused by Soybean Cyst Nematode (SCN), Reniform nematode.
September 2017: American Vanguard Corporation announced that its wholly-owned subsidiary AMVAC Netherlands BV, will acquire Grupo Agricenter to reinforce its commercial, technical and development structure in the Latin-American region.
Key Players: Simbiose Agro, Bayer Cropscience, Stoller, Marrone Bio Innovations Inc., American Vanguard Corporation, BASF SE, Dow Chemical Company, DuPont, FMC Corporation, Isagro Group Spa, Monsanto Company, Nufram Limited, Syngenta International Ag, Valent U.S.A. LLC, Adama Agricultural Solutions, and Sumitomo Chemical
Reasons to Purchase This Report
To have an understanding of the fastest growing or/and largest regions during the forecast period.
The report outlines drives, restraints and trends that are currently affecting the market.
Analyzing various perspectives of the market with the help of Porter's five forces analysis.
The report covers in-detail insights about the competitor's overview, company share analysis
Identify the latest developments, market shares and strategies employed by the major market players.
3 months analyst support along with the Market Estimate sheet in excel.
Customization of the Report
This report can be customized to meet your requirements. Please connect with our analyst, who will ensure you get a report that suits your needs.
1. INTRODUCTION
1.1 Scope of the Study
1.2 Market Definition
1.3 Executive Summary
2. RESEARCH METHODOLOGY
2.1 Study Deliverables
2.2 Study Assumptions
2.3 Research Phases
3. MARKET INSIGHT
3.1 Industry Attractiveness – Porter's Five Forces Analysis
3.1.1 Bargaining Power of Suppliers
3.1.2 Bargaining Power of Consumers
3.1.3 Threat of New Entrants
3.1.4 Threat of Substitute Products and Services
3.1.5 Degree of Competition
4. MARKET DYNAMICS
4.1 Drivers
4.1.1 High Demand for Improving Soil Health
4.1.2 Organizations Promoting Integrated Pest Management
4.1.3 Growing Food Demand and Shrinking Agricultural Land
4.2 Restraints
4.2.1 Major Regions Facing Pesticide Ban
4.2.2 Burgeoning R&D costs
4.2.3 Increasing incidences of side effects of Nematicides on Humans and Beneficial Flora and Fauna
4.3 Opportunities
4.3.1 Focus on Using Nematicide in Integrated Pest Management Technique in Developing Countries
4.3.2 Demand Growing at the Fastest Rate in Developing Regions
5. MARKET SEGMENTATION AND ANALYSIS
5.1 By Chemical Type
5.1.1 Fumigant
5.1.2 Organophosphate
5.1.3 Carbamate
5.1.4 Bio-based Nematicide
5.2 By Application Type
5.2.1 Crop-based Nematicide
5.2.1.1 Fruit- and Vegetable-based Nematicide
5.2.1.2 Oilseed-based Nematicide
5.2.1.3 Grain and Cereal Nematicide
5.2.2 Non-crop-based Nematicide
5.2.2.1 Turf and Ornamental-based Nematicide
5.2.2.2 Other non-crop-based Nematicides
5.3 By Formulation
5.3.1 Gas
5.3.2 Liquid
5.3.3 Granular or Emulsifier Liquid
5.3.4 Other Formulation Types
5.4 Global Market Analysis
5.4.1 North America
5.4.1.1 United States
5.4.1.2 Canada
5.4.1.3 Mexico
5.4.1.4 Rest of North America
5.4.2 Europe
5.4.2.1 United Kingdom
5.4.2.2 France
5.4.2.3 Germany
5.4.2.4 Russia
5.4.2.5 Italy
5.4.2.6 Rest of Europe
5.4.3 Asia-Pacific
5.4.3.1 China
5.4.3.2 India
5.4.3.3 Japan
5.4.3.4 Australia
5.4.3.5 Rest of Asia-Pacific
5.4.4 South America
5.4.4.1 Brazil
5.4.4.2 Argentina
5.4.4.3 Rest of South America
5.4.5 Africa
5.4.5.1 South Africa
5.4.5.2 Rest of Africa
6. COMPETITIVE INTELLIGENCE
6.1 Mergers and Acquisitions, Joint Ventures, Collaborations, and Agreements
6.2 Market Share Analysis
6.3 Strategies Adopted by Leading Players
7. COMPANY PROFILES
7.1 UPL Limited
7.2 American Vanguard Corporaton
7.3 BASF SE
7.4 Bayer CropScience AG
7.5 Bioworks Incorporated
7.6 DowDuPont Inc.
7.7 FMC Corporation (United States)
7.8 Isagro Group SpA
7.9 Marrone Bio Innovations Inc.
7.10 Monsanto Company
7.11 Nufarm Ltd
7.12 Syngenta International AG (Swizerland)
7.13 Sumitomo Chemical
8. FUTURE OF THE MARKET
8.1 Geographical Outlook
8.2 Opportunities
9. APPENDIX
9.1 Tables and Figures