The Nanotubes market is expected grow at a moderately high rate during the forecast period (2018-2023), majorly driven by growing adoption of carbon nanotubes in major end-users. A nanotube is a nanoscale material that has a tube-like structure. It can be made from various materials, such as, carbon, boron, or silicon. Each of these has its own applications in new technologies.
Increasing Adoption of Carbon Nanotubes in Major End-users is Driving the Market
Carbon Nanotubes (CNTs) can act as antennas for radios and other electromagnetic devices. Conductive CNTs are used in brushes for commercial electric motors, replacing traditional carbon black. The nanotubes improve electrical and thermal conductivity as they stretch through the plastic matrix of the brush. Innovations in developing robust and reliable production methods, with proper control and measurement at atomic scale, have surfaced repeatedly. With reduced production time and cost, carbon nanotubes market has a potential for high growth in the forecast period.
Carbon Nanotubes to Dominate the Market
Carbon nanotubes are playing a crucial role in technological advancements in medicine, electronics, engineering, and various other applications. There is an increased demand for carbon nanotubes applications, such as, sensors, field effect transistors, light emitters for field emission displays, batteries, fuel cells, double layer capacitors and electronic chips, among others, and has been met successfully by the increase in global production. Developments in carbon nanotube fabrication have led to substantial decrease in the price from more than USD 150 per gram in 2000 to under USD 50 per gram in 2010 and near USD 2 per gram. The increasing adoption of novel manufacturing techniques and increasing applications of carbon nanotubes is driving their demand globally.
United States is dominating the nanotubes Market
The United States is one of the largest markets for nanotubes in the region of North America. The US has witnessed a constant increase in the use of nanotubes in recent years, due to its significant growth in major end-user industries. Aerospace manufacturing has resumed in the country with investments larger than USD 25 billion, since 2012. The aerospace industry is shifting more manufacturing investments to the United States, after a decade. Hence, this is expected to increase the consumption of nanotubes in the country. Another major end-user industry where the use of nanotubes is more is the energy sector. The United States is one of the leading countries in the production and supply of energy, and is one of the world's largest energy consumers, thus majorly boosting the nanotubes market in the forecast period.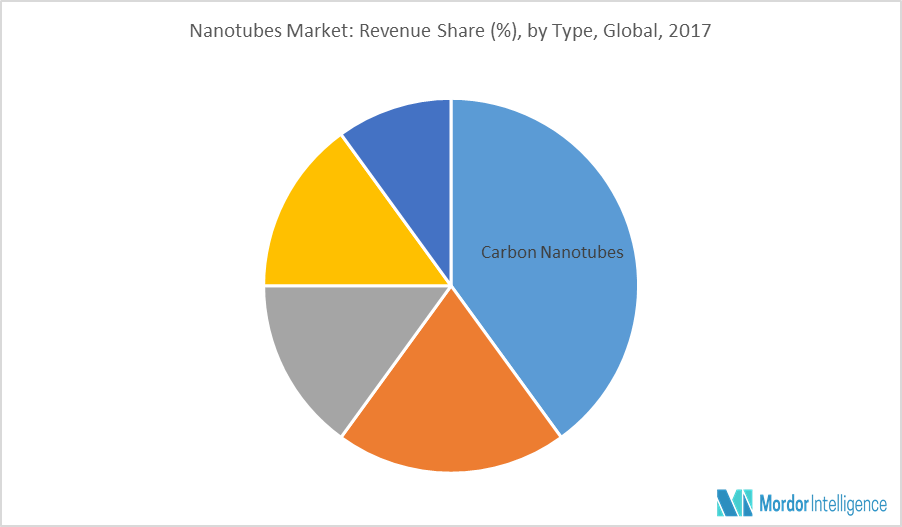 Notable Developments
April 2017: Air Products has started up new plant in Chongqing city for China's leading LCD Panel Fab.
Major Players: Archema, Nanocyl, Air Products & Chemicals, and Showa Denko among others.
Reason to Purchase the Report
To understand the impact of various product type on the market
Analyzing various perspectives of the market with the help of Porter's five forces analysis
To understand the dominating product type and end-user industry in the market
Countries expected to witness the fastest growth during the forecast period
Identify the latest developments, market shares, and strategies employed by the major market players
3 months analyst support along, with the Market Estimation sheet (in Excel)
Customization of the Report
This report can be customized to meet your requirements. Please connect with our representative, who will ensure you get a report that suits your needs.
1. Introduction
1.1 Research Phases
1.2 Scope of the Report
1.3 Study Deliverables
2. Executive Summary
3. Market Insights
3.1 Industry Value Chain Analysis
3.2 Industry Attractiveness – Porter's Five Force Analysis
3.2.1 Bargaining Power of Suppliers
3.2.2 Bargaining Power of Consumers
3.2.3 Threat of New Entrants
3.2.4 Threat of Substitute Products and Services
3.2.5 Degree of Competition within the Industry
4. Market Dynamics
4.1 Drivers
4.1.1 Advancement in Nanotubes Technologies
4.1.2 Growing Adoption of Carbon Nanotubes in Major End-users
4.2 Restraints
4.2.1 High Manufacturing and R&D Cost
4.3 Opportunities
4.3.1 Rising Potential Uses in Electronic and Storage Devices
5. Market Segmentation and Analysis (Market Size, Growth, and Forecast)
5.1 By Type
5.1.1 Carbon Nanotubes
5.1.1.1 Multi-Walled Carbon Nanotubes
5.1.1.1.1 Spiral
5.1.1.1.2 Concentric
5.1.1.2 Single-Walled Carbon Nanotubes
5.1.1.2.1 Zig-zag
5.1.1.2.2 Armchair
5.1.1.2.3 Chiral
5.1.1.3 Fullerite
5.1.1.4 Torus
5.1.2 Silicon Nanotubes
5.1.3 Inorganic Nanotubes
5.1.4 Membrane Nanotubes
5.1.5 Others
5.2 By Structure Type
5.2.1 Non-Polymer Organic Nanomaterials
5.2.2 Polymeric Nanomaterials
5.3 By Application
5.3.1 Hydrogen Storage Devices
5.3.2 Sensors
5.3.3 Polymeric Biomaterials
5.3.4 Li-ion Batteries
5.3.5 Luminescent Display Devices
5.3.6 Biosensors
5.3.7 Nanoelectrodes
5.3.8 Water Purification Filters
5.3.9 Semiconductor Devices
5.3.10 Conductive Plastics
5.4 By End-user Industry
5.4.1 Healthcare
5.4.2 Electronics
5.4.3 Energy
5.4.4 Automotive
5.4.5 Aerospace & Defense
5.4.6 Textile
5.4.7 Others
6. Regional Market Analysis (Market Size, Growth and Forecast)
6.1 Asia-Pacific
6.1.1 China
6.1.2 India
6.1.3 Japan
6.1.4 South Korea
6.1.5 Rest of Asia-Pacific
6.2 North-America
6.2.1 United States
6.2.2 Canada
6.2.3 Mexico
6.2.4 Rest of North America
6.3 Europe
6.3.1 Germany
6.3.2 United Kingdom
6.3.3 France
6.3.4 Italy
6.3.5 Rest of Europe
6.4 South America
6.4.1 Brazil
6.4.2 Argentina
6.4.3 Rest of South America
6.5 Middle East and Africa (MEA)
6.5.1 Saudi Arabia
6.5.2 South Africa
6.5.3 Rest of MEA
7. Competitive Landscape
7.1 Mergers & Acquisitions, Joint Ventures, Collaborations, and Agreements
7.2 Market Share Analysis**
7.3 Strategies Adopted by Leading Players
8. Company Profiles (Overview, Financials**, Products & Services, Recent Developments)
8.1 Ad-Nano Technologies Pvt. Ltd.
8.2 Advance Nano, Inc.
8.3 Arkema
8.4 Bayer
8.5 Carbon NT&F
8.6 Carbon Solutions, Inc
8.7 Catalyx Nanotech, Inc.
8.8 Chengdu Organic Chemicals Co. Ltd
8.9 CNT
8.10 FutureCarbon GmbH
8.11 Glonatech
8.12 HeJi, Inc.
8.13 Hyperion Catalysis International, Inc.
8.14 Litmus Nanotechnology
8.15 M.E.R Corporation
8.16 MP Biomedicals
8.17 Nanocs
8.18 Nanocyl
8.19 Nanoshel
8.20 Nanostructured & Amorphous Materials, Inc.
8.21 Nanotailor, Inc.
8.22 Nanothinx SA
8.23 PlasmaChem GmbH
8.24 Reinste Nano Ventures
8.25 Showa Denko K.K.
8.26 Sigma-Aldrich
8.27 SouthWest Nano Technologies, Inc.
8.28 XinNano Materials
8.29 Xintek Inc.
8.30 Zyvex Technologies
*List not exhaustive
9. Disclaimer
**Subject to availability on public domain