Market Insight
The sodium reduction ingredients market is on demand due to health & wellness awareness and rising cardio diseases. Growing food industry, especially with packaged and processed food, increases the consumption of sodium by the consumers. To reduce this high consumption, the manufacturers are making products that are tasty and healthy with less sodium content. North America is the largest market for sodium reduction ingredients. This can be attributed to the high consumption of sodium in the region, which leads to high scope for the sodium reduction market. North America is followed by Europe, and Asia-Pacific is the fastest growing market for SRI.
Growing Demand from the Food Processing Industry
A rapidly rising population and greater degrees of urbanization on a global level have boosted demand for processed & convenience food products, thus driving the demand for sodium reduction ingredients. In the US, consumer expenditure on processed foods (in total groceries expenditure) was recorded as 11.2% in 1982, and it saw an increase to 22.9% in 2012; the total grocery expenditure declined from 13% to 9% during the same time. Processed foods make up 70% of the U.S. diet. In Asian countries with greater disposable incomes and busy lifestyles, like India and China, demand for packaged, processed and ready-to-eat foods is increasing. In India, the household consumer expenditure survey of 2010 revealed that urban consumers spent 104% more than rural consumers on beverages, refreshments and processed foods.
Mineral Salts Widely Used as Sodium Reduction Ingredients
Mineral salts, such as potassium chloride, magnesium sulphate, calcium chloride, potassium lactate and so on, are widely used as SRIs, owing to their widespread availability and potential to replace normal salt in terms of functionalities and taste. Potassium chloride (KCL) is the most preferred SRI amongst mineral salts due its similar taste profile as that of salt (NaCl). Additionally, KCL is used in combination with calcium, magnesium and other potassium-based salts, as they impart bitter taste when they are used individually.
North America Dominates the Market Share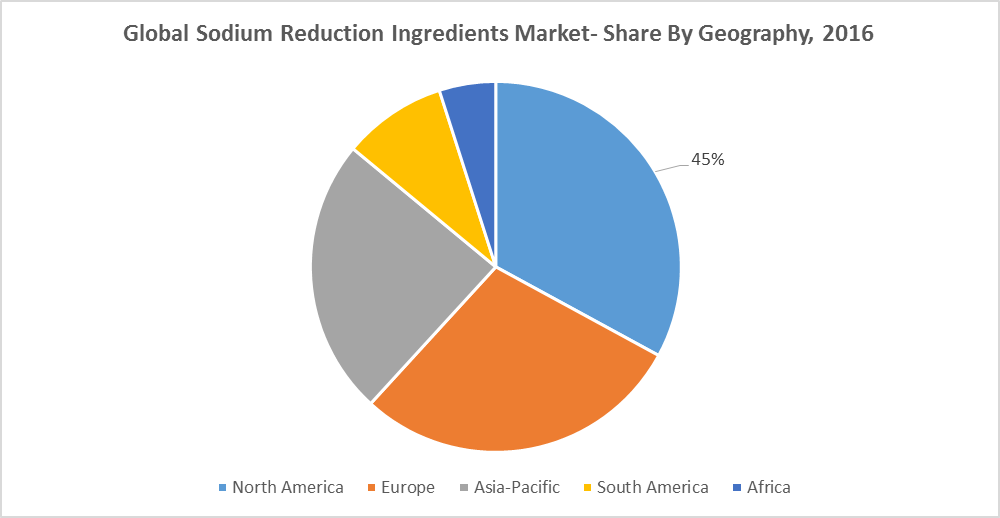 North America, due to the higher awareness among consumers and strong recommendations for reducing sodium content by health institutes, has seen an increase in the demand for SRI. In addition, high concentration of food ingredient manufacturers and significant technical expertise in flavor technologies has enabled the consistent innovation in the SRI segment. Food product manufacturers in this region are under pressure to reduce sodium content from health advocates as well as consumers.
Competitive Landscape
Global food ingredient manufacturers lead the SRIs market with their strong technical expertise, customer base, distribution network, geographical presence, and wide product portfolio. Cargill Inc., was the dominant player in 2017 with its innovative product offerings in the mineral salts segment. Sodium reduction ingredients market is concentrated with five prominent companies such as Cargill Inc. (US), Royal DSM (The Netherlands), Ajinomoto Co Inc. (Japan), Innophos Holding Inc. (US) and Jungbunzlauer AG (Switzerland), together capturing a major share of in terms of revenue in 2017.
Reasons to Purchase this Report
Analyzing outlook of the market with the recent trends and Porter's five forces analysis

Market dynamics which essentially consider the factors which are impelling the present market scenario along with growth opportunities of the market in the years to come

Market segmentation analysis including qualitative and quantitative research incorporating the impact of economic and non-economic aspects

Regional and country level analysis integrating the demand and supply forces that are influencing the growth of the market

Competitive landscape involving the market share of major players along with the key strategies adopted for development in the past five years

Comprehensive company profiles covering the product offerings, key financial information, recent developments, SWOT analysis and strategies employed by the major market players

3 months analyst support along with the Market Estimate sheet in excel.
Customization of the Report
This report can be customized to meet your requirements. Please connect with our analyst, who will ensure you get a report that suits your needs.