The Fleet Management Solutions market was valued at USD 4.14 billion in 2017, and it is expected to reach a value of USD 18.21 billion by 2023, at a CAGR of 19.87% over 2018-2025. The report includes insights on the solutions offered by major players including providers of hardware, professional services, and integration solutions. The regions included in this study are North America, Europe, Asia-Pacific, Latin America, and Middle East & Africa. The study offers insights on various end-user verticals as construction, energy & utilities, government, manufacturing, transportation, etc. It also considers solution-based segmentation, such as driver management, fleet analytics, operation management, speed management, telematics, etc., and deployment-based segmentation, such as cloud, on-premise, and hybrid.
Fleet management solutions (FMS) market integrates hardware, software, network infrastructure, and connectivity solutions to offer effective monitoring as well as reporting systems for fleet operators.
Renewed Emphasis on Streamlining Fleet Operations
Fleet management market has been greatly affected by the rising operational costs rooting from increased demand for utility vehicles, rising expenditure on maintenance, and steady growth in compliance costs. The market has been operating on very meager margins and the need for streamlining operations has been a major driver for growth in the fleet management solutions. A clear operational plan for running fleet services is the need of the hour. Fleet management solutions have been leveraging technology for offering services like operations management, supply chain management, increased reporting & analytics, vehicle & asset management, and much more. Large fleet owners need effective solutions for monitoring their activities in order to save cost and resources. Fleet management solutions greatly reduce the insurance premiums by complying with regulatory standards. They offer supply chain management tools that keep track of inventory and cargo movement on the ground. The new age solutions are also offering remote diagnostics for helping drivers in case of emergency.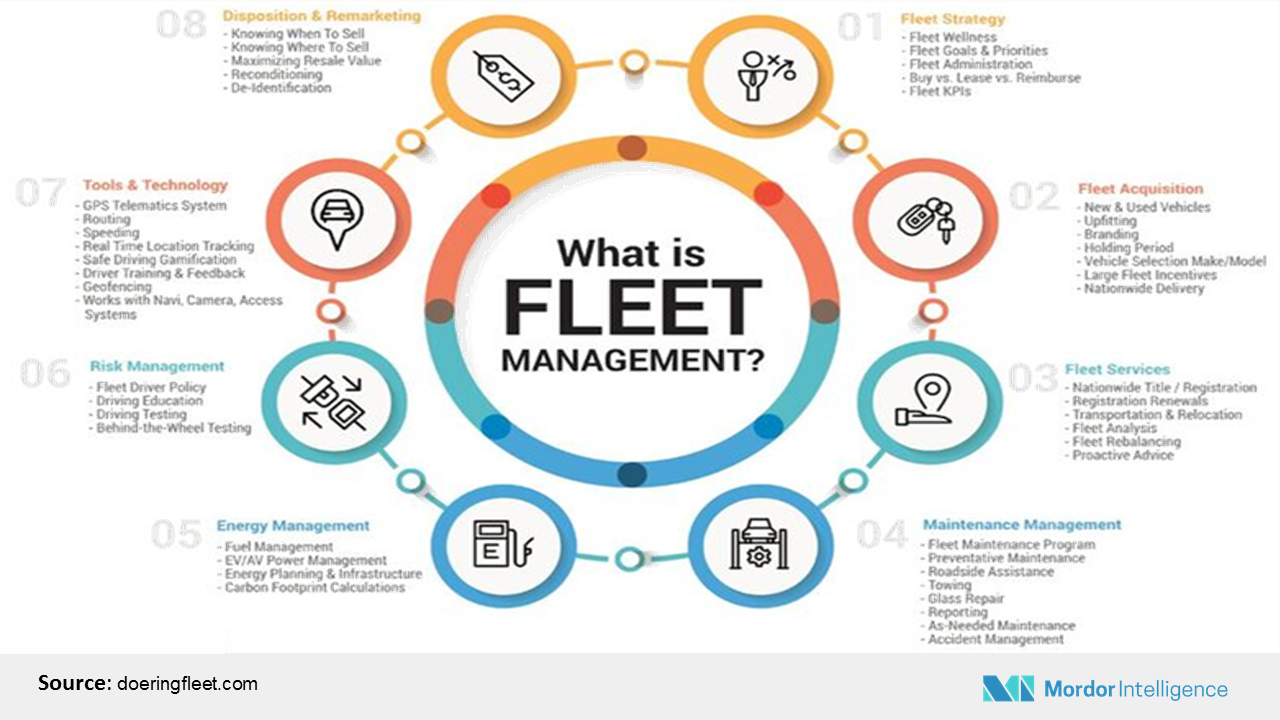 Cloud-based Fleet Management Deployment Solution
The cloud-based deployment model enables the collection of large volumes of server-storage resources into an integrated solution while providing backup of the user's database on the different servers to guarantee the reliability of data. In the cloud storage era, users have access to the stored data in the system without any geographical limitations. The users only pay for the resources that are needed while the providers bear the cost of building and maintaining the storage architecture. In the recent years, the low cost and ease of implementation have made cloud deployment a highly desirable delivery model among the enterprises worldwide. Cloud-based software are incorporated in light, medium, and heavy vehicles for obtaining the real-time information. The Asia-Pacific and North American regions are making good use of the cloud-based software to ensure quality tracking. This has boosted various verticals with increased fleet tracking devices and solutions, provided by the vendors in these regions for more effectiveness.
Key Developments in the Market
March 2018 - Verizon Connect combined the three fleet and mobile workforce management software companies, namely Fleetmatics, Networkfleet, and Telogis, to deliver solutions that help drive safety, productivity, and efficiency for customers. The launch of Verizon Connect marked the completed integration of existing connected vehicle division with two recently acquired fleet and mobile workforce management software companies under a single, combined brand.
The major players include - Astrata Group, AT&T Inc., Cisco Systems Inc., CTRACK (An Inseego Corp. Company), I.D. Systems, IBM Corporation, Mix Telematics, Omnitracs LLC, Tomtom NV, Trimble Navigation Limited, Verizon Communications, and Wheels Inc. among others
Reasons to Purchase this Report
Current and future global fleet management solutions market outlook
Analyzing the performance of various segments in the market
Analyzing different perspectives of the market with the help of Porter's five forces analysis
Identifying the segments and sub-segments expected to dominate the market
Identifying the regions expected to witness expedited growth during the forecast period
Latest developments, market shares, and strategies employed by the major market players
3-month analyst support, along with the Market Estimate sheet (in Excel)
Customization of the Report
This report can be customized to meet your requirements. Please connect with our representative, who will ensure you get a report that suits your needs.
1. Introduction
1.1 Scope of the Study
1.2 Executive Summary
2. Research Approach and Methodology
2.1 Study Deliverables
2.2 Study Assumptions
2.3 Analysis Methodology
2.4 Research Phases
3. Market Analysis
3.1 Market Overview
3.2 Industry Attractiveness - Porter's Five Force Analysis
3.2.1 Bargaining Power of Suppliers
3.2.2 Bargaining Power of Consumers
3.2.3 Threat of New Entrants
3.2.4 Threat of Substitutes
3.2.5 Intensity of Competitive Rivalry
4. Market Dynamics
4.1 Introduction to Drivers & Restraints
4.2 Drivers
4.2.1 Renewed Emphasis on Streamlining Fleet Operations
4.2.2 Affordable Hardware and Access to Greater Connectivity Availability of Wider Range of Reporting and Analytics Services
4.2.3 Availability of Wider Range of Reporting and Analytics Services
4.3 Restraints
4.3.1 Lack of awareness among smaller-fleet owners
4.3.2 Rising operational costs of fleet vendors
4.4 Value Chain Analysis
4.5 Industry Policies
5. Global Fleet Management Solutions Market Segmentation By Deployment Model
5.1 Cloud
5.2 On-premise
5.3 Hybrid
6. Global Fleet Management Solutions Market Segmentation By Solution
6.1 Information Management
6.2 Driver Management
6.3 Asset Management
6.4 Safety & Compliance Management
6.5 Risk Management
6.6 Operations Management
6.7 Others
7. Global Fleet Management Solutions Market Segmentation By End-User
7.1 Transportation
7.2 Energy
7.3 Construction
7.4 Manufacturing
7.5 Others
8. Global Fleet Management Solutions Market Segmentation By Region
8.1 North America
8.1.1 United States
8.1.2 Canada
8.2 Europe
8.2.1 United Kingdom
8.2.2 Germany
8.2.3 France
8.2.4 Others (Russia, Italy, and Spain)
8.3 Asia-Pacific
8.3.1 China
8.3.2 Japan
8.3.3 India
8.3.4 Others (Australia, Indonesia, and the Philippines)
8.4 Latin America
8.4.1 Brazil
8.4.2 Argentina
8.4.3 Others (Mexico, Chile, and Peru)
8.5 Middle East & Africa
8.5.1 Saudi Arabia
8.5.2 UAE
8.5.3 South Africa
8.5.4 Others
9. Competitive Intelligence - Company Profiles
9.1 Astrata Group
9.2 AT&T Inc.
9.3 Cisco Systems Inc.
9.4 CTRACK (An Inseego Corp. Company)
9.5 I.D. Systems
9.6 IBM Corporation
9.7 Mix Telematics
9.8 Omnitracs LLC
9.9 Tomtom NV
9.10 Trimble Navigation Limited
9.11 Verizon Communications
9.12 Wheels Inc.
*List not exhaustive
10. Investment Analysis
10.1 Investment Scenario
10.2 Investment Outlook
11. Future of the Market