Third Party Logistics (3PL) Market Size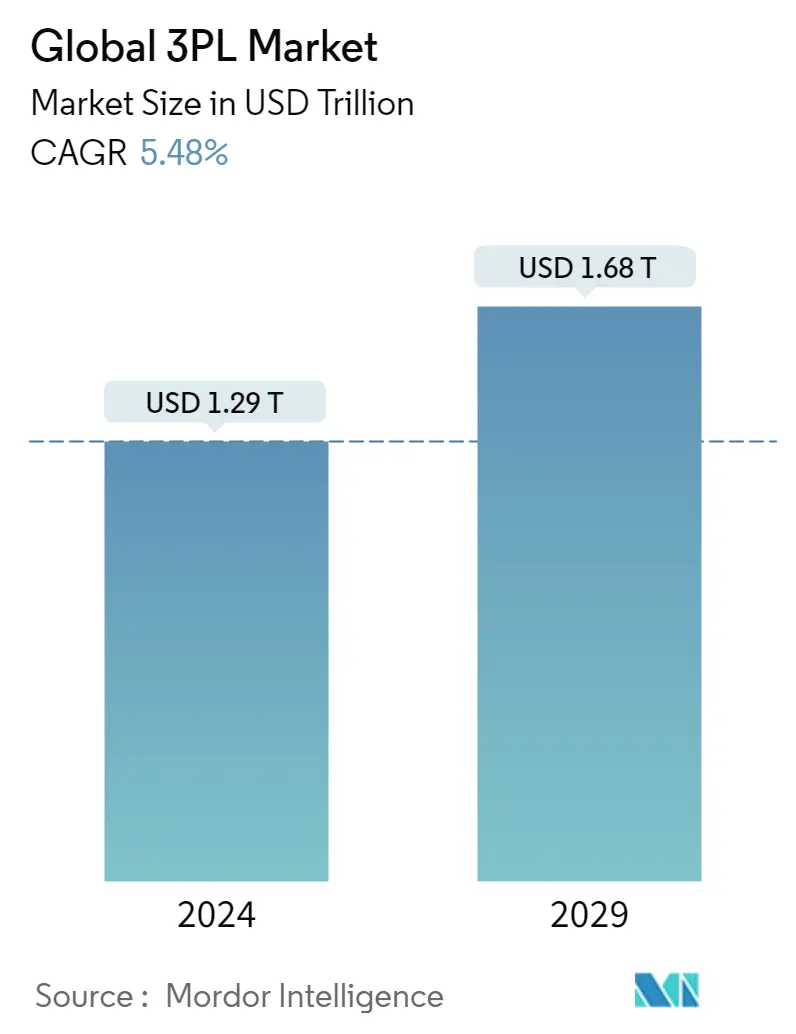 Study Period
2019 - 2028
Market Size (2023)
USD 1.22 Trillion
Market Size (2028)
USD 1.59 Trillion
CAGR (2023 - 2028)
5.48 %
Fastest Growing Market
Asia Pacific
Largest Market
Asia Pacific

Major Players

*Disclaimer: Major Players sorted in no particular order
Need a report that reflects how COVID-19 has impacted this market and its growth?
Third Party Logistics (3PL) Market Analysis
The Third-Party Logistics (3PL) Market size is estimated at USD 1.22 trillion in 2023, and is expected to reach USD 1.59 trillion by 2028, growing at a CAGR of 5.48% during the forecast period (2023-2028).
The market is driven by the order fulfillment services and end-to-end pickup and delivery services provided by the players in the market. Furthermore, the market is driven by advanced technology, which is a cutting-edge factor for players to grow in the market.
The logistics industry has undergone several rapid changes in recent years. The trends that began and accelerated in 2020 continued in 2021 and 2022, with increased demand for home delivery and higher consumer expectations than ever before. At the same time, 2022 presented its own set of challenges in terms of inflation, economic volatility, and ongoing supply chain disruptions. Despite the major disruptions of 2022, there are still many major trends that have continued (and will continue) unabated. Amazon, for example, increased its dominance by heavily investing in its in-house logistics capabilities.
Nowadays, shippers want to make more data-driven decisions. As a result, 3PL firms must brace themselves for clients who expect analytics expertise. According to one recent study, 94% of shippers believe analytics are required to ensure complete and on-time order fulfillment and package visibility. 3PLs will increasingly need to focus on generating more analytical insights across their operations, for example, by establishing data science capabilities and teams to provide useful insights to their clients and internal teams. Strong data and clear strategies will assist third-party logistics providers in providing shippers with improved traceability and end-to-end visibility across the supply chain. Aside from collecting more data, businesses must prioritize cybersecurity and have data protection plans in place.
The importance of last-mile delivery is well-known to logistics service providers. However, many people are unaware that final mile operations will be a game changer in the coming years. Last-mile deliveries have already dethroned price and product as key differentiators in shopper purchasing decisions. Last-mile delivery is critical for both retaining and acquiring new customers. Simply put, last-mile operations can make or break a company. This has been one of the most important logistics trends for several years, and it shows no signs of abating. More 3PL companies are working to reduce last-mile delivery distances by locating fulfillment hubs in more accessible locations, such as urban centers.
Customer retention is one of the most difficult challenges in a highly competitive market, driving businesses to embrace greater picking efficiency, smart inventory management, and rapid replenishment of hot-selling items. The supply chain and logistics domains are being transformed by fast data and strong network connectivity. Warehouse management systems (WMS) of today have extensive computing power, large amounts of data storage, and the ability to connect to other critical applications such as enterprise resource planning (ERP) and customer relationship management (CRM). It is no longer enough to simply track shipments; businesses must optimize every step of the process, from raw materials to the production line, marketing, and delivery of the product to the end customer.
Third Party Logistics (3PL) Market Trends
This section covers the major market trends shaping the 3PL Market according to our research experts:
Growth in E-commerce Sales Driving the Market
On the fulfillment front, all shippers have a set of performance metrics or key performance indicators (KPIs) to work toward. In today's fast-paced fulfillment environment, meeting these targets can be difficult, especially if fulfillment is not a core competency for the shipper. Knowing this, the third-party logistics (3PL) industry has stepped up its game, offering a broader portfolio of services to a broader range of customers. Once the domain of extremely high-volume operations, even small businesses selling clothing online recognize the value of outsourcing some or all of their fulfillment operations to a reputable third party. The e-commerce boom has prompted more businesses to investigate 3PL options.
E-commerce shippers are increasingly turning to 3PL providers to help them meet changing customer expectations and deal with supply chain disruption, labor constraints, transportation issues, inflation, and other challenges that have become the "new normal" in today's operating environment. As a result, 3PLs are offering shippers strategic locations, more space to accommodate higher inventory volumes, and a wider range of delivery options. As the volume of returns has increased in the last year, e-commerce shippers want to work with 3PLs that can help customers with the returns process. Omni-channel logistics services are also in high demand, with automation serving as a critical component of e-commerce fulfillment processes.
The larger 3PLs have multiple e-commerce operations, such as Geodis, DHL, Ryder, and JD Logistics (in Asia), to name a few of the larger players. Smaller providers have followed suit and now offer e-commerce fulfillment as well. In most cases, these 3PLs have e-commerce fulfillment operations separate from their traditional business-to-business (B2B) warehousing operations. More 3PLs will be needed in the future to add value in the last mile of the supply chain, where getting large and bulky items from the final point of distribution to the customer's location remains a major challenge. Getting furniture, fitness equipment, and other large items to customers' doors requires extra planning, especially if they require quick delivery.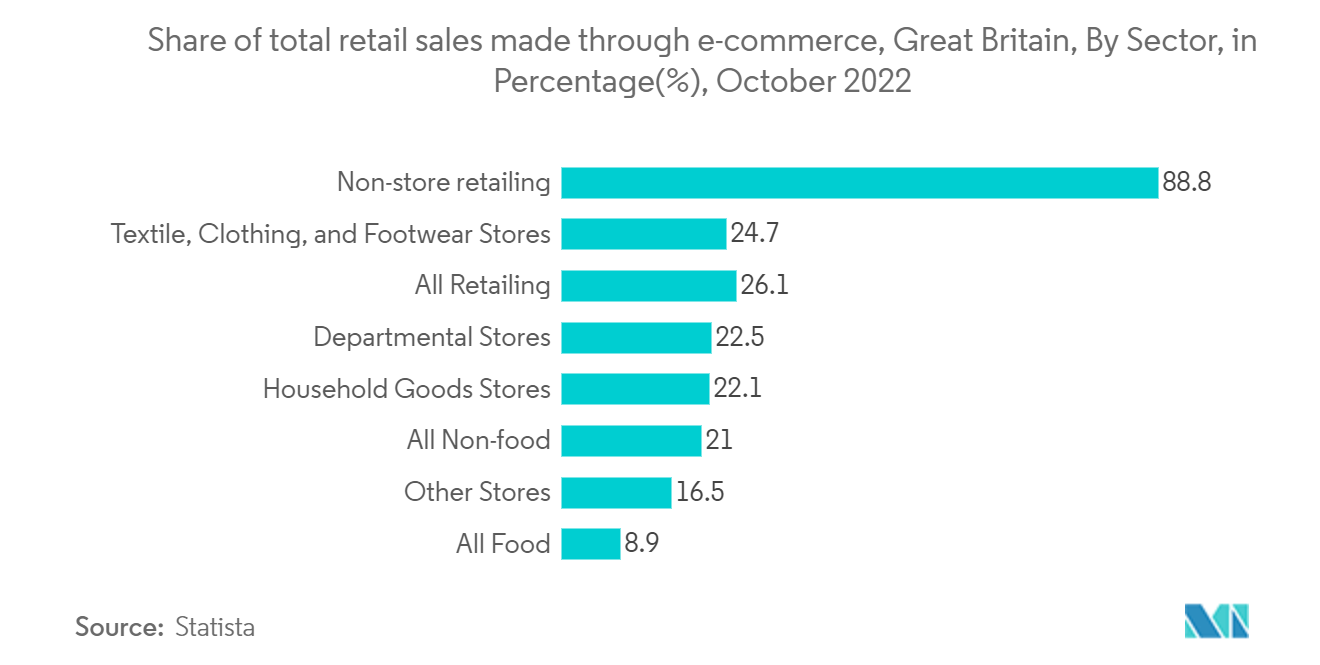 To understand key trends, Download Sample Report
Investment in Advanced Technology Could Reduce Cost of End-to-end Logistics Globally
In a competitive and growing market, the last two years, 2020-22, have taught us that we must be both flexible and agile. In 2021, unprecedented growth in online retail was expected, particularly in direct-to-consumer services. The provision of omnichannel services, in which customers enjoy a unified shopping experience regardless of channel, is a major focus. This could be done in-store, online, on mobile, or through social media. Customers now expect a more seamless experience, lower prices, faster shipping, and a greater emphasis on sustainability. One of the most difficult challenges has been the extraordinary demand in the grocery and apparel segments, where one-day deliveries or less are becoming the norm. There was a global shortage of transport capacity and a limited supply of delivery drivers in 2021.
Quick commerce is being adopted by industries such as grocery, pharmaceuticals, and e-commerce. Companies and brands are replacing traditional business models and distribution channels with digital platforms to improve their delivery services by leveraging available technological advancements. This market is typically distinguished by delivery times of less than 20 minutes. The order size, value, and weight are typically small(er) and easily transported via two-wheelers, drones, or small vehicles. The 3PL, on the other hand, has already grown to become an important stakeholder in the supply chain network. With the growing demand for resource-backed fulfillment services, such as improved delivery management software, acute logistics optimization, and increased use of smaller warehouses in urban areas, reliance on 3PLs will only increase.
With delivery volumes increasing all over the world, particularly due to the rapid growth of eCommerce, supply firms are looking for innovative, cost-effective, and efficient approaches to last-mile delivery. This has resulted in investments and trials of cutting-edge technology such as driverless cars, delivery bots, and drones. Aurora (self-driving technology) from Amazon is a prime example.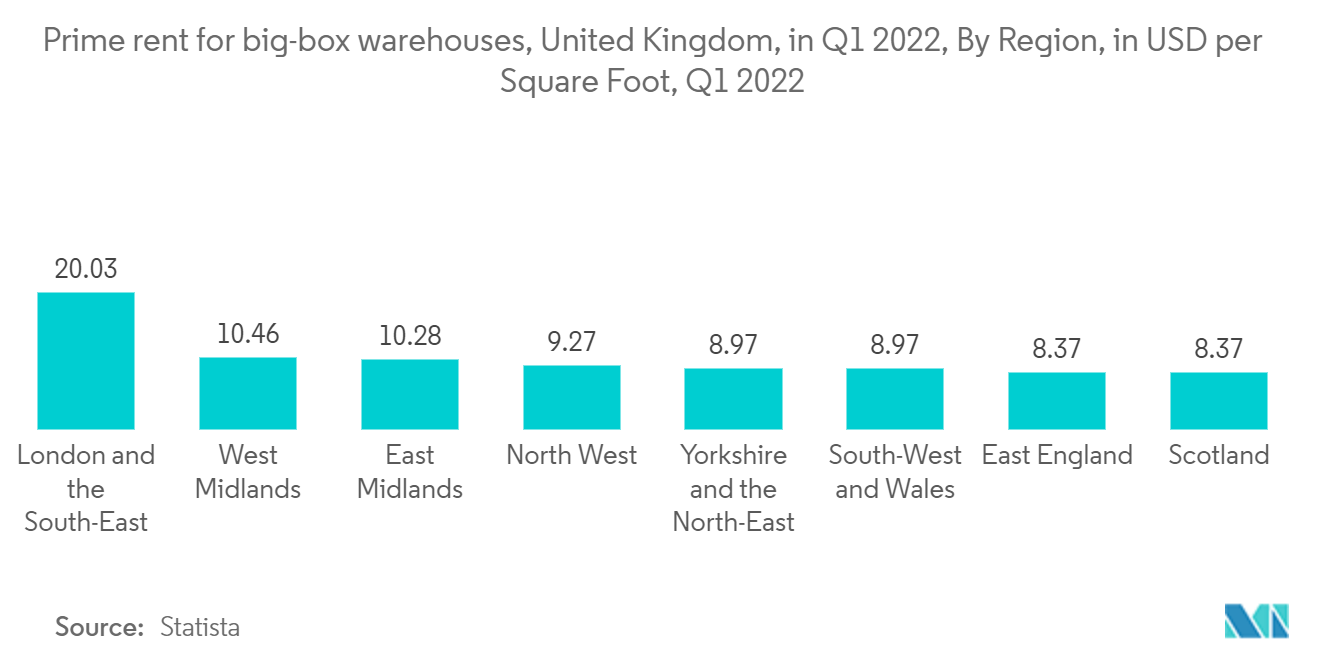 To understand geography trends, Download Sample Report
Third Party Logistics (3PL) Industry Overview
The Third-Party Logistics (3PL) Market is fragmented and highly competitive, with several large companies strategically forming alliances with mid-sized or small-sized companies to leverage their regional capabilities in logistics. Major regional players have been observed to venture into new regions, allowing the companies to improve their geographic reach. New competitors are entering the 3PL market with customized and industry-specific services. Some major players include Agility, CEVA Logistics, DB Schenker, and DHL. The 3PL players have been showing a willingness to partner with other players to reduce cost and leverage on mutual competitive advantage. Additionally, technology adoption has also helped reduce operational costs and improve efficiency.
Third Party Logistics (3PL) Market Leaders
Agility

Ceva Logistics

DB Schenker Logistics

DHL

Kerry Logistics
*Disclaimer: Major Players sorted in no particular order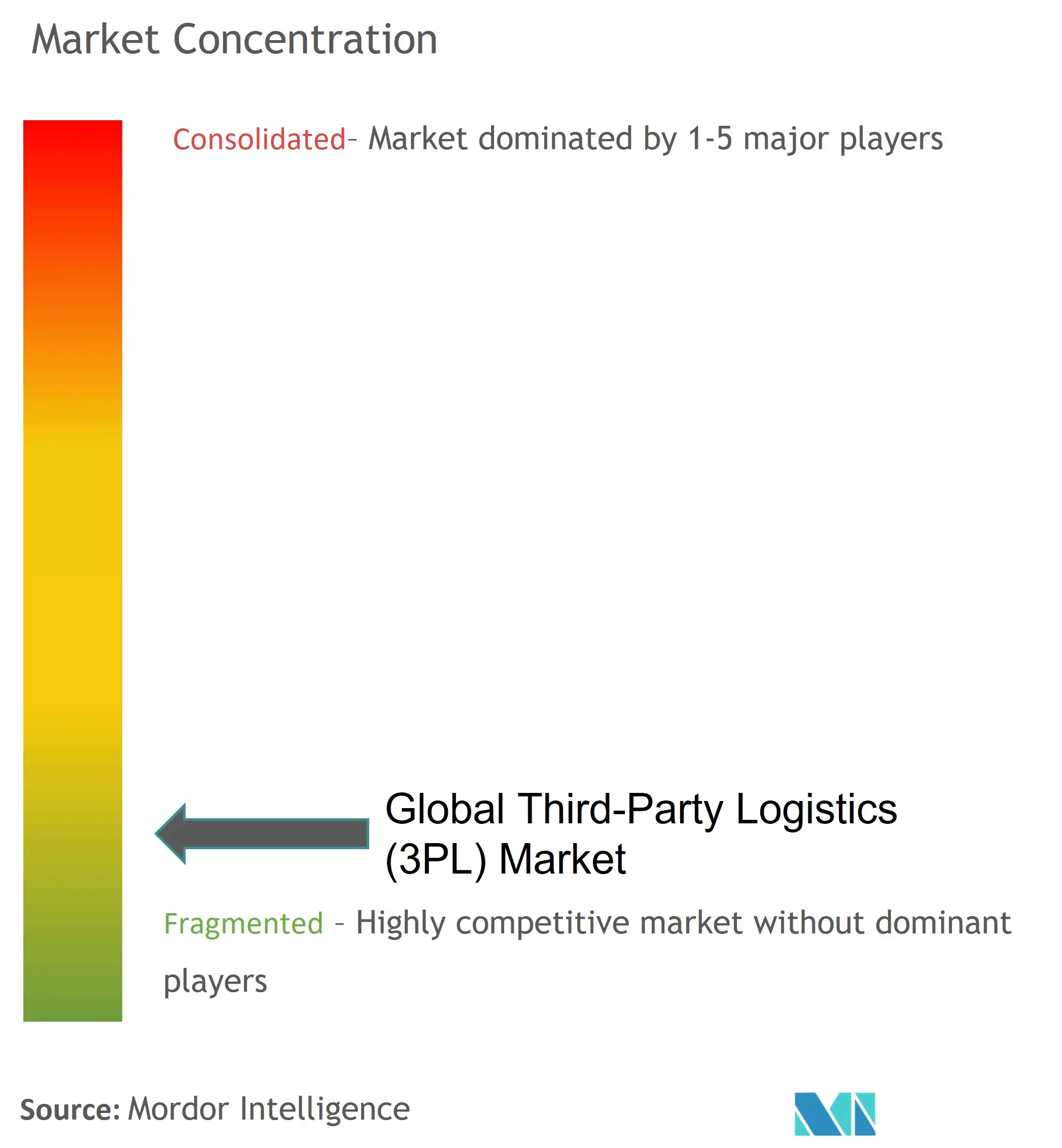 Third Party Logistics (3PL) Market News
Dec 2022: SEKO Logistics established its first robotics partnership, with plans to "scale up" warehouse operations with GreyOrange's Ranger Assist Bots. SEKO will deploy 15 bots in one of its Milton Keynes, UK, during the first stage of the plan. Another 35 robots will be installed early next year. The logistics company intends to expand the bot initiative beyond the UK next year, with the Netherlands as the first location.
Sept 2022: AI LOGISTIX, a start-up focused on identifying and resolving logistics and supply chain issues, partnered with SUN Mobility, a provider of battery-swapping services and energy infrastructure for electric vehicles (EVs), to become India's last-mile delivery partner. As a client of Alchemy Mobility LLP, a green mobility service provider for last-mile delivery agencies, the Bengaluru-based start-up uses SUN Mobility's energy services. As part of this collaboration, the two companies intend to deploy 500 loaders and electric two-wheelers (E2Ws) by March 2023, with each month adding approximately 100 vehicles to the fleet.
Third Party Logistics (3PL) Market Report - Table of Contents
1. INTRODUCTION

1.1 Study Assumptions and Market Definition

1.2 Scope of the Study

2. RESEARCH METHODOLOGY

3. EXECUTIVE SUMMARY

4. MARKET INSIGHTS AND DYNAMICS

4.1 Market Overview

4.2 Technological Developments in the Logistics Sector

4.3 Insights into E-commerce Business

4.4 Demand From Other Segments, such as CEP, Last Mile Delivery, Cold Chain Logistics, etc.

4.5 General Trends in the Warehousing Market

4.6 Market Dynamics

4.6.1 Drivers

4.6.2 Restraints

4.6.3 Opportunities

4.7 Industry Attractiveness- Porter's Five Forces Analysis

4.7.1 Threat of New Entrants

4.7.2 Bargaining Power of Buyers/Consumers

4.7.3 Bargaining Power of Suppliers

4.7.4 Threat of Substitute Products

4.7.5 Intensity of Competitive Rivalry

4.8 Impact of COVID-19 on the Market

5. MARKET SEGMENTATION

5.1 By Service

5.1.1 Domestic Transportation Management

5.1.2 International Transportation Management

5.1.3 Value-added Warehousing and Distribution

5.2 By End User

5.2.1 Automobile

5.2.2 Energy

5.2.3 Manufacturing

5.2.4 Life Science and Healthcare

5.2.5 Retail Technology

5.2.6 Other End Users

5.3 By Geography

5.3.1 North America

5.3.1.1 United States

5.3.1.2 Canada

5.3.1.3 Mexico

5.3.2 South America

5.3.2.1 Brazil

5.3.2.2 Argentina

5.3.2.3 Rest of South America

5.3.3 Asia-Pacific

5.3.3.1 India

5.3.3.2 China

5.3.3.3 Singapore

5.3.3.4 Japan

5.3.3.5 South Korea

5.3.3.6 Vietnam

5.3.3.7 Australia

5.3.3.8 Rest of Asia-Pacific

5.3.4 Middle-East and Africa

5.3.4.1 South Africa

5.3.4.2 United Arab Emirates

5.3.4.3 Saudi Arabia

5.3.4.4 Egypt

5.3.4.5 Rest of Middle-East and Africa

5.3.5 Europe

5.3.5.1 Germany

5.3.5.2 Spain

5.3.5.3 France

5.3.5.4 Russia

5.3.5.5 United Kingdom

5.3.5.6 Rest of Europe

6. COMPETITIVE LANDSCAPE

6.1 Overview (Market Concentration and Major Players)

6.2 Company Profiles

6.2.1 Agility Logistics

6.2.2 Ceva Logistics

6.2.3 DB Schenker

6.2.4 DHL

6.2.5 Nippon Express

6.2.6 Yusen Logistics

6.2.7 Kerry Logistics

6.2.8 CH Robinson

6.2.9 AmeriCold Logistics

6.2.10 FedEx Corporation

6.2.11 Kuehne+Nagel Inc.

6.2.12 MAERSK

6.2.13 DSV

6.2.14 Panalpina

6.2.15 Geodis*

*List Not Exhaustive

7. FUTURE OF THE MARKET

8. APPENDIX
Third Party Logistics (3PL) Industry Segmentation
A 3PL (third-party logistics) provider provides outsourced logistics services, including the management of one or more aspects of procurement and fulfillment activities. In the business world, 3PL refers to any service contract that involves storing or shipping items. A complete background analysis of the Third-Party Logistics (3PL) Market, including the assessment of the economy and contribution of sectors in the economy, market overview, market size estimation for key segments, emerging trends in the market segments, market dynamics, geographical trends, and COVID-19 impact is included in the report.
The Third-Party Logistics (3PL) Market is segmented By Services (Domestic Transportation, International Transportation, and Value-added Warehousing and Distribution), End User (Automobile, Energy, Manufacturing, Life Science and Healthcare, Retail, Technology, and Other End Users), and Region (North America, South America, Asia-Pacific, Middle-East and Africa, and Europe). The report offers market size and forecast values (USD billion) for all the above segments.
By Service
Domestic Transportation Management
International Transportation Management
Value-added Warehousing and Distribution
By End User
Automobile
Energy
Manufacturing
Life Science and Healthcare
Retail Technology
Other End Users
By Geography

North America
United States
Canada
Mexico

South America
Brazil
Argentina
Rest of South America

Asia-Pacific
India
China
Singapore
Japan
South Korea
Vietnam
Australia
Rest of Asia-Pacific

Middle-East and Africa
South Africa
United Arab Emirates
Saudi Arabia
Egypt
Rest of Middle-East and Africa

Europe
Germany
Spain
France
Russia
United Kingdom
Rest of Europe
Third Party Logistics (3PL) Market Research FAQs
How big is the Global 3PL Market?
The Global 3PL Market size is expected to reach USD 1.22 trillion in 2023 and grow at a CAGR of 5.48% to reach USD 1.59 trillion by 2028.
What is the current Global 3PL Market size?
In 2023, the Global 3PL Market size is expected to reach USD 1.22 trillion.
Who are the key players in Global 3PL Market?
Agility, Ceva Logistics, DB Schenker Logistics, DHL and Kerry Logistics are the major companies operating in the Global 3PL Market.
Which is the fastest growing region in Global 3PL Market?
Asia Pacific is estimated to grow at the highest CAGR over the forecast period (2023-2028).
Which region has the biggest share in Global 3PL Market?
In 2023, the Asia Pacific accounts for the largest market share in the Global 3PL Market.
3PL Industry Report
Statistics for the 2023 3PL market share, size and revenue growth rate, created by Mordor Intelligence™ Industry Reports. 3PL analysis includes a market forecast outlook to 2028 and historical overview. Get a sample of this industry analysis as a free report PDF download.
3PL Market Report Snapshots
80%

of our clients seek made-to-order reports. How do you want us to tailor yours?