The Europe coil coatings market is expected to register a CAGR of 3.88% during 2018 to 2023 (the forecast period). Germany has the highest market share, due to its leadership in the automotive industry and excellence in engineering. It is, by a large margin, Europe's leading production and sales market. In the recent years, the German automotive industry has consistently expanded its global position.
Market is driven by Growing Demand for Transport Vehicles
Coil coatings find their application in the manufacturing of typical components, such as sheet and panels for containers, caravan and interior, insulated boxes, trailer bodies, road and railway coaches. The EU produced around 18.4 million motor vehicles in 2015, 23% of the motor vehicles produced globally. The increase in the overall production of automotive, is to drive the growth of coil coating market in the region.
Polyester Coil Coating to Continue its Growth during the Forecast Period
By material type, the demand for polyester type coil coating is likely to continue its growth, due to its superior physical and chemical properties, such as high resistance to chemicals, high durability for interior and exterior surfaces of buildings, and good formability. Polyester coil coatings are formulated for interior or exterior surfaces, and can be applied as one-coat application, or basecoat, or topcoat, where durability and protection from corrosion are needed.
Germany to Lead the Region
Germany is known for its outstanding automotive industry and excellence in engineering. Germany will continue to provide top-class technological performance through its outstanding infrastructure and research facilities. Germany is Europe's biggest market in terms of production and sales of automotive. The country has the largest concentration of OEM plants in Europe, with around 41 OEM sites throughout the country. German automobile manufacturers produced more than 15 million vehicles in 2015, with 5.7 million passenger cars and 352,200 trucks and buses manufactured in German plants in the same year.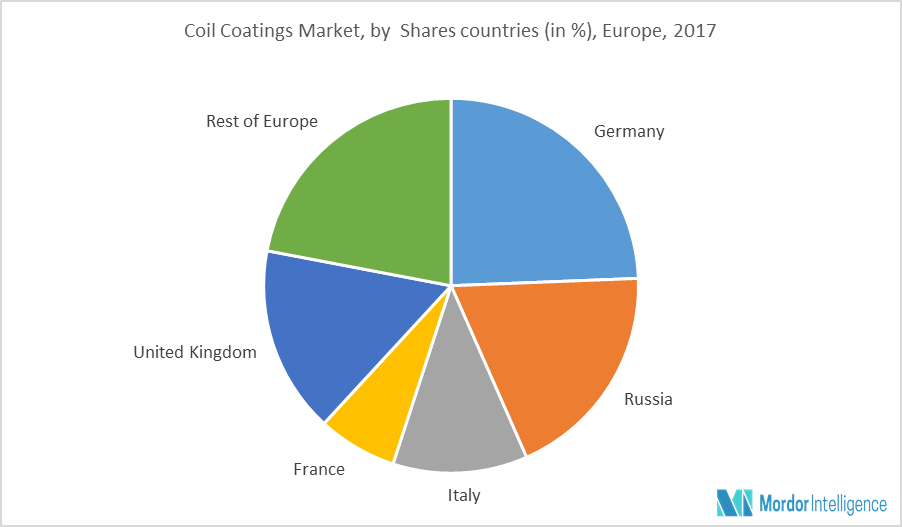 Key Developments
April 2017: Danieli Fata Hunter launched a double-coated continuous coil coating, with capacity of 250,000 metric ton of coated steel per annum. This is a 600-fpm (183 mpm) line, with the processing of cold rolled, galvanized, pickled hot band, and Galvalume steel coils
December 2016: AkzoNobel completed the acquisition of the global Industrial Coatings business of BASF, and became the number one supplier of coil coatings in the world.
Major Players: Alcoa, Novelis, ArcelorMittal, Tata Steel, and Dura Coat Products Inc., amongst others.
Reasons to Purchase this Report
Current and future Europe coil coating market outlook in the developed and emerging markets
Analyzing various perspectives of the market with the help of Porter's five forces analysis
The segment that is expected to dominate the market
Regions that are expected to witness fastest growth during the forecast period
Identify the latest developments, market shares and strategies employed by the major market players
3 months analyst support, along with the Market Estimate sheet (in excel)
Customization of the Report
This report can be customized to meet your requirements. Please connect with our representative, who will ensure you to get a report that suits your needs.
1. Introduction
1.1 Research Phases
1.2 Study Deliverables
1.3 Scope of the Report
2. Executive Summary
3. Market Insights
3.1 Raw Material Analysiss
3.2 Industry Value Chain Analysis
3.3 Industry Attractiveness - Porter's Five Forces Analysis
3.3.1 Bargaining Power of Supplies
3.3.2 Bargaining Power of Consumers
3.3.3 Threat of Substitutes
3.3.4 Threat of New Entrants
3.3.5 Degree of Competition
4. Market Dynamics
4.1 Drivers
4.1.1 Rising Demand in Building and Construction Industry
4.1.2 Increasing Usage in Production of Home Appliances
4.1.3 Rising Demand in Automotive Sector
4.2 Restraints
4.2.1 High Cost of Raw materials & Labour
4.2.2 Environmental Regulations
4.3 Opportunities
4.3.1 Technological Advancements in Production Process
5. Market Segmentation and Analysis (Market Size Growth & Forecast)
5.1 By Resin Type
5.1.1 Polyester
5.1.2 Polyvinylidine Fluorides (PVDF)
5.1.3 Polyurethane (PU)
5.1.4 Plastisols
5.1.5 Others (Epoxy, etc.)
5.2 By End-user Industry
5.2.1 Building & Construction
5.2.2 Industrial and Domestic Appliances
5.2.3 Transportation
5.2.4 Home and Office Furniture
5.2.5 HVAC
5.2.6 Others
6. Regional Market Analysis (Market Size Growth & Forecast)
6.1 Germany
6.2 United Kingdom
6.3 Italy
6.4 France
6.5 Russia
6.6 Rest of Europe
7. Future of the Market
8. Competitive Landscape
8.1 Mergers & Acquisitions, Joint Ventures, Collaborations and Agreements
8.2 Market Share Analysis**
8.3 Strategies Adopted by Leading Players
9. Company Profiles (Overview, Financials** Products & Services, Recent Developments and Analyst View)
9.1 Coil Coaters
9.1.1 Alcoa
9.1.2 ArcelorMittal
9.1.3 Dura Coat Products, Inc.
9.1.4 Hydro Aluminium
9.1.5 Novelis
9.1.6 Salzgitter
9.1.7 TataSteel
9.1.8 ThyssenKrupp
9.2 Paint Suppliers
9.2.1 Akzo Nobel
9.2.2 Axalta Coatings System
9.2.3 BASF SE
9.2.4 Beckers Group
9.2.5 Kansai Paints
9.2.6 PPG Industries, Inc.
9.2.7 Valspar Corporation (The Sherwin Williams Company)
9.3 Pretreatment, Resins, Pigments, Equipment
9.3.1 Alumax Industrial
9.3.2 Arkema
9.3.3 Bayer
9.3.4 Chemetall
9.3.5 Evonik
9.3.6 Henkel
9.3.7 Solvay
*List not exhaustive
10. Disclaimer
**Subject to Availability on public Domain