Biometrics Industry Overview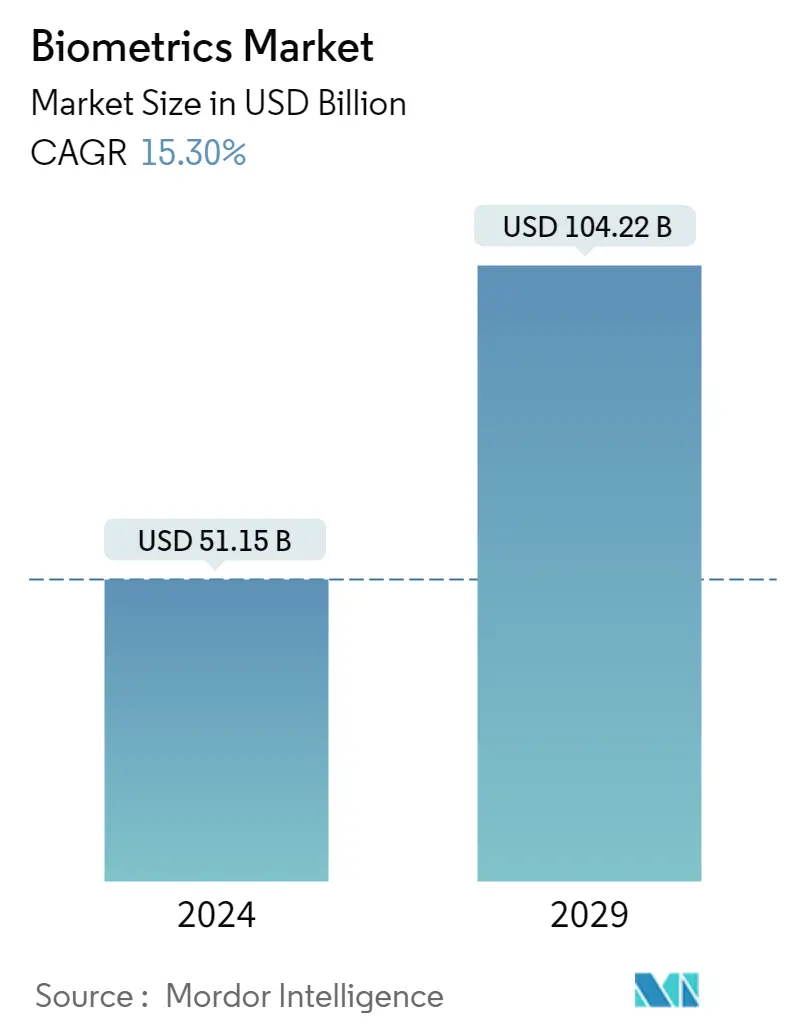 Study Period:
2018 - 2028
Fastest Growing Market:
Asia-Pacific
Largest Market:
North America
CAGR:
15.3 %

Major Players

*Disclaimer: Major Players sorted in no particular order
Need a report that reflects how COVID-19 has impacted this market and its growth?
Biometrics Market Analysis
The global biometrics market is expected to register a CAGR of 15.3% during the forecast period. The biometrics market is anticipated to develop at a significant growth rate, owing to the rising number of terrorist activities and the increasing theft activities pertaining to crucial data and information that have raised concerns regarding national security.
One of the key trends witnessed in the market studied is a model shift in business discourse toward more privacy and fewer security threats. The end-users are increasingly looking for integrated solutions rather than depending on conventional methods.
Consumer biometric applications have expanded rapidly over the recent years, with the increased adoption of mobile devices. The consumer electronics sector is dominated majorly by security and access control devices, owing to the adoption of biometric systems. Thus, it supports the growth of the market. For instance, WhatsApp, a popular messaging app, launched an additional privacy measure on the Android platform. The company claims that users will soon be able to secure their accounts in the form of biometric authentication through fingerprint sensors.
Additionally, multi-model or hybrid biometric systems have recently become a vital identification technique for authentication purposes. The multi-model biometric recognition system uses various features (facial, iris, and fingerprint) to authenticate users. This allows more reliability, high-speed, and high-precision authentication in large-scale systems that must respond to a variety of physical properties, as well as in usage scenarios that demand tight identity verification.​
The increasing adoption of reliable and efficient biometrics is credited with the fastest growing CAGR for hybrid biometric systems. Through multi-level authentication, multimodal biometric technologies provide increased security against spoofing or falsification. Nowadays, hybrid biometric systems comprise a wide range of modalities (voice, facial, and iris), and government agencies worldwide employ them in a variety of security-related tasks, including border control, law enforcement, human resources, national defense, healthcare, and enterprise security. ​
For instance, in August 2021, the EU adopted interoperability requirements for multi-model biometric systems to improve data flows. The Multiple Identity Detector (MID) database evaluates a variety of other databases to see if the identity data for which the search was done is available in more than one information system.
Biometrics Industry Segments
The Biometrics Market is segmented by Type (Hardware, Software, and Services), Biometric Type (IRIS Recognition, Hand Geometry, Facial Recognition, Signature Verification, Fingerprint, Voice Recognition, Palm Vein), Contact Type (Contact-based, Non-contact Based), End User (Government and Law Enforcement, Commercial and Retail, Healthcare, BFSI, Travel, and Immigration), and Geography.
Biometrics refers to the measurement and statistical analysis of an individual's unique physical and behavioral characteristics. It is mainly used for identification and access control or for identifying individuals who are under surveillance.
By Type
Hardware
Software and Services (Professional & Managed)
By Biometric Type
IRIS Recognition
Hand Geometry
Facial Recognition
Signature Verification

Fingerprint
Automated Fingerprint Identification System
Non-AFIS (Automated Fingerprint Identification System)

Voice Recognition
Palm Vein
By Contact Type
Contact–based
Non-contact based
By End-User
Government and Law Enforcement
Commercial and Retail
Healthcare
BFSI
Travel and Immigration
Other End-Users
By Geography

North America
United States
Canada

Europe
United Kingdom
Germany
France
Russia
Rest of Europe

Asia Pacific
China
Japan
South Korea
Rest of Asia Pacific

Latin America
Middle East and Africa
Biometrics Market Trends
This section covers the major market trends shaping the Biometrics Market according to our research experts:
Software and Services Segment to Account for Largest Market Share
Biometric software allows biometric devices and the computers and networks they are connected to be compatible and operable with each other. It also allows various application software on different operating systems to be compatible and allows for an effective connection. Software is an important part of biometric systems. For instance, software in signature verification systems compares signatures and checks for originality. As signature fraud is not always evident to human operators, it can become difficult for the human eye to identify fraudulent signatures accurately. Thus, signature verification software is being increasingly adopted, as it saves time, prevents human error during the signature process, and lowers the chances of fraud.
Software in biometrics is further integrated with advanced technologies such as AI to detect fraud. For instance, IntelliVision's face recognition software is a deep learning-based facial recognition solution for integrators and developers that can detect faces of all ethnicities without racial bias and recognize them from the database of images. It provides facial recognition accuracy of about 99.5% on public standard data sets. Moreover, it can also be used on-server and in-cloud.
In September 2021, Gnani.ai, a player in the conversational AI and voice security domain, announced the launch of its voice biometrics software, Christened armour365. The biometric solution is suitable for industries such as Banks, Defense, Healthcare, among others.
The on-premise biometric systems need IT infrastructures, such as servers and networks. This infrastructure is expensive and requires maintenance. Thus, biometric service is increasingly gaining traction, as it does not need any specialized IT infrastructure or maintenance for the deployment of a biometric project.
Moreover, companies are embracing biometric service as it is extremely scalable. The number of enrollments varies from business to business, according to their size. Biometric service helps companies to subscribe to services as per their needs. It is also very easy to scale up or scale down the facilities by changing the subscription plan.
Companies, such as Aware Inc. and others, offer biometrics software products and services as independent suppliers, i.e., independent from hardware vendors and system integrators. These benefits include the mitigation of risks and costs associated with hardware and software obsolescence and system maintenance challenges that have the potential to weaken the performance and shorten the life of a solution.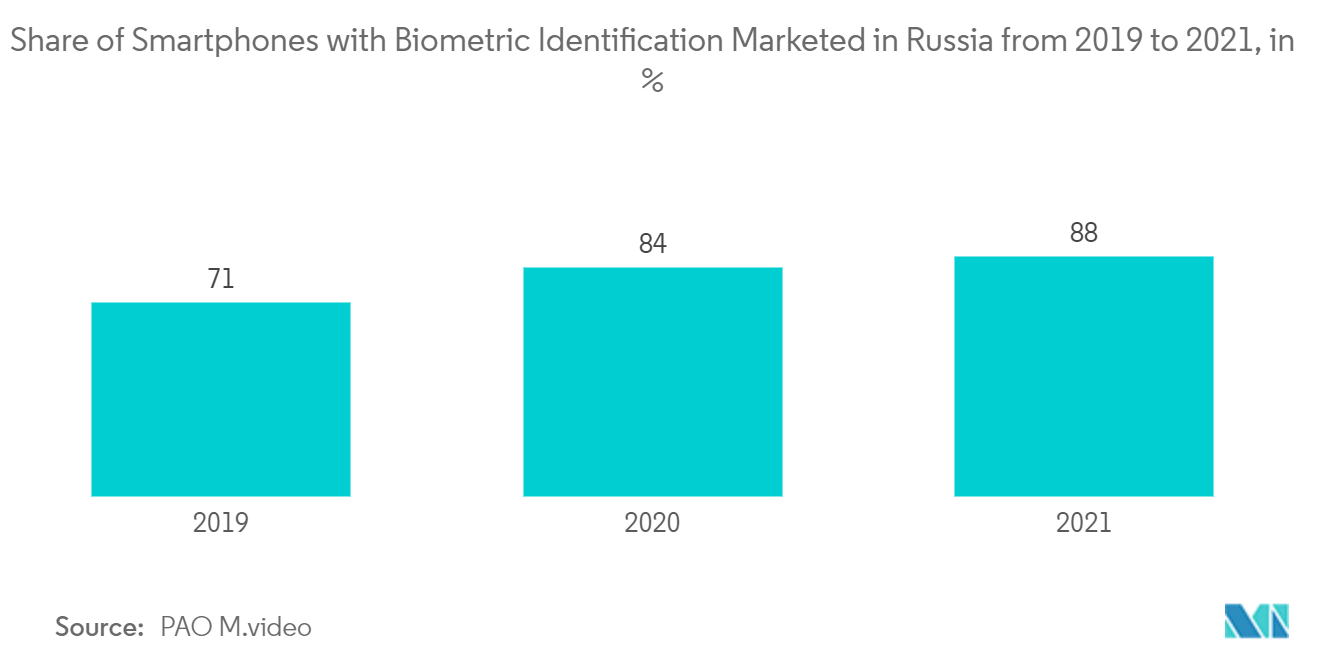 To understand key trends, Download Sample Report
Asia Pacific is Expected to be the Fastest Growing Market
Increasing mobile payment transactions coupled with increasing private corporations and government initiatives towards adopting biometric authentication systems are expected to be the major drivers for the biometrics market in the region. According to the Center for Strategic & International Studies Report (CSIS) 2021, China is at the forefront of the global digital payment revolution.
Chinese enterprises generated an anticipated USD 2.9 trillion in transaction value in 2020, based on a global market of USD 5.4 trillion in transaction value in digital commerce and mobile payments. China's major emphasis on influencing global digital infrastructure, e-commerce, and new projects like the digital yuan and the proposed new IP could lead to a more authoritarian path for digitization. For instance, in 2021, more than 3.51 million corporate wallets and 20.87 million personal wallets were opened, with a total transaction volume of 70.75 million and a transaction value of USD 5.41 billion (RMB 34.5 billion).
On the other hand, the increasing demand for biometric authentication systems across various end-users, including retail, gaming, banking and financial sector, hospitals, etc., are significantly influencing the market's growth across the country. For instance, The China Construction Bank (CCB) has decided to use biometric cards in its digital renminbi experiments in collaboration with IDEX Biometrics. The bank has already released a digital yuan wallet app. The NFC-enabled biometric smart card will allow users to utilize digital currency without the need for a smartphone. These biometric cards will serve as digital hard wallets for members of the Chinese digital currency trial, known as DCEP. Fingerprint sensors and biometric software will protect these smart cards.
Additionally, end-user industries, such as BFSI and healthcare, are home to many critical and highly valuable assets. Any breach or lapse in security can be disastrous and costly, with revenue loss. Thus, these industries in the country are enforcing stringent measures to protect sensitive customer data with cutting-edge technology. For instance, in February 2021, customers can enter the Green Leaves+ shop-and-go store at Japan's Yokohama Techno Tower Hotel using their faces and a swipe of their palms to verify their identity. Customers can use the smartphone application's multi-biometric authentication technology, connecting their face and palm vein recognition information. Customers can also scan a QR code displayed on the Green Leaves+ app to access the store.
Similarly, in July 2021, Fingerprint Cards (a Swedish biometrics company) and MoriX (a Japanese electronics company) formed cooperation to develop and launch biometric payment cards in Japan. According to the press release, the new card will have Fingerprints' T-Shape module, which has ultra-low power consumption and is designed to be integrated into payment cards using normal automated manufacturing methods, according to the business. Furthermore, the company stated that there is an "increasing desire for card transactions among Japanese consumers," who seek touchless, secure, and frictionless payment methods.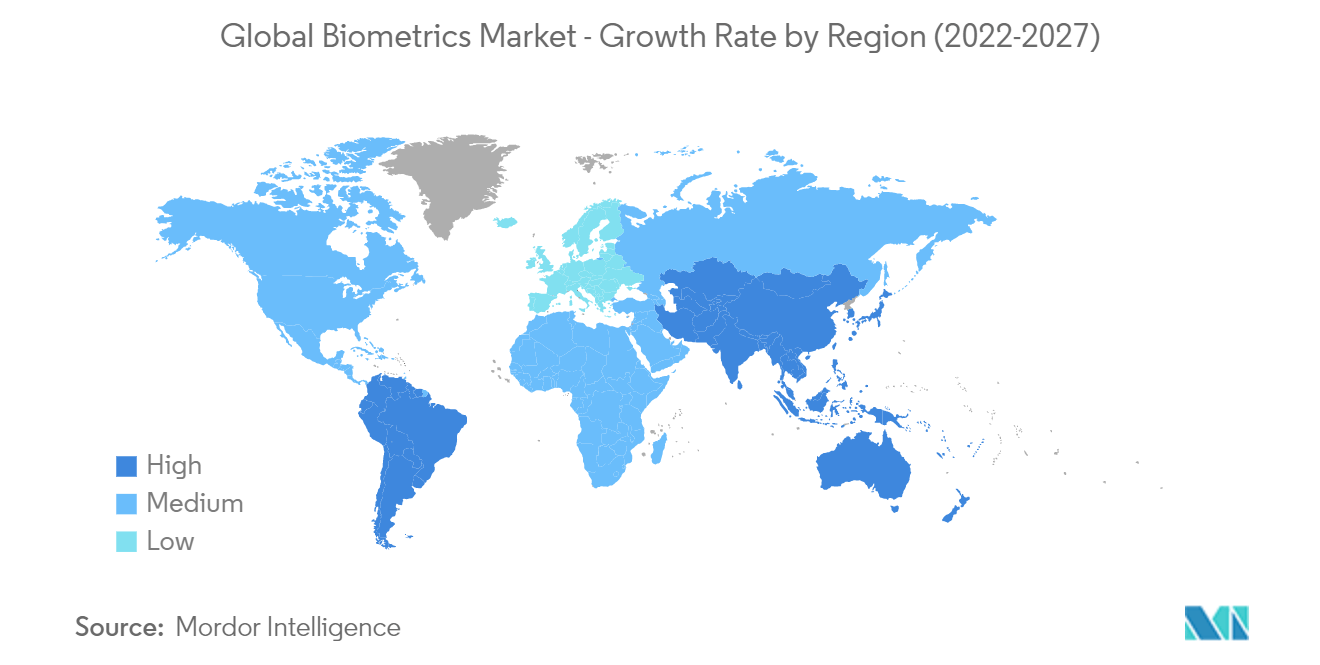 To understand geography trends, Download Sample Report
Biometrics Market Competitor Analysis
The Biometrics Market is highly fragmented due to the presence of various vendors like NEC Corporation, Fujitsu Limited, Leidos Holdings Inc., Gemalto NV (Thales Group), etc., across the world. The market features increasing adoption of Biometrics solutions in various end-user industries. Also, the vendors are making significant product developments to expand their market presence. The market is also viewing strategic partnerships and acquisitions as a lucrative path for expansion.
October 2021 - Thales partnered with Inetum to expand the deployment of its Automated Border Control (ABC) system to three Spanish airports for biometric authentication of travelers. These systems include facial recognition and document verification; these are expected to speed up the border control process, significantly reducing travelers' wait times.
October 2021 - ImageWare Systems developed a biometrically enabled Blockchain-Powered Self Sovereign Identity solution and entered the Self Sovereign Identity market. Adding biometric protection to the identity blockchain provides the final layer of protection the data is secure in digital wallets and only accessible to authorized users.
June 2021 - Phonexia developed new software for audio investigations - Phoenixia Orbis by leveraging its experience from hundreds of public security projects worldwide. This on-premises solution enables law enforcement agencies to extract complex insights from substantial amounts of audio automatically and efficiently, making investigations effortless and straightforward.
Biometrics Market Top Players
Fujitsu Limited

M2SYS Technology

NEC Corporation

Gemalto NV (Thales Group)

Leidos Holdings Inc.
*Disclaimer: Major Players sorted in no particular order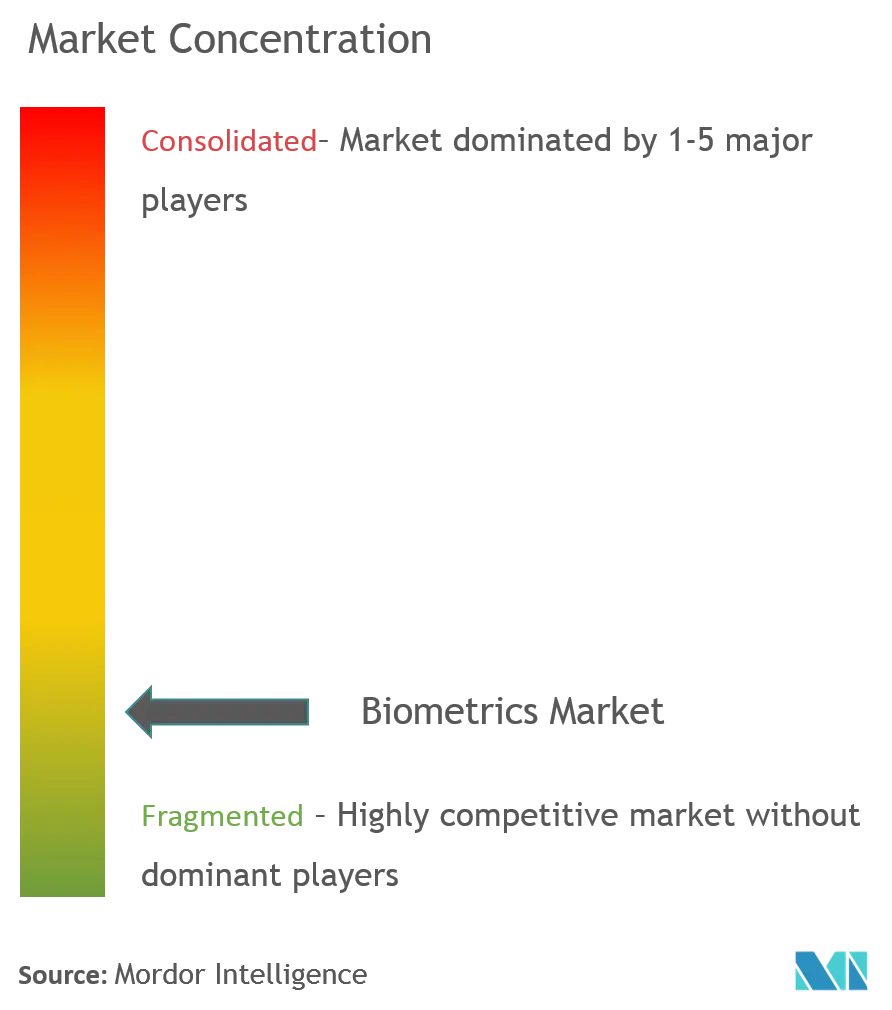 Biometrics Market Recent Developments
August 2022 - The Minister of Finance Economic Planning and the Ambassador of Japan to Rwanda signed the Exchange of Notes (E/N) for Japan's Grant Aid amounting to 550 million Yen (around USD 4 million). The Grant will be used by the Government of Rwanda to procure an advanced Automated Fingerprint Identification System for Criminal Investigation (Criminal AIFS), which will contribute to improving Rwanda's crime investigation capacity and enhancing the accuracy and efficiency of investigations. This system is also expected to strengthen the ability of Rwanda's counter-terrorism and public security.
August 2022 - Chile announced rolling out an automated biometric identification system (ABIS) with the aim of tackling organized crime. The hardware has been supplied by Idemia.
September 2021 - Thales partnered with Jordan Kuwait Bank to supply biometric payment cards for contactless EMV transactions. The fingerprint-enabled cards of Jordan Kuwait Bank will enable its customers to authorize transactions using their fingerprints, marking the region's first contactless biometric EMV bank card.
September 2021 - Imageware and TECH5 partnered to become value-added resellers. This partnership enables the Integration of the existing Imageware product portfolio, which includes Imageware Proof, Imageware Authenticate, Imageware Identify, and the Imageware Biometric Engine, among others, with all TECH5 offerings. Along with the integration, ImageWare will also provide SISCO, Inc. with the Imageware Identity Platform, powered by TECH5 technologies, to enhance its product portfolio for the marine and visitor management industries.
May 2021 - Phonexia partnered with Almawave, a vendor in Artificial Intelligence (AI), natural language analysis, and Big Data services, through its subsidiary PerVoice to enrich Almawave's portfolio with Phonexia's voice biometric solution Phonexia Voice Verify. This partnership would allow Almawave to authenticate a person based on voice biometrics, effectively replacing the use of written passwords.
Biometrics Market Report - Table of Contents
1. INTRODUCTION

1.1 Study Assumptions and Market Definition

1.2 Scope of the Study

2. RESEARCH METHODOLOGY

3. MARKET INSIGHTS

3.1 Market Overview

3.2 Industry Attractiveness- Porter's Five Forces Analysis

3.2.1 Bargaining Power of Suppliers

3.2.2 Bargaining Power of Consumers

3.2.3 Threat of New Entrants

3.2.4 Threat of Substitutes

3.2.5 Intensity of Competitive Rivalry

4. MARKET DYNAMICS

4.1 Market Drivers

4.1.1 Increasing Demand for Biometric Solutions in Consumer-facing Applications

4.1.2 Rising Adoption from the Public and Government Sectors in Emerging Countries

4.1.3 Key Technological Developments Leading to the Commodification of Biometrics

4.2 Market Challenges

4.2.1 Operational Concerns Related to Privacy, Security, and ROI

4.3 Market Opportunities

4.4 Industry Stakeholder Analysis

5. KEY THEMES RELATED TO THE IMPACT OF COVID-19 ON THE BIOMETRICS MARKET

5.1 Voice and Speech Recognition to be at the Forefront of Technological Change

5.2 Rise of Mobile Biometrics

5.3 Non-consumer Biometrics to Retain Dominance

5.4 Continuous Authentication to Emerge as the Key Trend

5.5 Regulatory Concerns around the Collection of Biometric Data to Remain a Key Challenge Faced by the Major Stakeholders

5.6 Research Efforts to Focus on New Areas, such as Heartbeat Detection through Wearables

5.7 Biometrics-as-a-Service to Gradually Replace Traditional Model of Deploying Biometric Solutions at the Consumer Premises

6. MARKET SEGMENTATION

6.1 By Type

6.1.1 Hardware

6.1.2 Software and Services (Professional & Managed)

6.2 By Biometric Type

6.2.1 IRIS Recognition

6.2.2 Hand Geometry

6.2.3 Facial Recognition

6.2.4 Signature Verification

6.2.5 Fingerprint

6.2.5.1 Automated Fingerprint Identification System

6.2.5.2 Non-AFIS (Automated Fingerprint Identification System)

6.2.6 Voice Recognition

6.2.7 Palm Vein

6.3 By Contact Type

6.3.1 Contact–based

6.3.2 Non-contact based

6.4 By End-User

6.4.1 Government and Law Enforcement

6.4.2 Commercial and Retail

6.4.3 Healthcare

6.4.4 BFSI

6.4.5 Travel and Immigration

6.4.6 Other End-Users

6.5 By Geography

6.5.1 North America

6.5.1.1 United States

6.5.1.2 Canada

6.5.2 Europe

6.5.2.1 United Kingdom

6.5.2.2 Germany

6.5.2.3 France

6.5.2.4 Russia

6.5.2.5 Rest of Europe

6.5.3 Asia Pacific

6.5.3.1 China

6.5.3.2 Japan

6.5.3.3 South Korea

6.5.3.4 Rest of Asia Pacific

6.5.4 Latin America

6.5.5 Middle East and Africa

7. COMPETITIVE LANDSCAPE

7.1 Company Profiles

7.1.1 Gemalto NV (Thales Group)

7.1.2 Leidos Holdings Inc.

7.1.3 NEC Corporation

7.1.4 M2SYS Technology

7.1.5 BioEnable Technologies Pvt. Ltd

7.1.6 Phonexia SRO

7.1.7 ImageWare Systems Inc.

7.1.8 S.I.C. Biometrics Global Inc.

7.1.9 Fujitsu Limited

7.1.10 Aware Inc.

7.1.11 Nuance Communications Inc.

7.1.12 IDEMIA France SAS

7.1.13 Cognitec Systems GmbH

7.1.14 BioID AG

7.1.15 Assa Abloy AB

7.1.16 Hitachi Corporation

*List Not Exhaustive

8. INVESTMENT OUTLOOK

9. FUTURE OF THE MARKET
Biometrics Market Research FAQs
What is the study period of this market?
The Biometrics Market is studied from 2018 - 2028.
What is the growth rate of Biometrics Market?
The Biometrics Market is growing at a CAGR of 15.3% over the next 5 years.
Which region has highest growth rate in Biometrics Market?
Asia-Pacific is growing at the highest CAGR over 2018 - 2028.
Which region has largest share in Biometrics Market?
North America holds highest share in 2021.
Who are the key players in Biometrics Market?
Fujitsu Limited, M2SYS Technology, NEC Corporation, Gemalto NV (Thales Group), Leidos Holdings Inc. are the major companies operating in Biometrics Market.
Biometrics Industry Reports
In-depth industry statistics and market share insights of the Biometrics sector for 2020, 2021, and 2022. The Biometrics research report provides a comprehensive outlook of the market size and an industry growth forecast for 2023 to 2028. Available to download is a free sample file of the Biometrics report PDF.
80%

of our clients seek made-to-order reports. How do you want us to tailor yours?