Market Snapshot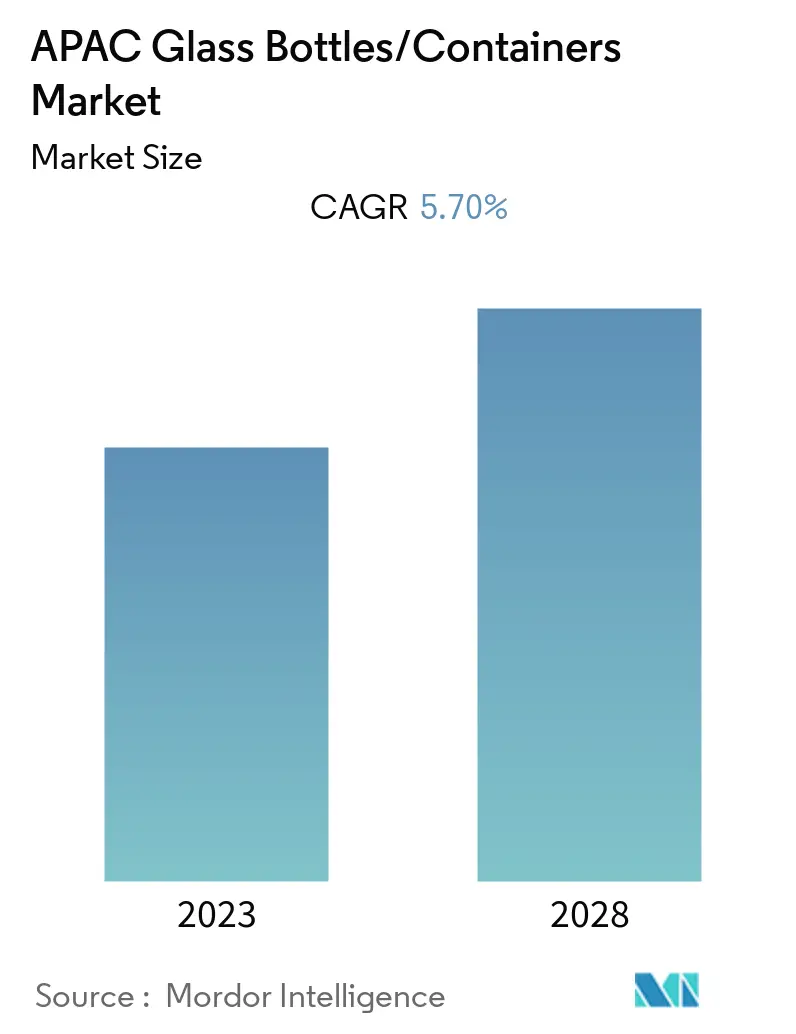 Study Period:
2019-2026
Base Year:
2021
CAGR:
5.7 %
Need a report that reflects how COVID-19 has impacted this market and its growth?
Market Overview
The increasing demand for glass containers due to various advantages such as unlimited reuse, recycling, and reusable filling have broadened the application scope of glass containers in various industries, which is an important factor driving the market growth. Asia-Pacific occupied the largest market share of USD 61 billion by 2026, growing at a CAGR of 5.7% during 2021-2026. Among Asia-Pacific countries, China accounted for the highest share of 54.92%.
Glass bottles and containers are majorly used in the alcoholic and—non-alcoholic beverage industry due to their ability to maintain chemical inertness, sterility, and non-permeability. Alcoholic drinks, like beer, account for the major segment of the market, as glass does not react with the chemicals present in drinks and, therefore, preserves the aroma, strength, and flavor of these beverages, making it a favorable option for packaging. It is packed in dark-colored glass bottles for preserving the contents, which are prone to spoilage when exposed to UV light.
Glass containers are made by using various processes like Blow – Blow, Press and Blow and Narrow Neck Press and Blow, depending upon the end-user. The advancement in this process has improved the quality and strength of these bottles over time while at the same time reducing the weight. In the last three years, the weight of containers has decreased by nearly 50%.
The rising trend for reusability of bottles and containers is being termed as 'recommerce' that has enabled the packaging players to supply their products in glass containers and bottles. This is expected to bolster the adoption of glass bottles and containers over the forecast period. Glass packaging is 100% recyclable, which makes it a desirable packaging option from the environmental point of view. 6 ton of recycled glass directly save 6 ton of resources and reduce the emission of CO2 by 1 ton.
Furthermore, Piramal Glass Ltd announced an investment of USD 42 Million in its greenfield project in Jambusar, Gujarat (India). This expansion plan includes one new furnace with seven new manufacturing lines across ~300,000 sq. ft. plant, catering primarily to high-end specialty spirit, food & beverage, and pharmaceutical markets primarily for exports to countries in Europe, Asia, and the United States. The company is already catering to the high-end Specialty Spirits from its plant in the United States. This top-of-the-line facility would be one-of-its-kind in Asia as there is an increasing need for high-end water bottles, spirits bottles, and food packaging.
Scope of the report
Glass bottles and containers provide an ideal way to keep the consumables safe, fresh, and healthy for a longer period and ease transport. Glass bottles and containers are majorly used in the alcoholic and non-alcoholic beverage industry due to their ability to maintain chemical inertness, sterility, and non-permeability.
As part of the scope of the market, key end-user industries, such as beverage, food, pharmaceutical, and cosmetics, have been considered. The beverage segment is further divided into Alcoholic and Non-Alcoholic.
Key Market Trends
End-User Market Segment by Beverages
The major factor driving the demand for beer bottles is a shortage of cans, especially after shutdown orders due to the COVID-19 pandemic. As on-premise draft and keg sales plummeted and more people purchased beer from grocery stores and other retail outlets, breweries depended more on bottles. The closure of the hospitality sector has further increased the demand for bottled beer.
Glass is among the most preferred packaging material for packaging alcoholic beverages, such as spirits. The ability of glass bottles to preserve the aroma and flavor of the product is driving the demand. Various vendors in the market studied are also observing the increasing demand from the spirit industry. For instance, Piramal Glass, whose clients include Diageo, Bacardi, and Pernod Ricard, mentioned that it sees an increase in the demand for short-run specialty bottles for spirits.
Hindusthan National Glass and Industries Ltd (HNGIL) implements sustainability policies in sourcing, including transportation. The company ensures 35-40% Cullet Usage, which is a recycled glass for glass container production is HNG. This leads to saving natural resources such as raw materials for glass production like Sand, Minerals, Soda Ash, etc., as well as a reduction in energy consumption for melting.
Hindusthan National Glass and Industries Ltd incorporates design changes in its products for addressing environmental and social concerns. For instance, reducing the weight of the company's three SKUs led to a reduction in raw material usage, fuel, and CO2 emission levels, and increased cullet usage through local sourcing and import to maximize glass recycling and optimize energy and reduce mineral usage.
More and more liquor manufacturers are becoming conscious of the use of recycled materials in their packaging and increasing the percentage of recycled glass used in their bottles. For instance, Absolut has vowed to minimize the packaging waste with the launch of a limited-edition design made from 41% of recycled glass.
Additionally, the rise of plant-based biodegradable plastic is also expected to introduce high competition when compared to glass due to its many benefits in terms of weight, recyclability, and emphasis on reducing plastic.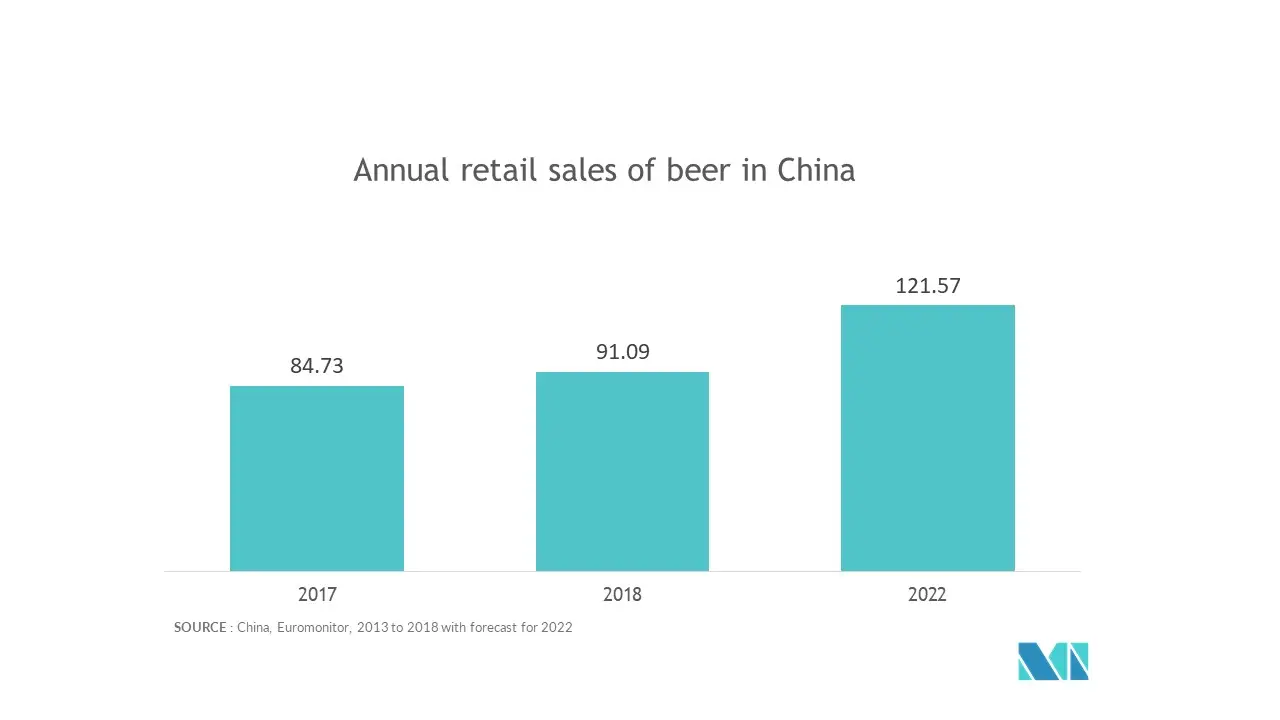 To understand key trends, Download Sample Report
Glass Bottles and Containers Market Segment by Country
China and India mainly dominate the major glass and container manufacturing and packaging facilities in the Asia Pacific region. Across the region, the outbreak of COVID-19 has impacted differently in every country. The manufacturing and production of packaging and relatable industries are only functional in selected countries, where packaging contributes to GDP significantly.
Glass bottles are also non-porous, impermeable, environmentally benign, and aesthetically beautiful. As a result, the packaging sector is increasingly relying on it. The glass industry in India is well-established and has long been regarded as a cottage industry.
In recent years, the sector has progressed from manual labor to contemporary automation systems. According to the Hindusthan National Glass & Industries Ltd, Indian per capita glass packaging use (1.8kg) is significantly lower than that of other countries.
AGI glaspac, a manufacturer of integrated container glass, stated in March 2021 that it would invest INR 55 crore on a new 154 TPD AGI Speciality Glass Division furnace for its Bhongir factory in Telangana. Many glass packaging businesses are investing in their expansion plans in India in order to meet the country's demand. Over the projection period, such development ambitions are expected to continue, driving demand for glass bottles and containers.
Further, twenty-three Japanese companies, ranging from food to cosmetics, announced in January 2021 that they would participate in a program beginning in 2021 to collect and reuse containers in an effort to minimize plastic waste. The initiative will primarily focus on glass containers, which are easy to reuse and have simple designs that create a sense of homogeneity, distinguishing them from other retail items. Consumer acceptance will be assessed as it prepares to launch in the Kanto region of eastern Japan in March 2021.
The requirement for glass vials for the provision of covid-19 vaccinations caused a boom in glass packaging demand. To satisfy the demand, most Asia-Pacific countries have accelerated their manufacturing processes.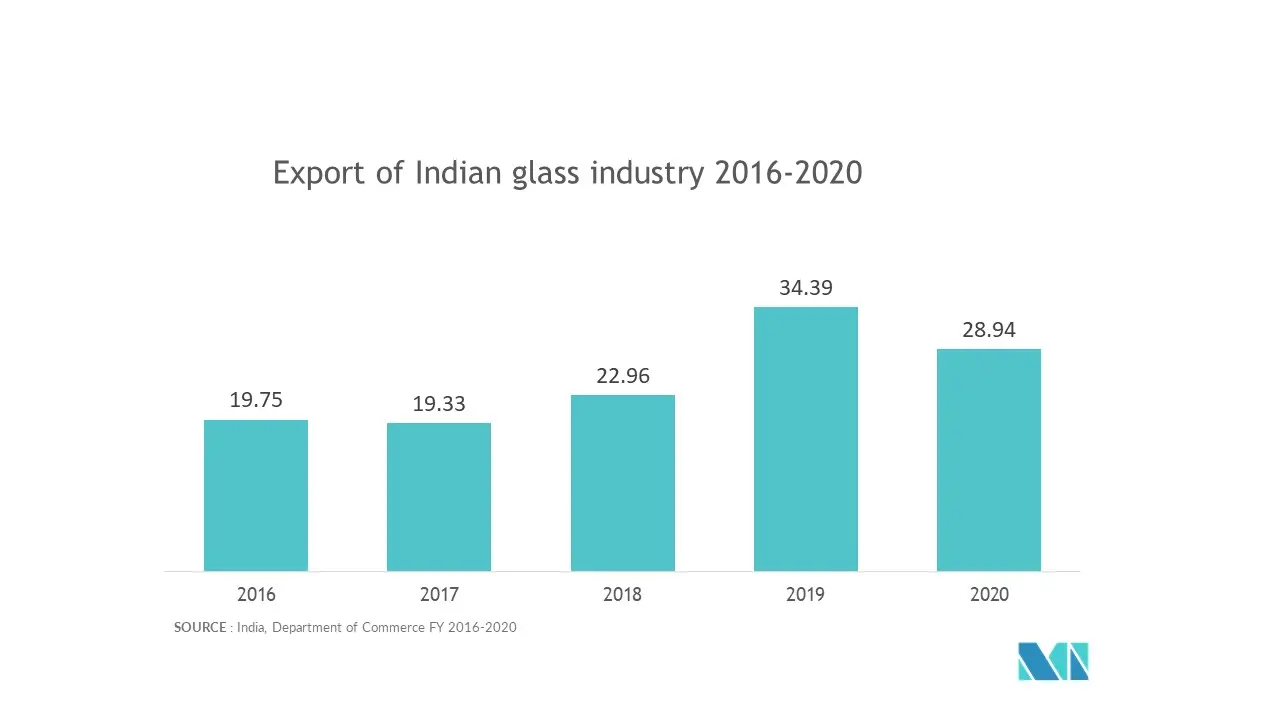 To understand geography trends, Download Sample Report
Competitive Landscape
Glass bottles remain one of the most popular packaging types owing to heritage, returnability, and premiumization. Increased urbanization and a higher level of disposable income have propelled the growth of the market studied across the world.
March 2021- AGI GlassPac Ltd invested INR 550 million to build a new furnace of 154 TPD AGI Speciality Glass Division for the company's Bhongir plant in Telangana. It was a part of the recent investment raised by parent company HSIL of INR 2.2 billion.
Oct 2020 - The parent company of AGI GlassPac Ltd, HSIL, announced to invest INR 3.2 billion to set up a new specialty glass manufacturing facility in Telangana and raise production capacity to 150 tones per day. The company also aims to include new furnaces with five manufacturing lines that cover 15 acres of land.
August 2020 - PGP Glass Pvt Ltd, due to an increase in the demand of vials for Covid-19 vaccine supply, the company announced to have invested INR 3 billion to increase the production capacity of its plant in Jambusar, Gujrat. The expansion plan includes one new furnace with seven new manufacturing lines spread across approximately 300,000 sq. ft.
Recent Developments
March 2021 - The company kicked off its first cross-border trade digitization program using blockchain. The company has prioritized the technology in 2021 to unlock hidden margins and efficiency through digital automation. The company partnered with the enterprise blockchain platform DLT ledgers, which is a fintech firm operating out of Singapore and India.
March 2021 - AGI glaspac invested INR 550 million to build a new furnace of 154 TPD AGI Speciality Glass Division for the company's Bhongir plant in Telangana. It was a part of the recent investment raised by parent company HSIL of INR 2.2 billion.
September 2020, Owens-Illinois had launched an innovation, O-I: EXPRESSIONS, to transform glass bottle design through the use of digital printing and will offer customization and personalization by sculpting glass bottles into multi-dimensional works of art.
February 2020 - Piramal Glass Ltd (PGL) announced a USD 42 million investment in its greenfield project in Jambusar, Gujarat, India. The expansion proposal comprises a new furnace and seven additional manufacturing lines spread throughout a 300,000-square-foot facility, serving largely to high-end specialty spirit, food & beverage, and medicinal sectors for export to Asia, Europe, and the United States.
Table of Contents
1. INTRODUCTION

1.1 Study Assumptions and Market Definition

1.2 Scope of the Study

2. RESEARCH METHODOLOGY​

3. EXECUTIVE SUMMARY​

4. MARKET INSIGHTS

4.1 Market Overview

4.2 Industry Attractiveness- Porter's Five Forces Analysis

4.2.1 Bargaining Power of Suppliers

4.2.2 Bargaining Power of Consumers

4.2.3 Threat of New Entrants

4.2.4 Threat of Substitutes

4.2.5 Intensity of Competitive Rivalry

4.3 Key Market Trends in Hard (MEP) and Soft (Service) FM in Europe

4.4 Assessment of the Impact of COVID-19 on the Facility Management Industry

5. MARKET DYNAMICS

5.1 Market Drivers

5.1.1 Growth of Smart Electricity Grid Infrastructure

5.1.2 Growing Focus on Infrastructure and Renewable Energy

5.2 Market Challenges

5.2.1 Stringent Environmental and Safety Regulations

5.2.2 Increasing Competition from the Unorganized Sectors

6. Technology Snapshot

7. MARKET SEGMENTATION

7.1 By End-User Vertical

7.1.1 Beverages

7.1.2 Food

7.1.3 Cosmetics

7.1.4 Pharmaceutical

7.1.5 Other End-user Verticals

7.2 By Country

7.2.1 China

7.2.2 India

7.2.3 Japan

7.2.4 Rest of Asia Pacific

8. COMPETITIVE LANDSCAPE

8.1 Company Profiles*

8.1.1 Owens-illinois inc

8.1.2 Weigand-Glass GmBH

8.1.3 Vetropack holding Ltd

8.1.4 AGI GlassPac Ltd

8.1.5 Hindusthan National glass & Industries Ltd

8.1.6 Middle East Glass Manufacturing Co SAE (MEG)

8.1.7 Toyo Glass Co. Ltd

8.1.8 Piramal Glass Ltd

8.1.9 APG Europe

8.1.10 Saver Glass

8.1.11 SGS Bottle

8.1.12 Glassworks International Limited

9. INVESTMENT ANALYSIS

10. FUTURE OF THE MARKET
You can also purchase parts of this report. Do you want to check out a section wise price list?
Frequently Asked Questions
What is the study period of this market?
The APAC Glass Bottles/Containers Market market is studied from 2019 - 2026.
What is the growth rate of APAC Glass Bottles/Containers Market?
The APAC Glass Bottles/Containers Market is growing at a CAGR of 5.7% over the next 5 years.
Who are the key players in APAC Glass Bottles/Containers Market?
HINDUSTHAN NATIONAL GLASS & INDUSTRIES LTD , AGI GLASSPAC LTD, TOYO GLASS CO. LTD, PGP GLASS PVT LTD, SGSBOTTLE are the major companies operating in APAC Glass Bottles/Containers Market.
80%

of our clients seek made-to-order reports. How do you want us to tailor yours?