Instantánea del mercado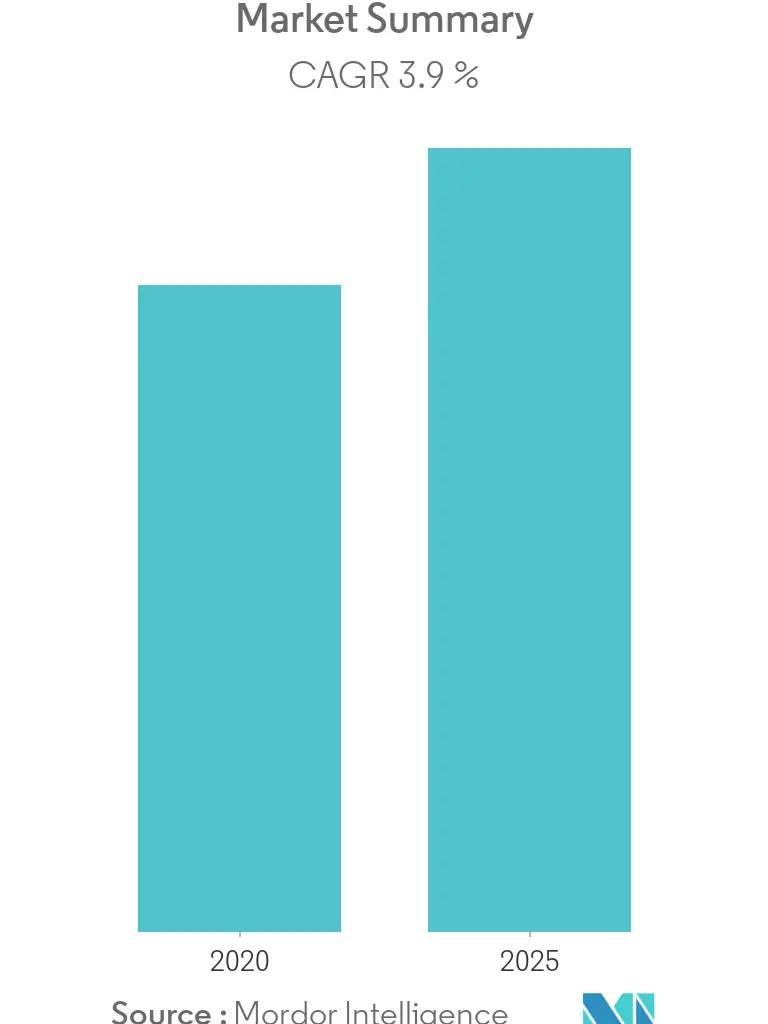 Study Period:
2018 - 2026
Base Year:
2021
CAGR:
3.9 %
Need a report that reflects how COVID-19 has impacted this market and its growth?
Visión general del mercado
Se anticipó que el mercado Farmacéutico de Finlandia estudiado mostraría un crecimiento lento con una CAGR del 3,9%. La industria farmacéutica finlandesa consta de procesos regulatorios, controles de rutina y pruebas de seguridad para los medicamentos recetados que se comercializan. El control y la clarificación son componentes normales de esta política de supervisión. En Finlandia, las licencias para el productor de productos farmacéuticos y la licencia mayorista para productos farmacéuticos son otorgadas por la Agencia Finlandesa de Medicina Fimea. En virtud de la Ley de Medicamentos, solo los fabricantes de productos farmacéuticos con plantas y equipos de fabricación apropiados y una licencia otorgada por Fimea pueden fabricar productos farmacéuticos industrialmente. Por lo tanto, el comercio al por mayor de productos farmacéuticos está sujeto a una licencia otorgada por Fimea.
El sistema de atención médica en Finlandia está aumentando de manera más significativa en los últimos años, con la llegada de nuevas tecnologías y un compromiso sustancial del gobierno al concienciar a todos sobre enfermedades graves y promover diversos servicios para la población general del país. El sector de la salud en Finlandia comprende una red de salud pública de tres niveles fuertemente regulada y una porción mucho más pequeña del sector privado. Considerando que el Ministerio de Asuntos Sociales y Bienestar tiene un número muy amplio de organismos de toma de decisiones, autoridades y consejos locales que son responsables de brindar atención médica a sus residentes.
Alcance del Informe
Según el alcance de este informe, los productos farmacéuticos se denominan medicamentos recetados y de venta libre. Estos medicamentos pueden ser comprados por un individuo con o sin receta médica y son seguros para el consumo de diversas enfermedades con o sin el consentimiento del médico. El informe también cubre el análisis en profundidad de los datos cualitativos y cuantitativos.
Tendencias clave del mercado
Gasto en salud en Finlandia
El gasto en salud per cápita en Finlandia ha aumentado a un ritmo modesto en los últimos 10 años. Está marginalmente por encima del nivel de la UE de 4228 USD (PPA) en 2018. El gasto sanitario representó el 9,1 % del producto interior bruto de Finlandia en 2018, que está por debajo del nivel europeo del 9,8 %. La financiación pública supuso el 75 % de todo el gasto sanitario, una proporción menor que la media europea que es del 79 %. Cualquiera de los gastos pendientes fue cobrado de su bolsillo por particulares. Se prevé que el gasto médico y de atención a largo plazo aumente en un futuro próximo debido al envejecimiento de la población, ya que se requiere que menos personas en edad laboral paguen por estas cosas. Se ha avanzado en la mejora de la calidad del servicio al paciente, sin embargo,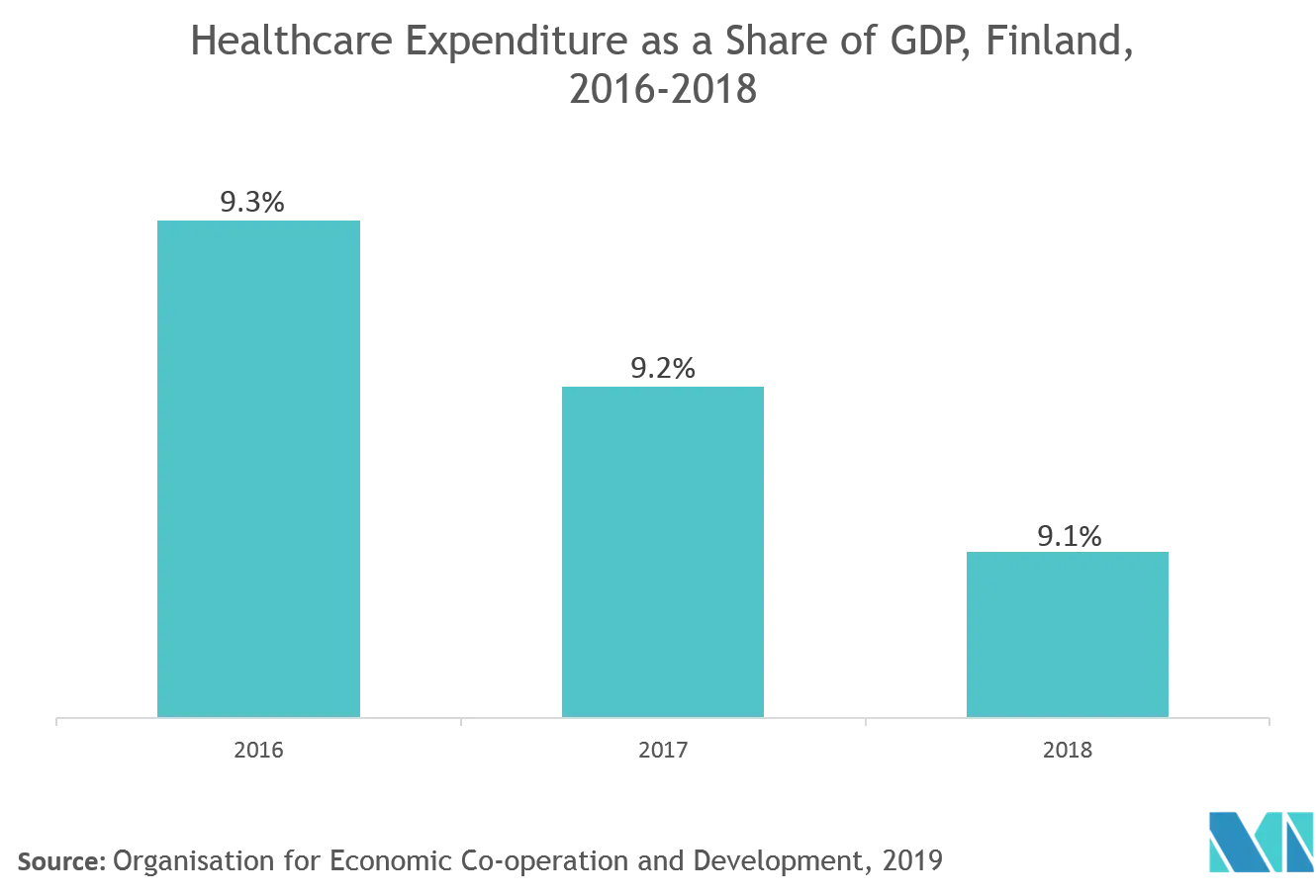 To understand key trends, Download Sample Report
El segmento de medicamentos recetados tiene la participación más grande y se espera que haga lo mismo en el período de pronóstico
Se espera que la categoría de medicamentos recetados de Finlandia refleje la mayor proporción en el período previsto. Los impulsores del mercado para este sector son los avances técnicos, un panorama gubernamental propicio, la preferencia de las compañías farmacéuticas por los medicamentos recetados y los lanzamientos de nuevos productos también son responsables de esta tendencia positiva. También se atribuiría a un aumento en el crecimiento de la población y un aumento en las enfermedades crónicas, como las enfermedades cardiovasculares, que también son la causa más común de muerte en el país, junto con un aumento en el gasto de atención médica per cápita en el país y un cambio en ingresos disponibles de las personas que impulsarán el crecimiento durante el período de pronóstico.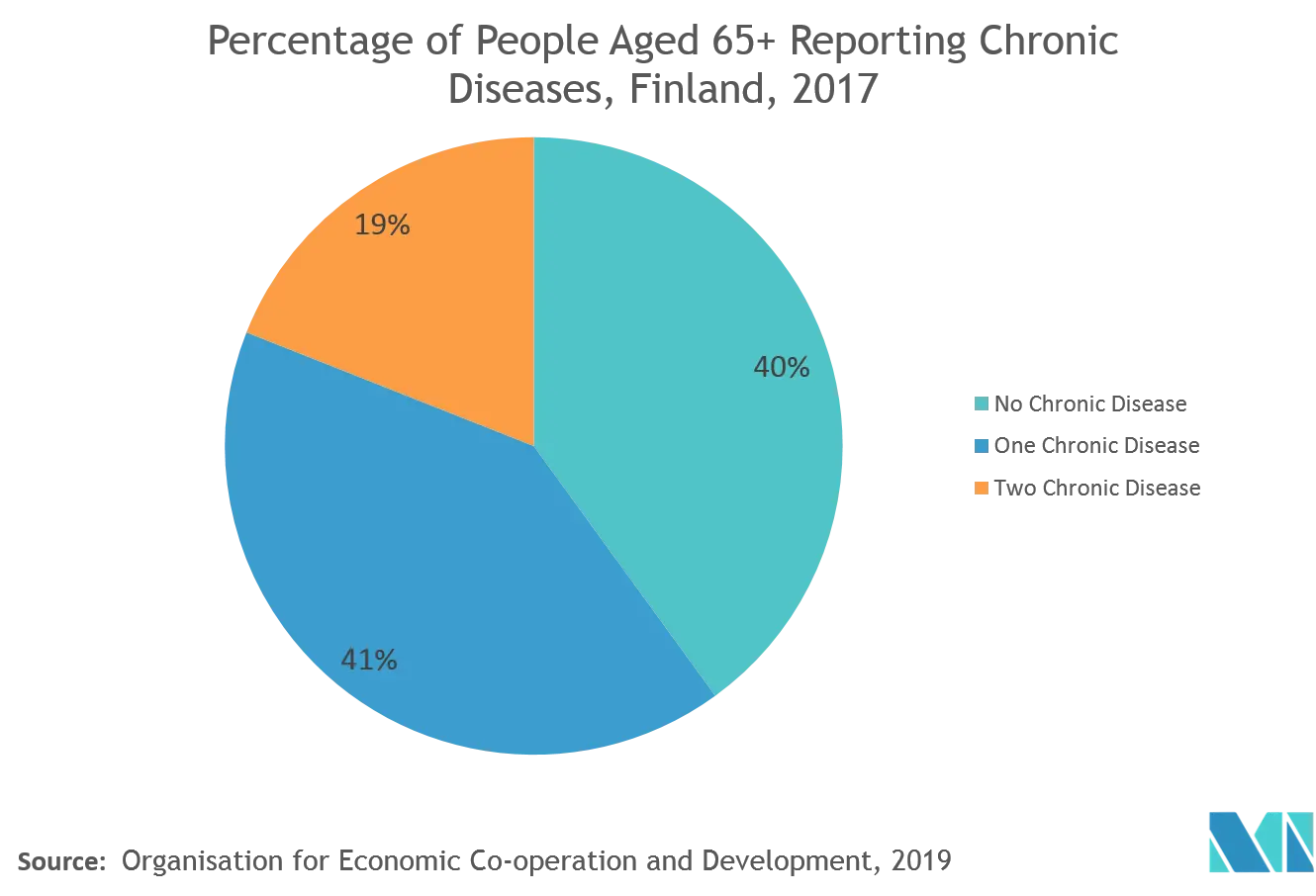 Panorama competitivo
El mercado farmacéutico de Finlandia es muy competitivo y consta de varios actores importantes. En términos de cuota de mercado, pocos de los principales actores dominan actualmente el mercado. Y algunos jugadores destacados están realizando vigorosamente adquisiciones y empresas conjuntas con otras empresas para consolidar sus posiciones de mercado en el país. Algunas de las empresas clave que actualmente dominan el mercado son AbbVie Inc., AstraZeneca plc, Bayer AG, CH Boehringer Sohn AG & Ko. KG y GlaxoSmithKline plc
Table of Contents
1. INTRODUCTION

1.1 Study Assumptions & Market Definition

1.2 Scope of the Study

2. RESEARCH METHODOLOGY

3. EXECUTIVE SUMMARY

4. MARKET DYNAMICS

4.1 Market Overview

4.1.1 Healthcare Expenditure

4.1.2 Pharmaceutical Imports and Exports

4.1.3 Epidemiology Data For key Diseases

4.1.4 Regulatory Landscape/Regulatory Bodies

4.1.5 Licensing and Market Authorization

4.1.6 Pipeline Analysis

4.1.6.1 By Phase

4.1.6.2 By Sponsor

4.1.6.3 By Disease

4.1.7 Statistical Overview

4.1.7.1 Number of Hospitals

4.1.7.2 Employment in the Pharmaceutical Sector

4.1.7.3 R&D Expenditure

4.1.8 Ease of Doing Business

4.2 Market Drivers

4.2.1 Significant research and development programs

4.2.2 Rising Incidence of Chronic Disease

4.3 Market Restraints

4.3.1 Highly Expensive Patented Drugs

4.4 Porter's Five Force Analysis

4.4.1 Threat of New Entrants

4.4.2 Bargaining Power of Buyers/Consumers

4.4.3 Bargaining Power of Suppliers

4.4.4 Threat of Substitute Products

4.4.5 Intensity of Competitive Rivalry

5. MARKET SEGMENTATION

5.1 By ATC/Therapeutic Class

5.1.1 Alimentary Tract and Metabolism

5.1.2 Blood and Blood Forming Organs

5.1.3 Cardiovascular System

5.1.4 Dermatologicals

5.1.5 Genito Urinary System and Sex Hormones

5.1.6 Systemic Hormonal Preparations,

5.1.7 Antiinfectives For Systemic Use

5.1.8 Antineoplastic and Immunomodulating Agents

5.1.9 Musculo-Skeletal System

5.1.10 Nervous System

5.1.11 Antiparasitic Products, Insecticides and Repellents

5.1.12 Respiratory System

5.1.13 Sensory Organs

5.1.14 Various

5.2 By Drug Type

5.2.1 Branded

5.2.2 Generic

5.3 By Prescription Type

5.3.1 Prescription Drugs (Rx)

5.3.2 OTC Drugs

6. COMPETITIVE LANDSCAPE & COMPANY PROFILES

6.1 Company Profile

6.1.1 AbbVie Inc.

6.1.2 AstraZeneca plc

6.1.3 Bayer AG

6.1.4 C.H. Boehringer Sohn AG & Ko. KG

6.1.5 GlaxoSmithKline plc

6.1.6 F. Hoffmann-La Roche AG

6.1.7 Bristol Myers Squibb Company

6.1.8 Eli Lilly and Company

6.1.9 Merck & Co., Inc.

6.1.10 Sanofi S.A.

7. MARKET OPPORTUNITIES AND FUTURE TRENDS
**Competitive Landscape covers- Business Overview, Financials, Products and Strategies and Recent Developments
You can also purchase parts of this report. Do you want to check out a section wise price list?
Frequently Asked Questions
¿Cuál es el período de estudio de este mercado?
El mercado del mercado farmacéutico de Finlandia se estudia desde 2018 hasta 2026.
¿Cuál es la tasa de crecimiento del mercado Farmacéutico de Finlandia?
El mercado farmacéutico de Finlandia está creciendo a una CAGR del 3,9 % en los próximos 5 años.
¿Quiénes son los jugadores clave que operan en el mercado Farmacéutico de Finlandia?
AbbVie Inc., AstraZeneca plc, Bayer AG, CH Boehringer Sohn AG & Ko. KG, GlaxoSmithKline plc son las principales empresas que operan en el mercado farmacéutico de Finlandia.
80%

of our clients seek made-to-order reports. How do you want us to tailor yours?