Instantánea del mercado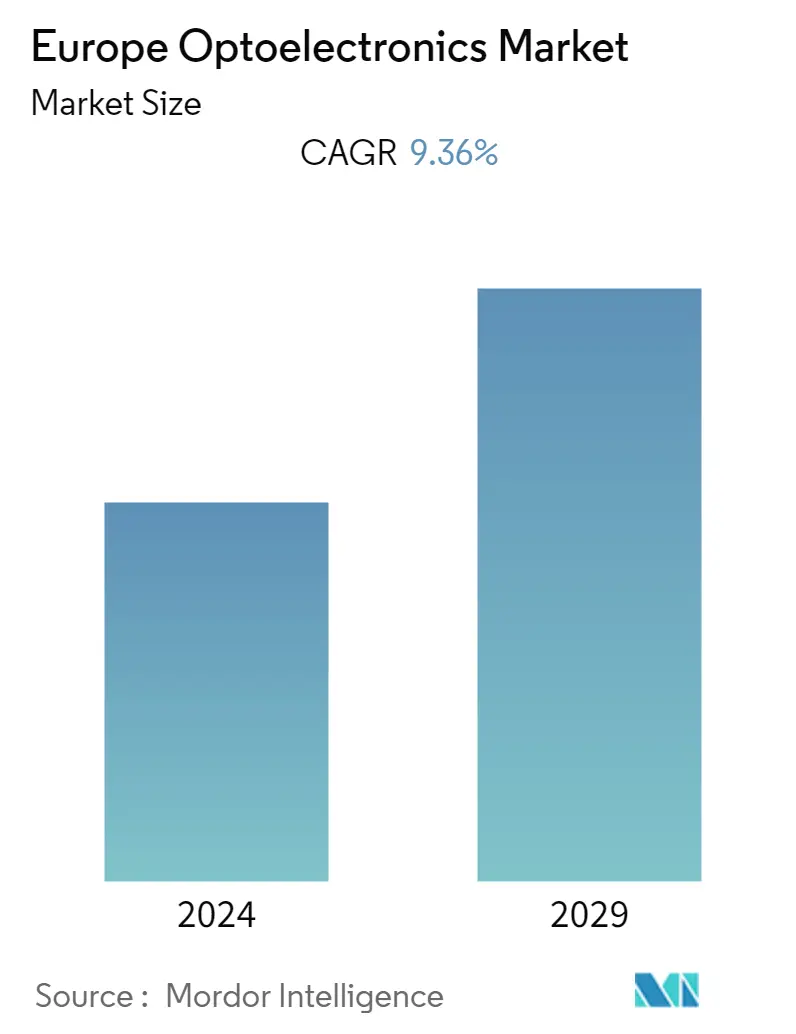 Study Period:
2018-2026
Base Year:
2021
CAGR:
9.36 %
Need a report that reflects how COVID-19 has impacted this market and its growth?
Europe Optoelectronics Market Overview
The Europe Optoelectronics market is expected to register a CAGR of 9.36% during the forecast period (2021 - 2026). The outbreak of COVID-19 affected the production facilities of automotive industries across the globe. COVID-19 outbreak in European countries affected the automobile industry in the region. Spain, Russia, UK, Italy, France, and Germany is the worst-affected country after the United States, and the unprecedented lockdown of the country has heaped fresh pressure on the region's ailing car sector.​​Due to the COVID-19 outbreak, there was a slight increase in some components, such as laser transmitters due to the demand of increased bandwidth; however, it saw a downfall in other component demands such as image sensors in automobiles, infrared devices, etc.
The increasing involvement of regional government in promoter search programs has enhanced many semiconductors-oriented industries, and it is supported by high technology connectivity environment. For instance, the German Government is committed to increasing the number of research companies to 20,000 and innovative companies to 140,000 by the year 2020.
According to Germany Trade & Invest, Germany's electronics, and electrical companies manufacture more than 100 thousand different electronic products and systems, ranging from automation systems, electronic medical equipment, automotive electronics, and microelectronic components.
In the automotive industry, OEMs have been focusing on developing the next generation of electrified, autonomous vehicles. The United Kingdom is encouraging the adoption of autonomous cars. The UK government also funded GBP 100 million to the UK Connected Intelligence Transport Environment(UKCITE), a project that aims to create an advanced environment for testing autonomous and connected vehicles, which include technologies, such as emergency vehicle warning(EVW), road works warning(RWW), emergency electronic brake light(EEBL), and traffic condition warning(TCW).
Furthermore, the United Kingdom is the leading destination for foreign direct investment into the European Union, with a growing proportion coming in high technology sectors. With the significant expertise in design and manufacturing, combined with policy and a business-friendly environment, the United Kingdom lighting industry offer significant investment opportunities to businesses through collaboration and direct investment.
The outbreak of COVID-19 affected the production facilities of automotive industries across the globe. COVID-19 outbreak in European countries affected the automobile industry in the region. Spain, Russia,United Kingdom, Italy, France, and Germany is the worst-affected country after the UnitedStates, and the unprecedented lockdown of the country has heaped fresh pressure on thee region's ailing car sector.
Alcance del Informe
La optoelectrónica permite la comunicación entre la óptica y la electrónica que incluye diseñar, estudiar y fabricar un dispositivo de hardware que convierte la energía eléctrica en energía luminosa y la luz en energía a través de semiconductores. Los dispositivos optoelectrónicos encuentran sus aplicaciones en láser de telecomunicaciones, láser azul, fibra óptica, semáforos LED, fotodiodos y células solares . El mercado europeo de optoelectrónica está segmentado por tipo de componente (LED, diodo láser, sensores de imagen, optoacopladores, células fotovoltaicas), industria de usuario final (automoción, aeroespacial y defensa, electrónica de consumo, tecnología de la información, atención sanitaria, residencial y comercial, industrial) y País.
Europe Optoelectronics Key Market Trends
Automobile Industry to Drive the Market Growth
The improving global economic conditions, changing lifestyle, rising middle class, and increase in the disposable income of the consumers have increased the demands of sales of luxury and ultra-luxury cars across the globe. In a vehicle, optoelectronics devices can be used for occupant detection, drowsy driver detection, night vision, optical immobilizer, and remote keyless entry.
Optoelectronics are increasingly being used in automobiles to automate vehicle functions such as lighting and brakes. Furthermore, optoelectronic is gradually being included in vehicle safety systems such as night vision systems, which use active or passive infrared systems to improve the distance a driver can see beyond the reach of headlights or in hazardous driving circumstances.
Vehicle buyers' primary concern is the safety of the passengers and the vehicle. The goal of regulatory authorities all around the world is to increase automobile safety. Because of raising public awareness of vehicle safety and government demands for safety features, Optoelectronics is now offering a variety of safety features as standard equipment in automobiles. BMW Adaptive Headlights, Mercedes Multibeam LED headlights are one of the best headlights available in the automobile industry, this improves the display and visibility on road, thus making the vehicle more secure and safer for the passengers.
The Automotive Optoelectronic market is expected to benefit considerably from the adoption of LEDs. They're utilised for things like brake lights, puddle lights, hazard lights, and warning lights, among other things. Growing automotive manufacturing around the world is one of the reasons driving the global Automotive Optoelectronic market forward. Furthermore, rising demand for luxury cars in developing nations such as Brazil, China, and India would propel market expansion.
According to the world semiconductor Trade Statistics In 2020, revenue from the sale of semiconductors in Europe reached 37.52 billion U.S. dollars, with forecasts projecting it will rise to 45.45 billion U.S. dollars in 2021.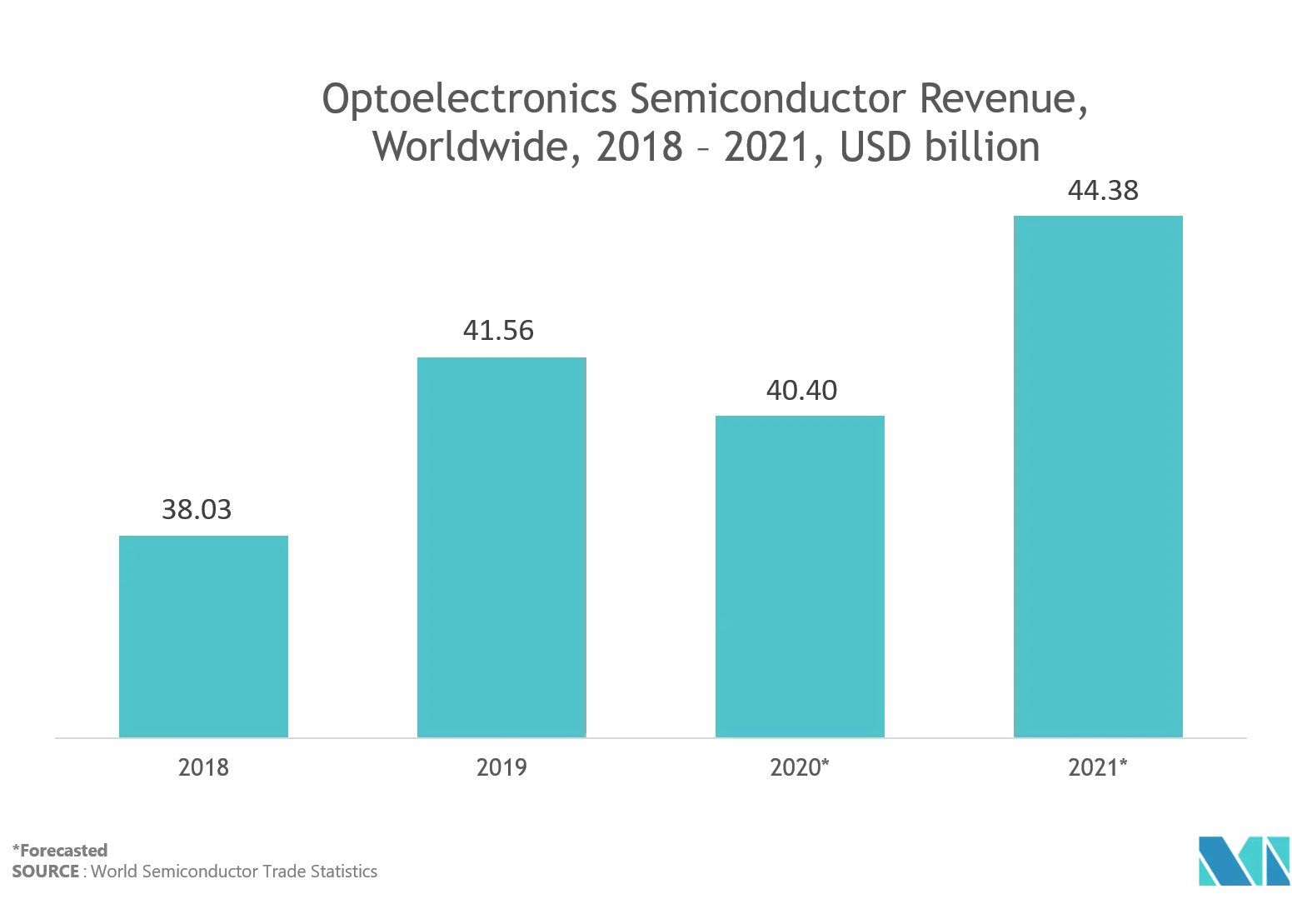 To understand key trends, Download Sample Report
Industria LED para impulsar el crecimiento del mercado
Europa es una de las regiones más lucrativas para la demanda de LED y se espera que mantenga la demanda durante el período de pronóstico. Esto es un reflejo de las estrictas regulaciones gubernamentales, como los contratos de rendimiento energético (EPC) en países como Alemania, Italia y Francia, entre otros.
La financiación de la investigación industrial es una de las principales razones por las que Alemania tiene tantos productos avanzados y de vanguardia en cualquier campo. El gasto masivo del gobierno alemán es una de las características destacadas que alimenta la cultura de investigación en Alemania. Sin embargo, el sector privado alemán es el principal inversor cuando se trata de buscar nuevos métodos, productos y aplicaciones. La cultura de investigación y los subsidios y fondos del gobierno también alimentan las necesidades de investigación en optoelectrónica. Por lo tanto, con más de 500 empresas en el campo de las tecnologías ópticas, Bavaria es la ubicación número uno en Alemania.
Alemania ha experimentado un crecimiento en la demanda de soluciones de iluminación LED tanto para aplicaciones residenciales como comerciales debido al cambio en las regulaciones de la Unión Europea relacionadas con la iluminación. En 2018, la Unión Europea prohibió el uso de bombillas halógenas de luz menos eficiente, como parte de la etapa final de la directiva de normas energéticas de la Unión Europea (EC244/2009) con el objetivo de mejorar la eficiencia energética y reducir la huella de carbono en todo el mundo. región.
Desde 2011, la industria fotónica de Alemania ha crecido cada año. hay alrededor de 20 empresas medianas de fabricación local en Alemania que fabrican componentes y productos optoelectrónicos. Atienden una variedad de industrias como herramientas de precisión, sistemas de inspección óptica, tecnología láser, tecnología de medición y control, aeroespacial, tecnología médica, etc., tanto a nivel local como internacional.
Actores internacionales clave como la subsidiaria de Ficosa, Adasens Automotive, Agfa-Gevaert HealthCare, Sill Optik, Osram Opto Semiconductors, Menlo Systems y Toptica Photonics, todos tienen sitios en Alemania. Las áreas de enfoque regionales para las tecnologías ópticas son Munich-Augsburg, Erlangen-Nuremberg y Regensburg.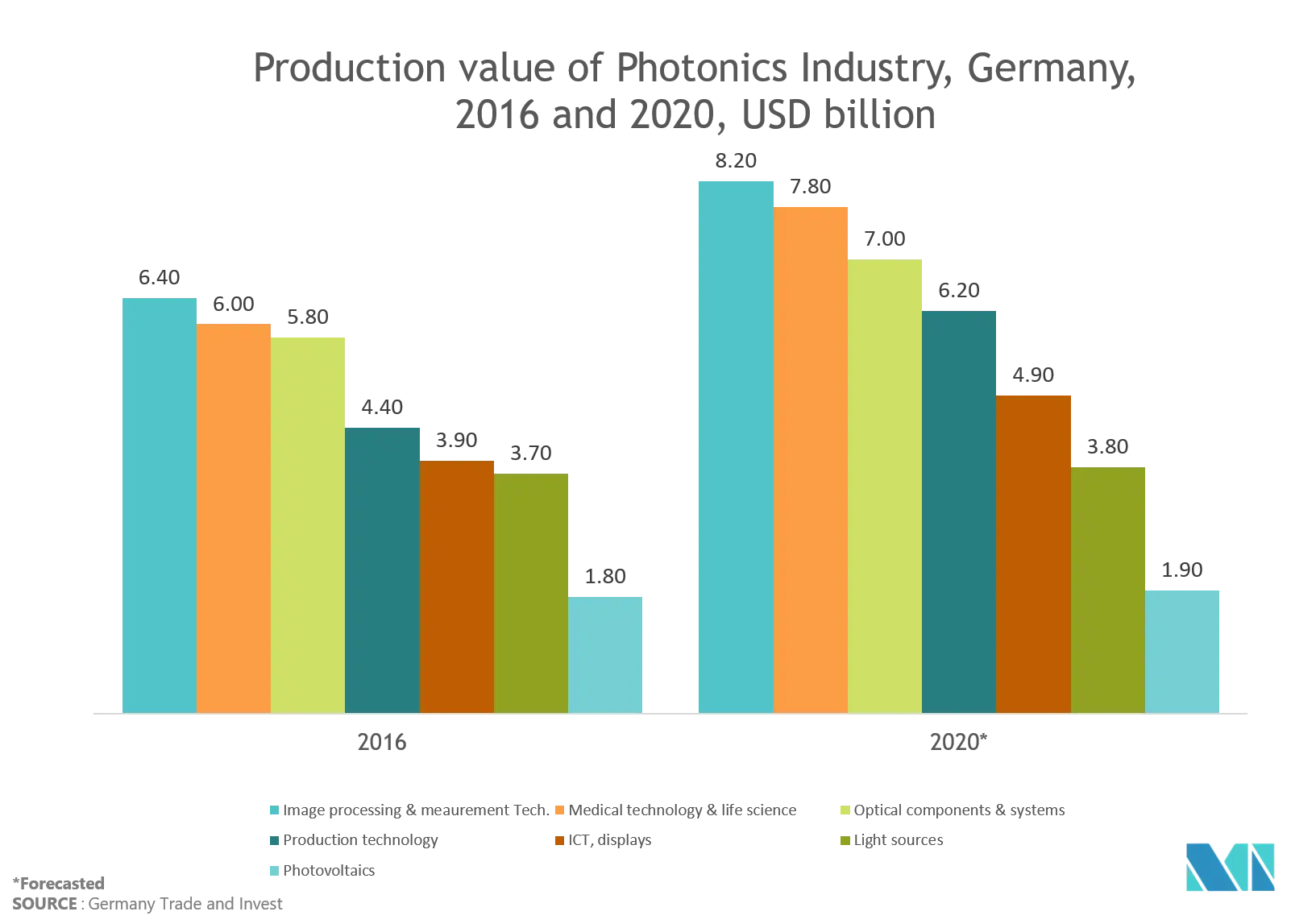 To understand geography trends, Download Sample Report
Panorama competitivo
La rivalidad competitiva en el mercado de la optoelectrónica es alta debido a la presencia de jugadores importantes como Osram Licht AG, Koninklijke Philips NV, Panasonic Corporation, Texas Instruments Inc., Stanley Electric Co. y muchos más. Las asociaciones estratégicas y las fusiones y adquisiciones han permitido a las empresas crecer y ganar una cantidad sustancial de cuota de mercado y mantener una posición sólida en el mercado.
Julio de 2021: Volpi, uno de los actores destacados en optoelectrónica con operaciones en los Estados Unidos y Suiza, se asoció con TOPIC Embedded Systems, con sede en los Países Bajos, para ampliar su cartera de soluciones de medición optoelectrónica y avanzar aún más en sus iniciativas digitales. El desarrollo de productos ya está en marcha y Volpi y TOPIC están colaborando activamente en los compromisos con los clientes.
Febrero de 2021: Toshiba Electronics Europe GmbH anunció una nueva incorporación a su amplia cartera de productos optoelectrónicos. El fotorrelé de alta corriente TLP241 Bisa, destinado al uso en equipos industriales, como controladores lógicos programables (PLC) e interfaces de E/S, así como sistemas de automatización de edificios como HVAC (calefacción, ventilación y aire acondicionado).
Table of Contents
1. INTRODUCCIÓN

1.1 Supuestos de estudio y definición de mercado

1.2 Alcance del estudio

2. METODOLOGÍA DE INVESTIGACIÓN

3. RESUMEN EJECUTIVO

4. PERSPECTIVAS DEL MERCADO

4.1 Descripción general del mercado

4.2 Análisis de la cadena de valor/cadena de suministro

4.3 Atractivo de la industria: análisis de las cinco fuerzas de Porter

4.3.1 Amenaza de nuevos participantes

4.3.2 El poder de negociación de los compradores

4.3.3 El poder de negociacion de los proveedores

4.3.4 Amenaza de sustitutos

4.3.5 La intensidad de la rivalidad competitiva

4.4 Evaluación de COVID-19 en el mercado

5. DINÁMICA DEL MERCADO

5.1 Indicadores de mercado

5.1.1 Creciente demanda de productos electrónicos de consumo inteligentes y tecnologías de próxima generación

5.1.2 Aumento de las aplicaciones industriales de la tecnología

5.2 Restricciones del mercado

5.2.1 Altos costos de fabricación y fabricación

6. SEGMENTACIÓN DE MERCADO

6.1 Por tipo de componente

6.1.1 LED

6.1.2 Diodo láser

6.1.3 Sensores de imagen

6.1.4 Optoacopladores

6.1.5 Celdas fotovoltaicas

6.1.6 Otros tipos de componentes

6.2 Por industria del usuario final

6.2.1 Automotor

6.2.2 Aeroespacial y Defensa

6.2.3 Electrónica de consumo

6.2.4 Tecnologías de la información

6.2.5 Cuidado de la salud

6.2.6 Residencial y comercial

6.2.7 Industrial

6.2.8 Otras industrias de usuarios finales

6.3 Por país

6.3.1 Reino Unido

6.3.2 Alemania

6.3.3 Francia

6.3.4 Italia

6.3.5 Resto de Otros Países

7. PANORAMA COMPETITIVO

7.1 Perfiles de la empresa

7.1.1 Luz de Osram AG

7.1.2 Royal Philips NV

7.1.3 corporación panasonic

7.1.4 Texas Instruments Inc.

7.1.5 Stanley Electric Co.

7.1.6 mitsubishi eléctrico

7.1.7 Infineon Technologies AG

7.1.8 en semiconductores

7.1.9 máximo integrado

7.1.10 Dispositivos analógicos GmbH

8. ANÁLISIS DE INVERSIONES

9. OPORTUNIDADES DE MERCADO Y TENDENCIAS FUTURAS
You can also purchase parts of this report. Do you want to check out a section wise price list?
Frequently Asked Questions
¿Cuál es el período de estudio de este mercado?
El mercado europeo de optoelectrónica se estudia desde 2018 hasta 2026.
¿Cuál es la tasa de crecimiento del mercado europeo Optoelectrónica?
El mercado europeo de optoelectrónica está creciendo a una CAGR del 9,36 % en los próximos 5 años.
¿Quiénes son los jugadores clave que operan en el mercado europeo Dispositivos optoelectrónicos?
Osram Licht AG, Koninklijke Philips NV, Panasonic Corporation, Texas Instruments Inc., Mitsubishi Electric son las principales empresas que operan en el mercado europeo de optoelectrónica.
80%

of our clients seek made-to-order reports. How do you want us to tailor yours?