Market Trends of Home Fragrances Industry
Growing Consumers' Inclination Toward Home Decor
Consumers increasingly spend on home fragrance products like candles and diffusers as they help satisfy valued emotional needs and solve important functional problems, such as masking bad smells. These products come in various designs, colors, scents, and materials, fulfilling the diversified needs of customers worldwide.
In recent years, consumers have been willing to spend more on value-added home décor items made with organic and natural ingredients due to increasing awareness about the health impacts of the ingredients used in these products. In 2022, according to a survey published by Vlam, the total household spending on organic products in Belgium increased from 892 million euros to 992 in 2021.
With the increasing trend of aromatherapy and at-home natural remedies for mental health and well-being, especially among young adults, customized home décor products like scented candles and diffusers are gaining immense popularity worldwide. These products are believed to improve mood, reduce stress and anxiety, promote relaxation, and improve sleep. As per the survey by Statistics Finland in 2022, 16 percent of Finns bought cosmetics and well-being products online during the past three months. The largest share of online health and beauty product shoppers were 25 to 44 years old.
Product manufacturers and retailers often rely on innovation to provide differentiation through technology, understanding consumer trends, and sustainable production. They also invest significantly in R&D to deliver products that consumers value for meeting both emotional and functional needs. The factors mentioned above will likely positively influence market growth in the upcoming years.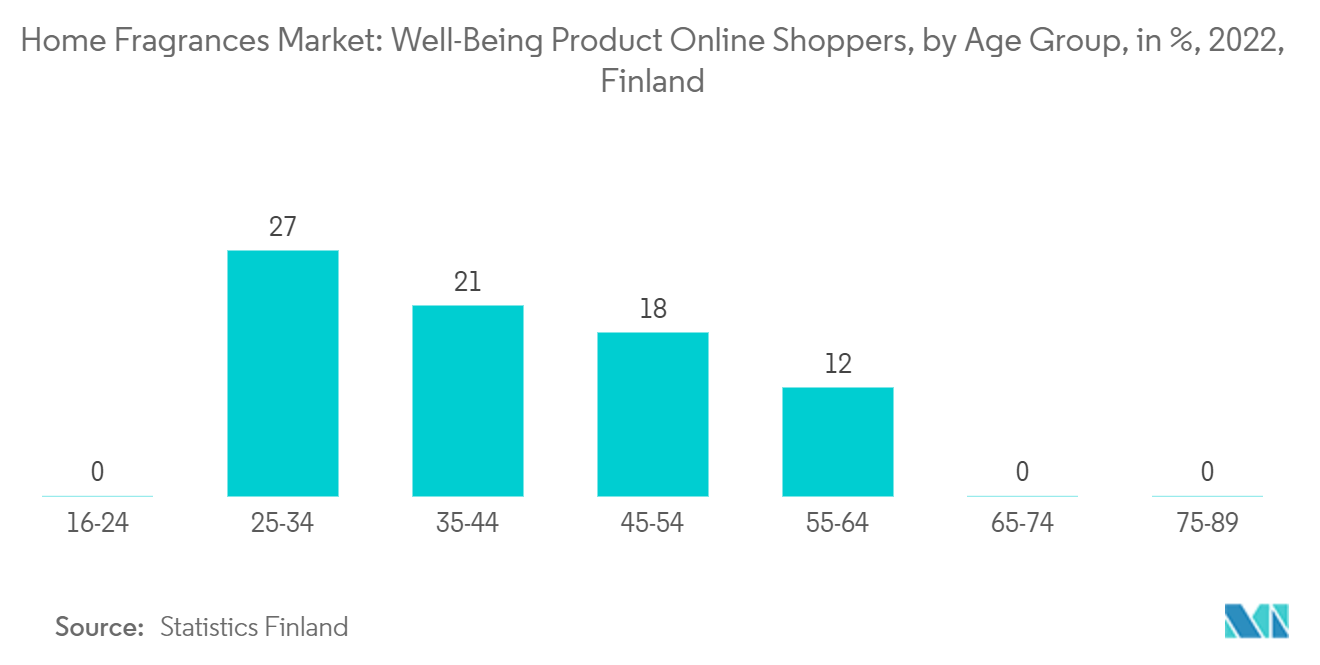 To understand key trends, Download Sample Report
North America Dominates the Market
North America holds the largest market share in the home fragrances market globally. Furthermore, the United States is one of the largest markets for home fragrance products. This can be attributed to individuals' high per capita income levels and inclination towards value-added home décors that help satisfy valued emotional needs and solve significant functional problems of consumers.
Home fragrance products such as scented candles, diffusers, and room sprays are often an accessible and effective way to enhance the overall ambiance and add a personalized touch to home décor. These products are also used in aromatherapy, which has gained immense acceptance, especially among young adults, due to its claimed benefits like reduced anxiety levels and relief of emotional stress, pain, muscular tension, and fatigue.
Along with this, the increasing focus on mental health and wellness with at-home natural remedies fuels the market growth in the region. Apart from this, a significant rise in the preference for spa therapies over the years due to hectic lifestyles drives the demand for innovative home fragrances. As per the International Spa Association, in 2021, there were 21,510 spa locations across the United States, with 173 million visitors.
The average revenue of the spa industry in the United States is estimated to be around USD 20.1 billion in 2021. Furthermore, market players adopt unique strategies to expand their customer base and market share. For instance, in 2021, Christian Dior unveiled its Canadian e-boutique with La Collection Privée Christian Dior, a portfolio of refined fragrances, candles, and soaps.
To understand geography trends, Download Sample Report
Home Fragrances Market Report Snapshots