Market Trends of Oxygen Gas Sensors Industry
Automotive Sector to Occupy a Significant Market Demand
Oxygen gas sensors are majorly employed in automobile exhausts to measure the amount of oxygen entering the car cylinders accurately. This instrument is used to manage the released emissions of petrol, diesel, and gas engines. The growing fleet of automotive vehicles, combined with tight government emission control regulations, is expected to stimulate automotive oxygen gas sensor sales in the future.
Furthermore, the growing retrofitting of automotive oxygen gas sensors for vintage vehicles is expected to provide considerable opportunities for stakeholders in the coming years. In August 2022, the Indian government launched India's first double-decker electric bus in Mumbai. It is working to create an integrated electric vehicle (EV) mobility ecosystem with a low carbon footprint and high passenger density, emphasizing urban transportation reform.
Rapid advancements in coating materials for automotive oxygen gas sensors are expected to usher in new paradigms in the worldwide automotive oxygen sensor market. Most players now use high-temperature co-fired ceramic (HTCC) green tapes with oxygen sensors to create high-strength and long-lasting vehicle sensors.
Furthermore, in August 2022, Bosch announced a more than USD 200 million investment to produce fuel cell stacks in Anderson, S.C. A fuel cell operates by using hydrogen to generate electrical energy. As the hydrogen ions pass over the fuel cell plates, they combine with oxygen to create electricity. The only by-product is water, allowing the vehicle to run with zero local carbon emissions.
Moreover, the industry is governed by strict policies and regulations employed by both national and international authorities, making it mandatory to utilize these systems. The industry depends on oxygen sensors to meet the emission standards governments and concerned authorities set. For instance, most gasoline-powered vehicles are equipped with catalytic converters to comply with the US Environmental Protection Agency's stricter regulation of exhaust emissions.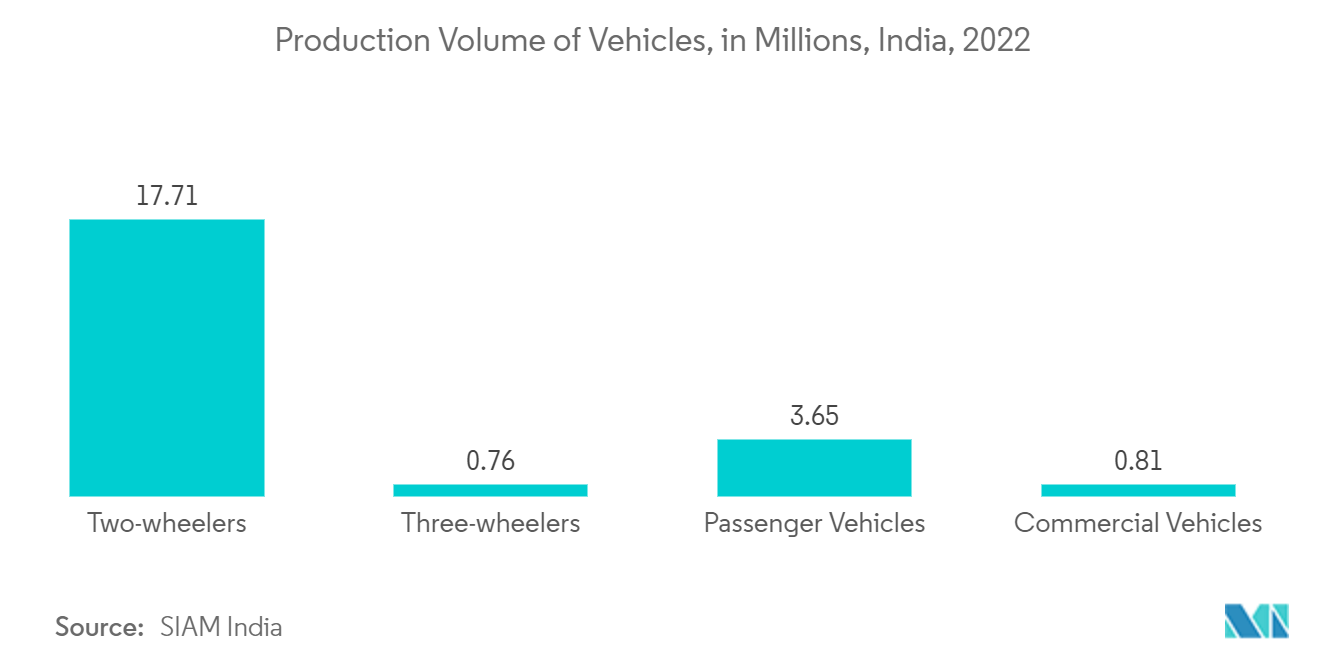 To understand key trends, Download Sample Report
Asia-Pacific to Mark the Fastest Growth Rate
The automotive sector in this region is expected to be the significant driver for incorporating oxygen sensors due to the increasing automobile production. According to the India Brand Equity Foundation (IBEF), the Indian passenger car market is predicted to reach a value of USD 54.84 billion by 2027. Indian automotive industry is targeting to increase the export of vehicles by five times during 2016-2026. Furthermore, in FY 2022, total automobile exports from India stood at 5,617,246.
In addition, in March 2022, MG Motors, owned by China's SAIC Motor Corp, announced plans to raise USD 350-500 million in private equity in India to fund its future needs, including electric vehicle (EV) expansion. In addition, Two-wheeler EV maker HOP Electric Mobility, a diversified business venture of Rays Power Infra, is looking at investing INR 100 crore (USD 13.24 million) over the next two years to extend manufacturing capacity for Electric Vehicles. The increased usage of automobiles in the region consequently drives the market for oxygen gas sensors.
Furthermore, the government of India encourages foreign investment in the automobile sector and has allowed 100% FDI under the automatic route. Furthermore, in February 2022, carmakers, including Tata Motors Ltd, Suzuki Motor Gujarat, Mahindra and Mahindra, Hyundai, and Kia India Pvt. Ltd received PLI as part of the government's plan to increase local vehicle manufacturing and attract new investment. The 20 automobile companies proposed an investment of around INR 45,000 crore (USD 5.95 billion). Government policies and initiatives in the automotive sector may further drive the studied market demand in the future.
The region's industrial manufacturing is also set to increase due to developing economies and government initiatives like "Make in China" and "Make in India." The growth of the industrial sector is expected to boost the oxygen sensors market due to its wide applications in the industrial sector.
The chemical and petrochemical sectors have many applications for oxygen sensors. The region is home to one of the most extensive explorations in the world. For instance, According to IBEF, under the Union Budget 2022-2023, the government allotted INR 209 crores (USD 27.43 million) to the Department of Chemicals and Petrochemicals. Furthermore, an investment of INR 8 lakh crore (USD 107.38 billion) is estimated in the Indian chemicals and petrochemicals sector by 2025.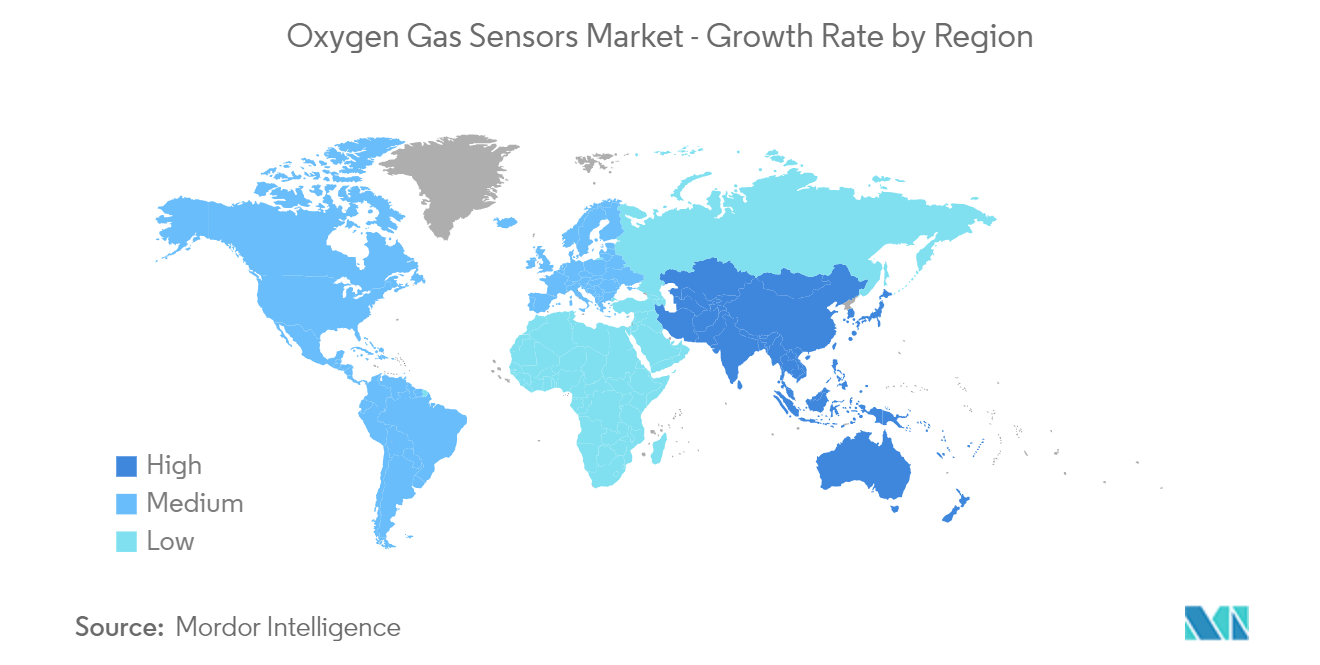 To understand geography trends, Download Sample Report
Oxygen Gas Sensors Market Report Snapshots