Market Share of Oxygen Gas Sensors Industry
The oxygen gas sensors market is characterized by significant fragmentation due to the presence of numerous players and relatively low entry barriers. Key industry participants, including ABB, Honeywell, Eaton, and GE, continuously engage in strategic partnerships and product development initiatives to expand their market share.
In March 2023, LogiDataTech introduced the MF420-O-Zr oxygen sensor, a cutting-edge solution designed for precise measurement of oxygen concentration in gas mixtures. This sensor employs a dynamic process that utilizes two zirconium dioxide slices to create a sealed chamber, enabling accurate linear measurement across the entire range. Additionally, the oxygen sensor features a built-in diagnostic function that monitors its performance during use and provides alerts about potential hardware or sensor issues. Consequently, there is no need for an extra oxygen sensor.
In May 2022, Angst+Pfister Sensors and Power unveiled an innovative oxygen sensor designed specifically for metal, ceramic, and polymer Additive Manufacturing procedures. These long-life digital oxygen sensors and sensor modules for Additive Manufacturing offer high ppm signal resolution and are not affected by interference from most other gases.
In March 2022, Sea-Bird Scientific announced the launch of the SBS 83 Optical Oxygen Sensor, which is set to become the standard sensor for Navis floats as part of the GO-BGC program. The GO-BGC program aims to create a network of chemical and biological sensors to monitor the health of the global oceans.
Oxygen Gas Sensors Market Leaders
Robert Bosch GmbH

ABB Limited

Honeywell International Corporation

Eaton Corporation

General Electric Company
*Disclaimer: Major Players sorted in no particular order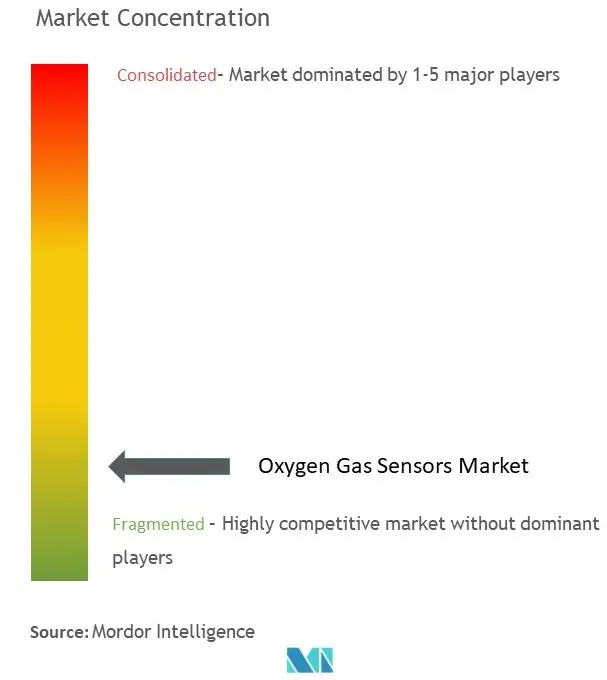 Oxygen Gas Sensors Market Report Snapshots