Market Size of Oxygen Gas Sensors Industry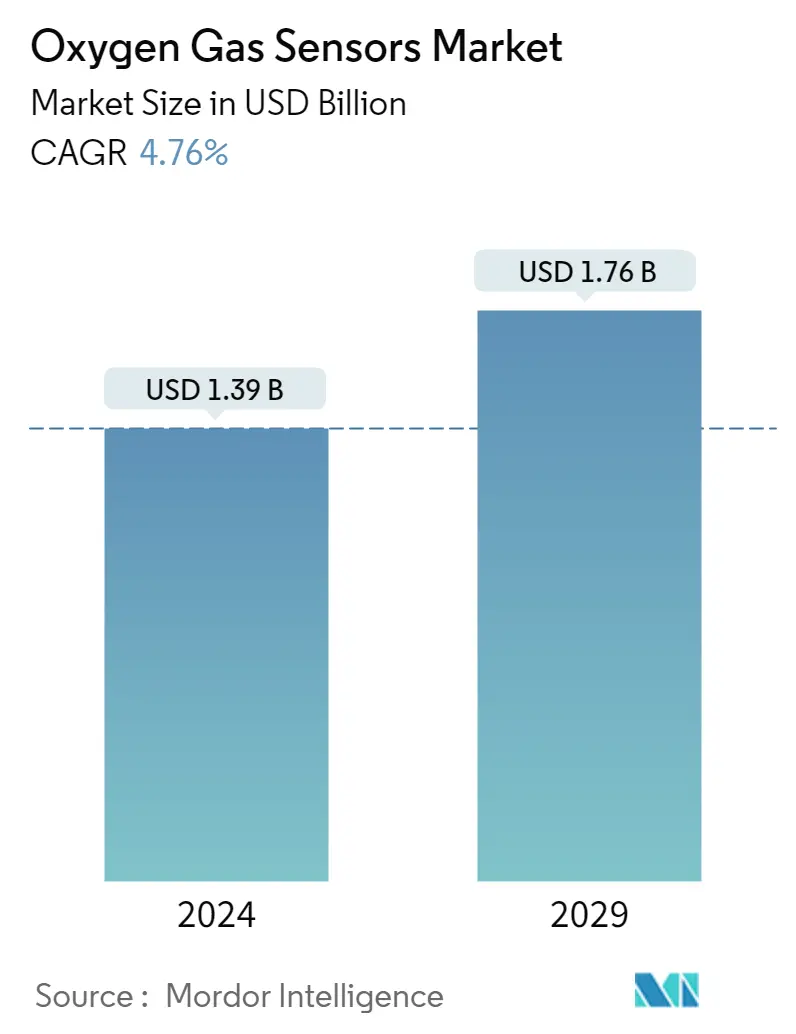 Study Period
2018- 2028
Market Size (2023)
USD 1.33 Billion
Market Size (2028)
USD 1.68 Billion
CAGR (2023 - 2028)
4.76 %
Fastest Growing Market
Asia Pacific
Largest Market
Asia Pacific

Major Players

*Disclaimer: Major Players sorted in no particular order
Need a report that reflects how COVID-19 has impacted this market and its growth?
Oxygen Gas Sensors Market Analysis
The Oxygen Gas Sensors Market size is estimated at USD 1.33 billion in 2023, and is expected to reach USD 1.68 billion by 2028, growing at a CAGR of 4.76% during the forecast period (2023-2028).
The ability to reliably measure oxygen concentration or partial pressure and warn about abnormal conditions is critical in industrial safety environments, such as mines, oil production facilities, and chemical plants. This helps in driving the growth of the market.
The growth in the market can be attributed to the rising demand for oxygen gas sensors in a range of applications, including medical, automotive, and industrial sectors. Also, the increasing number of applications for oxygen sensors, coupled with rapid technological advancements in sensing technologies. Furthermore, the increasing awareness regarding safety and security is also driving the growth of this market.
Moreover, environmental concerns play a crucial role in driving the growth of oxygen gas sensors. It is known that dissolved oxygen is a critical requirement for the maintenance of balanced populations of shellfish, fish, and other aquatic organisms in both estuarine and nearshore coastal waters. Various projects have been and are expected to be implemented to measure the dissolved oxygen in the water. Furthermore, ammonia, ozone, and chlorine are all toxic gases used in the decontamination stage of wastewater treatment and water purification plants. Such factors will boost the demand for oxygen gas sensors.
Furthermore, applications ranging from adjusting the air-fuel ratio in automobiles to controlling industrial processes increasingly demand oxygen sensors, as ascertaining oxygen levels accurately is essential. For instance, in August 2022, Premier Auto Trade announced a significant expansion to its Oxygen and Air Fuel Ratio Sensors range. The PAT range now includes over 800 Direct Fit Oxygen Sensors for petrol, LPG, and diesel vehicles with a spread across Japanese, Korean, USA, and European manufacturers. This covers over 14 million vehicle applications in Australia and New Zealand, making it the most extensive range in the Australian Aftermarket.
For instance, in August 2022, a Maharashtra Startup Got INR 32.9 million (USD 0.40 million) support from the Government for Indigenous Development of Hydrogen Gas Detecting Technology. Multi Nano Sense Technologies signed a memorandum of understanding (MoU) Technology Development Board under DST for the indigenous development of hydrogen sensing and analysis technology.
Also, the medical application of these oxygen gas sensors is expected to experience rapid growth due to a rising need for precise devices that can measure low levels of oxygen in hospitals and other healthcare facilities. These devices are utilized for monitoring patients who have hypoxic or anoxic injuries, as well as those experiencing cardiopulmonary arrest. Additionally, they are also employed in non-invasive ventilation procedures for patients with respiratory disorders like asthma or chronic obstructive pulmonary disease (COPD).
Companies are rolling out new products lately to remain competitive in the market. Further, Crowcon Detection Instruments Ltd launched a long-life oxygen sensor in its Gasman portable gas detector. The new sensor has an extended lifespan, which reduces the total cost of ownership and is also completely free of lead, helping organizations to comply with imminent changes to the restriction of hazardous substances (RoHS) regulations and reducing harm to the environment.
The COVID-19 pandemic pushed healthcare to the limit, but oxygen management in hospitals became a challenge for healthcare systems globally. The safety of healthcare providers and their patients was paramount within the healthcare environment. Moreover, the pandemic resulted in constrained growth in sectors such as automotive, oil and gas, and chemicals, as well as the manufacturing of ventilators, respirators, and other medical devices/equipment necessary for the critical care of patients.
Oxygen Gas Sensors Market Report Snapshots